Week #16; Ari's last day of work.

Steve and I became empty nesters this weekend, after depositing our son Ari at Macalester College in St. Paul. It tugs at my heartstrings as he leaves home. Still, I am grateful that he begins college this year instead of last year. I'm glad he was home with us through the first year of the pandemic and now we can send him off vaccinated and healthy.

As a child, Ari (right) was quite the farm kid, rolling in the mud with his friend Chance (left). (Chance works for us now too.)

Later, he lived in our tipi for days at a time, cooking his dinner over a fire and foraging for berries and cucumbers.

As usual, Ari worked on the farm this summer. He was on Team Melon on his last day (of course), tossing from the field to John on the wagon. Ari has picked melons with Steve since he was little, first washing melons on the wagon, then catching once he was strong enough.
Well, we hoped his last day of work would be memorable.
Me: Did that hurt?
Ari: Nope.
Me: Did it smell bad?
Ari: No, it was just overripe.
Thanks for reading.
Beth
Veggie List & Veggie Notes
Week #16, September 2/3, 2021
– Weekly shares
– EOW/ green
Sweet corn, 8 ears
Red watermelon
Slicing tomatoes ~4 lb
Orange grape tomatoes, 1 small bag
Colored peppers (sweet), 2 or 3
Oranos snack pepper (sweet), 1
'Expression' onion, 1
Basil, 1 big bunch
Zucchini or yellow squash; we might have 1 for everyone.
Otherwise … some sites get 1 cucumber.
Next week's box will probably contain tomatoes, peppers, kale or collards, and more.
Sweet corn – This is the final sweet corn delivery for the season. There are some bugs at the tips but it's not too bad.
Orange grape tomatoes (in paper bag) – Enjoy these beauties. They are delicious.
Colored peppers (sweet) – You'll get 2 or 3 bell or frying peppers in various colors. We have red, yellow and orange this week.
Orano snack pepper (orange, slender, sweet) – Everyone gets one of these tasty snack peppers. They look kind of like a small, orange frying pepper.
Basil – It's a big bundle this week, the first cutting from this field.
Zucchini, squash and cucumbers – This is the final week for these summer crops! It's been a really good run with these crops this season, in terms of abundance and quality. We'll start winter squash in just a few weeks.
RECIPES by PHOEBE
Visit our 2020 Recipe Log or our 2019 Recipe Log.
Summer Veggie Orecchiette
This veggie pasta has been one of our favorite dishes this summer! It's plenty flavorful as-is, but feel free to finish your plate with a shower of freshly grated Parmesan cheese.
Serves: 2-3
Prep time: 15 minutes
Cook time: 30 minutes
Ingredients
1 medium summer squash or zucchini, diced
2 peppers, diced
1/2 onion, diced
8 ounces orecchiette pasta
2 tablespoons extra-virgin olive oil, more for drizzling
3 garlic cloves, sliced
1/4 teaspoon red pepper flakes
1 tablespoon sherry vinegar
2 teaspoons herbes de Provence
1 pint cherry or grape tomatoes
Fresh basil leaves, for garnish
Sea salt and freshly ground black pepper
Preheat the oven to 450°F and line a large baking sheet with parchment paper.
Place the summer squash, peppers, and onion on the baking sheet, and toss with a generous drizzle of olive oil and pinches of salt and pepper. Spread them in an even layer and roast for 18-22 minutes, or until tender and just beginning to brown.
When the veggies are done roasting, heat the olive oil in a small Dutch oven or large saucepan over medium heat. Add the garlic and red pepper flakes and cook, stirring, for 1-2 minutes, or until the garlic is fragrant and just beginning to brown.
Stir in the sherry vinegar, herbes de Provence, and 1/2 teaspoon sea salt, followed by the cherry tomatoes. Cook, stirring, until most of the tomatoes begin to burst, 2-4 minutes. Add the roasted vegetables, stir, and cook for 2 more minutes to allow the flavors to marry.
Meanwhile, cook the pasta in a large pot of salted boiling water according to the package directions, or until al dente. Drain and return to the large pot. Stir in the vegetable mixture and season to taste. Serve with fresh basil for garnish.
Black Bean Tacos with Roasted Peppers and Zucchini
These vegetarian tacos are filled with refried black beans and roasted summer veggies. To offset the beans' creamy texture, I top them with fresh corn kernels for crunch.
Serves: 4
Prep time: 20 minutes
Cook time: 40 minutes
Ingredients
Kernels from 2 ears fresh corn
3 tablespoons fresh lime juice, divided
1/2 teaspoon lime zest
1 medium summer squash or zucchini, thinly sliced
2 peppers, sliced into strips
1 onion, half sliced into thin wedges, half diced, divided
1 1/2 teaspoons chili powder
2 tablespoons neutral oil, such as avocado, more for drizzling
2 garlic cloves, minced
1 1/2 teaspoons cumin
1 teaspoon coriander
Heaping 1/4 teaspoon cayenne pepper
3 cups black beans, drained and rinsed (2 14-ounce cans)
12 small tortillas, warmed
Lime wedges, for serving
Sea salt
In a medium bowl, stir together the fresh corn kernels, 2 tablespoons lime juice, the lime zest, and 1/4 teaspoon salt. Set aside.
Preheat the oven to 425°F and line a large baking sheet with parchment paper. Place the zucchini, peppers, and onion wedges on the baking sheet and toss with the chili powder, pinches of sea salt, and a generous drizzle of oil. Spread in an even layer and roast for 25-30 minutes, tossing halfway, until tender and browned.
In a medium saucepan over medium heat, heat the 2 tablespoons oil. Add the diced onion and a pinch of salt and sauté until softened, 5-8 minutes. Stir in the garlic, cumin, coriander, and cayenne and cook until fragrant, about 30 seconds. Add the beans, 3/4 cup water, and a heaping 1/2 teaspoon salt and simmer, uncovered, for 15 minutes, until the water is thick and starchy. Transfer half the beans and their cooking liquid to a blender or food processor and process until smooth. Stir the blended beans back into the pot, add the remaining 1 tablespoon lime juice, and season to taste.
Assemble the tacos by filling each tortilla with a slather of the beans, some roasted vegetables, and a scoop of the fresh corn. Serve with lime wedges for squeezing.
The Simplest Tomato Basil Soup
This two-step soup couldn't be simpler to make: just roast and blend! Serve it with good crusty bread or a grilled cheese sandwich.
Serves: 4
Prep time: 10 minutes
Cook time: 1 hour
Ingredients
3 pounds tomatoes, halved crosswise
1 onion, peeled and sliced into 8 wedges
3 unpeeled garlic cloves
2 tablespoons extra-virgin olive oil, more for drizzling
1 teaspoon sea salt, more for sprinkling
1 cup fresh basil leaves
Freshly ground black pepper
Preheat the oven to 350°F and line two large baking sheets with parchment paper. Arrange the tomatoes, cut-side-up, on one sheet and the onion wedges and garlic on the other. Drizzle everything with olive oil and sprinkle with salt and pepper. Roast the onion and garlic for 30 minutes, or until tender. Roast the tomatoes for 1 hour, until they are bubbling on top and lightly browned underneath. Allow to cool slightly.
In a large blender, place the roasted tomatoes, onion, peeled garlic cloves, 2 tablespoons olive oil, and 1 teaspoon salt. Blend until smooth. Add several grinds of black pepper and the fresh basil leaves and pulse until the basil is broken down into small flecks. Season to taste and serve.
Basil Pesto
From Love & Lemons
Toss it with pasta, dollop it onto eggs, spread it onto toast, or use it on your next pizza. The options are endless!
.
.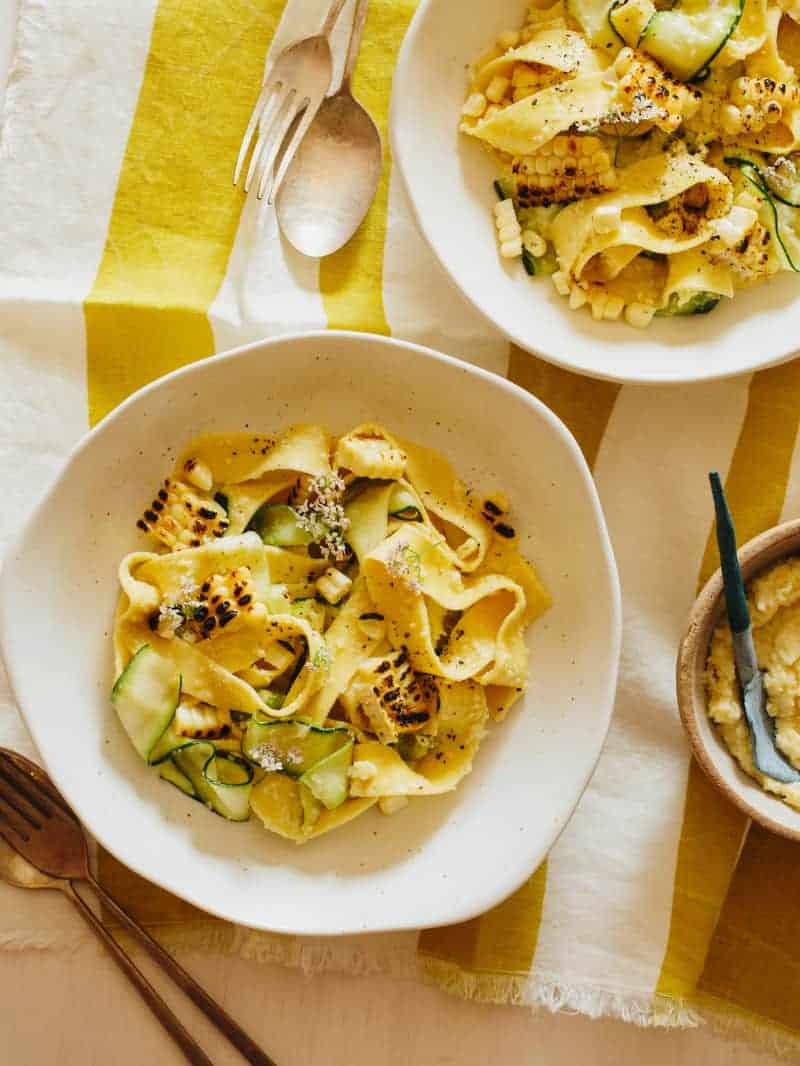 Sweet Corn Pesto Tossed with 50/50 Pappardelle and Zucchini Noodles
From Spoon Fork Bacon
To use the produce in your box, replace the shallot with 1 tablespoon diced onion.
.
.

Heirloom Tomato Panzanella Salad
From Minimalist Baker
A big panzanella – or Italian bread salad – is one of my favorite things to make in the summer. It's a fantastic way to use peak-season tomatoes and can be served as a hearty side dish or light main. Feel free to omit the microgreens in this recipe and add some extra basil. And if you're not vegan, dollops of regular ricotta or torn fresh mozzarella would be a nice addition here.
.
.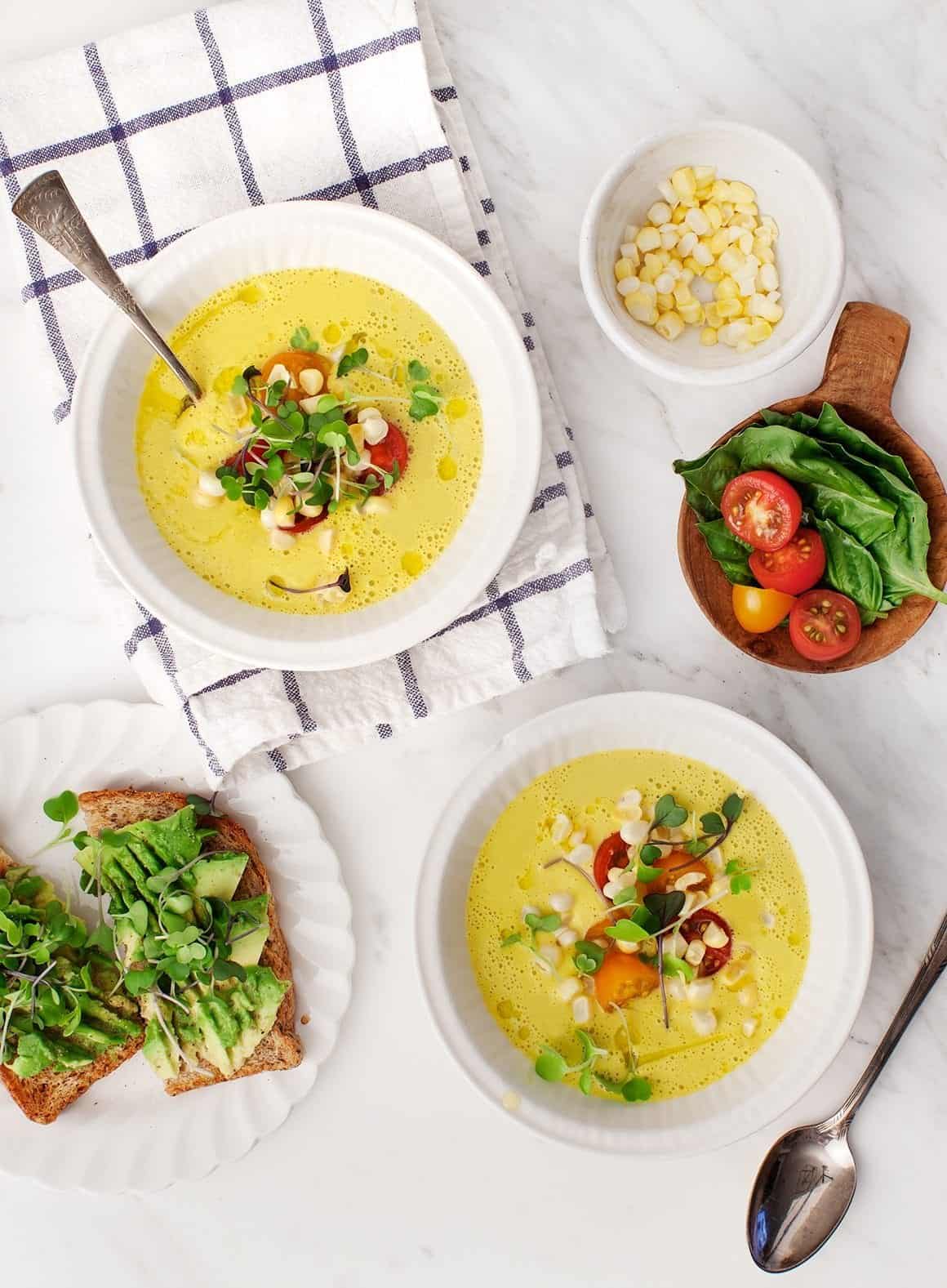 Sweet Corn Gazpacho
From Love & Lemons
This unconventional gazpacho is lightly sweet, tangy, refreshing, and downright delicious. The recipe calls for yellow tomatoes and peppers, but feel free to use the red/multicolored ones in this week's box. The soup won't look quite the same, but it will still taste great.
.