Week #13, August 16/17, 2018
Badger!

I looked up and found a curious badger watching me. I was lucky to catch a video snippet.

The badger has taken up residence in our sand pit, near the place I found a badger living last year. Apparently it's a prime spot! The sand pit walls are steep and sandy but stabilized by young trees growing at the rim. The wooden boards in the photo cover a cubby that our son Ari dug as a secret hiding place years ago.
This sand pit has been a wonderful place for our family. It was dug when the previous owners sold sand for road construction. Our kids spent countless hours digging in their own enormous sand box, hunting for fossils, sledding down the slopes or having bonfires with friends. Steve still digs sand to fill farm potholes.
Over the years, it's become wilder as the surrounding area grew up with shrubs and trees. The kids don't play there any more. I'm the only visitor, there to tend prairie plants I've seeded on the walls. Badgers, skunks, raccoons, deer and farm cats all visit the sand pit now. (I have a trail camera.) It's been interesting to watch this develop on our small farm, especially because the pit is quite close to farm buildings.
The facial markings for this year's badger are different enough from last year's resident that I think it's a new visitor. I suspect it has lived in the sand pit all summer, as I've seen extensive tunneling and characteristic prints. I didn't mention the tunnels to Steve. One weekend, he spent hours hauling away sand by tractor. The badger didn't seem to care; it stayed in residence and as active as ever.
I doubt I'll see this one again in person. Last year's sighting was prolonged. The badger popped its head out to watch me for about 3 minutes. I returned to look for it every day but never saw it again. Our outdated trail camera captured a few blurry images but that's all. This year's encounter was shorter. I'll return to look for it (from a distance!) but might not see it again. It's time for us to get a better trail camera, Beth
Veggie List and Veggie Notes
Week #13, August 16/17, 2018
Weekly shares & green EOW
Sweet corn, ~9
Carrots, 2 lb
Muskmelon, 1
Tomatoes, plum, ~2.3 lb
Tomatoes, slicing, ~1.7 lb
Cucumbers, 2 – 3
Silver Slicer cukes, 2 or 4
Red bell &/or frying peppers, ~3
Walla Walla onion, 1 or 2
Basil, generous bunch
– A few sites get an eggplant or a handful of pickles.
Next week's box will probably contain tomatoes, peppers, melon, cucumbers, an herb and more.
Sweet corn – This variety (named "Enchanted") is new to us. Organically-raised sweet corn seed is rare so we were glad to try it. Unfortunately, too many husks strip off as we pick the corn. See photo. Handle it gently to avoid bruising since some ears have lost protective husks.

As we snapped off the stems, husks pulled away on some ears. See the two ears on right. We can't leave the stems on or the corn doesn't fit in the CSA boxes. The ear on the left isn't snapped properly and you can see how much longer it is. We will not be growing this variety again.
RECIPES
Visit our 2018 Recipe Log or our 2017 Recipe Log or join our Facebook discussion group.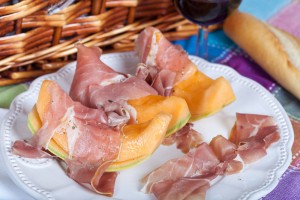 LOCAL THYME/ Comforting Classics
Orecchiette with Tomato Concasse
Prosciutto and Melon
Tomato, Cucumber and Corn Panzanella
Shrimp or Cashew Biriyani
LOCAL THYME/ Outside the Box Recipes
Basil Oil Marinated Caprese Salad
Orange Blossom Water Scented Melon with Basil
Sweet Corn and Basil Lasagna
Cinnamon Carrot Pie
LOCAL THYME/ Quick & Easy Meal
Black Bean, Shredded Carrot and Pepper Burrito
Recipes from Lauren
LOW-MAINTENANCE FREEZER LASAGNA
I know lasagna may not scream summer, but hear me out. I love making lasagna this time of year, when abundance can be overwhelming, for a lot of reasons. First, it is a really effective way to "deal with" several vegetables in one massive dish that will feed your family for several days. I think a hearty batch of lasagna can round out your week when most of what you are eating are hearty vegetable side dishes and loads of fresh delicious simple salads.
However, what I really recommend folks do is make this lasagna as a simple way to preserve the bounty inherent in August for later in the year. I love making this recipe and freezing it before the baking step (you can freeze in Pyrexes or those nice aluminum pans from the grocery store; either can go straight into the oven) and cooking it up any night I run short on time and don't know what to make for dinner, or (even better) I wait until December when local veggies are less plentiful and I am really craving summer flavor. Lauren.
Makes 6 hefty servings
Takes 1 hour, 50 minutes
1 tablespoon + 1 teaspoon Kosher salt, divided
8 ounces lasagna noodles
1 pound ground beef or Italian sausage (vegetarian? substitute 1-2 cups of cubed eggplant!)
1 onion, diced
3-4 carrots, peeled and diced
2 red peppers, diced
1-2 pounds tomatoes, cored and roughly chopped
16 ounces cottage cheese or ricotta
1 whole egg
1 teaspoon dried parsley
1/2 teaspoon dried basil
1/2 teaspoon dried oregano
4 cups favorite pasta sauce (homemade is great; but the jarred stuff works too!)
3 to 4 cups shredded mozzarella cheese
Ω cup Parmesan cheese
Preheat oven to 350 degrees F (if baking lasagna right after assembling) and grease 9◊13 baking dish.
Bring a large pot water to a boil on the stove top. Add 1 tablespoon Kosher salt. Cook pasta according to package directions and drain.
Combine meat with onion, carrots, peppers and tomatoes in a large skillet. Sprinkle with 1/2 teaspoon Kosher salt. Cook over medium heat for 10-15 minutes until carrots get a little caramelized and meat is fully cooked.
Mix cottage cheese (or ricotta), egg, remaining 1/2 teaspoon Kosher salt and dried herbs in a large bowl.
Spread approximately one cup of sauce on the bottom of baking dish. Place a third of the noodles on top of the sauce. Add another cup of sauce followed by half of the meat mixture, half of the cottage cheese (or ricotta) mixture, and a third of the mozzarella. Top with another third noodles, another cup of sauce, and the rest of the meat mixture and cottage cheese mixture. Cover with another third of the mozzarella followed by the rest of the noodles and sauce. Top with the remaining mozzarella and Parmesan. The lasagna can be refrigerated or frozen at this point. Let lasagna defrost in the refrigerator for a day prior to baking.
Cover with foil. Bake at 350 degrees for 1 hour. Increase baking time if lasagna is cold. Remove foil and bake uncovered for 5-10 minutes for top cheese to brown (or place under the broiler for a minute or two). Let stand 15 to 20 minutes before serving.
.
TOMATO & CORN PANZANELLA
Adapted from Six Seasons

Honestly, the corn, tomatoes, Walla Wallas and cucumbers are perfect after the second step. These fresh veggies with a tough of vinegar, salt and pepper are a dream snack so feel free to stop right there. But if you're feeling a little fancier go a bit further and follow the recipe for the torn croutons from Joshua McFadden's great Six Seasons cookbook and add the toasted walnuts, Parmesan and basil! You'll be thrilled either way. Lauren.
Serves 4-6 as side or 2-3 as a meal
Takes 30 minutes if making the croutons, 15 minutes if not
4 ears corn, shucked
1-2 pounds tomatoes, the more shapes, sizes and colors the better, cored and sliced or cut into wedges (or some of both)
1/2 Walla Walla onion, thinly sliced
2 cucumbers or silver slicer, cut in half lengthwise, seeded and sliced
1/4 cup white wine vinegar
1 teaspoon Kosher salt
1/4 teaspoon freshly ground black pepper
1 cup toasted walnuts
1/2 cup fresh grated Parmesan
3 cups torn croutons (recipe below)
1/4 cup olive oil
1 handful basil leaves, cut into a chiffonade
Bring a large pot of water to a boil. If making the torn croutons, also preheat your oven to 400 degrees at this time.
Once water is boiling, add corn to pot and cook for 4 minutes. Once finished cooking, drain and rinse under cold water until cool enough to handle. Using a knife, cut kernels of corn off ear.
Place corn in a large bowl with tomatoes, onion and cucumber. Add vinegar, salt and pepper. Toss gently with a spatula to combine.
Add walnuts, Parmesan and torn croutons and toss again. Drizzle with olive oil and sprinkle with basil. Serve chilled or at room temperature.
.
Torn Croutons
1/2 loaf favorite fancy bread (6-8 ounces), I used Pepitas Polenta from Madison Sourdough
2 tablespoons olive oil
1/2 teaspoon Kosher salt
1/4 teaspoon freshly ground black pepper
Tear loaf into bite-size pieces. The pieces can and should be uneven to allow for different amounts of soft and crispy pieces. Add pieces to a baking sheet, drizzle with olive oil and sprinkle with salt and pepper. Bake for 15 minutes until crispy on the edges but not cooked all the way through.
.