Week #24; final delivery of summer CSA
This is the final delivery of our 24-week summer CSA. The season has sped by! Thank you for being members of our farm this year. We could not farm without your support.
Our hard-working crew deserves a round of applause. What a great crew! We feel lucky to have worked with all of these wonderful people. It takes multiple photos to capture everyone.

Here's the crew in August, before college students returned to school. From left, Raul, Abby, Owin, Madalyn, Ari, Chelsea, Steve, Karen, Maggie, Beth, Ben and Mat.

From left, Bekah, Carrot, Ken, Simone and John.
Bekah and Carrot were new hires this fall. Ken returned in September. Simone is finishing her 23rd season with us, and John his fourth.

Clockwise from top left; Mike on a tractor (as usual!), Sarg joined us in fall, Heather and Rebecca help us pack CSA boxes each Thursday. MIA: Charlotte and Ava.
Mellow fall
Top; Prepping garlic in the barn loft.
Middle; Planting garlic cloves. In spring, we'll harvest some as green garlic but most will mature to garlic bulbs for next year's CSA.
Bottom; Celeriac harvest is easier and more pleasant in warm dry weather
We are enjoying and making good use of the mild fall weather! How often do we get to work in short sleeves in November? Most of our garlic is planted and we are racing through other fall harvests, stashing away carrots, beets, celeriac, parsnips, cabbage, etc to sell through the winter to Willy Street Coop, Basics Coop and Outpost Natural Foods. We'll be busy right up to Thanksgiving this year, weather permitting.
Thank you so much for joining us this year.
Beth & Steve & crew
Veggie List & Veggie Notes
Week #24, November 3/4, 2022
– Weekly shares
– EOW/ purple
– Sampler/ moon
Brussels sprouts, 1 lb
Leeks, 1 lb
Fennel, 1 or 2 bulbs
Sweet potatoes, 2 to 2.5 lb
'Autumn Frost' winter squash
Celeriac, 1 large
Parsnips, ~1.5 lb
Green bell pepper, 1 or 2
Red onion
Shallots, a few
By site: purple broccoli OR Koji greens
Leeks (look like big scallions) – These alliums have a milder flavor than onions. Nonetheless, they can be used in recipes that call for onions. To wash, split the leek lengthwise, from the green tops about halfway to the base, leaving the base intact. Rinse well under running water, separating the layers to flush. If necessary, split the leek further if soil has penetrated more than halfway down the leek. Shake dry. Leeks are generally eaten cooked. They can be sauteed, steamed or roasted. Intact leeks will store 2 to 3 weeks if covered loosely and refrigerated. The outer leaves will yellow. Just peel them off and discard. The inner leek layers will be fine.
Fennel (bulbs with a tuft of lacy fronds) – Fennel is a 'swing vegetable'; it can be used raw or cooked. Clean well and slice as thinly as possible for use in raw salads. It is good simply prepared with olive oil, lime or lemon juice, salt and shaved parmesan cheese. Cooking softens and sweetens fennel, and mellows its anise flavor. Both the bulb and leaves are edible. Here are ideas from Alice Water of Chez Panisse about how to use fennel: 'It's strong anise characteristic seems to suit fish particularly well. … We use fennel all the time. We add the feathery leaves to marinades for fish and to numerous salads, sauces and soups and we use them as a garnish, too. … The bulbs are sliced and served raw in salads in various combinations with other vegetables, parboiled for pastas; caramelized and served as a side dish; braised whole; or cooked in vegetable broths & fish stocks."
Storage: Cover and refrigerate.
'Autumn Frost' squash – Store cool and dry. 60 F is ideal.
This beautiful frosted squash has both pumpkin and butternut squash breeding. They cook and taste like an unusually good butternut, with rich, smooth texture. They are quite nice. The skin is edible. They store very well but you have to keep an eye on them. If you see flaws developing, eat promptly.
Celeriac (knobby, round, bizarre-looking vegetable which smells like celery) – Refrigerate. Celeriac will store in your refrigerator for months. Cut off chunks as you need them. Peel before using. Flavorful celeriac is good raw or cooked. It is excellent in mixed roasted veggies or in soup. It's especially good in cream soups, alone or mixed with potatoes. Grated raw celeriac is a great starting point for winter salads.
Parsnips (These look like large white carrots) – Those long, white roots are not carrots, they are parsnips. The two vegetables are related. When cooked, parsnips are sweet and starchy. For the best flavor, brown them to caramelize the sugars. Here are a few ideas for parsnip preparation:
– Caramelize the parsnips by roasting them in a vegetable medley.
– Parsnip fries are delicious: cut like French fries, oil lightly, place on a cookie sheet and roast in a hot oven until brown and cooked through.
– Try substituting grated parsnips in a potato pancake recipe. They brown beautifully and are very tasty.
– Steve loves pan-fried parsnips with onions and garlic.
Green bell peppers – Use soon! These were exposed to cold temperatures under row cover, then harvested and held in our cooler. We've examined them carefully so they are in good shape now but will not store for long. It's a last gasp of summer and we're having trouble letting go.
Shallots (look like small red onions) – Store at room temperature. Shallots store for a long time. Excellent minced for salad dressing. They will sweeten considerably when fried and can be used in Thai or Vietnamese dishes, to top burgers, etc.

Pretty, pretty 'Autumn Frost' squash
RECIPES by PHOEBE
Cheesy White Pizza with Roasted Fennel & Brussels Sprouts
If you're stumped by how to use fennel, you can't go wrong with putting it on a pizza. I roast the fennel first, which brings out its natural sweetness and gives it a tender, silky texture. I love the way it plays off the salty pecorino and crispy shredded Brussels sprouts here.
Serves 2 to 3
Prep time: 15 minutes
Cook time: 30 minutes
1 pound pizza dough, store-bought or homemade (I like this recipe or this one.)
1 medium fennel bulb (5 ounces), cut into thin wedges
½ small red onion, cut into thin wedges
Extra-virgin olive oil, for drizzling
Sea salt
Cornmeal, for the pan
5 ounces low-moisture, part-skim mozzarella cheese, shredded on the large holes of a box grater (2 scant cups)
Heaping ½ cup thinly sliced Brussels sprouts
1 ounce pecorino or Parmesan cheese, shredded on the small holes of a box grater (⅓ cup)
Red pepper flakes
If using store-bought pizza dough, let it sit at room temperature for 1 hour before assembling the pizza.

Preheat the oven to 425°F and line a baking sheet with parchment paper. Place the fennel and onion wedges on the baking sheet. Drizzle with olive oil, sprinkle with salt, and use your hands to coat. Arrange in a single layer on the baking sheet and roast until tender and browned, 20 to 30 minutes. When the roasted vegetables are cool enough to handle, transfer to a cutting board and roughly chop.

Raise the oven temperature to 500°F.

Dust a pizza pan or another large baking sheet with cornmeal and place the dough on the pan. Stretch the dough into a circle about 12 inches in diameter. Evenly sprinkle with the mozzarella, leaving a ½-inch border around the edges. Top with the roasted fennel and onions, then sprinkle on the Brussels sprouts. Top with the pecorino cheese, scattering some cheese over the bare edges of the crust.

Bake until the crust is golden brown, 10 to 15 minutes, rotating the pan halfway through the bake time.

Sprinkle with red pepper flakes, slice, and serve.
Chipotle, Sweet Potato & Lentil Stew
Sweet potatoes and chipotles in adobo sauce create a delicious sweet and spicy pairing in this hearty stew. This recipe has a bit of a kick, so if you're sensitive to spice, I recommend starting with just 1 chipotle pepper and adding more to taste. Recipe inspired by Martha Rose Shulman's Spicy Lentil and Sweet Potato Stew with Chipotles.
Serves 4
Prep time: 10 minutes
Cook time: 40 minutes
2 tablespoons extra-virgin olive oil
1 medium onion, chopped
3 garlic cloves, chopped
1 tablespoon tomato paste
1 teaspoon ground cumin
4 cups vegetable broth
1 cup French green lentils, rinsed
1 pound sweet potatoes (about 2 medium), peeled and cut into ½-inch chunks
2 chipotle peppers from a can of chipotles in adobo sauce, minced
½ teaspoon sea salt, plus more to taste
Bay leaf
Freshly ground black pepper
1 teaspoon apple cider vinegar
Heat the olive oil in a large pot or Dutch oven over medium heat. Add the onion and a pinch of salt and cook, stirring occasionally, until softened, about 5 minutes. Add the garlic, tomato paste, and cumin and cook, stirring, for 1 more minute.

Add the broth, lentils, sweet potatoes, chipotles, salt, bay leaf, and several grinds of pepper. Bring to a boil. Reduce the heat to a simmer, cover, and cook, stirring occasionally, until the lentils and sweet potatoes are tender, about 30 minutes.

Remove from the heat and discard the bay leaf. Stir in the vinegar, season to taste, and serve.
Curry Roasted Parsnip Fries
From Minimalist Baker
Parsnips crisp up surprisingly well in the oven, so they're perfect for making unconventional baked fries like these. Serve with your favorite dipping sauce!
.
.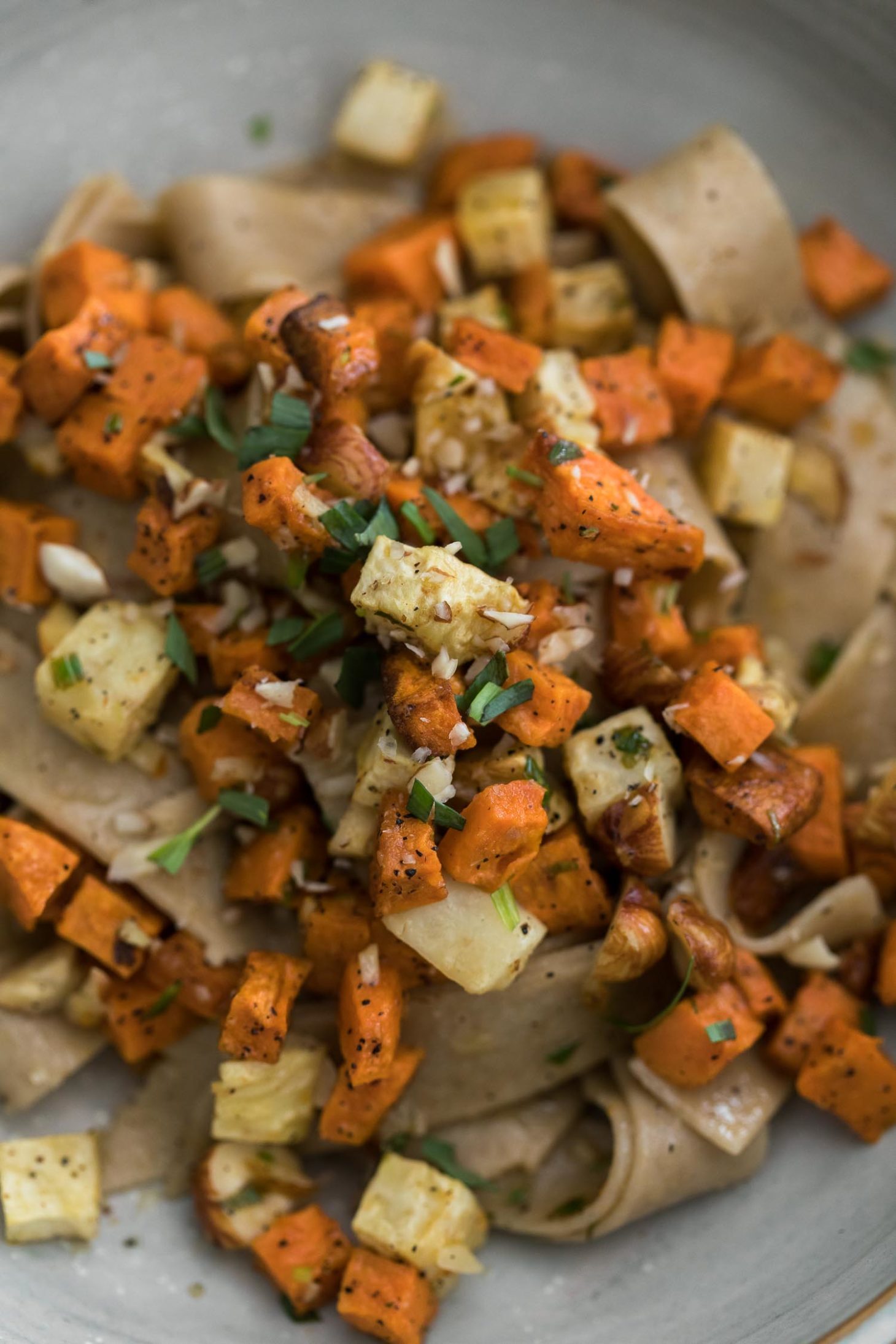 Photo by Erin Alderson
Sweet Potato Celeriac Pasta with Tarragon Butter Sauce
From Naturally Ella
In this simple pasta, a tarragon butter sauce coats chewy whole wheat noodles, crunchy hazelnuts, and tender roasted root veggies. If you don't have fresh tarragon handy, you can skip it (garlic and lemon still give the sauce plenty of flavor) or substitute another herb such as parsley or thyme.
.
.


Photo by Cookie + Kate
Honey Mustard Brussels Sprout Slaw
From Cookie + Kate
This sweet and tangy slaw couldn't be simpler to toss together! It calls for 4 main ingredients–Brussels sprouts, dried cranberries, toasted almonds, and Parm–plus a quick homemade honey mustard dressing.
.
.


Photo by Deb Perelman
Root Vegetable Gratin
From Smitten Kitchen
This comforting side dish was made for this week's box! The recipe calls for fennel, sweet potatoes, and celeriac (check, check, and check) in addition to Yukon gold potato. You can replace the potato with extra sweet potato and/or celeriac, or add parsnips for a unique twist.
.
.


Photo by Laura Wright
Ginger Sweet Potato Dal with Coconut Leeks
From The First Mess
Laura uses sautéed leeks as a topping for this dal. Cooked with coconut and lime, they offer a bright, fresh contrast to the creamy lentil and sweet potato stew.
.
.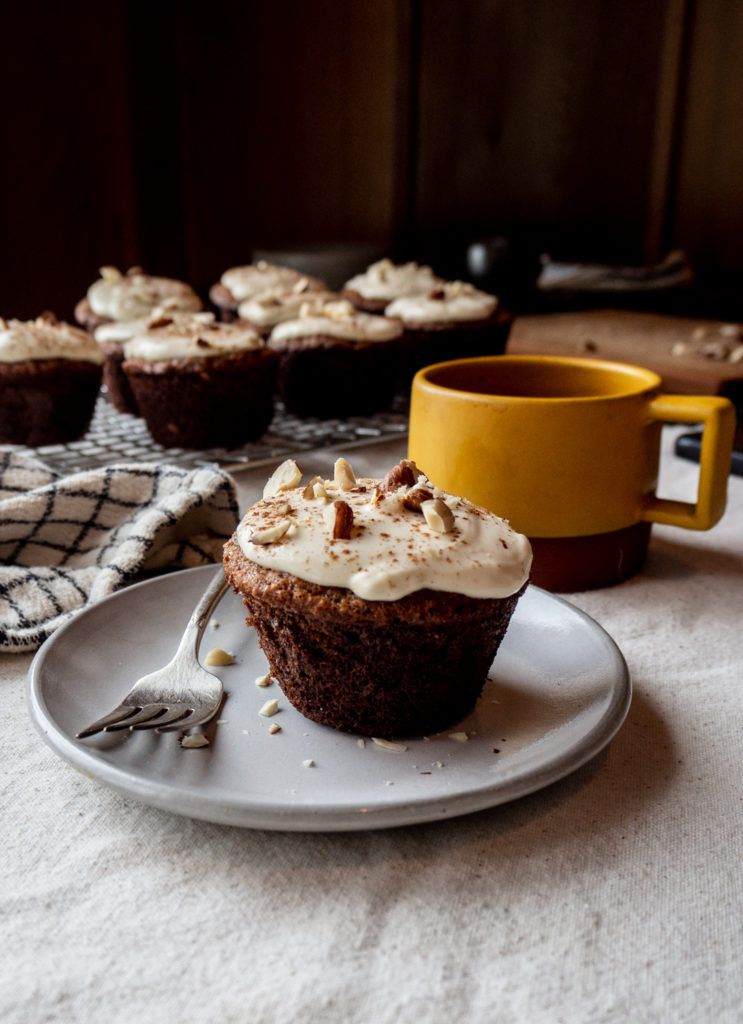 Photo by Andrea Bemis
Cardamom Spiced Parsnip & Date Muffins
From Dishing Up The Dirt
Parsnips' sweet, nutty flavor makes them a great candidate for use in baking recipes like this one. The idea might seem unconventional, but we're all on board with the veggies in zucchini bread and carrot cake. Why not parsnip muffins, too? Enjoy these ultra-moist muffins on their own, or top them with honey cream cheese frosting for a more decadent treat.