Monthly Archives:
September 2021
Winter squash are tricky to grow. They take a full season to mature, allowing many perils of insect attack or rot in wet weather. This has been a remarkably dry growing season for us. Dry years create extra irrigation work for us, but usually produce spectacular crops. I've written it before, but we think this might be our best-ever CSA season.
Anyway, the winter squash have benefited from the dry weather plus our typical squash-loving insects were less abundant than usual (cucumber beetles and squash bugs). Harvests have been so easy! The same team of squash cutters have worked with me for years because it's an exacting job and takes time to learn. Not this year – almost all the squash were harvestable without special evaluation. That gave me the freedom to include everyone in squash harvest at some point. It's a good job to share – squash are heavy, you know.

One of many wagonloads of winter squash. From left, Billy, John, Matt and Scott, plus Simone in back near the tractor. We are a good team. You can see the harvest conveyor belt stretching off the wagon to the right. We clip the squash, pile them in the field, then return to pick them up with the wagon and belt. That harvest belt saves our backs – we place the squash directly on the belt instead of carrying filled crates out of the field.

The harvest belt in action, kind of.

From the front, Jester, Autumn Frost (for the Storage shares probably), then Nutterbutter butternuts.
We store the harvested squash in our biggest greenhouse. It's warm and dry, perfect for curing squash.
Thanks for reading.
Beth
Veggie List & Veggie Notes
Week #
– Weekly shares
– EOW/ green
Green cabbage, ~ 3 lb
'Carnival' winter squash, 1 – 2
'Mollie' yellow potatoes, 3.5 lb
Green beans, 1.1 lb
Plum tomatoes, ~4 count
Colored peppers, ~3
Poblano chiles, 2
Onion
Garlic
Some sites get cauliflower this week.
Some sites get broccoli.
Next week's box will probably contain sweet potatoes, carrots, green beans, peppers, some kind of fall greens and more.
'Carnival' winter squash – These acorn squash were harvested from very healthy plants and should store at room temperature for up to one month. After that, they'll start to get stringy and lose flavor. They are beautiful so keep them in your kitchen somewhere that you can admire them and also watch for developing flaws. If you see any flaws, then eat them soon. The skins are too tough to eat.
'Mollie' yellow potatoes – These organic potatoes were grown by our friends Josh and Noah Engel of Driftless Organics. Josh says that Mollie is a "nice all-around potato, good for frying, boiling or mashing."
Plum tomatoes – The tomato plants are in decline so these tomatoes have an expiration date of Sunday. Eat or cook with them soon.
Poblano chiles (triangular, shiny; green or brown; MILDLY HOT) – Poblanos are the creme de la creme of chiles. They have lots of great flavor in combination with manageable heat. Roast and add to soup or casseroles. To reduce heat, remove the seeds and midveins.

Poblano chiles will be dark green or chocolate-colored, occasionally with a red tip. These are the only hot peppers in this week's box. All other peppers are sweet.
RECIPES from PHOEBE
Visit our 2020 Recipe Log or our 2019 Recipe Log.
.
.

Lemony Sheet Pan Potatoes and Green Beans with Soft-Boiled Eggs
Crispy, creamy roasted potatoes, soft-boiled eggs, and a bright lemon-Dijon dressing make this simple recipe a satisfying meal. Don't hold back on the dressing here – it really takes this dish over the top.
Serves: 4
Prep time: 15 minutes
Cook time: 30 minutes
Ingredients
1 pound green beans, trimmed
1 1/2 pounds yellow potatoes, cut into 1/2-inch chunks
1/3 cup extra-virgin olive oil, more for drizzling
3 tablespoons fresh lemon juice
1 garlic clove, grated
1 teaspoon Dijon mustard
1/2 teaspoon honey
1/4 teaspoon sea salt, more for sprinkling
Freshly ground black pepper
1 1/2 cups cooked white beans, drained and rinsed (1 14-oz can)
1 tablespoon capers
1 teaspoon lemon zest
4 large eggs
Preheat the oven to 425°F and line two large baking sheets with parchment paper.
Place the green beans on one baking sheet and the potatoes on the other. Drizzle them with olive oil, sprinkle with salt and pepper, toss to coat, and spread the veggies in a single layer. Roast the green beans for 17-22 minutes, or until crisp and beginning to brown. Roast the potatoes until the skins are puffed and crispy and the middles are tender, about 3o minutes, stirring halfway.
Meanwhile, make the dressing. In a small bowl, whisk together the olive oil, lemon juice, garlic, mustard, honey, 1/4 teaspoon sea salt, and several grinds of fresh black pepper.
Place the white beans, capers, lemon zest, and 2 tablespoons of the dressing in a medium bowl and fold to combine. Set aside the beans and the remaining dressing while you prepare the eggs.
Fill a large saucepan halfway with water and bring to a boil over high heat. Set a medium bowl of ice water nearby. Reduce the heat to a simmer, and carefully lower the eggs into the pot. Simmer for 7 minutes, drain, and transfer the eggs to the bowl of ice water to stop the cooking process. Allow them to cool in the ice water for at least 2 minutes before carefully peeling off the shells.
Divide the roasted potatoes, green beans, and white beans among four plates and top each one with a soft-boiled egg. Season with salt and pepper and serve with generous drizzles of the dressing.
Quinoa and Black Bean Vegetarian Chili
Serve this hearty veggie chili with whatever fixings you like. Crushed corn chips, sour cream or plain Greek yogurt, grated cheddar cheese, cilantro, pickled onions, and pickled jalapeños would all be great.
Serves: 4
Prep time: 10 minutes
Cook time: 30 minutes
Ingredients
1 tablespoon extra-virgin olive oil
1 onion, chopped
1 poblano pepper, stemmed, seeded, and diced
1 bell or frying pepper, stemmed, seeded, and diced
3 garlic cloves, minced
2 tablespoons chili powder
1 teaspoon cumin
1 teaspoon coriander
1 teaspoon smoked paprika
1 teaspoon dried oregano
1 1/2 teaspoons sea salt
1 (14-ounce) can fire-roasted diced tomatoes and their juices
1 (14-ounce) can pinto beans and their liquid
1 (14-ounce) can black beans and their liquid
1/2 cup uncooked quinoa
1/2 cup water
2 tablespoons fresh lime juice
Heat the oil in a large pot or Dutch oven over medium heat. Add the onion, poblano, bell pepper, and a pinch of salt, and cook, stirring occasionally, until soft, 5-8 minutes.
Stir in the garlic, chili powder, cumin, coriander, smoked paprika, oregano, and salt and cook for 30 seconds, or until fragrant.
Add the tomatoes and their juices, pinto beans and their liquid, black beans and their liquid, quinoa, and water and bring to a boil. Reduce the heat to a simmer and cook, uncovered and stirring occasionally, until the quinoa is tender and the chili has thickened, about 25 minutes.
Remove from the heat, stir in the lime juice, and season to taste.
Roasted Squash Tacos with Garlic-Poblano Cream
Carnival squash's skin is edible, so you can peel the squash or leave it un-peeled in this recipe. I typically don't peel it (peeling acorn squash is not my favorite thing to do in the kitchen), but if you don't love eating squash skin, go ahead and cut it off.
The poblano sauce here is delicious, but you need to blend it well to get a really creamy texture. If you don't have a high-speed blender, such as a Vitamix, soak the cashews for at least 4 hours before making the sauce.
Serves: 4
Prep time: 20 minutes
Cook time: 50 minutes
Ingredients
For the poblano sauce
1 poblano pepper
1/2 onion, peeled and cut into wedges
2 garlic cloves, left unpeeled
1/2 cup raw unsalted cashews
3 tablespoons water
2 tablespoons extra-virgin olive oil, more for drizzling
1 tablespoon fresh lime juice
1 teaspoon rice vinegar
1/2 teaspoon garlic powder, more for sprinkling
1/2 teaspoon sea salt
For the squash
1 carnival squash, halved, seeded, and cut into 1/2-inch chunks
1 tablespoon extra-virgin olive oil
1 tablespoon smoked paprika
1 teaspoon cumin
1 teaspoon garlic powder
1/2 teaspoon sea salt
For the slaw and tacos
12 ounces green cabbage, shredded (about 1/2 one small cabbage)
1 colored bell or frying pepper, cut into 1-inch matchsticks
1 tablespoon fresh lime juice
2 teaspoons extra-virgin olive oil
1 teaspoon lime zest
1 garlic clove, grated
1/2 teaspoon sea salt
12 small tortillas, warmed
Preheat the oven to 450°F and line two large baking sheets with parchment paper.
Make the poblano sauce: Place the whole poblano and the onion wedges on one of the baking sheets. Drizzle with olive oil and sprinkle with salt. Wrap the unpeeled garlic cloves in a small piece of aluminum foil with a drizzle of olive oil and a sprinkle of salt. Add the foil packet to the baking sheet and roast for 20 minutes, or until all the vegetables are tender. Allow to cool slightly.
Remove the skins from the garlic and the stem and seeds from the pepper. Transfer the roasted garlic, onion, and poblano to a high-speed blender with the cashews, water, olive oil, lime juice, vinegar, garlic powder, and salt. Blend until smooth and set aside.
Roast the squash: Place the squash in a large bowl and toss with the olive oil, smoked paprika, cumin, garlic powder, and salt. Use your hands to make sure the squash is well-coated, then spread it in an even layer on the remaining baking sheet. Roast for about 30 minutes, or until you can easily pierce the squash with a fork, stirring every 10 minutes.
Meanwhile, make the slaw: Place the cabbage and pepper in a large bowl and toss with the lime juice, olive oil, lime zest, garlic, and salt.
Assemble the tacos in the tortillas with a big spoonful of the poblano sauce, a scoop of the slaw, and several pieces of the roasted squash.
Cozy Cabbage and Farro Soup
From Smitten Kitchen
This recipe is an adaptation of the cabbage soup from the cookbook Six Seasons by Joshua McFadden, which is an excellent guide to cooking with seasonal vegetables. In the book, Joshua says that this soup has "a definite grandma vibe," which is true in the best way. It's comforting, nourishing, and deeply flavorful. Serve with good crusty bread.
.
.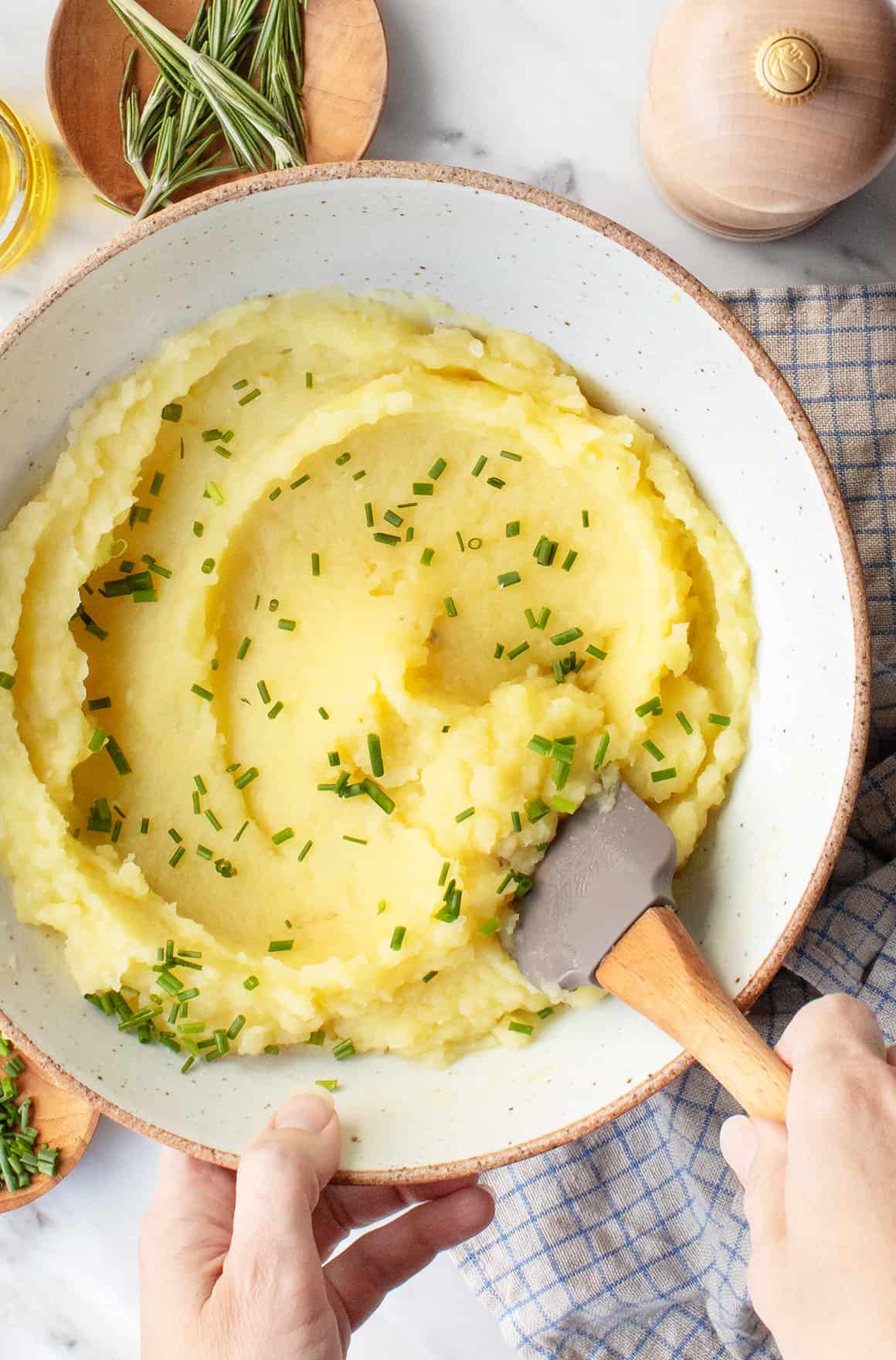 Roasted Garlic Mashed Potatoes
From Love & Lemons
I love this recipe, which yields light and creamy mashed potatoes with a rich garlic flavor.
.
.

Smoky Sautéed Cauliflower with Green Beans, Tahini, and Almonds
From The First Mess
A tasty, out-of-the-box veggie side dish. If you don't have fresh thyme on hand, substitute 1/2 the amount of dried thyme.
.
.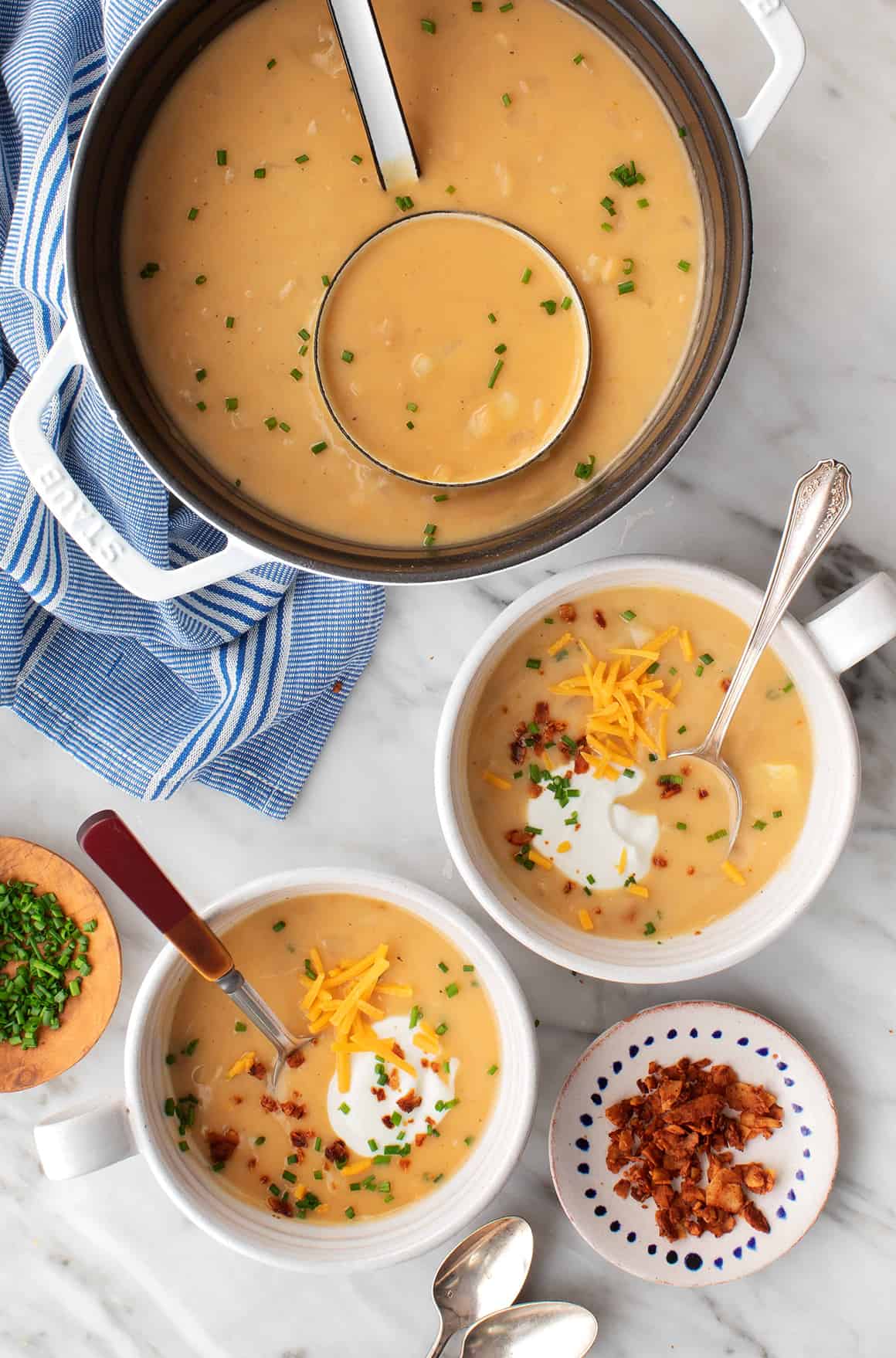 Creamy Potato Soup
From Love & Lemons
This smoky, tangy soup is such a cozy fall meal! It's great topped with shredded cheese and/or sour cream, but if you skip those garnishes, it's entirely vegan. Its rich, creamy texture comes from blended white beans and potatoes instead of dairy.