Week #14; Hanging in there.

Nothing on our farm is longer than a row of beans. Really, time suspends while we slowly work our way down a row.
Folks, we are in the second half of our May – October season. From our perspective, it's been a very productive growing season so far. The crops are abundant and high quality, primarily because rain has been sparse. Wet weather encourages plant diseases, dry weather discourages them. Irrigation consumes Steve's time and energy in a dry season but the effort pays off. Pay attention to how flavorful the tomatoes, peppers, corn and melons are this week. Those crops soak up sunshine.
We are short-handed right now. Let's face it, I hired too many students this spring and now they've left us. I have hired two new farmhands (they are both great!) but we need to find one or two more people to return to our typical size crew. As you know from the news, this is a widespread problem. Many, many businesses are looking for employees.
Honestly, this is a new problem for us. I rarely have trouble finding good people to hire. But the world is different right now.
Hats off to our hardworking crew! Everyone has pitched in, working longer days than usual. None of us can bear to leave beautiful crops in the field after investing the effort to grow them. Once we're back to a full crew, we'll be able to relax a bit and enjoy our work more.
Thanks for reading.
Beth
Pepper ID

From top, jalapeño chile (hot), red frying pepper (sweet), and 2 red bell peppers (sweet).
Let's review this week's peppers. Everyone gets about 3 red peppers, a mix of blocky bell peppers and slender frying peppers. Expect to receive an occasional 'suntan' pepper – one that's partly red and partly green. Occasionally we pick these by accident but sometimes we need to harvest before the peppers are fully red to keep them from spoiling. Fully ripe red peppers are fairly fragile.
Storage: Refrigerate.
Bell versus frying peppers: Bell peppers have thicker walls, which makes them more suitable for roasting and peeling. Frying peppers have lower moisture, which means they will fry more readily in hot oil. And are so fragrant while frying!
Uses: Bell and frying peppers can be used interchangeable in raw and cooked dishes. Both are good for stuffing. Some people like to stuff cored peppers, some prefer to split each pepper, lay the halves flat, then fill with stuffing and bake.
Heat: Check our newsletter each week for information about whether the peppers you receive are sweet or hot. Bell and frying peppers are both sweet. However, some of our hot chile peppers look deceptively like a small frying pepper. Each week, we'll tell you what to expect in your box. We encourage you to keep pepper deliveries separate if you have unused peppers from a previous delivery still in your fridge, so you remain confident in your pepper identification. Or eat them all right away!
Preservation: Peppers are easy to freeze. They do not require blanching. Simply cut into pieces and freeze in a bag or container. They will be soft when thawed but without sacrificing flavor.
Veggie List & Veggie Notes
Week #14, Aug. 19/20, 2021
– Weekly shares
– EOW/ green
Sweet corn, 7 or 8 ears
Watermelon, orange or yellow
Slicing tomatoes, ~3.5 lb
Red peppers, bell or frying (sweet), ~3 depending on size
Green beans, ~2/3 lb
Cucumbers, 1
Zucchini &/or yellow squash, 2 – 2.25 lb
Expression yellow onion, 1 or 2
Cilantro, 1 bunch
Jalapeno (small, dark green, HOT) – This chile is spicy.
Garlic, 1 head
Next week's box will probably contain sweet corn, tomatoes, peppers and more.
Sweet corn – Bugs are low this week! Yeah! You'll receive a mix of large and small ears. All are the same variety, planted on the same day. The small ears are from a section of the field that didn't get as much irrigation.
Watermelon – Please refrigerate this week's melon, even before cutting. They are ripe. Plan to eat within one week.
Cilantro, jalapeno and garlic – We're sending these together so you can make fresh salsa with your tomatoes!
RECIPES from PHOEBE
Visit our 2020 Recipe Log or our 2019 Recipe Log.
Grilled Corn & Black Bean Salad
This zesty salad is a great make-ahead lunch or grilling side dish. You could even serve it as a dip with tortilla chips! It will keep well in the fridge for about 3 days.
Serves: 6
Prep time: 15 minutes
Cook time: 15 minutes
Ingredients
3 tablespoons extra-virgin olive oil
3 tablespoons fresh lime juice
1 teaspoon lime zest
1 garlic clove, grated
1 teaspoon sea salt
1/2 teaspoon ground cumin
1/2 teaspoon ground coriander
1/4 teaspoon cayenne pepper, optional
1 1/2 cups cooked black beans, drained and rinsed (1 14-oz can)
1/2 cup fresh cilantro leaves, stems minced, divided
1/4 cup diced onion
1 red bell or frying pepper
4 ears fresh corn, husked
At the bottom of a large bowl, whisk together the olive oil, lime juice and zest, garlic, salt, cumin, coriander, and cayenne. Fold in the black beans, cilantro stems, and onion and set aside to marinate while you grill the veggies.
Preheat a grill or grill pan to medium-high heat. Place the whole pepper on the grill and grill, turning every 3-5 minutes, until char marks form on all sides. Remove the pepper from the grill, wrap it in a kitchen towel, and set it aside for at least 5 minutes to steam and soften.
Place the husked corn on the grill and grill, turning every 3 to 5 minutes, until all sides of the corn are cooked and light char marks form.
Remove the corn from the grill and slice the kernels off the cobs. Unwrap the grilled pepper and remove the stem and seeds. Dice the pepper and add it to the bowl with the black beans. Fold in the corn kernels and the cilantro leaves. Season to taste and serve.
Turmeric Black Pepper Tofu and Green Beans
I always like to try new things, so there aren't a lot of recipes that I make again and again. One notable exception is Ali Slagle's Turmeric-Black Pepper Chicken with Asparagus from The New York Times Cooking, which I've made often over the last year+. This recipe is a summery, vegetarian riff on hers, made with tofu and green beans instead of chicken and asparagus. If you're not a tofu person, feel free to use a pound of chicken thighs instead. Refer to the original recipe for the cooking times.
Serves: 3-4
Prep time: 35 minutes
Cook time: 20 minutes
Ingredients
14 ounces extra-firm tofu, cut into 1-inch cubes
1/4 cup water
1 tablespoon honey
1 teaspoon freshly ground black pepper
1 tablespoon cornstarch
1 1/2 teaspoons turmeric
1/3 cup raw cashews
1 tablespoon coconut oil, divided
8 ounces green beans, trimmed and cut into 1-inch pieces
1 teaspoon rice vinegar
Sea salt
Cooked rice, for serving
Press the tofu: Line a large baking sheet with a clean kitchen towel or paper towel and arrange the cubed tofu in a single layer across it. Cover the tofu with another towel or paper towel, and place another baking sheet on top. Weigh down the second baking sheet with something heavy – books, a cast-iron skillet, etc. Set aside to press for at least 30 minutes.
Meanwhile, prepare the sauce: In a small bowl, whisk together the water, honey, black pepper, and 1/2 teaspoon sea salt. Set aside.
In a large bowl, whisk together the cornstarch, turmeric, and 1 teaspoon sea salt. When the tofu has been pressed for at least 30 minutes, remove the top baking sheet and towel and add the tofu to the bowl with the turmeric mixture. Toss to coat.
Heat a large nonstick skillet over medium-low heat and add the cashews. Cook, tossing, until the nuts are fragrant, about 5 minutes. Remove them from the skillet and set aside.
Add 1/2 tablespoon coconut oil to the skillet and raise the heat to medium. Add the green beans and cook, stirring only occasionally, for 5 minutes, until the beans are just tender and bright green. Remove from the pan and set aside.
Add the remaining 1/2 tablespoon coconut oil to the skillet. Add the turmeric-coated tofu in a single layer and cook without stirring for 2 minutes. Toss and cook for another 2 minutes without stirring. Toss and cook for 2 minutes more.
Stir the green beans back into the pan and pour in the honey-black pepper sauce. Cook, stirring, for 2-3 minutes, until the sauce thickens. Turn off the heat and stir in the rice vinegar and toasted cashews. Season to taste and serve with rice.
Marinated Tomato Salad
This fork-and-knife tomato salad is a great way to showcase summer tomatoes. If you have fresh herbs like mint, basil, or oregano on hand, they would be a delicious finishing touch.
Serves: 2-4
Prep time: 20 minutes, plus 3 hours marinating
Ingredients
1/4 cup extra-virgin olive oil
1/4 cup sherry vinegar
1 garlic clove, grated
2 1/2 tablespoons minced onion
1 teaspoon herbes de Provence
1 teaspoon sea salt
Freshly ground black pepper
1 1/2 pounds fresh tomatoes, sliced into 1/2-inch-thick rounds (about 3 large)
2 tablespoons pine nuts
2 tablespoons crumbled feta cheese
Crusty bread, for serving
In a small bowl or liquid measuring cup, whisk together the olive oil, vinegar, garlic, onion, herbes de Provence, salt, and several grinds of pepper.
Arrange the sliced tomatoes on a large platter or baking sheet and pour the dressing on top, making sure to generously dress each tomato. Loosely cover with foil and refrigerate for 2 1/2 to 3 hours.
Before serving, heat a small, dry skillet over low heat and add the pine nuts. Toast, stirring often, for 2-3 minutes, until fragrant.
Uncover the marinated tomatoes and transfer to a serving platter, leaving any juices behind. Top with the toasted pine nuts and feta and serve with crusty bread.
Watermelon Cucumber Salad
From Smitten Kitchen
This sweet and savory salad would be so refreshing on a hot day! Deb calls for Persian cucumbers, but you can feel free to substitute the cucumber from this week's box. I recommend slicing it in half and scooping out the seeds before adding it to the salad.
.
.

Summer Squash Pasta with Brown Butter & Goat Cheese
From How Sweet Eats
This recipe calls for a mix of zucchini and summer squash, but you could easily use all summer squash – including pattypan squash – instead of the zucchini. Just be sure to cut all the squash to about the same size and thickness. Feel free to omit the basil.
.
.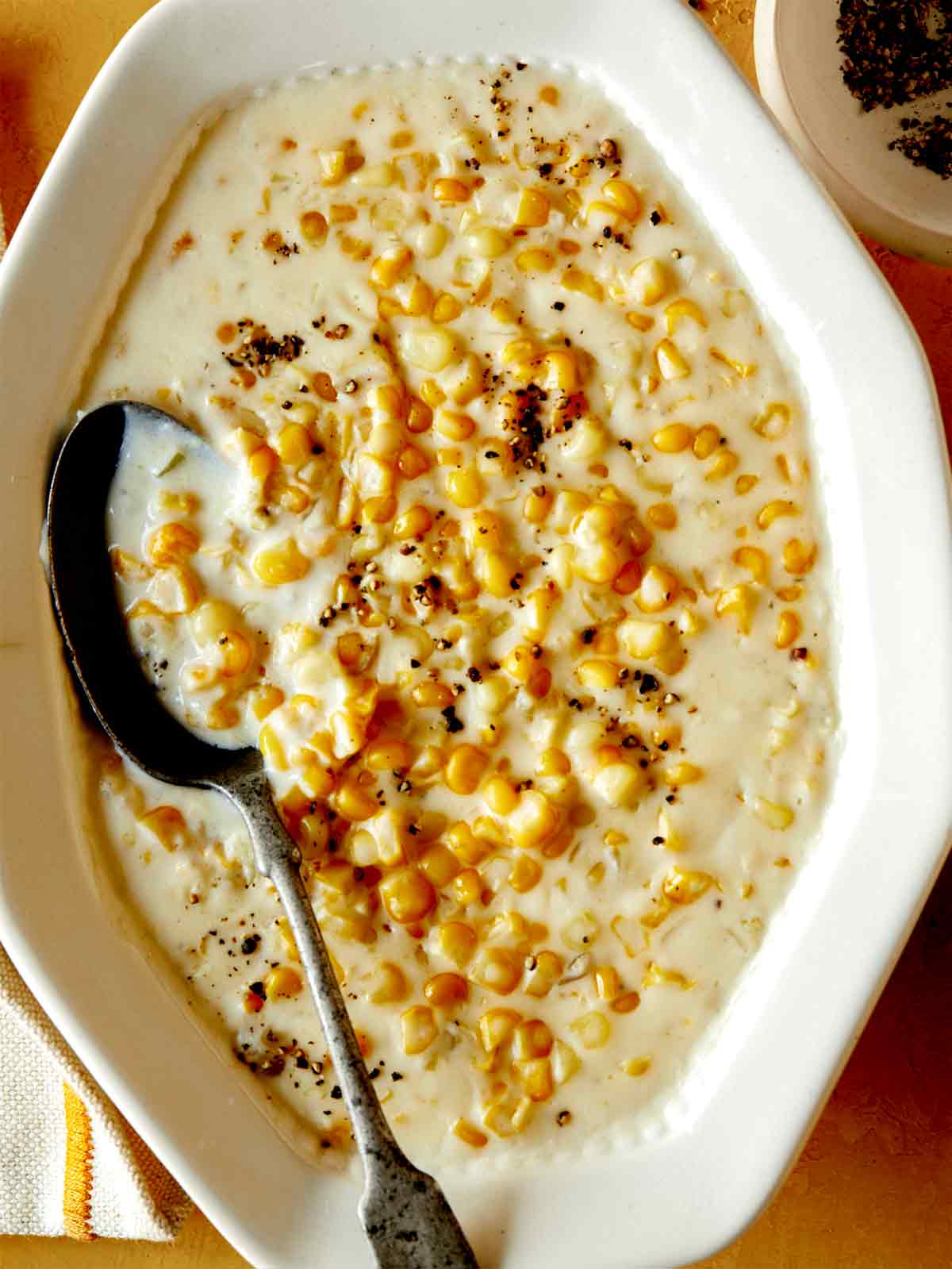 Creamed Corn
From Spoon Fork Bacon
A classic, comforting side dish for when you have lots of summer sweet corn.