Week #8; Happy July 4th and Berry Wrap-up

Happy 4th of July!
Little Evansville puts on a great July 4 celebration. This year, it was a five day party. They've got the best parade in the area, fishing and arm wrestling tournaments, music in the beer tent every night, including the middle-school art teacher's popular band. Lunker lob, ice cream social, euchre tournament, 5K and 10K runs, grilled brats and burgers from the FFA kids. Chicken BBQ, a pie sale, duck derby, baseball and a great fireworks show. Come check us out some year!
Berry Wrap-Up

We've got cute 3/4 pint containers for you this week. The berries are ripe, ripe, ripe so eat them promptly. We are pretty excited to deliver berries for a fourth week. Three weeks is a typical season.

Even more unusual is the berry size. Most, years they are quite small by this point in the season. This year, they have stayed large, even this week. We lost early berries to an unexpected frost in late May but our main variety 'Jewel' seems able to compensate by plumping up the later ones.

Larger berries mean faster harvests. This is Katie, harvesting this week.

But here are Karen and Mary Ann harvesting last week on one of the worst air quality days. Many of you asked me how we handled the smoke. As you see, many of us wore N95s outside. That was not fun. We closed up the barn with air filters running, and rotated people between indoor and outdoor jobs. Finally, we just sent everyone home early on the worst days.

Happy berry pickers!
The second strawberry u-pick went smoothly; smaller and quieter than the first one. We hope that everyone who wanted to pick berries was able to get a reservation. We have to limit the picking reservations to how many berries have ripened. With luck, we will have abundant berries next year. We plan to have two fields ready to harvest in 2024 (instead of one field) so there should be berries for all. You might even be able to bring your friends.
Thanks for reading.
Beth
Veggie List & Veggie Notes
Week #8, July 6/7, 2023
– Weekly shares
– BiWeekly/ green
– Sampler/ D group
Strawberries, 3/4 pint
Broccoli, 1.5 – 2 lb
Snap peas, and
Snow peas, 3/4 lb total
(Both types of peas are in one bag.)
Swiss chard, 1 bunch
Cucumbers, 1 or 2
Zucchini &/or Zephyr squash, ~3 lb
Scallions, 1 bunch
Basil, 1 husky sprig
Next week's box will probably contain broccoli, greens, cucumbers, zucchini, Walla Walla onions, basil and more.
Strawberries – These are the final berries of the season! Eat immediately or refrigerate.
Broccoli – The broccoli plants did great this spring despite the bewildering weather. It's one of our nicest spring broccoli harvests in a few years.
Storage: Cover and refrigerate.
Snap and snow peas, together in one bag – As usual, both types are in one bag. We really like this new snap pea variety, SS141. How's that for a romantic name? Long pods, sturdy plants and good flavor despite the heat. Hot weather is always a challenge for peas. Enjoy this batch. Both snap and snow peas have strings this week.
Storage: Refrigerate.
Swiss chard – Now that spinach is done for the year, it's time to re-purpose your spinach recipes to Swiss chard. They are closely related. Chard has a thicker leaf and requires a few minutes more cooking to achieve tenderness, unlike spinach which wilts quickly.
Storage: Cover and refrigerate.
Scallions – These are the last scallions until fall. It's been a good run. We will have sweet Walla Walla onions ready next week.
Basil (branched, leafy stalk) – Everyone gets a husky stalk, the first cutting of the season.
Storage: Basil deteriorates if stored in the refrigerator. It is best stored at room temperature with the cut ends in water, for example in a jar or vase. Treat it like a flower. Give the stem a fresh trim and change the water every day or two. You will receive a large branched stalk that I encourage you to cut down to the smaller individual stems. The smaller stems take up water better and stay fresh longer. See photo.

Large basil stalk. The arrows show where to cut into smaller stems.
RECIPES by DEB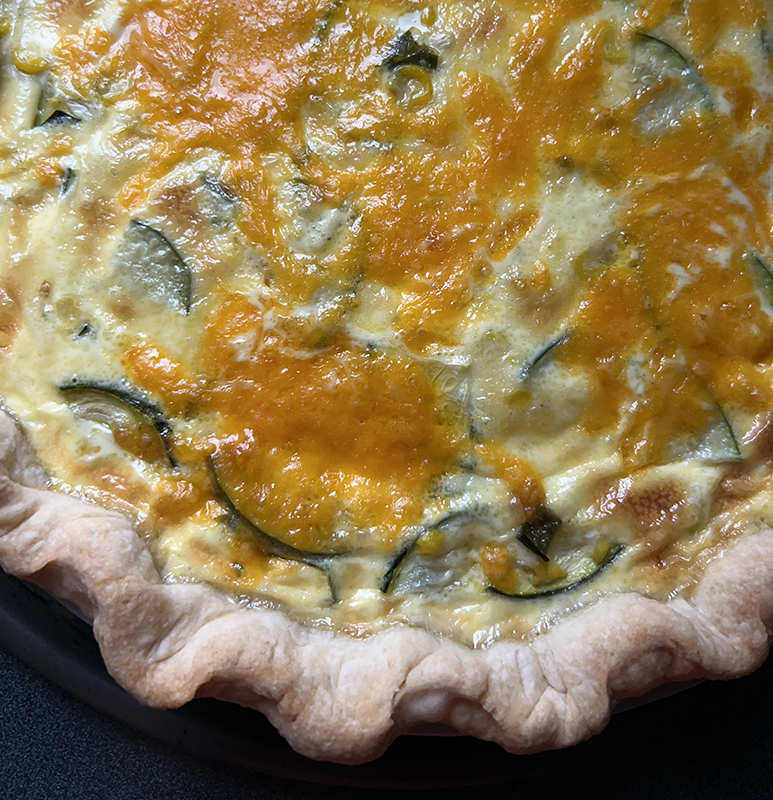 Photo by DebsLunch
Calabacitas Quiche
Calabacitas is a vegetable dish served in New Mexico and Texas and other parts of the US Southwest that usually consists of zucchini or summer squash, corn, onion, often cheese, and especially in New Mexico, roasted green chiles or poblanos. Calabacitas can also be used as a quesadilla filling – and in quiche! I'm including it this week because you can make it with zucchini and/or yellow squash, and frozen or canned corn and canned chiles until we get fresh corn and chiles in our boxes.
Serves: 6-8
Takes: about 40 mins. active time, plus an hour to chill the crust.
Crust ingredients:
1 1/2 cups flour
nice pinch of kosher salt
2 teaspoons sugar
6 tablespoons unsalted butter
3 tablespoons vegetable shortening
Filling ingredients:
2 tablespoons butter
One bunch of scallions, sliced, including white and green OR 3/4 cup chopped onion
1 large zucchini or 2 small, or a mix of zucchini and yellow squash, quartered longwise, and sliced
1 large or 2 small poblano chiles, roasted, skinned, seeded, and chopped OR one 4 oz. can mild green chlies
3/4 – 1 cup corn kernels, fresh cut from 1-2 ears, frozen, canned, or whatever you've got
salt & fresh ground black pepper to taste
1 cup grated cheddar cheese
3 eggs
1 1/2 cups half & half
Make the crust: Measure the flour into a bowl and add the sugar and salt. Cut the shortening and butter into cubes over the salt and flour. Cut the fats into the flour with your fingers, a pastry blender, or paddle attachment of your stand mixer, until the mixture resembles coarse meal. Drizzle in about 1/3 cup cold water, while stirring, until you've got a bunch of small clumps of dough. Dump out onto a floured surface, knead lightly to bring it together, and then flatten the dough into a disk and wrap in wax paper or plastic wrap and chill for about an hour.
Make the filling: melt the butter in a large skillet, and add the scallions or onion. Sauté over medium heat until the onion looks translucent, then add the zucchini. Cook until the zucchini is starting to soften, and then add the poblanos or chiles, corn, and salt & pepper. Cook until the squash is just tender, and then set aside to cool.
Assemble the quiche: Heat the oven to 375° with a rack near the bottom and another near the middle of your oven. Roll out the crust and fit it into a 9-10 inch pie dish. Put 2/3 of a cup of the grated cheese in the bottom, then add the zucchini filling. You'll find some images of rolling out crust and fitting it into a pie dish here.
Beat the eggs, add the half & half, and pour this custard into the crust.
Place the quiche on the bottom rack and bake for 10 minutes. Sprinkle the remaining 1/3 cup of cheese over the top of the quiche, and bake for another 10 minutes. Move the quiche up to the middle rack and continue baking until it is puffed and golden brown in spots, about 20 minutes more. Cool for 15 minutes before serving either hot or warm.
Spaghetti with Swiss Chard and Garlic Chips | smitten kitchen
From smitten kitchen
Deb Perelman adapted this recipe for Swiss chard pasta from the dearly departed Gourmet magazine; the orginal included currents that she omitted, so feel free to omit them yourself. The combination of chard and garlic chips is maybe a bit autumnal, but you can make it more summer-y by subbing in our scallions for the onion, and a garnish of sliced basil leaves wouldn't be amiss here.
.
.

Snap Pea Salad with Zesty Lemon Vinaigrette | Minimalist Baker
From Minimalist Baker
This quick pea salad from Minimalist Baker can be made with the combo of snow and snap peas in this week's box – all you need to do is rinse and string both types of peas and cut them all on the diagonal, about the same size. The recipe called for four cups of sliced peas for 4 generous servings of salad, and the 3/4 pound of peas in the box will not yield that much sliced up. I suggest either adding chopped broccoli to get to four cups, or you could also halve the recipe.
.
.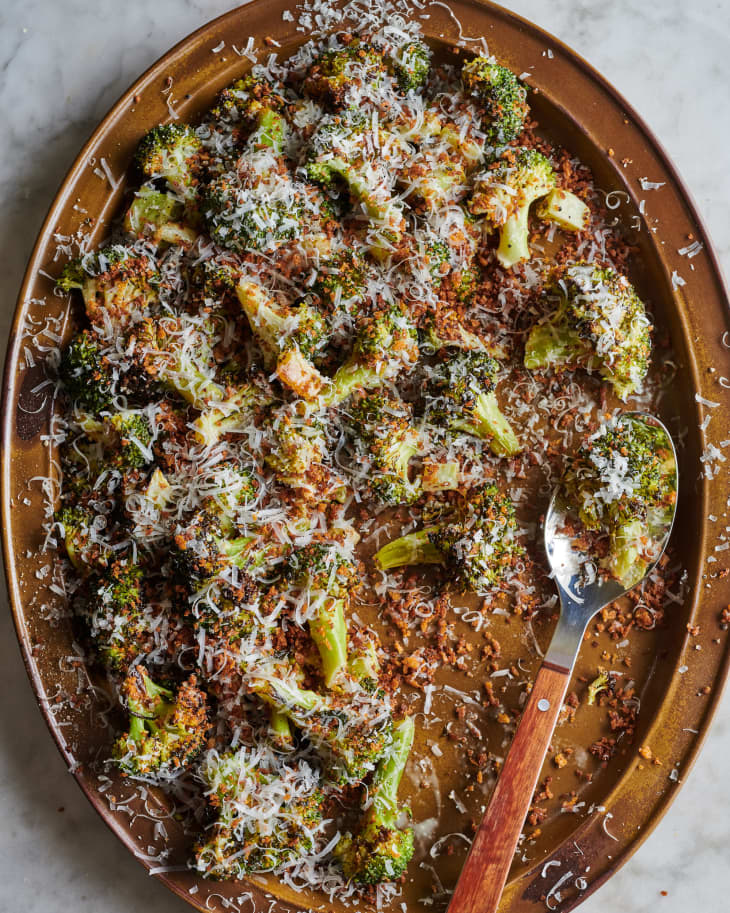 Caesar Roasted Broccoli | The Kitchn
From The Kitchn
This version of roasted broccoli is somewhere between a salad and a side dish, but is right on delicious. As the recipe points out, if you are nervous about using raw egg yolk to make a classic Caesar dressing, you can sub a tablespoon of mayonnaise. Beth also provided a link to a method for pasteurizing eggs in the microwave in last week's newsletter. And personally, I do not care for anchovies, and I sub a few shakes of Worcestershire sauce, a teaspoon or so, in place of the anchovies.
.
.

Vegetarian Chard Enchiladas | Letty's Kitchen
From Letty's Kitchen
Create this vegetarian main course with the chard and scallions in this week's box. You can use purchased or homemade enchilada sauce and Letty's Kitchen provides links to both a recipe that uses soaked and pureed whole dried chiles, and a quick version with chili powder, although I'd suggest using ground red Ancho chile in the quick sauce – you can find it at Penzey's and Willy Street Co-op.
.
.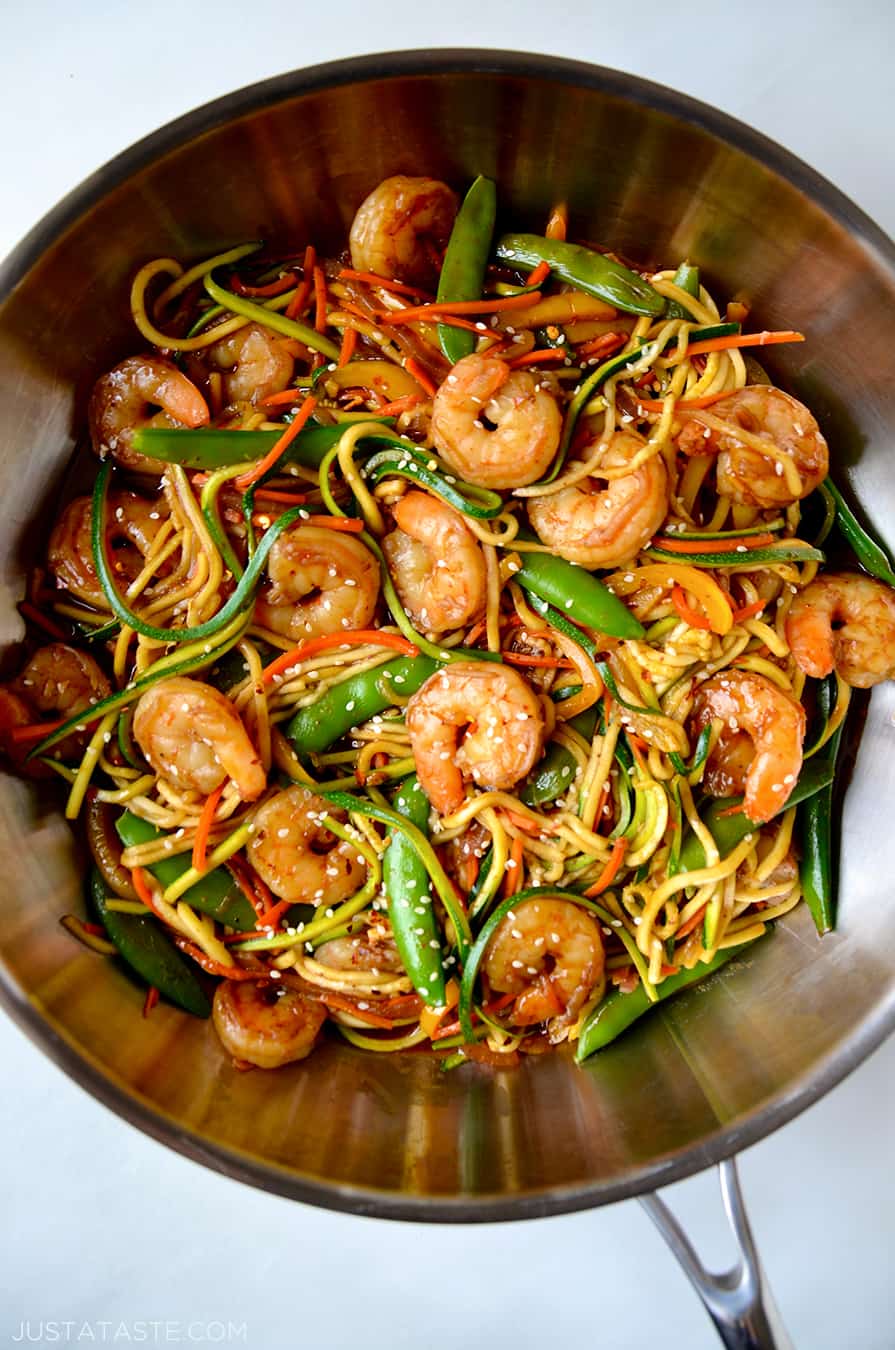 Photo by Kelly Senyei
Zucchini Noodle Stir-Fry with Shrimp | Just a Taste
From Just a Taste
Probably the best part of this recipe is that it gives you several methods for creating the zucchini noodles, zoodles, even if do not own a spiralizer or mandoline. It also provides an easy stir fry sauce made with common pantry ingredients like soy sauce and cornstarch. You can sub in sliced chard leaves and stems and broccoli for the carrots and bell pepper.
.
.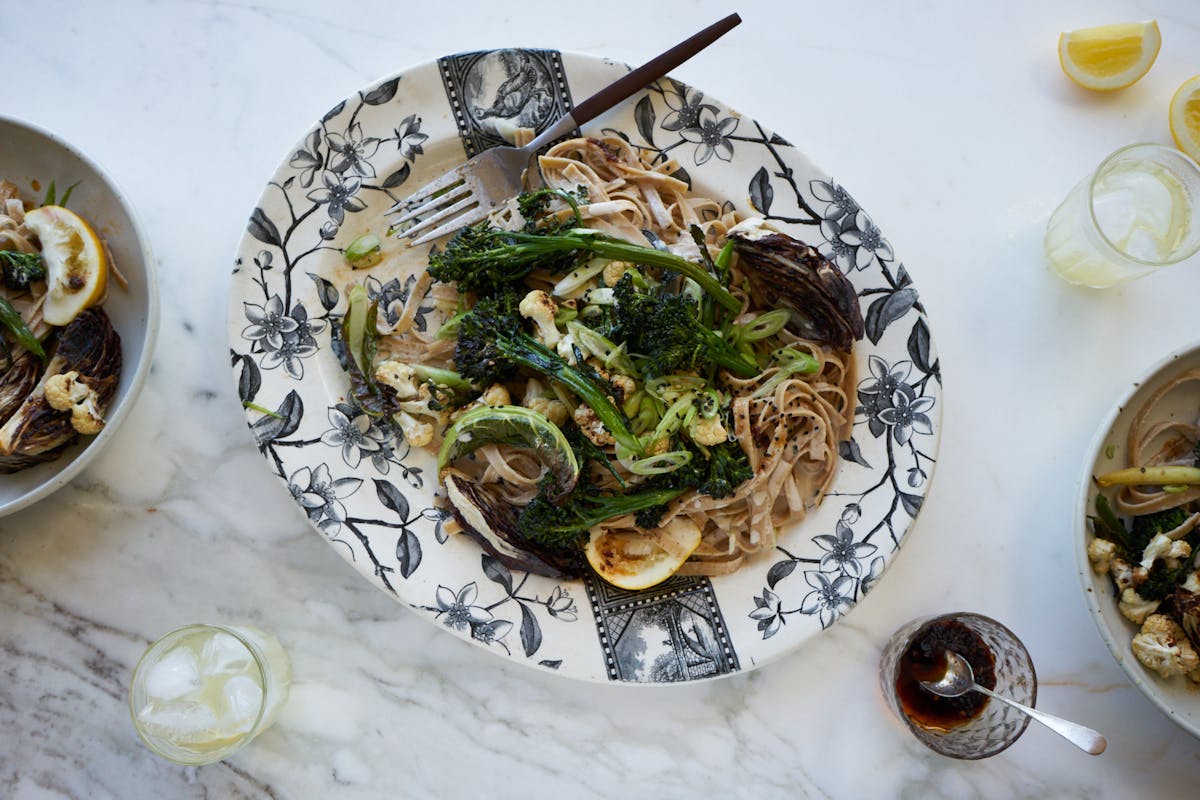 Photo by Heidi Swanson
Spicy Tahini Noodles with Roasted Vegetables | 101 Cookbooks
From 101 Cookbooks
This recipe is really a formula for sesame noodles with roasted vegetables. The author, Heidi Swanson, invites you to raid your vegetable crisper to come up with about a pound of roast-able vegetables, and that means you can use a combination of the broccoli, zucchini, and summer squash from this week's box, and you can also throw in a handful or two of the snap and snow peas. And if you don't happen to have tahini, you could use peanut butter or almond butter in the sauce, although they'd be peanut or almond noddles in that case.