Week #12; So much bounty

Sweet corn and melons ready to pack in the CSA boxes.
Our cucumber, squash and sweet corn fields are burgeoning right now. Usually our cucumber plants slow down and cukes become precious in August, with just one or two per box. It will happen eventually but, for now, this field is amazingly productive. Right now, we are able to donate generously to Second Harvest Food Bank. They take our excess produce and swiftly get it to food pantries and into meals for the needy. Nothing goes to waste.
Folks, take a moment to savor these abundant crops. This is the epitome of summer. If the sweet corn this week is too much for your household, steam the entire batch then cut the corn from the cobs and freeze it. You'll be glad to have blocks of frozen corn to drop into tomato soup or stews or casseroles later. Last week, we delivered one tomato in each CSA box. This week, we have 3 lb per box! What an upswing! The tomato fields are in great shape and we should have a steady supply for the rest of the summer.
Enjoy the bounty!
Beth & Steve
Veggie List & Veggie Notes
Week #12
– Weekly shares
– EOW/ green
Sweet corn, 9 or 10 ears
Slicing tomatoes, 3 lb
Cherry tomatoes, 1 pint
Bell or frying peppers, 2 large or 3 medium, at least one will be red.
Zucchini & yellow squash, several
Cucumbers, 4
Broccoli, 1 or 2 heads
White onion
Flat parsley, 1 bunch
By site: yellow watermelon OR muskmelon
Next week's box will probably contain sweet corn, beans, tomatoes, peppers, cucumbers, zucchini, onions and more.
Sweet corn – This batch has fewer bugs at the tips. Take a peak. If you see anything suspicious, cut off those tips before husking the ear. They are some bugs but it's not too batch from this field.
Storage: Refrigerate, preferably in the husks.
White onion – We begin our transition from sweet onions to stronger onions with this delivery of white onions. White onions are intermediate in pungency between sweet onions and yellow storage onions. These mild onions are excellent for salads. They will fry a bit better than a Walla Walla but not as well as a yellow storage onion.
Storage: These are fine at room temperature for a few weeks.
Parsley – The herb of the week! A great addition to salad dressing, tomato dishes or casseroles.
Storage: Cover and refrigerate.
RECIPES by PHOEBE
Visit our 2020 Recipe Log or our 2019 Recipe Log.
Cucumber Salad with Tahini Yogurt
If you like cooking with vegetables and you're not familiar with Ottolenghi, I highly recommend you check out his cookbooks (Simple is a great place to start!). I got the idea for the sumac onions in this recipe from him. They add a nice complexity to the mixture of cucumbers and parsley here, which is amped up more by the layer of rich tahini yogurt underneath. Can't find sumac? Don't worry. This salad is still delicious without it.
Serves: 4
Prep time: 30 minutes
Ingredients
For the salad
1 pound cucumbers (about 2 medium)
1/4 white onion, thinly sliced
3/4 teaspoon sumac
1 teaspoon fresh lemon juice
1/4 cup fresh parsley leaves
Extra-virgin olive oil
Sea salt
Freshly ground black pepper
For the tahini yogurt
1/2 cup Greek yogurt
1/4 cup tahini
2 tablespoons water, more as needed
1 tablespoon fresh lemon juice
1 garlic clove, grated
1/4 teaspoon cumin
1/4 teaspoon sea salt
Prepare the cucumbers: Peel the cucumbers lengthwise in a zebra pattern, so that the peeled stripes alternate with stripes of skin. Cut the cucumbers in half lengthwise and use a spoon to scoop out the seeds. Lay each cucumber half cut-side-down and slice it into thin half-moons. Place the cucumbers in a colander in the sink and toss with 1 teaspoon salt. Set aside for 20 minutes.
Make the sumac onions: In a large bowl, toss the onions with the sumac, 1/2 teaspoon olive oil, and 1/8 teaspoon sea salt. Set aside while you make the tahini yogurt.
Make the tahini yogurt: In a medium bowl, stir together the yogurt, tahini, water, lemon juice, garlic, cumin, and salt. Stir until the mixture is smooth and spreadable. If it's too thick, add water, 1/2 tablespoon at a time, until it reaches your desired consistency. Spread the tahini yogurt in an even layer on a serving platter and set aside.
Pat the cucumbers dry and add them to the bowl with the sumac onions. Toss with the lemon juice, parsley, 1 teaspoon olive oil, and plenty of freshly ground black pepper.
Scatter the cucumber mixture evenly across the tahini yogurt. Season to taste and serve immediately.
Smoky Summer Veggie Pizza
I've eaten a lot of corn on the cob and fresh corn salad this summer, so making this sweet corn pizza was a fun way to change things up! Make sure you dice the veggies fairly finely here – you want them to be small enough to cook through while the pizza is in the oven.
Serves: 2-3
Prep time: 10 minutes
Cook time: 10 minutes
Ingredients
1/2 cup fresh corn kernels
1/2 small head broccoli, broken into small florets
1/4 green bell pepper, diced
1/4 white onion, diced
1/2 teaspoon extra-virgin olive oil, more for drizzling
1/2 teaspoon smoked paprika
3/4 cup ricotta cheese
1 garlic clove, grated
1 pound fresh pizza dough, store bought or homemade (I like this recipe and this one.)
8 ounces fresh mozzarella, torn
Sea salt
Red pepper flakes
Preheat the oven to 500°F.
In a large bowl, place the corn, broccoli, bell pepper, onion, olive oil, paprika, and 1/4 teaspoon sea salt. Toss to combine.
In a medium bowl, stir together the ricotta, garlic, and 1/4 teaspoon sea salt.
Stretch the pizza dough to fit a 14-inch round pizza pan (or similar). Arrange the mozzarella evenly on the dough, leaving a 1/2-inch border around the edges. Scatter the vegetables over the mozzarella and dollop with spoonfuls of the ricotta mixture.
Drizzle the pizza with olive oil, and bake for 8-15 minutes, or until the crust and vegetables are lightly browned and any exposed mozzarella is bubbling.
Remove the pizza from the oven, sprinkle with red pepper flakes, and serve.
Greek Salad
From Love & Lemons
Swap white onion for the red and replace the fresh mint with parsley. This refreshing salad is such an easy, flavorful summer side dish!
.
.

One-Pan Farro with Tomatoes
From Smitten Kitchen
This risotto-like farro recipe could pass as a main or a side dish. To use the produce in your box, replace the basil with a sprinkle of chopped parsley.
.
.

Herb Baked Fish with Rainbow Bell Peppers
From Minimalist Baker
A great way to use the parsley, peppers, and tomatoes from this week's box! If you're a pepper or two short, feel free to add an extra tomato to the recipe.
.
.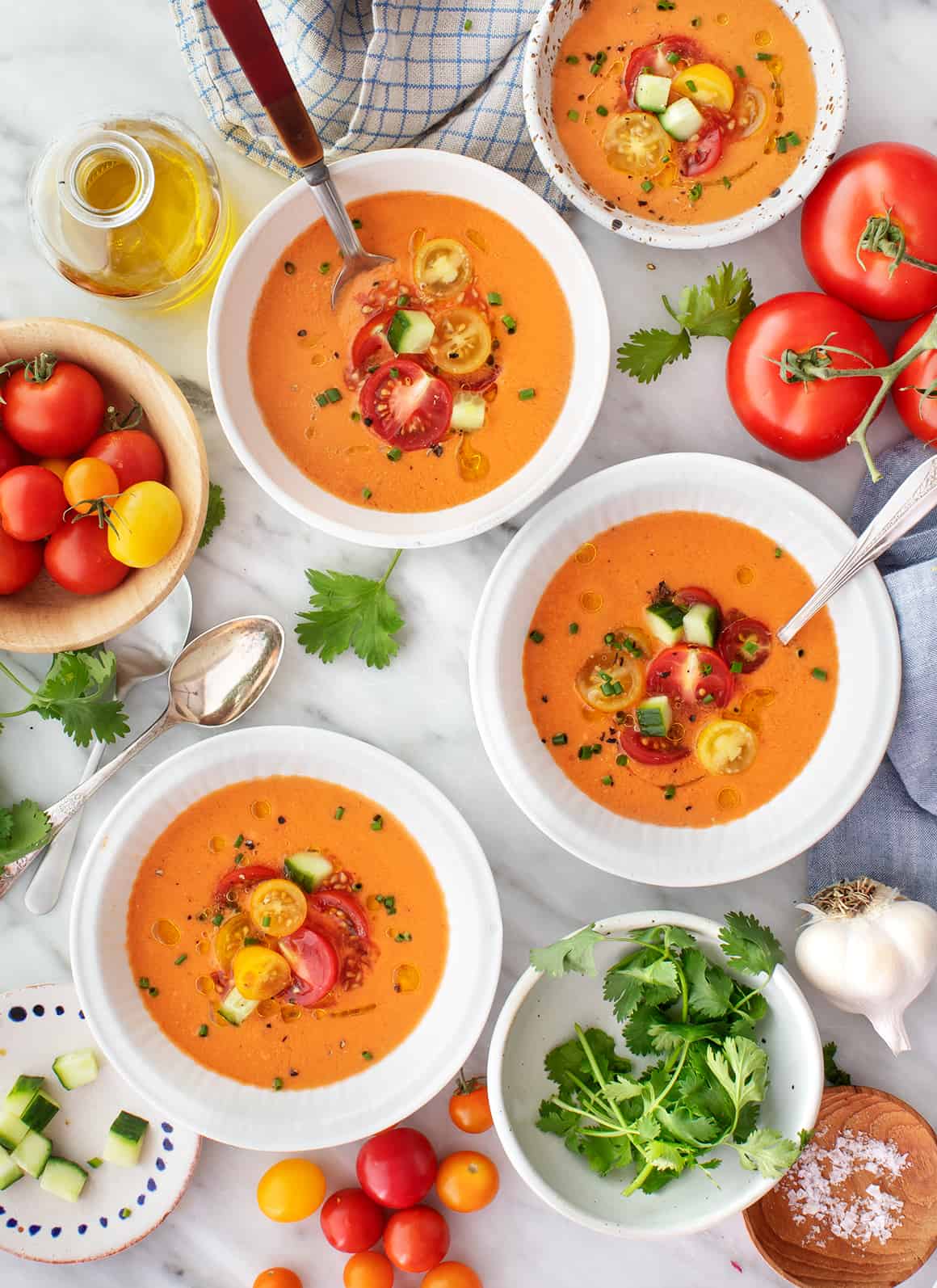 Easy Gazpacho
From Love & Lemons
On a hot summer day, nothing hits the spot like a bowl of gazpacho. Replace the cilantro with the parsley from this week's box.
.
.

Creamy Corn and Lemon Pasta with Thyme
From The First Mess
If you don't have fresh thyme on hand, use 1 teaspoon dried thyme instead. Replace the shallots with 1/2 cup diced white onion.