Silly us, summer is not over.
Last week, we thought frost would end all of our summer crops. Instead, we have two pounds tomatoes for you this week and hope to have green beans next week! The frost was light and the tomatoes survived. We hustled to protect the beans with row cover. However, that will truly end the summer crops, with peppers the exception. We've gone to great lengths to protect the pepper fields because they are so valuable. Hopefully, we'll have peppers for you for a few more weeks. Eat these tomatoes promptly – they don't keep well after cold weather.

Top, 'Jester squash. Bottom left, 'Carnival'. Bottom right, 'Starry Night'.
Veggie List & Veggie Notes
Week #20, October 6/7, 2022
– Weekly shares
– EOW/ purple
– Sampler/ moon
Green cabbage
Tomatoes, ~2 lb mixed slicing & plum
'Jester' winter squash
Plus a second squash (Carnival or Starry Night or a second Jester)
Komatsuna greens, 1 bunch
Peppers, mixed frying & bell, mixed colors
Poblano chilies (in bag with tomatoes), 3
Yellow onion
By site; Broccoli OR cauliflower
Next week's box will probably contain napa cabbage, winter squash, peppers, beets, broccoli OR cauliflower and more.
Komatsuna greens (dark green bundle) – This is the same mustard-type green that we delivered last week. I hope you enjoyed that batch – these are just as good.
Winter squash – Everyone receives two winter squash this week, one Jester plus either Starry Night, Carnival or a second Jester. Store at room temperature and eat within two weeks. The Jesters are amazing this year but are not intended for storage. Eat within two weeks. Keep an eye on your squash and cook promptly if you see signs of deterioration.
Poblano chiles (triangular, shiny; green or brown; MILDLY HOT, packed in the bag of tomatoes) – Poblanos are the creme de la creme of chiles. They have lots of great flavor in combination with manageable heat. Roast and add to soup or casseroles. To reduce heat, remove the seeds and midveins.

Poblano chiles will be dark green or chocolate-colored, occasionally with red streaking or a red tip. These are the only hot peppers in this week's box. All other peppers are sweet.
RECIPES by DEB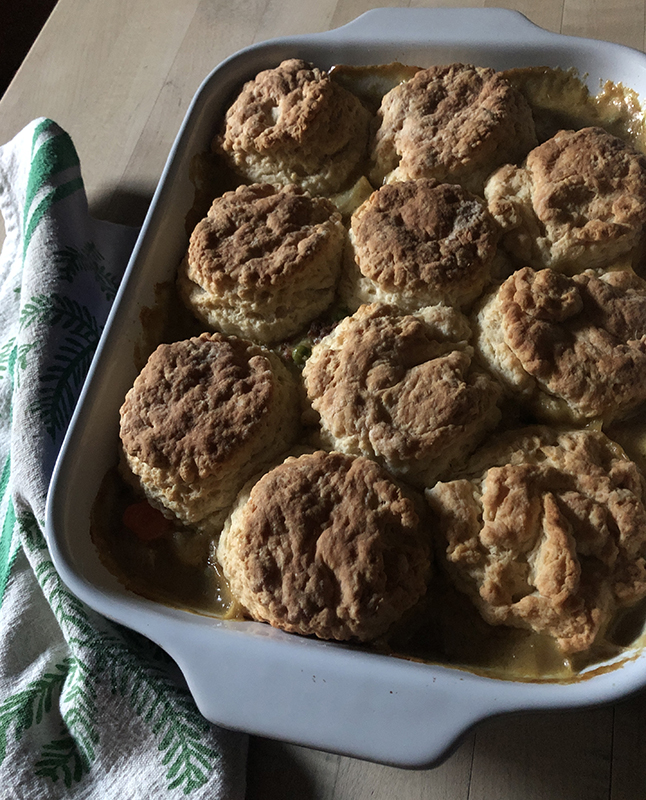 Photo by debslunch
Vegetable & [optional] Meat Pot Pie with Yogurt Biscuits
You can make this potpie vegetarian, or add meat – you'll need 1/2 pound ground meat – beef, turkey, your favorite! The yogurt biscuits make a fluffy and crunchy topping. You can use any combination of root and other vegetables – this version has cabbage and peppers from this week's box, plus carrots and potatoes from prior weeks. Sub in broccoli and/or cauliflower if you like! Mushrooms are suggested to replace the meat, but are optional.
Take about 1 1/2 hours including baking
Serves 6-8
Filling:
1 tablespoon oil or butter
1/2 pound group meat or mushrooms (optional)
1 tablespoon Worcestershire sauce
1 cup chopped onions
salt and freshly ground pepper
1 1/2 to 2 cups chopped cabbage, or broccoli or cauliflower
3/4 cup chopped bell pepper
2 1/2 to 3 cups root vegetables – carrots, potatoes, turnips, parsnips – peeled and chopped into bite-size pieces
1/2 cup frozen peas, thawed (optional)
2 1/2 to 3 cups liquid – suggested 2 cups veggie or chicken or beef broth, and 1/2 cup whole milk or half & half
1/4 cup flour
1 veggie or meat bouillon cube (optional)
Biscuits:
2 cups unbleached flour
1 tablespoon sugar
1 tablespoon baking powder
1/2 teaspoon baking soda
1 teaspoon fine sea salt
1 stick, 8 tablespoons, cold unsalted butter, cut into bits
1 cup plus 2 tablespoons plain yogurt, cold from the fridge
Make the filling: Melt the butter or add the oil to a large, deep pot and brown the meat or mushrooms, if using. Add the onions and season with salt & pepper. If you're not using meat or mushrooms, add the oil or butter to the pot and add the onions. Cook until the onions are translucent, about 10 minutes. Add the cabbage or broccoli or cauliflower, and the peppers and continue to cook until all are softened. Add the Worcestershire sauce.
Place the chopped root vegetables in a 2 quart saucepan, and cover with broth, probably 2 cups. Bring to a boil, and simmer, uncovered, until the veggies are fork tender, about 10-15 minutes. Dip the veggies out of the saucepan with a slotted spoon or skimmer, and add them to the large pot with the meat and sauteed vegetables. Keep the remaining broth at a low boil.
Make a slurry with the flour and about 1/3 cup broth and pour it into the saucepan, whisking until thickened. Add the milk or half & half, and continue to whisk.
When the sauce is thick, add it to the large pot and add the peas. Taste for seasoning and add the bouillon cube if it seems bland. Add more broth or half & half if it's too thick. Turn down the heat and keep the filling warm while you prepare the biscuits.
Heat the oven to 375°. Measure the flour, sugar, baking powder, baking soda, and salt into a mixing bowl. Add the butter bits, and cut into the flour until there are no piece larger than a pea left. Dump in the yogurt and mix with a spatula until there isn't any dry flour remaining.
Turn the dough out onto a floured surface and knead it briefly until it come together. Pat the dough out into a rough square that's about 1 inch thick. Fold it into thirds like a letter, and the pat or roll out into a square again. Repeat the folding and rolling 2 more times, finally rolling the dough out to be about 1 inch thick. Transfer the filling into a 2 quart baking dish or really large pie plate. Cut as many 3 inch biscuits as you can – I got 10 – and arrange them on top of the filling. Place the pot pie n the oven and bake for about 30 minutes until the biscuits are brown and the filling is bubbly. Let rest for 10 minutes – or until it stops bubbling furiously – before serving.


Photo by debslunch

Pappardelle with squash, roasted peppers, and goat cheese

Feel free to use other pasta shapes and other cheeses – the salty sharpness of blue cheese is great with the sweet squash. You can also use other nuts instead of the (expensive!) pinenuts. Sunflower seeds, walnuts, or pecans would all be tasty here.
Takes 25 minutes
Serves 4

2 tablespoons olive oil
1 tablespoon unsalted butter
1 cup sliced onion, any variety, or shallots
1/4 cup dry white wine or vermouth
3 cups peeled and cubed winter squash
12 ounces pappardelle or other pasta
about 1/2 cup pasta cooking water
1 teaspoon smoked paprika
1 large bell pepper, roasted and cut into strips (see below for instructions)
salt and freshly group black pepper
5 ounces crumbled goat cheese (about 1 cup)
1/3 cup pine nuts, toasted

Melt the butter and oil together in a skillet that will be large enough for the pasta, with a lid. Add the onions, a pinch of salt, and toss until they're coated with oil. Cook over medium heat until the onions are starting to brown. Add the wine and boil for a few minutes until there's no raw alcohol smell. Add the squash cubes, mix, cover, and lower the heat and cook until the squash is tender but not falling apart, about 15 minutes. Add a few tablespoons of water if it starts sticking.
Boil the pasta in a generous amount of salted water while the squash is cooking. Before you drain the pasta, dip out 1/2 cup of the cooking water.
When the squash is tender, add the paprika and the roasted peppers. Mix well, and add the pasta. Mix again, and add the cheese. Add a little pasta water if it seems too dry. Cover the pan to melt the cheese slightly, give it a final toss, and then top with the pine nuts and serve.


How to roast peppers: There are lots of ways to roast peppers, from doing them on a grill to roasting them individually on a fork over a gas flame. The main thing is to get the skin charred so it can be peeled off. I find this oven method the easiest, and you can use this method for the poblanos in this week's box as well. Heat your broiler, and position a rack so that the peppers are close to the heat element but not touching. Arrange the peppers on a baking sheet. You can cover the baking sheet with foil for easier clean up – parchment paper will burn under the broiler so it's not recommended. Broil the peppers, turning them until all sides are charred, and transferring them to a bowl as they get done. Cover the bowl with a plate or lid, and let the peppers steam and cool off for at least 15 minutes. Lay a pepper on a cutting board – I like to do this with the board on the edge of the sink, tilted so the hot juices run off – and cut the base of the pepper in half with a small knife. Open the pepper, cut one half away from the stem, and use your knife to scrape off the charred skins. Sometimes you can pull of the skin with your fingers. Flip the half over and remove the seeds and veins. Repeat with the other half and for the rest of your peppers.



Super-Simple Tangy Buttermilk Coleslaw

From Serious Eats
Coleslaw is probably our favorite winter salad, and this is a tasty version. When I tried this recipe I reduced the onion by about half. If you don't have buttermilk, thin yogurt or sour cream with a little milk to get to the correct volume (3/4 cup). And chop some of the bell peppers and add to the slaw for color!


By Rita Maas

Mexican Poblano, Spinach, and Black Bean "Lasagne" with Goat Cheese

From Epicurious
This recipe has A LOT of steps, but the results are worth it. You can make the tomato sauce with the tomatoes from our box and roast the peppers the day before. We didn't get 12 poblanos in the box this week, but I don't think I've ever used that many to make this "lasagna", and you can supplement with the bell peppers. Sub in Komatsuna greens for the spinach – and I always leave out the raisins!


Photo by Heidi Swanson

Garlicky Greens Recipe

From 101 Cookbooks
Here's a quick way to prepare our Komatsuna greens, from Heidi Swanson at 101 Cookbooks. Heidi suggests serving these greens with roasted sweet potatoes, which to me means serving the greens with roasted squash from this week's box would also go well.


Photo by Mike Hultquist

Rajas Poblanas Con Crema – Roasted Poblano Strips in Cream Sauce

From Chili Pepper Madness
Rajas means strips, and Rick Bayless, who has an empire of Southwest restaurants in Chicago (and buys produce from Wisconsin!) calls this way of preparing poblano and onion strips "Essential Rajas". I think they are essentially delicious. The rajas can be eaten folded into tortillas, or used as quesadilla filling, and this recipe also suggests eating the creamy mixture over rice.


Photo by Annabelle Breakey, Styling by George Dolese

Savoy Cabbage Gratin

By Kate Washington, from My Recipes
Here's a frankly rich way to prepare cabbage; as the recipe says think mac&cheese with the cabbage standing in for the mac. The recipe call for Savoy, but green cabbage will work just fine.



Butternut Squash Soup with Coconut and Ginger

From Alternative Dish
Here's vegan version of squash soup that's creamy without dairy cream. Any of our squashes this week will substitute for the butternut in the title.