Week #1, Let's get started!
Deliveries begin this week May 18/19 (Thurs/Fri sites) for these groups:
– Weekly shares
– BiWeekly/ purple shares
– Sampler/ A group
Check recent emails from us if you are uncertain about your share assignment. Or get in touch with the farm.
Surprise!
We never send carrots or celeriac in the spring CSA boxes! We have beautiful ones for you, stored from bumper crops harvested in late fall. We washed roots all winter for sale to Willy Street Coop, but held nice ones for this first CSA box. As we watched our spring crops grow slowly during the cold April weather, it was a comfort to know we had these for you.
I think they will be an excellent addition to your spring meals. Here are my ideas for using them:
– Celeriac is easily roasted in combination with potatoes. Or prepare cream of celeriac soup and serve with a salad or steam asparagus. Deb has given us an appealing recipes for Celeriac Gratin, and Creamy Celeriac Potato soup. See below.
– Carrots are also excellent roasted; check out Deb's Gochujang Roasted Carrots below. Of course, carrots can be added to a salad or eaten as a snack. You might want to peel these stored carrots. The skins are edible but a little dry.
Beth
Things you need to know.
♦ On Thursday, we deliver CSA boxes to Evansville, Fitchburg, Madison, McFarland, Middleton, Oregon and Verona.
♦ On Friday, we deliver CSA boxes to Janesville.
♦ We post this newsletter/blog each Wednesday night, with a list of veggies for the week, quantities, information about storage and preparation, news of the farm, recipes, and a forecast for the next week's box. I'll send an email on Wednesday night once the newsletter is posted and ready to read. I send the Wednesday email to everyone, not just the people receiving a box that week.
♦ BiWeekly, Sampler and Weekly members, we assume you read all the newsletters, even on your "off" weeks. This newsletter (and our emails to you) are our means to communicate with you.
♦ Want earlier notice of what will be in the box? Check the sidebar on our website homepage around 8 p.m. on Wednesday night. I'll post the list under "Box Contents." Also, the Veggie List section of this newsletter each week contains a forecast for the following week. The list is rarely complete but the items listed are ones we feel confident about.
♦ The first few boxes of the season are often the lightest. BiWeekly members, do not worry that you have signed up for the wrong share! Our deliveries get heavier and more abundant as the season progresses.
Veggie List & Veggie Notes
Week #1, May 18, 2023
– Weekly shares
– BiWeekly/ purple
– Sampler/ A group
Asparagus, 1 lb
Lettuce, 2 medium heads
Arugula, 1 small bunch
Salad radishes, 1 bunch
Green garlic, 1 bunch
'Goldrush' potatoes, ~3.25 lb
Carrots, 2 lb
Celeriac, 1 large
Rhubarb, ~1.75 lb
Next week's box will PROBABLY contain asparagus, lettuce, spinach or other greens, salad radishes, green garlic, rhubarb, and button mushrooms. This is our working list, but it could easily change. Check next week's newsletter.
Arugula – (bunch of green leaves with pungent scent) – This is a spring treat! Arugula is good mixed with lettuce or spinach in salads, or added to cooked dishes such as lasagne or quiche. I love it on sandwiches.
Storage: Refrigerate. This arugula is extremely tender and delicious. Handle gently and eat soon.
Asparagus – This is my favorite spring treat!
Prep: Wash your asparagus thoroughly to remove hidden grit. Submerge in water with the tips pointing down, soak briefly, then swish vigorously and pull out of the water. The draining action helps pull the grit out of the asparagus tips. Repeat several times.
Storage: Asparagus is perishable, so eat it as soon as possible. Store in a paper towel, cloth or paper bag, then wrap loosely in a plastic bag. The paper bag protects the asparagus tips from direct contact with the plastic bag. The plastic bag keeps the asparagus from wilting.
Preparation: We snap our asparagus at harvest, rather than cutting. Therefore, there is no need to snap the stalks to remove fibrous ends. For the same reason, it is not necessary to peel the asparagus stalks. It's OK to trim the cut end a bit.
Cooking: If your asparagus stalks vary greatly in size, you will want to cook the thicker ones longer. Put an empty steamer pot over water, and bring the water to a boil. Add the asparagus. Cover and steam over medium heat until just tender. Use two forks or a spatula to turn the asparagus during cooking, rotating the bottom spears to the top. Drain and serve. Alternatively, you can lay spears flat in the bottom of a broad pan, with ½ inch of water. Also excellent broiled or grilled. Good dressed with vinaigrette, or with lime juice, salt and pepper.
Carrots – Eat within two weeks. Consider peeling these stored carrots.
Storage: Refrigerate.
Celeriac – Cut off chunks as needed. Peel before using. I find it easiest to cut the celeriac into flat slices, then peel.
Favorite uses: Oven roasted, cream of celeriac soup, grated celeriac salad.
Storage: Refrigerate.
Green garlic (looks like scallions, tastes like garlic) – Last fall, we planted garlic cloves that grew into the stalks we harvested this week. If left to grow until mid-summer, the slim white bulb on this week's garlic will divide and form the usual cluster of cloves in a garlic bulb.
Preparation: Green garlic is more pungent than scallions, so slice thinly and use sparingly when raw. It mellows when cooked. Chop and add to any cooked dish that would benefit from garlic. Use the white bulbs and pale green stems. Avoid the dark green stems and leaves, as these are fibrous.
Lettuce – These are pretty small so we are sending two heads. Handle more gently than usual because they are quite tender.
Storage: Refrigerate in a bag or other container.
Potatoes, 'Goldrush' russets – Please refrigerate these potatoes. They are in great shape now but will sprout within days if stored at room temperature! They've been stored all winter and want to grow. Store in a paper bag to protect from light, even in the fridge. We grow everything we send in our CSA boxes except potatoes, mushrooms and some asparagus, all of which we buy from organic growers that we trust. We purchased these potatoes from Jesse & Jonnah Perkins at Mythic Farm (formerly Vermont Valley Farm.) Jesse says the potatoes have a higher sugar content because of starch to sugar conversion during cold storage. That means the potatoes taste a bit sweet, and will darken slightly when fried.
Rhubarb – Storage: Refrigerate in a plastic bag. FYI, 1.75 lb of rhubarb yields 5 – 5.5 cups when chopped.
Stewed rhubarb: This is the simplest way to prepare rhubarb. Chop rhubarb into one inch chunks. Stir over medium heat with a small amount of water in the bottom of the pan. The rhubarb will release moisture as it cooks. Stew until it softens and falls apart. Sweeten to taste with honey or sugar. Eat warm on its own, over vanilla ice cream, on pancakes, etc.
Storage: Refrigerate.
Preserve: Rhubarb is extremely easy to freeze. Wash, chop and pop it in a freezer bag. That's it; no need for blanching. When baking muffins or cakes, add the frozen rhubarb directly to the batter.
Salad radishes – These are so good right now; tender, crisp and not too spicy. They are great in salads or thinly sliced on sandwiches. A few years ago, I was served open-faced radish and butter sandwiches on toast and was impressed with how tasty they were. Use good quality butter.
Storage: Cover and refrigerate.
RECIPES by DEB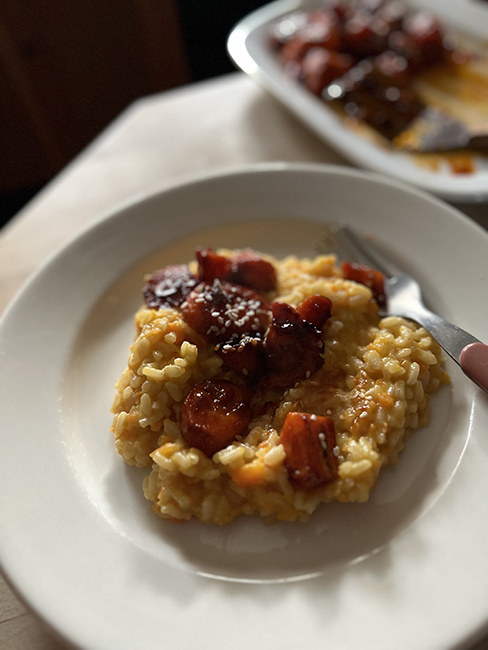 Carrot Risotto with Gochujang Roasted Carrots
This dish is based on a recipe from the New York Times, where the carrots are roasted with chile crisp. I thought roasting the carrots with a sauce made from sweeter and slightly less hot gochujang (Korean red chili paste) might taste even better. You can see what you think! I think the carrots are good enough to enjoy all on their own, too. Be sure to roast them in a pan that holds the carrots and sauce snugly – in a larger pan the sauce may spread out and burn. If you have leftover risotto, try arancini. These cheese-stuffed rice balls are traditionally fried but can be baked as in this easy recipe, Risotto Balls (Baked Arancini) from Healthy Little Foodies.
Serves: 4 generously
Takes: about an hour
2 pounds carrots, peeled or scrubbed, divided
1 tablespoon mild tasting vegetable oil or olive oil
2 tablespoons soy sauce
1 tablespoon gochujang
1 tablespoon honey
1 tablespoon rice vinegar
1-inch piece of fresh ginger, minced or grated
5 cups chicken or vegetable stock
4 tablespoons unsalted butter, divided
1 large shallot, minced
3 garlic cloves, finely chopped
1/2 teaspoon ground coriander
1/2 cup dry white wine
1 1/2 cups/10 ounces Arborio or other short grain rice
2 1/2 ounces finely grated Parmesan (about 1 1/2 cups), plus more for serving (optional)
Kosher salt (such as Diamond Crystal) and black pepper
sesame seeds for garnish (Optional)
Heat the oven the 375°. Cut 1 pound of the carrots into rough chunks and drop into a food processor. Pulse to finely chop. You should have about 2 cups. Alternatively, the carrots can be grated if you don't have a food processor. Cut the remaining pound of carrots on the diagonal into 1-inch pieces, and place in a small baking dish. Drizzle the oil over, toss well, and place in the oven. Roast for 10-15 minutes until just tender.
Mix the soy sauce, gochujang, honey, rice vinegar, and ginger in a small bowl or spouted measuring cup. When the carrots are almost tender, pour the sauce over, toss, and roast for another 10 minutes until tender and glazed. Set aside.
Heat the stock in a saucepan and keep warm.
Melt two tablespoons of the butter in a heavy bottomed pot that holds at least 4 quarts. Add the shallots, chopped carrots, garlic, and ground coriander and cook over medium high heat until fragrant and the vegetables are beginning to soften.
Add the wine and cook until the liquid is mostly boiled off.
Add the rice and stir until the grains of rice are well-coated with oil. Ladle in about 1 cup of warm broth and stir until it's absorbed, about 15 minutes. Continue adding cupfuls of broth and stirring. If the rice is not tender by the time all but the last cup of broth has been added, pour in the last of the broth, stir well, and cover and simmer for 10 minutes – this is not strictly risotto technique, but should get the rice tender.
Mix in the remaining two tablespoons of butter and the cheese and stir until the risotto is creamy. Serve in shallow bowls topped with the carrots and garnished with sesame seeds, and pass extra cheese if desired.
.
.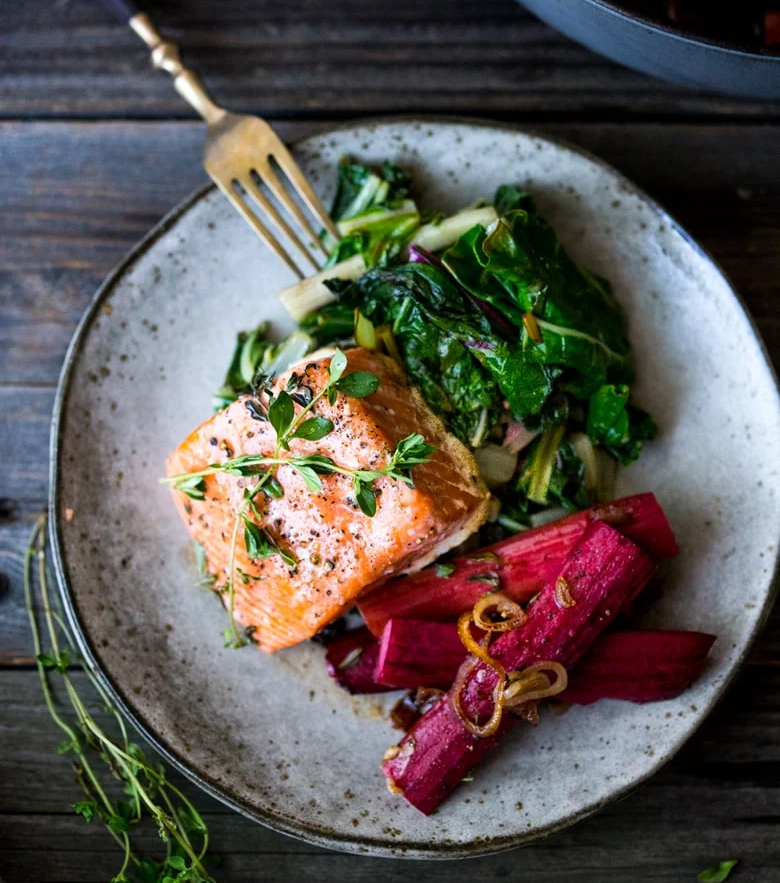 Sylvia Fountaine | Feasting At Home
Baked Salmon with Rhubarb
From Feasting at Home
Here rhubarb is a savory accompaniment to salmon. The recipe suggests serving the fish with greens sauteed with a bit of lemon, but a lemon vinaigrette dressed salad made with the arugula and lettuces from this week's box would also be a great side. And if you don't have fresh thyme sub a small pinch of dried.
.
.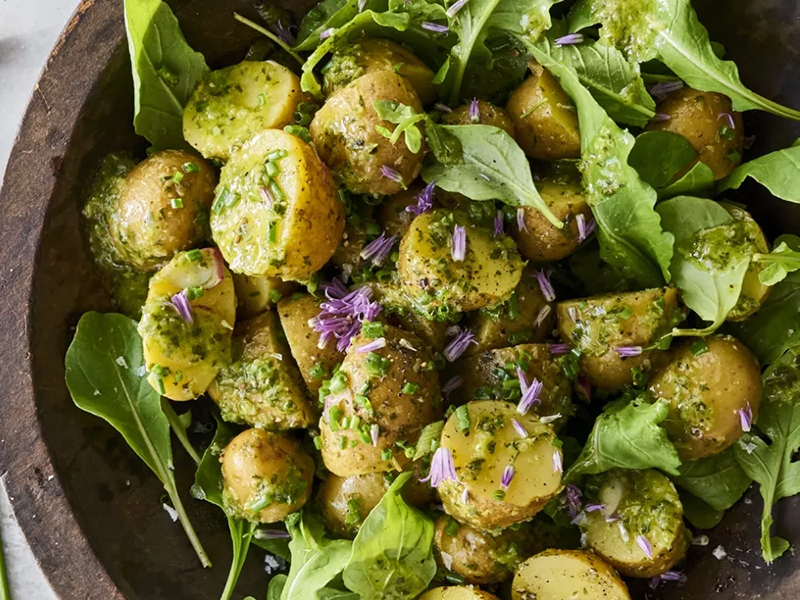 Photo by Gentl and Hyers
Spring Potato Salad With Green Garlic Dressing Recipe | Los Angeles Times
From the LA Times
This recipe calls for small spring potatoes but the larger potatoes in this week's box cut into right-size pieces can be subbed perfectly. The vinaigrette is made with green garlic and the salad is served over arugula both in our box this week – a mix of lettuce and arugula will work, too.
.
.

Creamy Celeriac Potato Soup | Farm To People
From Farm To People
This quick recipe for a creamy soup calls for making toasted croutons from an onion batard roll, not something I typically have on hand at my house! If you're the same, the point is simply to make a crunchy topping for the soup, so you can use any type of bread that you like, toasted and cut up, or consider other crunchy toppings like toasted sunflower seeds or other nuts, or crackers. Use one pound of celeriac; probably half of the large root we got in the box.
.
.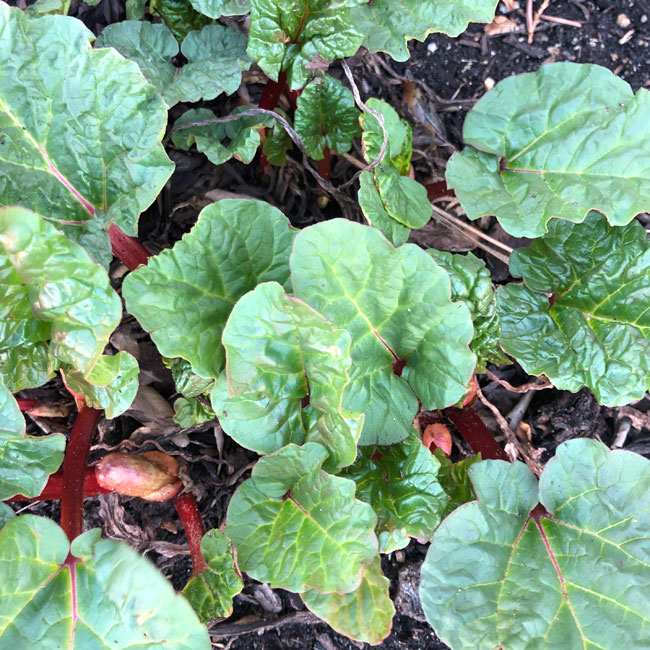 Photo by Debra Shapiro
Outrageous Rhubarb Coffee Cake | DebsLunch Recipes
From DebsLunch Recipes
This recipe is based on a 1980s cookbook, From the Farmers' Market. When I was first introduced to the recipe I liked it so much I had to head to the library and track down the original. It goes together quickly, tastes luxurious, and since it's made with melted butter, you don't have to plan ahead to bake it.
.
.

Asparagus Grilled Cheese with Brown Butter and Dijon | How Sweet Eats
From How Sweet Eats
Here's a fun recipe using asparagus – in a grilled cheese sandwich. The browned butter really amps up the flavor. This recipe for a grilled cream cheese and asparagus sandwich on Parmesan-coated bread also sounds tasty, and has a nice story, but it calls for a whole pound of cream cheese for four sandwiches, which sounds way over the top to me. I'd suggest 8 ounces of cream cheese for four sandwiches.
.
.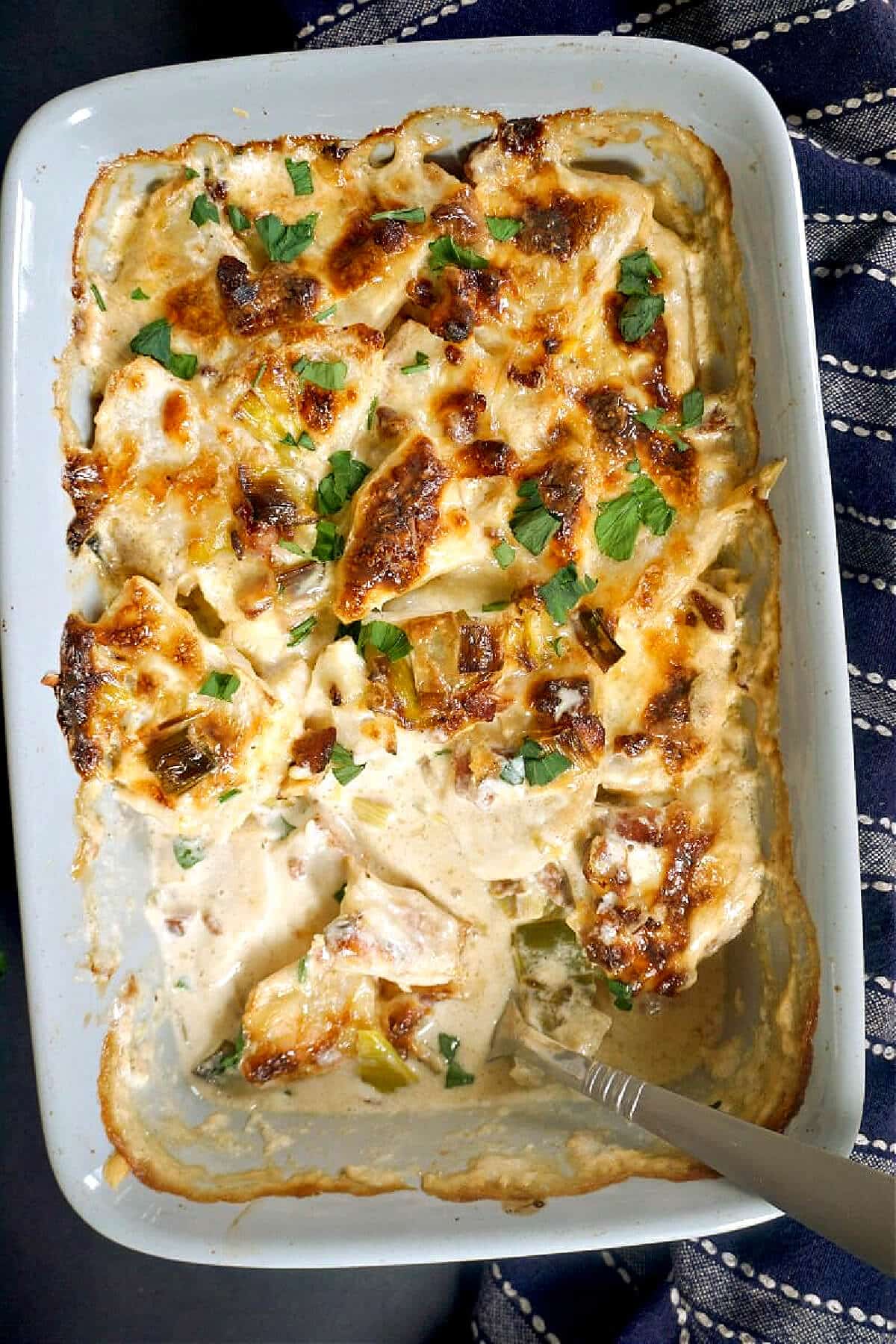 by Daniela Apostol
Celeriac Gratin | My Gorgeous Recipes
From My Gorgeous Recipes
Our celeriac might seem like more of an autumn vegetable, but while the nights are still cool this gratin will taste seasonal. Leave the bacon out if you don't eat meat, and sub onions for the leeks, sauteed in butter. You can also use carrots in place of some of the celeriac to add a little color. The measurements are given in metric with a converter that's not always correct – note that the 200 g bacon called for is not 7.14 cups! it's actually 7.14 ounces – just under half a pound.
.
.

Radish Toasts with Herb Cream Cheese | Giant Food Store
From Savory Giant
I love radishes with cream cheese and these toasts feature that combination. A teaspoon of freeze dried chives or other dried herbs can be subbed for the fresh herbs.