Week #23, Final EOW/green delivery
We are in the home stretch!
This is the final delivery for our EOW/green members. Thank you so much for joining our farm this season. We will be in touch again this fall with a year-end survey. Watch in winter for our 2023 CSA announcement. Please do not unsubscribe from our emails once your deliveries are over – that will block all future emails from us including next year's invitation.
– This week October 27/28 = final delivery for our EOW/ green members.
– Next week November 3/4 = final delivery for Weekly, EOW/purple and Sampler/moon members.
– For those who registered, our Extension Share will be delivered November 10/11.
– For those who registered, our Storage Share will be delivered November 17/18.
If you are not certain whether you registered for the Extension or Storage shares, go to your online CSA account and view the orders you placed:
Log in / Dashboard/ View Order History/ Click on each 2022 invoice.
You are looking for "Name: 2022 Extension Share" or "Name: 2022 Storage Share".
Or send me an email and I will look for you!
Beth
Badger on the farm!
Until this year, we thought of badgers as elusive. We see distinctive tracks and claw scratches a few times each year. I was lucky to see a badger in person twice in the last 20 years. This year, a badger has lived on or near our farm all season. It announced itself with fresh tunneling everywhere. Most holes are from when it hunts ground squirrels. The tunnels and dirt piles are enormous. We are happy for the badger to eat all the ground squirrels but we are wary of the holes. It's a miracle no one has turned an ankle. I've flagged as many holes as I can find but we miss some. If you came to the gleaning u-pick, you'll remember my warning about these holes.
Despite the frequent digging, we've only seen the badger two times this summer. As the crew hurried to the pickup trucks before a storm hit, they saw a badger running across the adjacent field. Presumably it was hurrying for cover too. Raul saw it from the tractor another time. We're pretty sure it's living amidst trees at the edge of the farm, although in summer badgers rotate among many burrows. They'll settle into one burrow in winter or when they birth young.
I set up a trail camera and was lucky to capture fabulous daytime footage during August and September. My favorite bit is when they accidentally fall in a hole. View below or on YouTube at youtu.be/ksQacRJLKt0
Indian Summer

This week's colorful vegetables are brought to you by the recent warm spell. Cauliflower and purple broccoli growth was excruciatingly slow until the burst of warmth. Without it, they might have been ready in November.
Veggie List & Veggie Notes
Week #23, Oct 27/28, 2022
– Weekly shares
– EOW/ green (final delivery for this group)
Red cabbage
Sweet potatoes, 2 – 2.5 lb
Brussels sprouts, 1 lb
Poblano chiles (NOT VERY HOT), 2 or 3
(Poblanos and Brussels sprouts are in one bag.)
Butternut squash, 1 medium
Carrots, 2 lb
Purple and red Korean radish, ~1.5 lb
(Carrots and daikon are in one bag.)
Green or suntan peppers, mixed types
Yellow or red onion
Garlic
By site: purple broccoli OR white cauliflower OR green cauliflower OR Koji greens
Next week's box will probably contain Brussels sprouts, sweet potatoes, celeriac, parsnips, leeks, fennel and more.
'Orleans' sweet potatoes – Store your sweet potatoes at room temperature. They suffer chilling injury below 50 F.
Here are a few things we've learned about sweet potatoes:
– For best flavor, cook your sweet potatoes so they brown and caramelize. We have a simple, favorite way to roast sweet potatoes. We used to prepare sweet potato fries in the oven. Now we just quarter the potatoes, rub with olive oil, dust with salt and place cut-side-down on a cookie sheet. Roast in a 450 F oven without turning until soft. The flavors will caramelize (like sweet potato fries) but preparation is simpler and the cooking time less exacting. Slender sweet potato fries go from undercooked to overcooked in the blink of an eye. Larger slices are less exacting, and therefore are easier. Small sweet potatoes can be cut just in half. Jumbos will need to be chopped into pieces. Otherwise, they take a long time to cook.
– This first batch of sweet potatoes will need slightly longer cooking than ones from the supermarket, perhaps because they contain higher moisture so soon after harvest.
– Sweet potatoes are good at any size. We have cooked everything from tiny to jumbo and consistently find that all sizes taste good.
Poblano chilies – These are not very hot anymore, maybe because of the cool weather. We're not sure.
Korean radishes – These are a favorite vegetable among our farm crew. Crunchy Korean radishes are sweeter and milder than Japanese daikon radishes and come in a more manageable size. They contain lots of water, which makes them easy to pickle or ferment. You'll receive about 1.5 lb radish this week. Storage: Refrigerate.
Uses: Maangchi rules for radish ideas! Head to her website for dozens of radish recipes. She has the best website for Korean recipes. Her Radish Kimchi recipe is close to foolproof and easy to scale. I am eager to make a batch with the purple and pink radishes. I hope it will be pretty.
More uses: Deb has a good recipe below for "Quick pickled carrots and daikon". That's the pickled slaw served on bahn mi sandwiches.
Peppers – Each these soon. They are perishable after being exposed to cold nights, even when protected with row cover.
Purple broccoli – Handle, cook and use like green broccoli. Storage: Refrigerate.
RECIPES by DEB

Photo by debslunch
Chicken and sweet potato traybake
I've used chicken thighs in this traybake, but you could sub 2 pounds of assorted cut up chicken, or boneless breasts or thighs, or other protein, like tofu or salmon. I peeled the sweet potatoes but leaving the skin on will result in crisper wedges.
Takes about one hour
Serves 4-6
1/3 cup honey
2 tablespoons olive oil, plus a little extra for oiling the baking tray
Grated zest of one orange, orange quartered after zesting
1 tablespoon smoked paprika
a few grates of nutmeg or 1/2 teaspoon cinnamon
Kosher salt and freshly ground black pepper
6 bone-in, skin-on chicken thighs, about 2 to 2 1/4 pounds
2 pounds of sweet potatoes, scrubbed and cut into 2-3 3-inch wedges, peeling optional
1 medium onion, any color, peeled and cut lengthwise into slices – 1 generous cup slices
2 tablespoons butter, room temperature
Heat the oven to 425° and lightly oil a large baking sheet. Combine the honey, 2 tablespoons olive oil, paprika, cinnamon, orange zest, and few pinches of salt in a small bowl or spouted measuring cup. Place the sweet potatoes and chicken on the oiled baking sheet and toss with your hands until well-coated. Place the chicken in the center and get everything into a single layer. Sprinkle on a bit more salt, and grind some pepper over the top. Cut the orange into quarters, removing any visible seeds, and place one quarter in each of the 4 corners of your tray.
Place in the oven and bake for 45-50 minutes until the chicken is browned and the sweet potatoes are done.
Remove the tray from the oven and transfer the chicken and vegetables to a platter. Juice the orange into the pan juices – you might need to hold onto the them with paper towel – and discard (or compost). Whisk the butter into the pan juices. Taste and season with more salt and pepper as needed. Drizzle the pan juices over the chicken and vegetables and serve.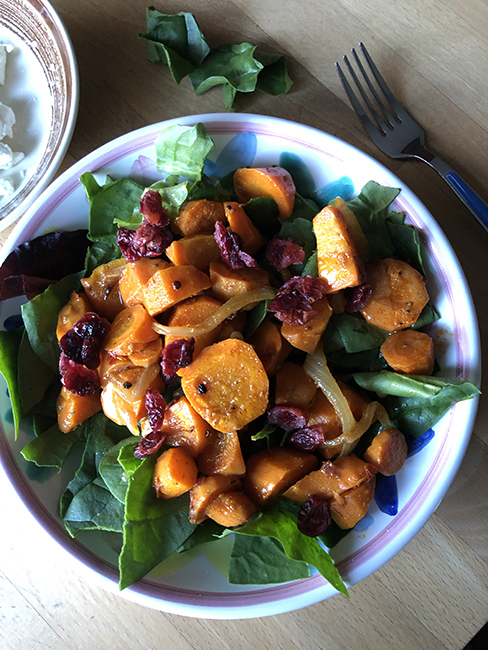 Photo by debslunch
Harissa-roasted carrot salad
Happy Halloween! Our first two recipes this week are very orange – I promise more colors further down. This preparation of roasted carrots can be served over greens – I've used spinach here – or as a salad all on it's own. If you don't serve it on a bed of greens, a sprinkling of fresh herbs on top, especially cilantro, parsley, or mint would be tasty. Harissa, a spice paste, is available in jars in most grocery stores, or if you'd like to try making your own, here's a recipe from Minimalist Baker. And other orange vegetables such as squash or sweet potatoes would work equally well in place of the carrots.
Takes about 30 minutes
Serves 5-6
2 pounds carrots, peeled and cut into 1-inch chunks
1 medium onion, peeled cut into slice pole to pole, 3/4 to 1 cup
1/4 cup olive oil, divided
2 tablespoons harissa paste
1 teaspoon ground cumin
Kosher salt and freshly ground black pepper
2 tablespoon lime juice
1 teaspoon Dijon mustard
1/2 teaspoon sugar or a drizzle of honey
Optional, for serving:
5-6 cups salad greens or spinach leaves
3 ounces feta or goat cheese, crumbled
a few tablespoons dried cranberries or raisons
toasted pecans or pistachios
Handful of cilantro, parsley, or mint leaves
Heat oven to 400°. Place the carrots and onions on a baking pan, and drizzle with 2 tablespoons of olive oil and the harissa paste. Sprinkle on the cumin, a few good pinches of salt and a few grinds of pepper, and toss well, arranging in a single layer.
Roast for 10-15 minutes, then check and toss the vegetables to ensure even browning. Roast another 10 minutes or so until carrots are soft, but not mush. Increase the heat to 450° for the last few minutes of baking if things seem to need to be browner.
While the carrots are baking make the lime vinaigrette: in a small bowl, whisk the remaining 2 tablespoons of olive oil, lime juice, Dijon mustard, and sugar or honey. Season with salt and pepper to taste.
When the carrots are done remove from the oven and cool to only slightly warm or at room temperature. To serve, arrange the carrots on top of greens in individual serving bowls or on a platter (or omit the greens), drizzle with the lime vinaigrette, and add your choice the optional toppings.
Quick pickled carrots and daikon
From Kitchen Girl
Carrot and daikon slaw is probably most often used as a condiment on Banh Mi sandwiches; see below for a recipe using the slaw in fish tacos.
.
.


Photo by Stephanie
Fish tacos with quick pickled carrots and daikon
From i am a food blog
This fish taco recipe from i am a food blog calls for pickled daikon & carrot, but doesn't provide a method – see the Kitchen Girl recipe for that. It also calls for small amounts of fresh herbs and chopped tomatoes – Use what you've got – and some thinly sliced bell or Poblano peppers from this week's box would certainly be tasty in the tacos!
.
.


Photo by Maxwell Cozzi
Simple Southern Mustard Greens With Bacon
From The Spruce Eats
For those with Koji greens in the box, try this typical – and delicious! – combination of greens and bacon.
.
.

Photo by Tieghan
Easiest Coconut Cauliflower Adobo
From Half-Baked Harvest
For those with cauliflower in their box, or just happen to have some, maybe from a prior week! Here's a spicy and warning way to cook up your cauliflower, where the cauliflower stands in for chicken in adobo.
.
.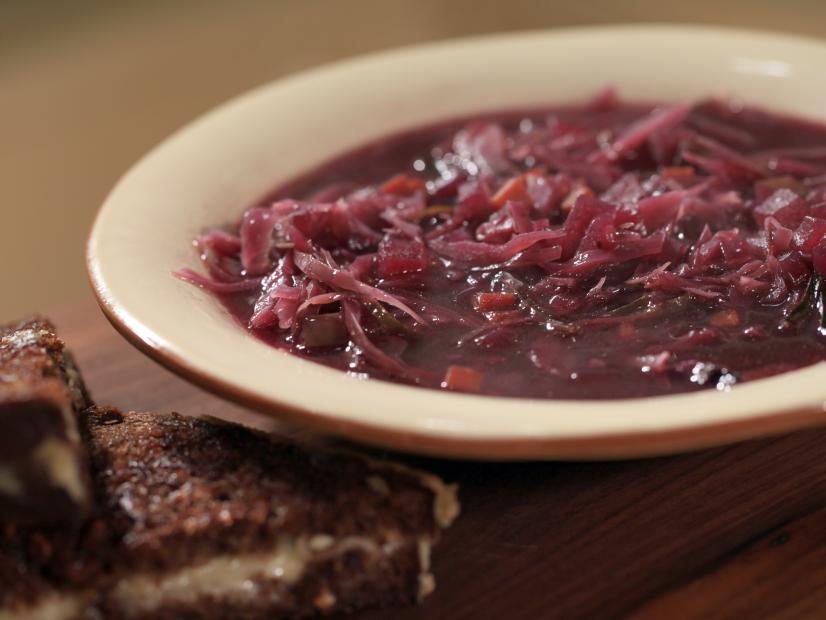 Photo by Food Network
German-Style Sweet and Sour Red Cabbage Soup
By Rachel Ray for Food Network
The soup takes a bit of time to prepare but can be done ahead, and flavor actually improves after cooking and reheating. Rachel Ray suggests serving with grilled cheese sandwiches for a complete meal.
.
.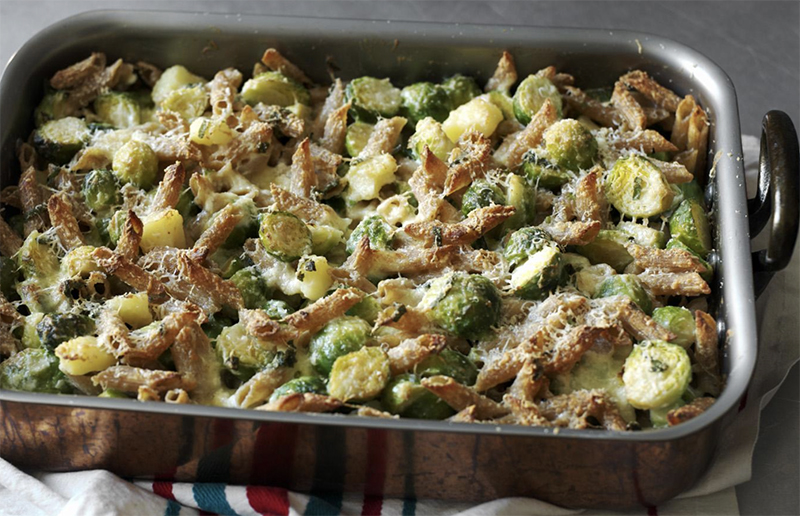 Photo by BBC Food
Hearty wholewheat pasta with Brussels sprouts, cheese and potato
From Nigella Lawson for BBC Food
If you have some white or yellow potatoes, go ahead and double carb-load; otherwise the dish will be just as tasty with pasta, Brussels sprouts and cheese.
.
.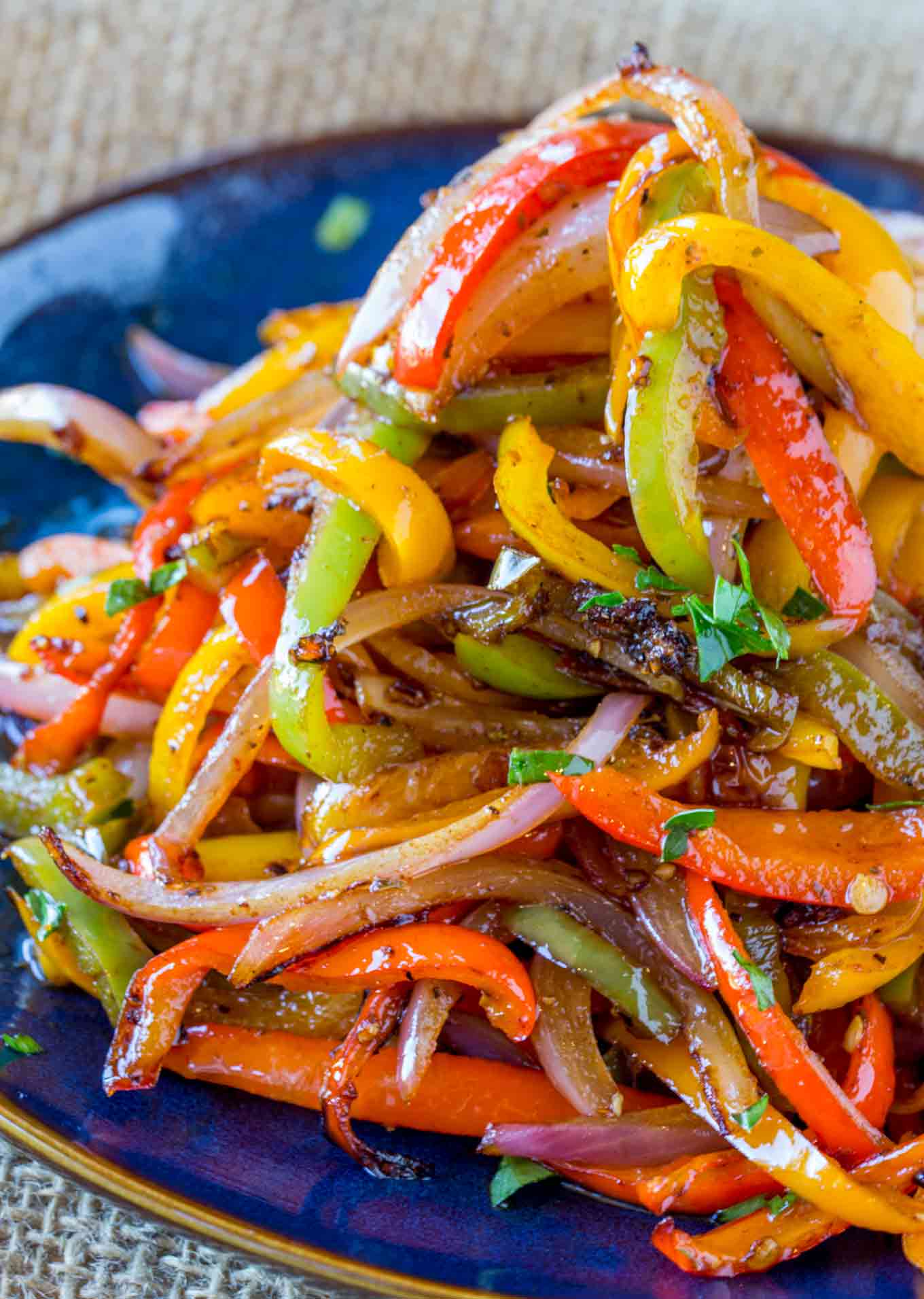 Fajita Vegetables
From Cooking Made Healthy
Fry up a mess of peppers and onions to make these fajita vegetables, that can of course be used in fajitas, or as a side dish, or as part of rice or grain bowl.