Week #17; Tomato-palooza
Sweet corn survey
We tried something new with sweet corn this year. We increased the number of plantings but made each field smaller. Our goal was to do a better job of distributing corn to members of all share types, whether weekly or monthly members. It worked! You got seven weeks of sweet corn instead of five, but with about 8 ears per box instead of about 10 ears.
What do you think about the new system? Too much corn? Still too little? We really want to know so we can plan for next year. Check this week's email for a survey link.
FYI, the bugs at the tips are a separate issue. Most years, the earliest plantings are at least risk of insect damage, as the egg-laying moths usually haven't arrived in Wisconsin yet. Things were reversed this year, with bugs in the early plantings, then fewer in the later ears. Sometimes moths get blown north earlier than expected. That's probably what happened. Each corn earworm moth can lay 2000 eggs so a few moths can do a lot of damage.
Tomato-palooza
We are at peak tomato season right now. We are determined to get tomatoes to all of you, whether in the CSA boxes or through extra purchases or via farm u-picks.

It takes this many pails and baskets of tomatoes to pack 4 lb in every box, plus fill pre-orders for members who want to preserve for winter. From left, Matt moves pails of tomatoes, Ben washes kale, Maggie, Charlotte and Karen put tomatoes in paper bags for the CSA boxes.
The weather was perfect and the picking was easy. We have planned a second (and final) plum tomato u-pick. Check your 9/6/21 email titled "Tomato upick" for details and a link to register. Our farm events are for Tipi CSA members only.
Can you see the straw in the aisles in the photo above? That's the straw mulch that we laid down in June. It's worked pretty well for weed control but has required spot weeding and one mowing to control wheat sprouts. If you use wheat straw, you will get wheat seeds too. The mulch has definitely made the tomato field an easier and more pleasant place to work.
Veggie List & Veggie Notes
Week #17, September 9/10, 2021
– Weekly shares
– EOW/ purple
– Sampler/ moon
Kale, 1 bunch
Slicing tomatoes, ~4 lb
Globe eggplant
Red watermelon
Grape tomatoes, ~1 pint
Colored peppers, bell or frying (sweet), ~4-5
Oranos snack pepper (orange, sweet), ~2
Yellow onion, 1 – 2
Basil, 1 bunch
Next week's box will probably contain tomatoes, peppers, leeks and other fall veggies.
Kale (large bunch of ruffled leaves) – We finally have room in the box for greens! Our youngest field of kale and collards has been ready to pick for a few weeks but we couldn't fit them in the box. Enjoy. This young planting is in good shape, with tender leaves.
Peppers (bell &/or frying; sweet) – The orange and yellow peppers are over-achievers right now too! This is a treat – these peppers are beautiful with thick walls, perfect for roasting. We're pleased with how unusually productive these peppers are this year. It's not typical.
Oranos snack peppers (smaller, slender, orange, sweet) – These beauties are perfect for packed lunches, in small portions but with sweet, tangy flavor.
Red watermelon – This might be the final melon of the season.
RECIPES from DEB
Visit our 2020 Recipe Log or our 2019 Recipe Log.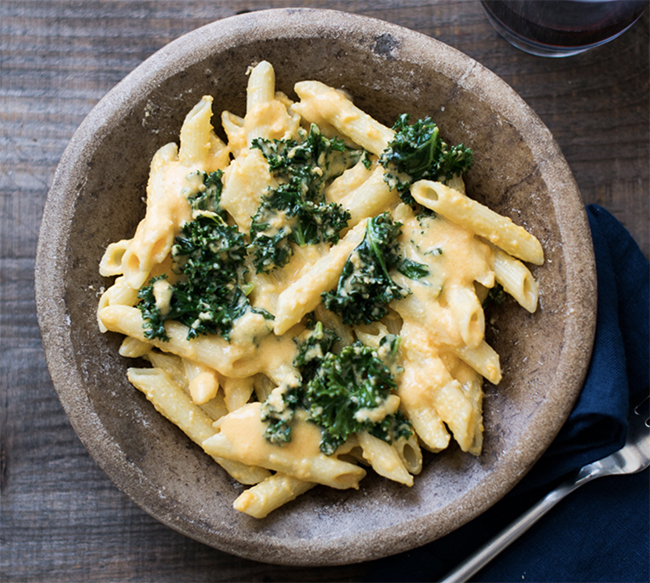 Photo by Todd Porter & Diane Cu
Stovetop Mac & Cheese with Kale
Adapted from Food and Wine
Serves 6-8
Takes about 20 minutes
Ingredients
1 bunch of kale, rinsed, and large stems removed
1 tablespoon olive oil
1 clove garlic, minced or put through a press (optional)
good pinch of kosher salt
freshly ground black pepper
2 tablespoons butter
2 tablespoons flour
1 3/4 cups warm water
3 cups milk, warmed
1 pound macaroni or pasta of your choice
another good pinch of kosher salt
3 cups shredded cheese – again your choice – when I tested this recipe I used white cheddar, Swiss, a kind of spicey smoked cheddar with a bit of chipotle, and Parmesan
Additional salt & pepper to taste, and you can play around with the seasoning – I often put in a bit of nutmeg, and dry or prepared mustard, and some hot seasonings like cayenne would not be out of place
Bring a large pot of water to a boil, and when it's boiling, submerge the kale and cook until softened, about 5 minutes. Pour into a colander and rinse with cold water to cool it, and then squeeze the water out of the kale by handfuls, transferring it to a cutting board, where you will chop it into bite size pieces.
Heat the olive oil in a skillet large enough to hold the kale, and sauté, adding the salt and pepper and optional garlic, until it's looking a softened and browned, about 10 minutes.
Melt the butter in a heavy bottomed pot – could be the same one you used for the kale, and add the flour. Blend, then whisk in the warm water and the milk. Add the dry pasta and the 2nd pinch of salt. Bring to a simmer, then partially cover and cook for 10-15 minutes until the pasta is cooked and liquid is mostly absorbed. Uncover and add the grated cheese, kale, and any additional seasonings. Stir well and serve.
.
.

Photo by Sabra Krock for The New York Times
Pasta Melanzane
Adapted from The New York Times.
Sometimes called Pasta alla Norma; serves 4-6
Takes about 45 minutes
1 1/2 pounds eggplant
approximately 1/2 cup olive oil
1 tablespoon garlic, minced or put through a press
1 bell pepper, any color, sliced or chopped
1 1/2 pounds tomatoes, peeled, seeded, and chopped (or a 14 oz. can)
1 pound pasta – fettucine is traditional here; spaghetti also work
1/2 cup chopped basil
1/2 cup grated Parmesan or Romano cheese
Salt and freshly ground pepper
Heat the oven to 400° Slice the eggplant into rounds about 1/2 inch thick. Brush with olive oil, arrange in a single layer on one or two baking sheets, and sprinkle with salt and pepper. Bake until softened and browned, about 15 minutes. Let cool on the baking sheets.
Meanwhile, put a large pot of water on to boil and salt it, and when it's boiling add the pasta. Cook the pasta until tender but not mushy, and drain.
Heat about a tablespoon of the olive oil in a skillet large enough to hold the pasta and cook the garlic and peppers, until the garlic colors a little bit, and the peppers have started to soften. Add the tomatoes along with some salt and pepper; continue to cook until saucy but not too dry, stirring occasionally.
Cut the eggplant into strips and add to the peppers & tomato mixture. Add the drained pasta and toss well. Taste and adjust the seasoning, then top with the basil and grated cheese and serve.
.
.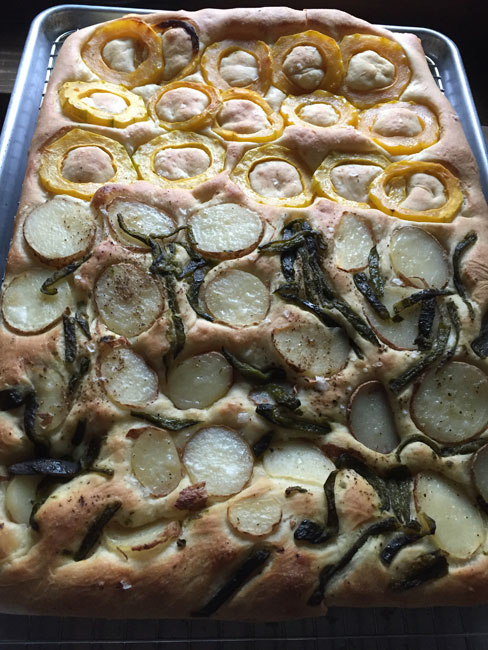 Focaccia with Roasted Peppers
Based on Carol Field's Focaccia from Genoa, in Focaccia, Simple Breads from the Italian Oven
10-12 servings
Takes about 45 minutes active time, plus 2 hours to overnight to rise
Sponge:
2 1/2 teaspoons (scant tablespoon, or one pack) active dry yeast
2/3 cup warm water (105° to 115° F – should feel just barely warm)
1 cup unbleached all purpose flour
Dough:
all of the sponge
1/2 cup room temperature water
1/3 cup white wine – also room temp
1/3 cup olive oil
2 3/4 – 3 cups unbleached flour
2 teaspoons table salt
Topping:
About 2 tablespoons olive oil, and about 2 teaspoons flakey salt
2-3 roasted peppers, technique below
Make the sponge: Pour the water into a mixing bowl, or the bowl of your stand mixer. Sprinkle in the yeast, then add the flour and mix with a rubber spatula until smooth. Cover the bowl and let rise for at least 30 minutes and up to 2 hours until bubbly and puffy.
Make the dough: Pour the water, wine, and olive oil into the bowl with the sponge. Add 2 1/2 cups of the flour, and the salt. Mix with a wooden spoon or with the flat beater of the stand mixer until you have a soft dough that pulls away from the sides of the bowl, adding the additional flour as necessary. If you are using a stand mixer, increase the speed to medium, and beat/knead for 3 minutes. If you are making the dough by hand, turn it out onto a floured surface and knead for 6-8 minutes adding just enough flour to keep the dough from sticking. For both methods, form the dough into a smooth ball in the bowl, cover, amd let rise for about 1 hour, until doubled. The dough can also be refrigerated at this point for several hours, and up to overnight.
Roast the peppers: there are lots of ways to do this, but the method I like best is to arrange whole peppers on a parchment- or foil-lined baking sheet, and place them under the broiler. Broil until they are well charred, turning to get all sides. Put the peppers into a heat proof bowl, and cover with a plate or lid. Let steam and cool for at least 15 minutes. Place a cutting board tipped into your sink, and lay a pepper on the board. Split it open with a paring knife, and let the (possibly very hot!) juices run into the sink. Remove the stem, veins, and seeds, and turn the pepper over and peel off the skin.
Shape the dough: Pour about a tablespoon of olive oil into a 10 x 15 1/2 in. baking pan and dump the risen dough out into the pan. Turn it over to coat it with oil, and start stretching & pushing the dough to the sides of the pan. Let rest for about 15 minutes – 30 if refrigerated – and then continue stretching and dimple the dough with your fingertips. Add the toppings at this point – up to another tablespoon of olive oil plus the roasted peppers and salt. Let the dough rise for about 45 minutes to an hour.
Bake the focaccia: About 30 minutes before the end of the rising time, heat the oven to 425°. When the dough is risen, place it in the oven and spray the top of the dough and bottom & sides of the oven with water from a mister. Close the oven and reduce the heat to 400°. Spray with water twice more during the first 10 minutes of baking. Bake 25 – 30 minutes total, until golden brown. Serve warm or room temperature.
The example in the picture has roasted poblano chiles and potatoes, parboiled & sliced thin, and roasted delicata squash, also thinly sliced.
.
.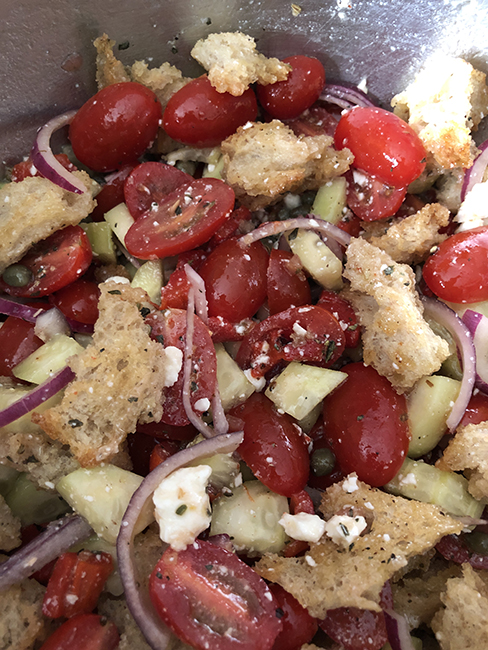 Panzanella
Panzanella is a great way to eat tomatoes and use up the end of that sourdough loaf that you can't get anyone to eat! The salad in the picture is made with grape tomatoes and cucumbers – a mix of the grape and slicing tomatoes in this week's box will work fine, and omit the cukes if you're out.
Makes 4-6 servings
Takes 30 minutes or less
about 4 ounces crusty bread – 4 large slices or so
1 clove garlic, minced or pressed
2 tablespoons olive oil
2 1/2 pounds of tomatoes, any variety
2 tsp. Dijon or other prepared mustard
a good pinch of sugar
another one of coarse salt
freshly ground black pepper
2 tablespoons red wine vinegar
a good pinch of sugar
another one of coarse salt
freshly ground black pepper
1/4 cup olive oil
1/4 of a large red or sweet white onion, peeled and thinly sliced
2 tablespoons capers, drained (optional)
a couple of good handfuls of herbs (basil or parsley), chopped or torn as appropriate
3 oz. feta cheese, crumbled
Preheat the oven to 350. Tear the bread into coarse chunks, crouton size, and place it in a bowl large enough for tossing. Pour in 2 tablespoons of the olive oil, and add the garlic, and toss. Turn the oiled bread out onto a sheet pan, and toast in the oven until golden. Let cool.
Mix the mustard, sugar, salt, pepper, and vinegar in the bottom of the bowl you'll serve your salad in. Drizzle in the olive oil while whisking. Cut the tomatoes in half, squeeze out some of the juice and seeds, and cut them into bite size pieces. Add them to the bowl with the bread, onion, and capers, and toss well. Add the herbs and toss again. Right before serving, which should be within in an hour or two, top the salad with the crumbled feta.
.
.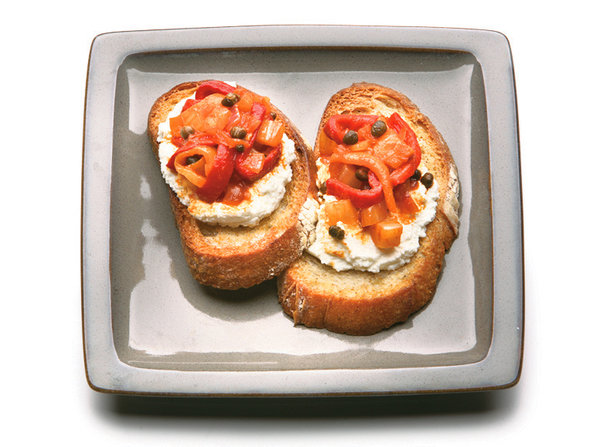 Photo by Tony Cenicola/The New York Times
Peperonata
From The New York Times
When we have an abundance of peppers in the summer, I love to make big batches of peperonata. It freezes well, and brings back the tastes of summer deep into the winter. This recipe calls for fennel; you can sub in a small pinch of fennel seed, and in lieu of roasting the peppers you can make this on the stove: slice the peppers and combine with the other ingredients, and sauté.
.
.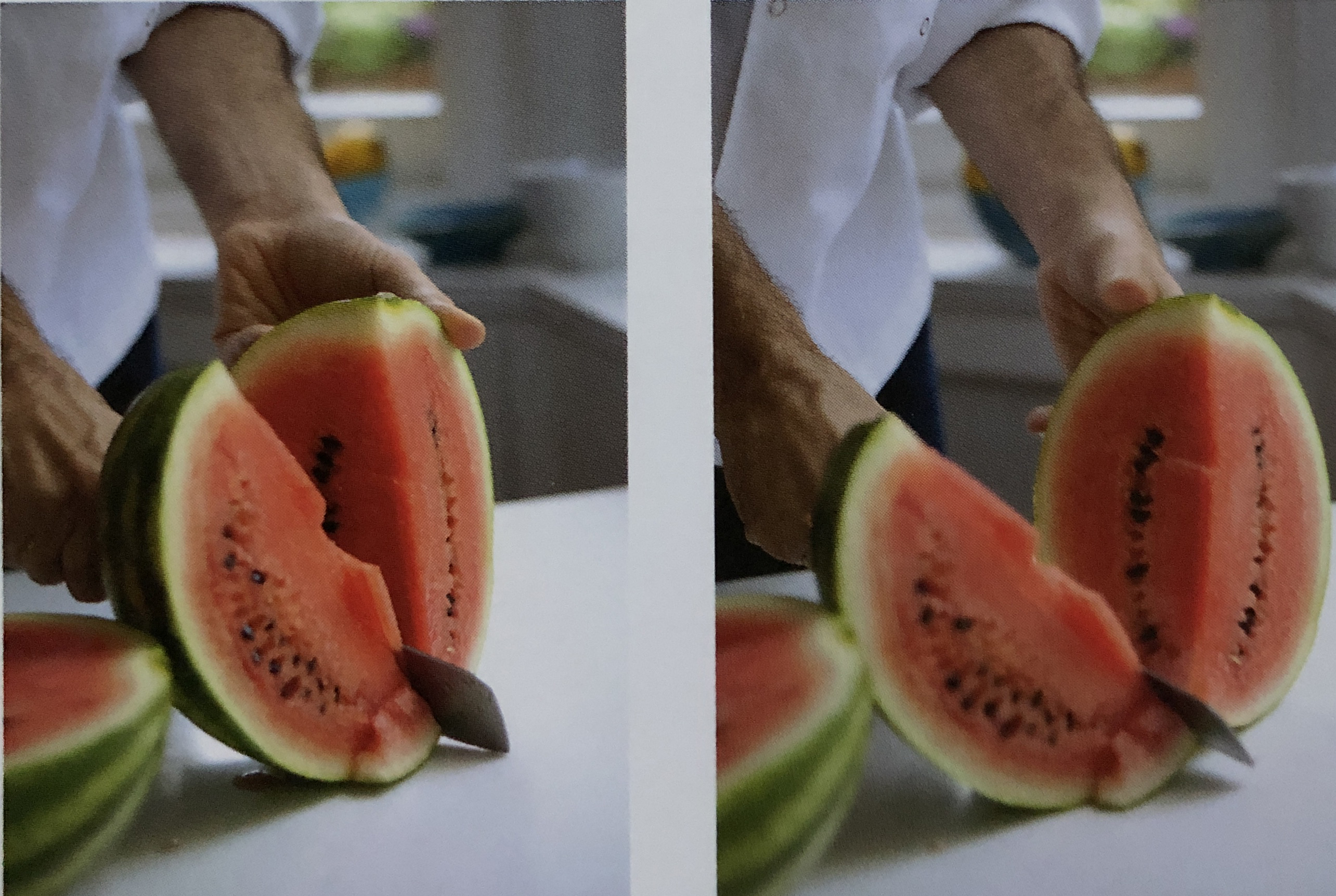 Some ideas for watermelon
Most of us are simply inclined to eat watermelon in slices, but here are a few suggestions.
You can seed the watermelon and cut it into chunks to include in fruit salads. As shown in the picture, the seeds grow in a line. If you start by cutting the melon into quarters, stem end to blossom end, you can cut along the seed line and remove most of the seeds that way. Mollie Katzen suggests using a spoon handle for this; I usually cut the melon with a bread knife, and use the tip of the knife to remove the seeds.
Deb Perelman (Smitten Kitchen) provides a method in this Mojito recipe for cubing the melon and freezing it on a tray. Transfer the melon cubes to a plastic bag or container for longer storage if not making drinks right away.
And, there's always the ubiquitous watermelon-feta salad, made by everyone from Ottolenghi to Nigella Lawson to Smitten.
.
.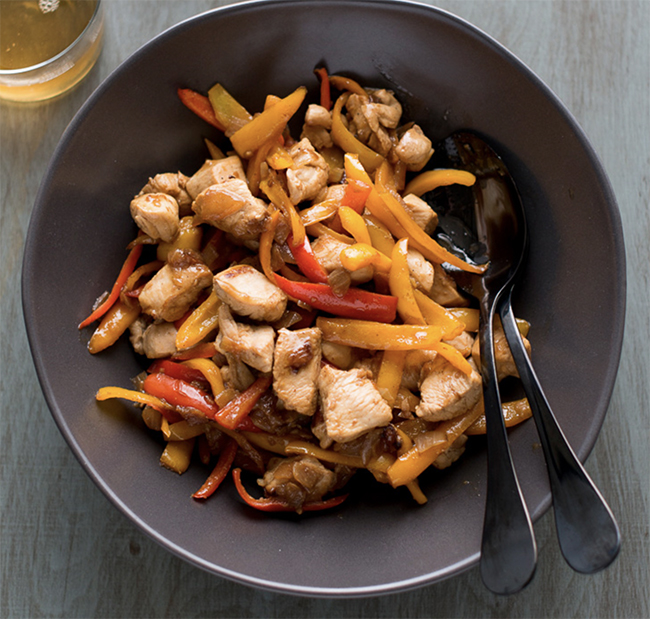 Photo by Todd Porter & Diane Cu
Lemon Zest Chicken Stir-Fry with Sweet Peppers Recipe
From Food and Wine.
This easy chicken & peppers recipe from Food & Wine sparks up a stir fry with lemon zest. Serve over white or brown rice for a quick meal.