Week #12. Melons on the way
Watermelon harvest is everyone's favorite job but you have to be able to catch and throw and not mind getting splashed. We are deeply enjoying the beautiful summer days. This is one of the best ways to spend them.
Steve picks the ripe melons and makes piles in the field. Ari tosses melons to Mat, who washes them in the blue tank. It's great to wash right at the edge of the field. Melon harvest almost always coincides with warm weather, so no one cares if they get wet.

After washing, we toss again and place (gently!) in wooden bins. Back at the farmyard, we can move the full bins with a forklift and pallet jacks. That means we do not have to lift them again until we pack them in your CSA boxes.
Then we rest and eat cracked melons.
Garlic crop looks good.
The crop is in and drying nicely. The top photo shows garlic laid to dry in our barn loft. The bottom two photos show garlic laid in the greenhouse on July 29 and July 30. You can see how quickly it's drying. I do not love having the garlic in the sun but we cannot fit it all in the loft, so we need to use the greenhouse too. Once it's dry enough, we'll move it into the barn.
Veggie List & Veggie Notes
Week #12, August 11/12, 2022
– Weekly shares
– EOW/ purple
– Sampler/ moon
Sweet corn, 8 ears
Green beans, ~1.5 lb
Cherry tomatoes, 1 quart
Slicing tomatoes, ~2.2 lb
Red peppers, 2, either red bell or red frying
Cucumbers, 3 or 4
White or yellow onion, 1 large
Basil, 1 small sprig
By site: red watermelon OR muskmelon
Next week's box will probably contain sweet corn, melons, tomatoes, peppers, beans, cucumbers and more.
Sweet corn report – There are very few bugs this week. It's the next delicious batch of 'Vision' corn.
Cucumbers – This field is so productive! Usually I wouldn't send cucumber so many weeks in a row but this field is going to end quickly, so let's enjoy them while we have them.
White onions – These are more pungent onions than the Walla Wallas that we've sent in recent weeks. We consider them intermediate between Wallas and yellow storage onions in both pungency and ability to be fried. In other words, these will fry better than Wallas but not as well as a yellow onion.
RECIPES by DEB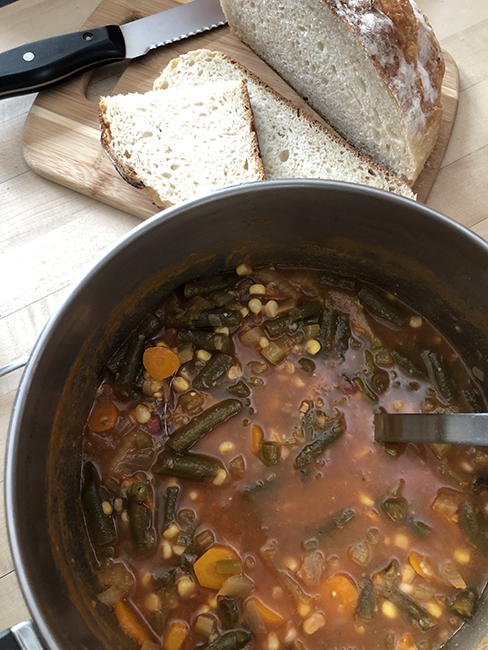 Photo by debslunch
All-the-vegetables Vegetable Soup
We don't think of summer time as soup season, but fresh summer produce is so tasty in soup. This quick and easy vegetable soup can be thrown together in 3O minutes in the morning and reheated for dinner without overly heating up your kitchen. And it can turn a sandwich into a real meal! I've used Tipi green beans, carrots, corn, and bell pepper in this batch, as well as my last pint of Tipi tomato juice, but feel free to sub in what you have – zucchini, summer squash, tomatoes.
Takes about 30 minutes
Serves 6
1 tablespoon butter
3/4 cup chopped onion
3 stalks of celery, well-rinsed and chopped, with some of the leaves if possible
3 smallish carrots, sliced into rounds (a generous cup)
1 bell pepper, chopped
kernels from two ears of corn
1 1/2 – 2 cups green beans, cut into 1 to 2-inch lengths
2 cups of tomato juice
2-3 cups chicken or vegetable broth, or a mix of broth and water
1 to 1 /2 cups cooked beans or small pasta like macaroni or small shells
salt and freshly ground pepper
one tablespoon of honey, or to taste
Melt the butter in a large pot that holds about 4 quarts. Add the longer cooking vegetable first – onion, celery, carrots, and toss with the butter. Season with salt and pepper. Cook for about 5 minutes until the onion starts to soften and turn translucent, then add the peppers, green beans and corn. Continue to cook for about 10 more minutes.
Add the broth and tomato juice and water of necessary, and raise the heat to bring the soup to a boil. Reduce the heat and simmer for about 20 minutes. (If you're making this in the morning, you can go and change out of your pajamas into regular clothes while the soup simmers)
Add the beans or pasta – I used small red beans from Rancho Gordo, but garbanzos would be good, too. Stir in the honey. Cook a few minutes to make sure everything is blended. Dip out a spoonful and let it cool slightly, and taste to see if it needs more salt, or anything else.
You can eat the soup immediately or cool it, and refrigerate and reheat when you're ready. Serve with crusty bread or grilled cheese sandwiches.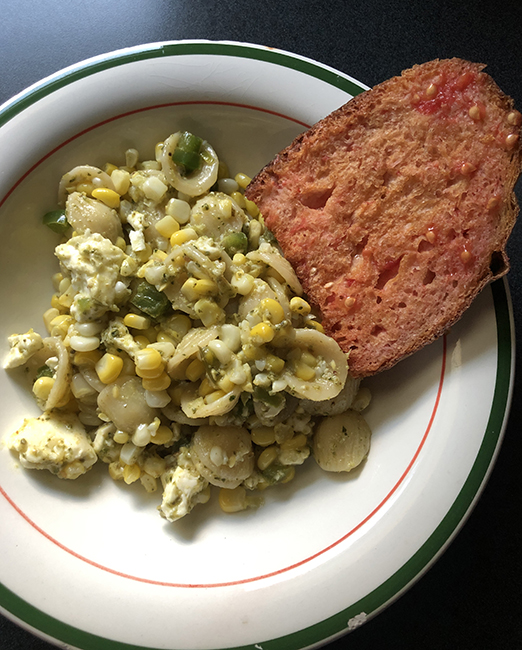 Photo by debslunch
Pasta with Oven-roasted Corn, Feta, and Jalapeño
This remarkably flavorful pasta only has a few main ingredients: pasta, corn, feta, and jalapeño. I tested the recipe with a large, very mild jalapeño – feel free to sub bell pepper or whatever you have. Sliced cherry tomatoes would also be delicious in this recipe. Serve with pan con tomate, Catalan tomato bread – see recipe below.
1 pound orecchiette – the orecchiette cradle the corn kernels, but bow ties or penne would also work
4 tablespoons unsalted butter
1 large jalapeño, or about 1/2 cup chopped bell or frying pepper, finely chopped
kernels from 4-5 ears of oven-roasted corn, 3-4 cups
Kosher salt
1-2 tablespoons basil pesto, purchased or homemade
8 ounces feta cheese, crumbled
Flaky salt and chopped fresh basil leaves, for serving (optional)
Prepare the oven roasted corn: heat the oven to 400°, and place a rack in the top third. Pull the silk off the corn, and partially shuck it – leave at least one layer of husks on. Arrange the corn directly on the oven rack, or on a tray that will hold all the ears on one layer. Roast for 30 minutes, flipping after about 15, until the cobs have some color on the outside. Cool and peel the corn, and cut the kernels off the cobs. Save the cobs for stock if you like.
Cook the orecchiette in a large pot of well-salted water; optionally, drop a corn cob in for extra corny-y flavor, until the pasta is just a little less cooked then you like it. Drain, saving a cup of the pasta water.
Melt the butter in a wide deep skillet and cook the jalapeño or bell pepper in the butter till softened. Add the corn and 1/4 cup pasta water, and cook until slightly reduced, 2-3 minutes. Add the pasta, pesto, and feta, and another 1/4 cup pasta water, and toss until the pasta is well coated with the sauce. If it seems too dry, add more pasta water as necessary.
Top with the flaky salt and basil, if using, and serve immediately with pan con tomate

Photo by Johnny Miller for The New York Times
Roasted Chicken with Cucumber-Yogurt Sauce
Takes about 40 minutes
Serves 4-6
This recipe is based on a recipe by Melissa Clark, in the New York Times. I've adjusted some of the ingredients to match what we've got in the box.
Two to two-and-a-half pounds boneless, skinless chicken thighs
Salt and freshly ground black pepper
4 garlic cloves, minced or put through a press
1 tablespoon finely chopped fresh herbs such as basil or parsley, or 1 teaspoon dried oregano
A good-sized pinch of red pepper flakes
3 tablespoons olive oil, plus more as needed
One lemon, one half cut into thin wedges
1/2 cup plain Greek yogurt or other thick yogurt (or sour cream)
1 medium cucumber, peeled, seeded, and grated about 2/3-3/4 cups
Optional: 2 tablespoons chopped herbs, such as basil or parsley for sprinkling on top
Heat oven to 425°. Combine the chicken, 3 of the garlic cloves, the 1 tablespoon basil or other chopped fresh herbs, or teaspoon of dried oregano, red pepper flakes, and lemon wedges. Season with salt and pepper. Pour in the olive oil and toss until well coated. The chicken can be refrigerated at this point for up to 12 hours before roasting.
Line a sheet pan with parchment or foil, and spread the chicken mixture on it in a single layer. Drizzle with a little more oil and roast until the chicken is cooked through, 25-35 minutes. For a little more color on your chicken, run the pan under the broiler for 1 to 2 minutes.
While the chicken is cooking, stir together the yogurt, grated cucumber, and remaining garlic clove in a small bowl. Season to taste with salt and pepper. Cover and refrigerate until ready to serve.
When the chicken is done, arrange it on a serving platter and squeeze the half lemon over the top. Sprinkle on the chopped basil if using. Serve with the cucumber-yogurt sauce and an extra drizzle of olive oil.
Catalan Tomato Bread
From The Spruce Eats, by Lisa & Tony Sierra
Pan con tomate or Catalan Tomato Bread, a tapa, flavors toasted bread with garlic and tomato. Toast the bread until it's nice and crispy to avoid sogginess after the bread is rubbed with the tomato – but even soggy, it will still taste great!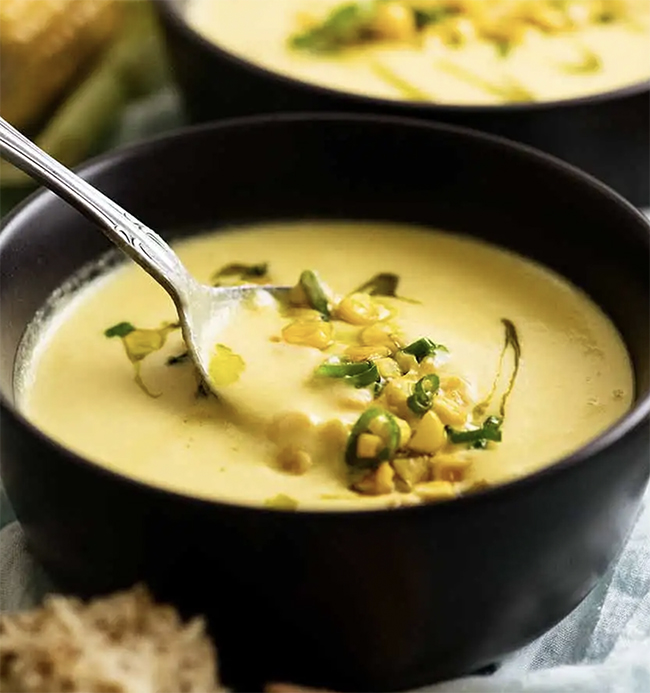 Photo by Nagi
Cold Corn Soup for Summer
From RecipeTinEats
Another soup this week – this one is cool, creamy, and full of fresh corn.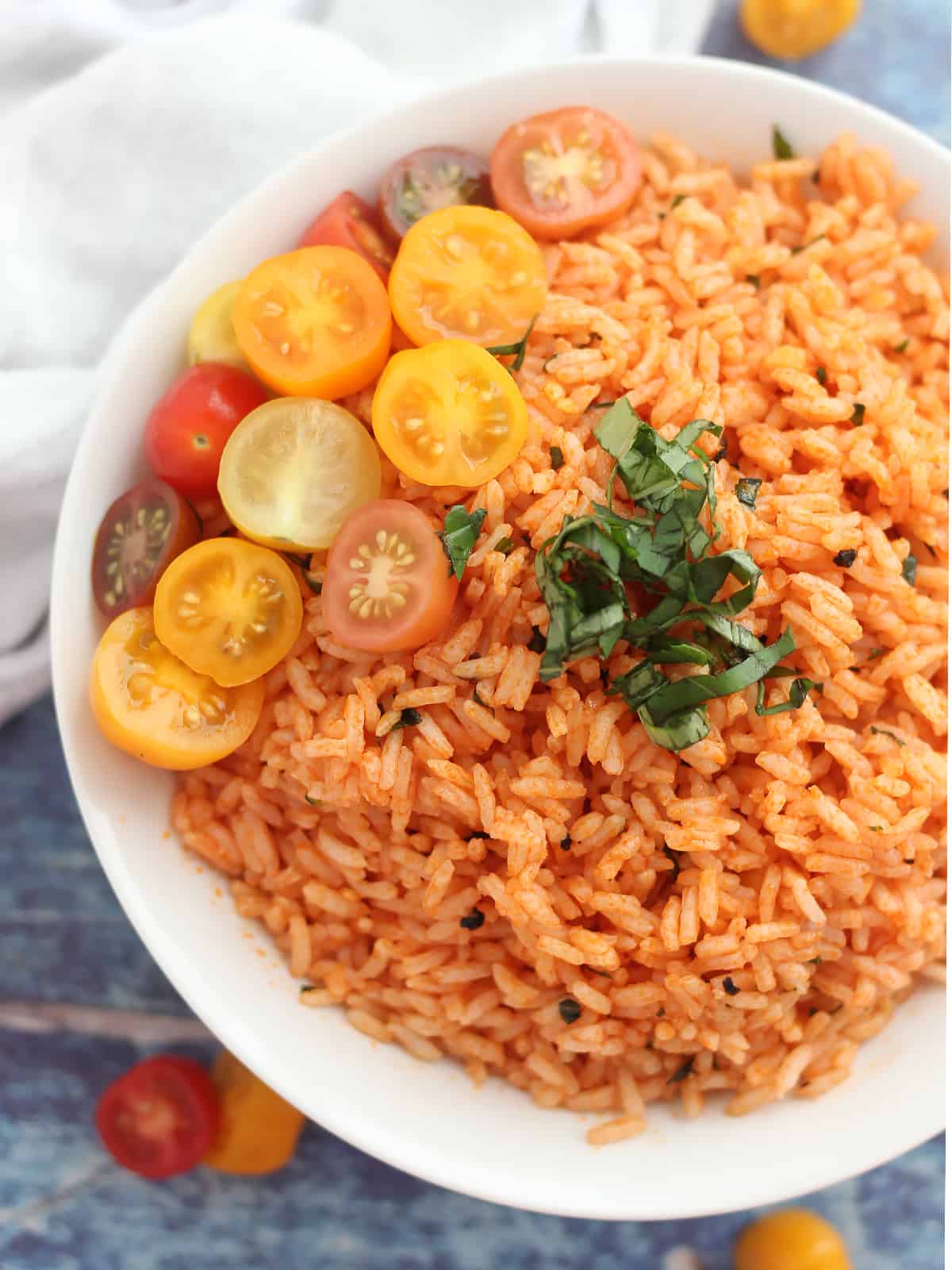 Photo by Bite On The Side
Tomato Basil Rice
From Bite On The Side
Serve this rice garnished with cherry tomatoes and chopped fresh basil as shown, or chunks of slicing tomato. You can omit the basil if we don't get any in the box; you might want to add oregano or another dried herb, and call it tomato-herb rice!

And finally, two recipes for salads with green beans and corn, one creamy, and one with tomatoes.
Corn and Green Bean Salad
From Taste of Home
This recipe calls for reduced fat mayonnaise – I am not a fan! Feel free to use your favorite mayo.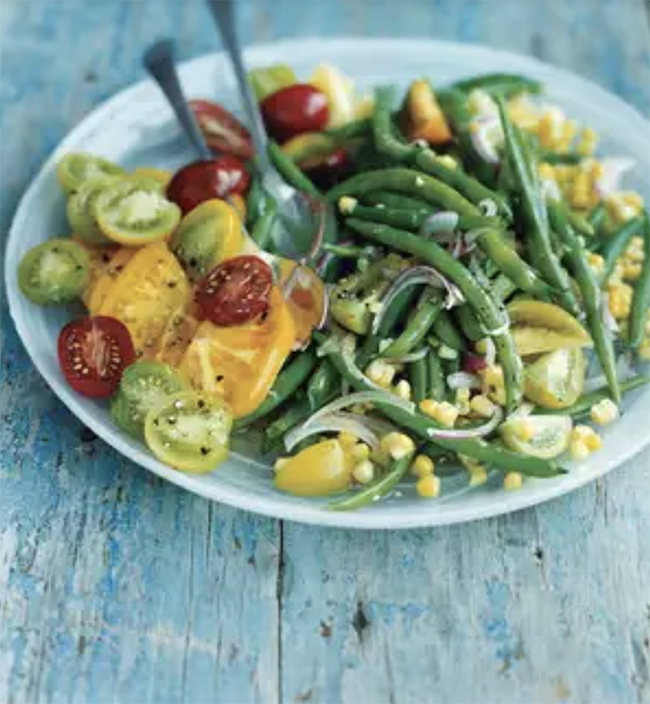 Photo by John Kernick
Corn, Green Bean, and Tomato Salad
From Martha Stewart
Martha calls for yellow tomatoes and heirloom tomatoes in this salad – a combination of our slicing and cherry tomatoes will work just great in this recipe.