Week #9; Lingering pandemic cr@p
Here's a pandemic wrinkle. After years of bottling our tomatoes into juice at a local processor, we can no longer find anyone to do that for us. Our old processor has dropped their small accounts, including us. Our tomato juice project is too small for most processors to deal with. Even if we could get on a new shop's schedule, costs have risen to an unsustainable high, eg $15 per bottle! The cost of glass bottles went up dramatically, as well as labor, fuel, etc. This is a familiar story by now.
We have enough juice for about half the sites. The remaining sites get a muskmelon plus a half pint of cherry tomatoes. I call that a pretty even deal.
We remain short-handed (our biggest pandemic issue) but have chosen to be super-strategic with our time, and feel we are pulling off our usual nice boxes. This week's basil has more insect damage than usual, mixed in among undamaged leaves. I leave it to you folks to trim off and discard the damaged leaves.
For years, I have walked our basil fields each morning, carrying pails of soapy water to drown Japanese beetles. Ari reminds me that I used to pay him 50 cents to help. (Those days are over.) If we do this every morning, the beetles do not congregate in the basil field and the basil is protected. Obviously, I do not have time for that any more. Really. Instead, we planted an overabundance of basil, some for the beetles and some for us. Unfortunately, I think every Japanese beetle in the county is in that basil field right now.
Anyway, my new strategy is staggered pruning. The beetles do most of their damage to older plants, so keeping parts of the fields in fresh growth should help. I will outwit these pests.
Let's forget all that and focus on this week's produce! Look at that summer list! Green beans, broccoli, zucchini and cucumbers, sweet onions, early peppers, basil, the first melons, etc etc. Surely, summer is everyone's favorite garden season. Soon there will be sweet corn and the first tomatoes.
This is a lovely box and I hope you enjoy it.
Beth

Most of this basil is very nice. Just pluck off the beetle-damaged leaves, the ones with holes. They tend to feed at the top of the plant, leaving the tender side shoots alone.
Veggie List & Veggie Notes
Week #9, July 21/22, 2022
– Weekly shares
– EOW/ green
Green beans, 1.5 lb
Broccoli, ~1.8 lb
Green bell pepper, 1
Zucchini &/or yellow squash, ~2.5 lb
Cucumbers, 3 or 4
Walla Walla onion, 1 or 2
Basil
By site, a small red bibb lettuce OR small parsley bunch
By site, everyone gets something special:
Tipi tomato juice OR the first muskmelons + a half pint cherry tomatoes
Next week's box will probably contain sweet corn, melon, cabbage and other summer favorites.
Green beans – Storage: Store in the warmest part of your refrigerator.
Broccoli – This broccoli field is doing great! It's difficult to grow spring broccoli on our sandy soils, so we're glad for the nice harvests. If your broccoli appears wilted, submerge in cold water for 15 minutes and it will perk up. Hot weather is hard on broccoli so sometimes they need that cold water soak. Storage: Refrigerate.
Cucumbers are still abundant and quality remains very high. What a beautiful, amazing field.
Tipi tomato juice – Drink the juice or try making an easy soup with vegetables from your CSA box, with zucchini, Walla Walla onion and basil.
Storage: Store the juice out of sunlight at room temperature when unopened. Refrigerate after opening. The juice is already seasoned so do not add salt if you cook with it.
Ingredients: organic tomatoes from Tipi Produce, salt, organic garlic, organic onion, organic black pepper. Nutritional information is posted here.
Muskmelon – Most are ripe and ready to eat. Some need to ripen a day or two on your kitchen counter. Keep at room temperature but refrigerate if not eaten within 2 – 3 days.
RECIPES by DEB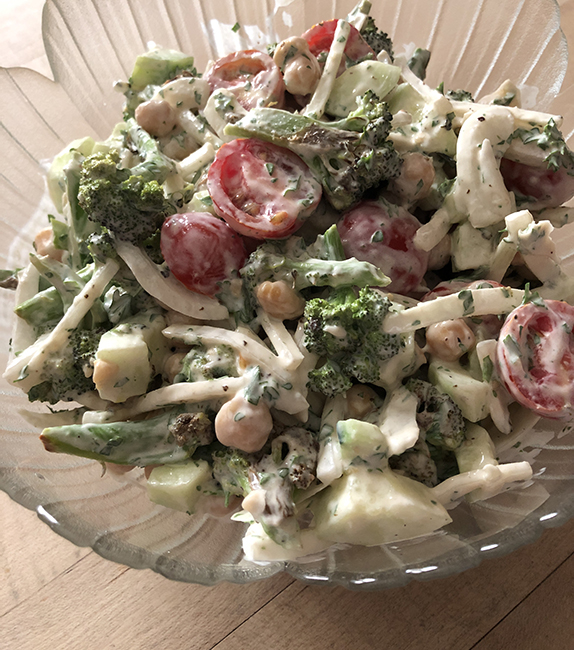 Photo by Deb Shapiro
Creamy Roasted Broccoli and Cucumber Salad
I've added cherry tomatoes to this salad, even though we haven't gotten any in the box this week, because they're coming into season at farmers markets right now – feel free to omit the tomatoes if you don't have any – I'm sure we'll be enjoying them in future boxes!
Takes about 30 minutes
Serves 4 as a side dish
one large stalk of broccoli cut into florets, including some stem slices – about 2 1/2 cups
1-2 cloves of garlic, separated from the head but not peeled
1 tablespoon olive oil
1/2 cup thinly sliced sweet onion, such as Walla Walla
one cucumber, peeled, seeded and cut into chunks – about 1 1/2 cups
1 cup garbanzo beans, drained and rinsed
12 cherry tomatoes, halved
1/3 cup sour cream
1/4 cup mayonnaise
1 tablespoon tahini
2 tablespoons lemon juice, plus more to taste
1 teaspoon sugar
1/4 cup chopped fresh herbs, such as basil or parsley
salt and freshly ground black pepper
Heat the oven to 400°. Place the onion in a small bowl and cover with cold water, and let it soak while you prepare the other veggies.
Arrange the broccoli on a baking sheet, drizzle with oil, and season with salt and pepper. Add the garlics and toss well. Roast for 15-18 minutes until the broccoli is tender and starting to show some char, and the garlic is soft. Set aside to cool.
Combine the cucumber, garbanzo beans, and cherry tomatoes in a bowl large enough to allow for mixing.
Measure the sour cream, mayonnaise, and tahini into a small bowl or spouted glass measuring cup. Squeeze in the garlics, add the lemon juice and sugar, and whisk well. Season to taste with salt and pepper.
Add the cooled broccoli to the bowl, pour in the drssing, add the herbs, and mix well. Taste to see if it needs more lemon or salt. Serve right away or chilled.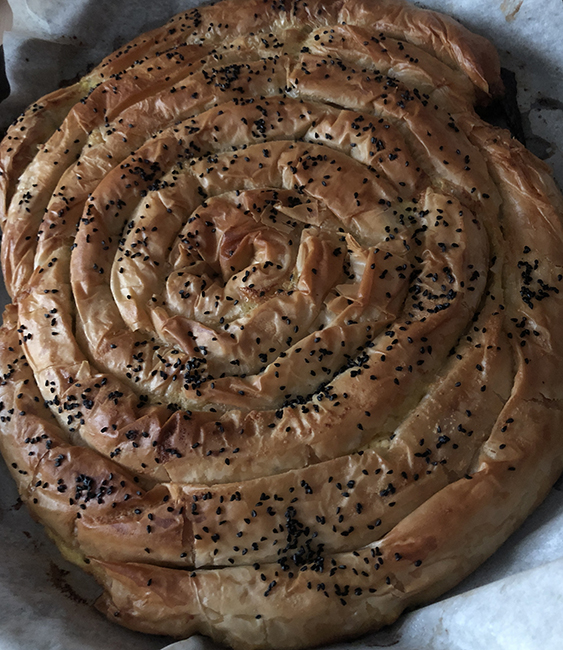 Photo by Deb Shapiro
Spiral Zucchini Pie
Working with fillo (or phyllo) can be a bit tricky, but the results are worth it. You can make the pie as one big spiral as shown, or as individual spirals – you will get about a dozen that way. The pie can be eaten hot or at room temperature, and it uses a lot of zucchini! You can serve the pie with tzatziki, a cucumber yogurt sauce, if you like.
Takes about an hour
Serves – many!
One 1-pound box of fillo dough, thawed and at room temperature. The box has two packs inside and you'll use about 24 sheets, or all of pack and part of the other.
8 ounces (one stick) salted butter, melted
1 1/2 pounds zucchini, grated
1 teaspoon kosher salt
3 large eggs, beaten
8 ounces feta cheese, crumbled
6 ounces Gouda or cheddar cheese, shredded (about 1 1/2 cups)
1 cup of finely diced onion (or 4-6 scallions)
1/4 cup chopped fresh herbs, such as basil or parsley or dill, or 2 teaspoons dried dill
1-2 tablespoons of sesame seeds or charnushka
Optional tzatziki sauce
1/2 cup plain Greek yogurt
1 small to medium cucumber, peeled, seeded, and finely diced
1 teaspoon salt
1 tablespoon lemon juice
1 tablespoon olive oil
2 teaspoons minced garlic, mashed to a paste or put through a press.
Place the grated zucchini in a colander or strainer and sprinkle with the kosher salt. Toss to coat. Place the strainer over a large bowl or in the sink to catch the liquid and leave for at least 30 minutes.
Optional tzatziki sauce: Combine all ingredients and chill.
Heat the oven to 400°. Take handfuls of the zucchini and squeeze to remove as much of the liquid as possible, and transfer the zucchini to a large bowl.
Add all of the eggs, cheeses, onion, and herbs, and mix well.
Place one sheet of fillo on a clean work surface (I like to use a cutting board) and brush lightly with melted butter. Place another fillo sheet on top and brush again. Spread 1/3 cup of the zucchini filling on one long side of the fillo and roll it up.
Place the log on a parchment lined baking sheet, shape it into a coil. Continue to form the zucchini rolls, and for one large pie, wrap them around your first coil. For individual coils, space them barely touching on the baking sheet.
Brush the spiral(s) with the remaining melted butter and sprinkle a small amount of salt and the sesame or charnushka seeds on top. Bake the spirals until golden and crisp, about 40 minutes.
Serve with tzatziki sauce if desired.
Grilled Zucchini and Bread Salad
From 101 Cookbooks
This recipe from Heidi Swanson, who specializes in vegetarian and natural foods recipes, uses 1/3 cup ponzu in the dressing. Ponzu is a Japanese sauce that's found near the soy sauce at the grocery store. You can make a quick substitute by combining 1/4 cup soy sauce, juice of half a lemon, and a few tablespoons of Mirin (Japanese sweet wine) or a teaspoon of sugar. Heidi says the only zucchini recipes that have her attention at this time in the summer use pounds of zucchini – this recipe uses two!
.
.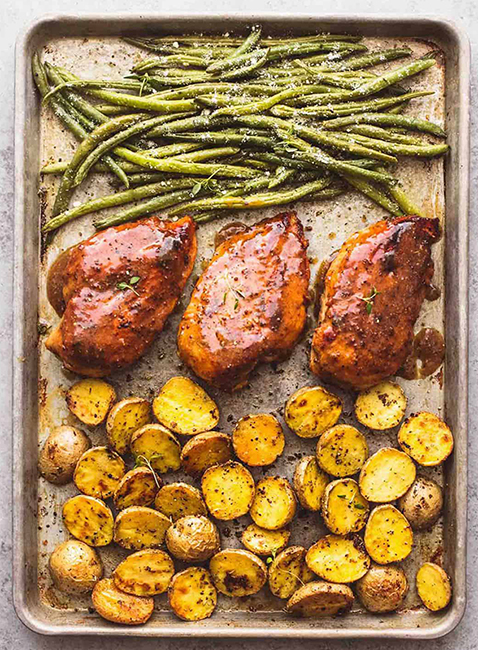 Photo by Tiffany
Sheet Pan Chicken, Potatoes and Green Beans
From Creme de la Crumb
This sheet pan dinner uses dried herbs, but subbing fresh would be delicious.
.
.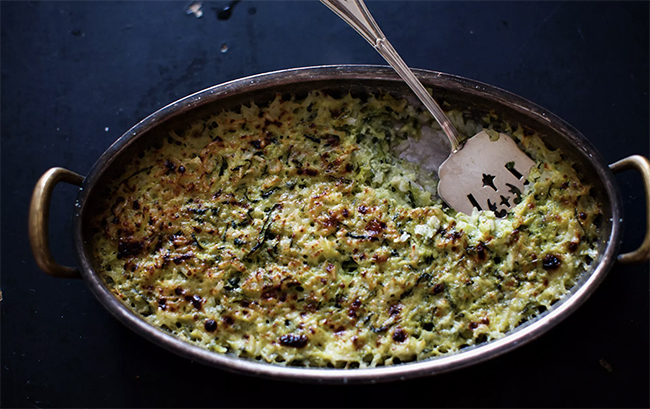 Photo by Karen Mordechai
Julia Child's Tian de Courgettes au Riz (Zucchini Tian)
From DebsLunch
This recipe from Julia Child is all over the Internet in various versions – and has previously appeared in Tipi's recipes too! It's a great recipe for the over-abundance-of-zucchini time of year. Here's my version, where I've tried to make the directions more straightforward.
.
.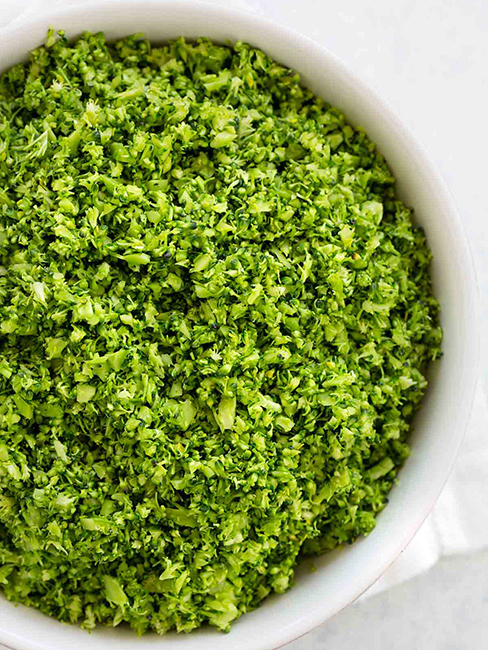 Photo by Jessica Gavin
How to make broccoli rice
From Jessica Gavin
Step through 3 methods of making broccoli rice – chop with a knife, food processor, or blender – provided by Jessica Gavin, a cookbook author and teacher. There're also choices of how to cook your broccoli rice – my favorites are food processor and sauté, and I also like to add a little coconut milk to the pan if I have an opened can.
.
.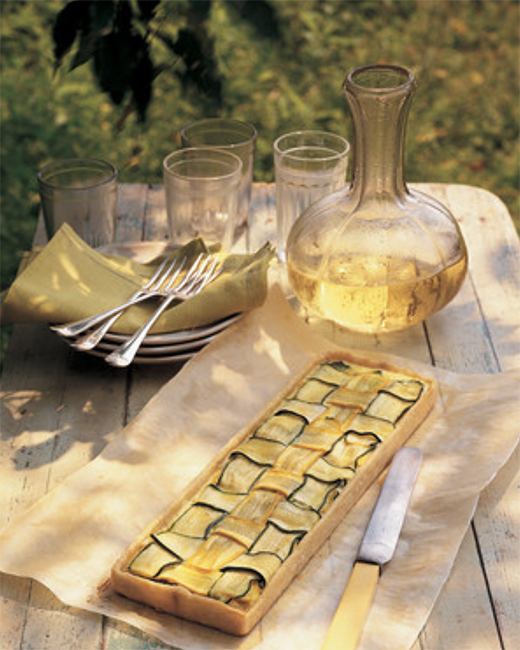 Summer Squash Lattice Tart
From Martha Stewart
I have made this tart from Martha Stewart many times, and I strongly suggest that rather than weaving the lattice on top of the tart and then lifting it up to add the egg custard to your tart, pour the egg in first, then top with the lattice! You can use the crust recipe linked to (Pate Brisee), or mine, or store bought!
.
.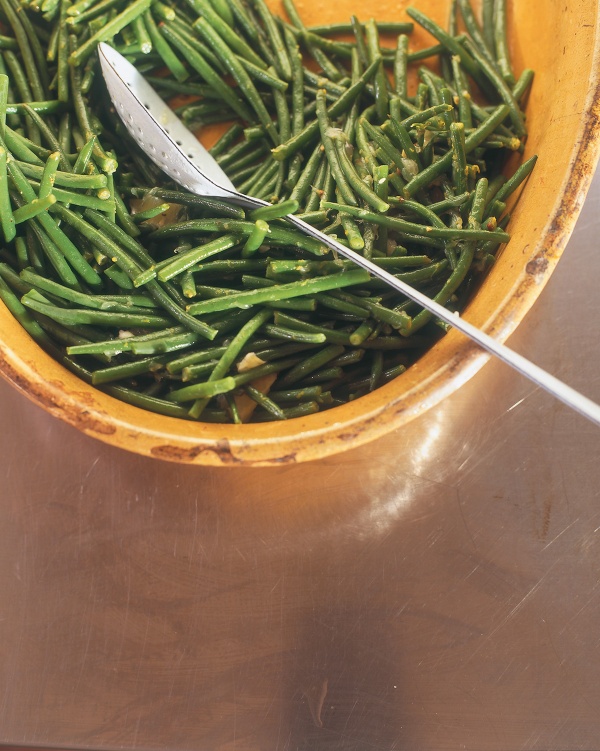 Green Bean and Lemon Casserole
From Nigella Lawson
Since we've got about a pound and a half of green beans, try halving this recipe from Nigella Lawson, that melts whole lemon into the green beans, to arrive at a comforting dish that's somewhere between lightly cooked, crunchy beans and meltingly tender slow-cooked beans. Use half a large lemon and 6 tablespoons of butter.