Week #9; A bit of rain; Purple + A

Irrigation by day, irrigation by night.
We got 0.9 inch of rain today. That is the largest rain since mid-May. After nine long weeks, the farm is very dry and that 0.9 inch will disappear quickly. We won't irrigate tonight and will watch the weather forecast for the next few days. Perhaps we will get some more.
Refrigerator Pickles
Let's talk quick pickles, since we are sending four cucumbers this week. Here is the recipe that I use. (Deb gave us a different refrigerator pickle recipe two weeks ago, plus new ideas below.) I usually prepare and store extra brine so I am ready to pickle another batch or other vegetables. I make simple pickles (cucumbers, dill, garlic) but you can dress them up with other aromatics.
Brine (enough for 2.5 to 3 packed quart jars)
4 cups water
1 cup vinegar
3 Tbsp pickling salt
Combine and stir to dissolve.
Pickles, 1 quart
Washed cucumbers, cut into spears
1 small or 1/2 large dill umbel
1 garlic clove, crushed
Pack a clean one-quart jar with the cucumber spears, garlic and dill. Fill with brine to the top, seal with a lid and put in the fridge. Ready to eat the next day and really good on the second day.
After eating your pickles, you can re-use the brine by adding fresh cucumber spears. You will not need to add more garlic or dill. After the second batch, I throw away the brine.

Extra brine ready for the next batch of pickled cucumbers, red peppers, etc.
Veggie List & Veggie Notes
Week #9
July 13/14, 2023 (Th/Fri sites)
– Weekly shares
– BiWeekly/ purple
– Sampler/ A group
Beets, ~2 lb
Broccoli, 1 – 2 medium heads
Collards, 1 bunch
Green bell pepper
Walla Walla onion
Zucchini &/or yellow squash
Cucumbers, 4
Fresh garlic, 1 bulb
Basil, 1 bunch
Dill, 1 umbel
Next week's box will probably contain cabbage, Walla Walla onion, zucchini, cucumbers, fresh garlic and more.
Beets – Storage: Cover and refrigerate. Beet roots store quite well when refrigerated. Wash well to remove leaf fragments. For all the cooking methods below, wash and scrub the beets but do not peel. The skins slip off readily once the beets are cooked and cooled.
Cooking beet roots on the stovetop: Slice or quarter, cover with water in a pot, and simmer until tender. This will take from 25 to 45 minutes depending on how large the beet pieces are. Drain.
Roasting beets in oven: Wash beets, but do not peel. On a sheet of aluminum foil, put beets (halved or quartered if large), salt, pepper and a few sprinklings of water. Seal the foil packet, and roast at 400 oF until tender, about 45 minutes to 1 hour. Slip off skins once cool.
Microwave: Slice beets in half and place in a large microwave-proof bowl. Add ¾ inch water and cover with a plate. Microwave on high until tender, about 9-20 minutes, depending on your microwave's power. Drain and slip off skins.
Uses: Use cooked beets in cold salads, or dress simply with vinaigrette, onions, salt and pepper. Beets are also good tossed with sour cream, minced onion, fresh herbs and walnuts.
Broccoli – Storage: cover and refrigerate. Broccoli is sensitive to warm temperatures so do your best to keep it cold. If your broccoli seems wilted, soak in cold water for fifteen minutes and it will plump back up.
Collards – Collards grow nicely and keep their quality in summer, when other greens are not at their best. Handle collards like kale. They are interchangeable in recipes.
Storage: Refrigerate.
Green bell pepper – Refrigerate.
Walla Walla onion – This batch of Walla Walla onions is a bit different. As usual, the are sweet and crisp but more pungent than we usually see. They remain less pungent that yellow storage onions. Wallas are sonderful raw or lightly cooked. Try cutting into wedges, threading on a skewer and grilling. Do not try to fry these onions – it doesn't work because of their high water content.
U: It's OK to store at room temperature for up to one week. Otherwise, refrigerate.
Fresh garlic – These plump bulbs are the Korean Red variety. Fresh garlic is special; crunchy, juicy and incredibly pungent. We pull these bulbs a week or so before we begin the big garlic harvest. The outer papers on the bulb and individual cloves are still succulent, not dried. After you separate a clove from the bulb, try lightly crushing the clove between two cutting boards to release it from its wrapper.
Storage: I suggest that you refrigerate this bulb of garlic, so it remains easy to peel. The garlic is fine if you leave it at room temperature but the cloves will become difficult to peel as the bulb dries.
Basil – Store at room temperature, in a glass of water. This week's harvest is bunched, smaller stems. See last week's newsletter for detailed storage instructions.
Dill – I am sending one umbel so you can make refrigerator pickles. What you receive could be either a flower head or young seeds. Either is great for pickles. These are large umbels, big enough for two jars. Slice in half down the stem with a paring knife.
Storage: Trim the stem ends and store in a glass of water at room temperature. I encourage you to store your dill and basil in separate glasses.
Everyone gets one dill umbel. Could be a head of young seeds (left) or flowers (right).
RECIPES by DEB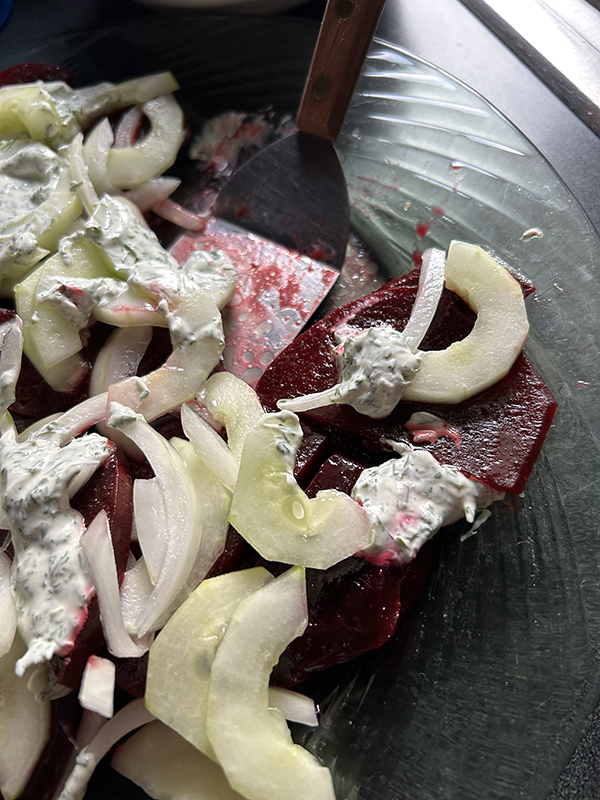 Beet and Cucumber Salad
Photo by debslunch
With a hat tip to Julia Turshen, here's a summer-y salad with cooked beets and lightly pickled cucumbers. I used fresh dill since that's what I had, but the basil in this week's box would also be tasty. The dressing can be made with plain yogurt – whole milk or Greek style works best, or sour cream, or crème fraîche, the last of which can be purchased, but you can make it yourself by whisking equal amounts of heavy cream and sour cream together. This works best with cream that is not ultra-pasteurized – a local brand is Sassy Cow. Leave to sit at room temperature overnight or until thickened then refrigerate where it will keep for 4-5 days.
Serves 4-6.
Takes about 30 mins. active time, plus 40 minutes or so to cook the beets
1 pound beets
1 large cucumber
1/2 cup Walla Walla onion slices
1 teaspoon sugar
2 tablespoons white wine, cider, or rice vinegar
pinch of kosher salt
2 tablespoons olive oil
salt and freshly ground black pepper to taste
1/3 cup plain Greek or whole milk yogurt, sour cream, or crème fraîche
2 tablespoons finely chopped fresh herbs, such as basil, dill, or parsley
Preheat the oven to 350° if roasting the beets. Trim and scrub the beets. If roasting, place them in a baking dish that holds them fairly snugly – preferably glass; it's easier to clean! – and cover tightly with foil. Place in the oven and roast until fork tender. Cooking time will vary based on the age and size of the beets, so start checking after 30 mins. If you want to cook the beets on the stove, place the cleaned beets in a large pot, and add cold water to cover. Remove the beets, and bring the pot of water to a boil on the stove. When it's boiling add salt and the beets, and adjust the heat to keep them a quiet simmer. Same as roasting, start checking for tenderness after about 30 mins.
Peel the cucumber if you like, and seed it by cutting it in half lengthwise and scooping out the seeds with a spoon. Slice fairly thinly. Place the cucumber slices and the onion slices in a bowl, and add the sugar and pinch of kosher salt. Pour the vinegar over, toss, and set aside to marinate.
When the beets are tender, remove from the oven and drain and cool just until they can be handled. Skin the beets – some people do this by rubbing the skins off with paper towel. I like to do it under cool running water, which also reduces the cooling time. If the skin sticks in spots just peel that off with a small knife. Slice the beets, place in a mixing bowl, and toss with the olive oil and salt and pepper to taste.
Arrange the beets on a serving platter or individual plates. Remove the cucumbers and onions from the vinegar with a slotted spoon or your hands and place on top of the beets. Blob the dressing on top and serve right away. The salad still tastes good the next day but all the components will be dyed beet color.
Bryant Terry's Jerk Tofu Wrapped in Collard Leaves | Penguin Random House Canada
From Penguin Random House Canada
This recipe was created by chef and activist Bryant Terry, and is the cover image of Terry's 2020 book, Vegetable Kingdom. Bryant Terry specializes in vegan versions of Black American foods. You'll find other online versions of the recipe, such as at Epicurious, but might run into a pay wall there. The recipe produces an impressive, knife & fork vegan entree and there're a lot of steps to make all the components, but you can marinate the tofu in bottled barbecue sauce in place of making the jerk marinade, and I have omitted the cilantro sauce and it's still tasty. I believe Chef Terry uses arrowroot instead of cornstarch because cornstarch is a product of industrial agriculture, but I have also subbed more readily available cornstarch for the arrowroot with success.
.
.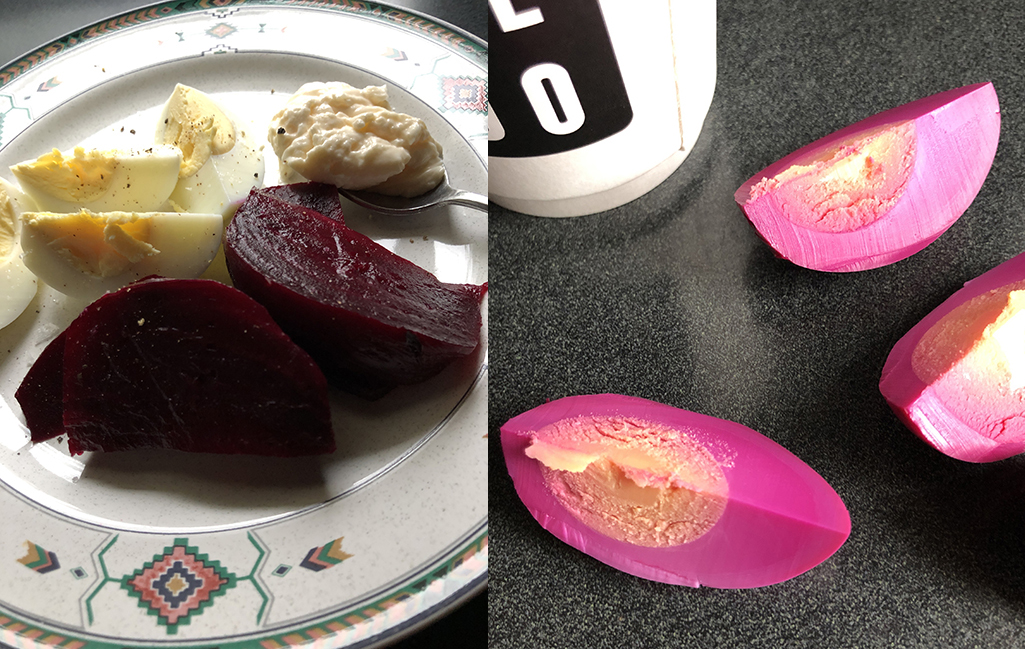 Photo by debslunch
I think my favorite way to eat beets is pickled, preferably with eggs and a dab of mayo. This isn't really a recipe; more of a formula. I like to roast the beets (see instructions in the salad above) but you can also boil the beets if you don't want to turn on your oven on a hot day. In the picture, the eggs on the right were in the beet juice for about 5 days.
Pickled Beets & Eggs
1 pound of beets
1 1/2 cups cider vinegar
1/2 cup or more water
1/3 cup sugar
2 teaspoons salt or more to taste
About a teaspoon whole spices such as allspice, cloves, or 1-inch piece of cinnamon stick; some people like a clove or two or garlic as well
4 warm hard-boiled eggs
Boil or roast your beets, peel them, slice them, and place in a container or bowl with a lid that's large enough to hold the brine and the eggs. Add the whole spices. Combine the vinegar, water, sugar, and salt in a pot or glass measuring pitcher, then either heat on the stove or microwave the glass pitcher long enough to melt the sugar. Pour over the beets. Hard boil the eggs – there are a zillion methods but this is mine: place cold eggs in a pot and add cold water to cover. Place over high heat and bring to a boil, and soon as the sides of the pot have a few bubbles, set a timer for 13 minutes. Lower the heat as necessary to keep the eggs at a nice boil, but not boiling over. When the timer goes off, remove the eggs from the heat and flood the pot with cold water in the sink. Peel the eggs and add to the beets and brine, adding more hot water or vinegar if needed to cover. Place the container in the fridge and allow to pickle at least overnight before serving.
.
.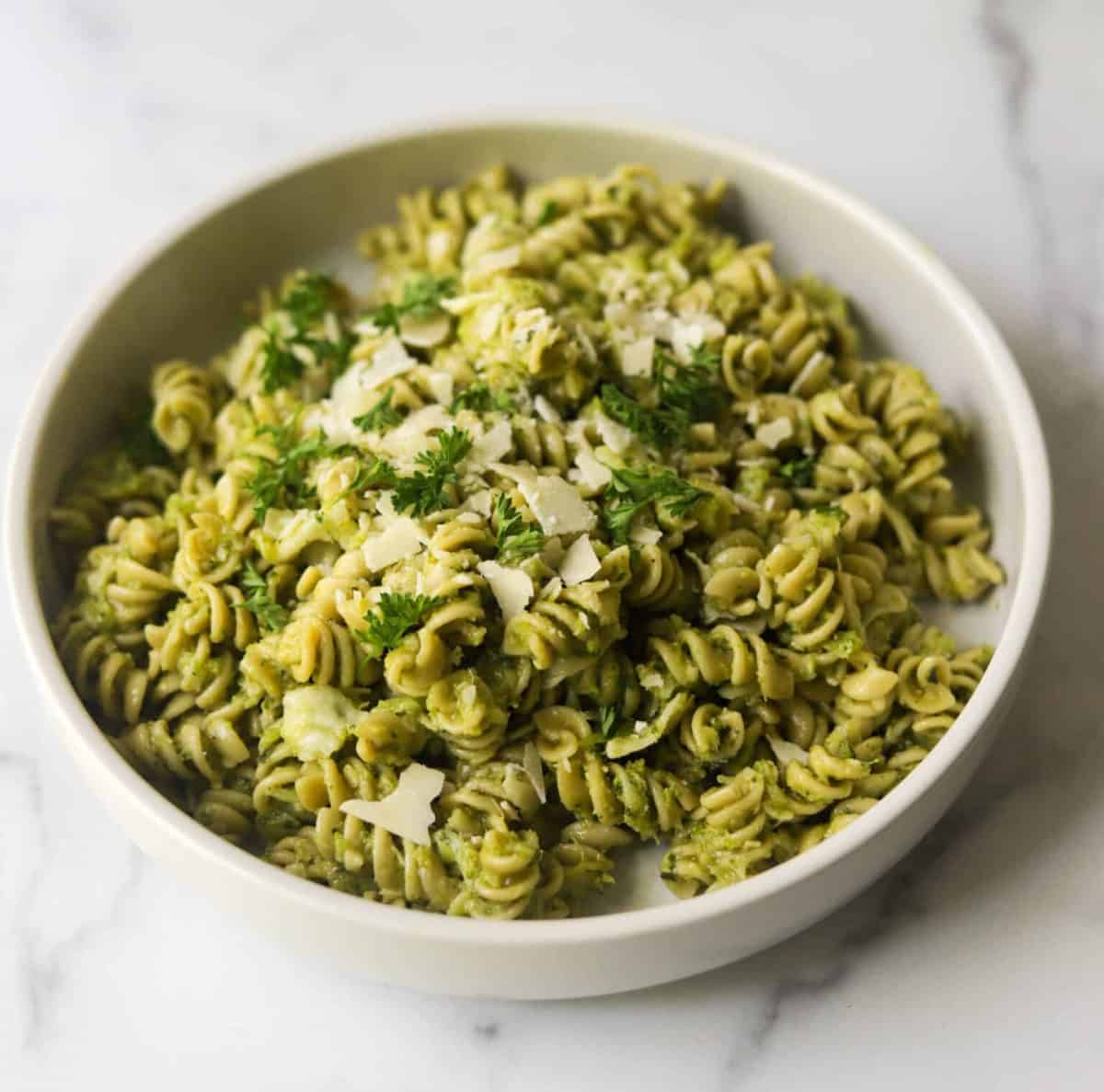 Broccoli Pesto Pasta Salad | The Healthy Epicurean
From The Healthy Epicurean
This pasta pesto salad includes both broccoli and basil in the pesto. The recipe provides a number of substitutions, and if you don't have quite enough broccoli, slip in a few blanched kale or collard leaves and increase the basil.
.
.

Zucchini Lasagna Recipe | Love and Lemons
From Love and Lemons
This recipe uses zucchini two ways: in the tofu filling and as planks replacing some of the noodle. You could sub about 8 ounces ricotta cheese and an egg for the tofu and walnuts in the filling, and the dish would still be lower carb and lower fat then a typical lasagna.
.
.

Cucumber Zucchini Salad — Nikki Dinki Cooking
From Nikki Dinki Cooking
It looks like the author of this blog has moved their newer content over to Instagram, but regardless, this recipe provides a great idea for using cucumbers and zucchini for this time of the summer when we have a lot of both – treat them the same and make a refreshing marinated salad. Of course you could make this salad with all cucumber or all zucchini! The Walla Walla onion in the box can be subbed in place of red onion. Beth says the Walla Wallas are unusually strong, and if they seem so to you, I recommend soaking the slices in cold water for a few minutes and draining before proceeding with the recipe. And for another way to use our cucumber bounty, see this July 2021 newsletter for small batch refrigerator pickle relish.
.
.

Beet Relish | Culinary Ginger
photo by Janette
From Culinary Ginger
This blog's title Culinary Ginger refers to the color of the author's hair. They're a redhead, called a ginger in the UK. Beet or beetroot relish also has UK origins, and the recipe provides suggestions for serving it – I think I'd go for on a cheese sandwich. It's a refrigerator pickle, but there are instructions for canning the relish for longer storage as well. This author suggests another method of roasting the beets: peel first and wrap them in foil before roasting.
.
.


photo by Tieghan
Garden Greens Goddess Pizza | Half Baked Harvest
From Half Baked Harvest
You can use kale or collards as the greens in this no-tomato-sauce pizza from Half Baked Harvest. The pesto recipe uses pistachios, and you could easily sub any other type of nuts, and either increase the basil in place of the dill or mint, or use a few leaves of your greens. The recipe also suggest homemade or store bought pizza dough; here's a link to 101 Cookbooks overnight yeasted pizza dough (with lenghty discussion!), and also a quick dough from Jamie Oliver. Jamie's Cheat's pizza dough calls for self-rising flour and here's how to make that.