Week #24, Final box for May-October CSA season!
Thank you and good bye for now.
This is the final delivery of our May – October CSA season. Thank you so much for joining our farm this year. We deeply appreciate your commitment and support. And we hope that you enjoyed all the produce! Watch for an email from us in the next few weeks with an end-of-season survey.
Those of you who ordered a fall Squash & Sweets share or a Storage Share, you know who you are. If you are not certain, please check your online account, or send me an email.
What a season! From our perspective, it was a challenging year because of drought but very rewarding and productive. I'll write in more detail when I send the survey. Right now we need to get ready for tomorrow's delivery.
Thanks again,
Beth & Steve
A few last photos

We got to harvest both your fennel (above) and Brussels sprouts during the burst of warm weather. It was appreciated and a big contrast to the years we've harvested Brussels in sleet.

Charlotte LOVES Romanesco cauliflower. After the harvest was done, she got to keep the biggest one I could find.

The cover crops are soaking up the late warmth and growing steadily. The farm absolutely glows on sunny days.
Last chance, Squash & Sweets Share
Registration closes on Saturday for this upcoming delivery. It's a 'Squash & Sweets' box, filled with winter squash and sweet potatoes. We have great and abundant crops of both. The photo shows 9 lb sweet potatoes and 16 lb total winter squash but don't get attached to the exact proportions; we'll settle the ratios once we get everything out of storage.
– $42
– Check today's email for a link to register.
– Delivery next week.
Veggie List & Veggie Notes
Week #24, October 26/27, 2023 (Thurs/Fri sites)
– Weekly shares
– BiWeekly/ green
– Sampler/ D group
Brussels sprouts, ~3/4 lb
Carrots, 2 lb
Butternut squash
Sweet potatoes, ~3 lb
Fennel, 1 or 2 bulbs, with some fronds
Poblano chile, 1
Yellow onion
Shallots, 1 bulb
Everyone gets at least one thing from this list:
Romanesco cauliflower
&/or white cauliflower
&/or purple cauliflower
&/or purple broccoli
Fennel (bulbs with a tuft of lacy fronds) – Fennel is a 'swing vegetable'; it can be used raw or cooked. Clean well and slice as thinly as possible for use in raw salads. It is good simply prepared with olive oil, lime or lemon juice, salt and shaved parmesan cheese. Cooking softens and sweetens fennel, and mellows its anise flavor. Both the bulb and leaves are edible. Here are ideas from Alice Water of Chez Panisse about how to use fennel: 'It's strong anise characteristic seems to suit fish particularly well. … We use fennel all the time. We add the feathery leaves to marinades for fish and to numerous salads, sauces and soups and we use them as a garnish, too. … The bulbs are sliced and served raw in salads in various combinations with other vegetables, parboiled for pastas; caramelized and served as a side dish; braised whole; or cooked in vegetable broths & fish stocks."
Storage: Cover and refrigerate.
Poblano chile (green or red. The only pepper in this box) – Eat soon! These were exposed to cold temperatures in the field, then harvested and held in our cooler. We've examined them carefully so they are in good shape now but will not store for long. It's a last gasp of summer and I am having trouble letting go.
Shallots (look like small red onions) – Store at room temperature. Shallots store for a long time. Excellent minced for salad dressing. They will sweeten considerably when fried and can be used in Thai or Vietnamese dishes, to top burgers, etc.
For some sites: Romanesco cauliflower (beautiful chartreuse green, spiraled head) – Refrigerate. These should store well, eg for a few weeks.
For some sites: White or purple cauliflower – Refrigerate. These store for up to two weeks.
For some sites: Purple broccoli – Refrigerate. Will store for one week.

Clockwise from top left; white cauliflower, Romanesco cauliflower, purple broccoli, purple cauliflower
RECIPES by PHOEBE

Carrot Orzotto
This one-pan orzo has a similar rich flavor and creamy texture to risotto, but it comes together in a fraction of the time…and with a fraction of the stirring. Carrots, often a supporting player in the kitchen, star in this dish, adding sweet, earthy flavor and satisfying bite.
Serves 4
Prep time: 10 minutes
Cook time: 30 minutes
¼ cup extra-virgin olive oil
2 cups diced carrots (about 4 medium)
½ medium onion, diced
½ teaspoon sea salt
3 garlic cloves, minced
1 teaspoon dried rosemary
Red pepper flakes
Freshly ground black pepper
1½ cups dry orzo pasta
½ cup dry white wine
3 cups vegetable broth
½ cup grated Parmesan cheese, plus more for serving
Heat the olive oil in a large lidded skillet over medium heat. Add the carrots, onion, and salt and cook, stirring occasionally, until the carrots are tender, 10 to 15 minutes.
Add the garlic, rosemary, a pinch of red pepper flakes, and several grinds of black pepper and cook, stirring, for another minute, until fragrant. Add the orzo and stir to coat in the oil. Cook for 1 minute to lightly toast.
Add the wine and let it cook down for 30 seconds, then pour in the broth. Bring to a gentle boil, then cover, reduce the heat, and simmer for 15 minutes, stirring every few minutes, until the orzo is al dente.
Uncover and cook, stirring, for another minute, until the orzo has a saucy, risotto-like consistency. Remove from the heat and stir in the cheese. Season to taste and serve with more cheese, if desired.
.
.


Photo by Jeanine Donofrio and Phoebe Moore
Cauliflower Pasta
From Love & Lemons
This is a roast and toss pasta recipe—roast the cauliflower until it's deeply caramelized, crisp up some homemade breadcrumbs, and then toss it all together with campanelle (or another short pasta), lemon zest, capers, and cheese. It would work nicely with white, purple, and/or romanesco cauliflower.
.
.


Photo by Smitten Kitchen
Roasted Cauliflower with Pumpkin Seeds, Brown Butter, and Lime
From Smitten Kitchen
This fun roasted cauliflower preparation is a delicious, unexpected side dish. Deb douses the tender florets in a bright, nutty brown butter and lime dressing and tops them with pepitas for crunch. Skip the cilantro if you don't have any on hand.
.
.


Photo by The Modern Proper
Shaved Fennel Salad
From The Modern Proper
This quick and easy salad is a refreshing side dish for a comforting fall meal. Slice the fennel as thinly as you can so that it softens in the dressing. I recommend using a mandoline slicer if you have one. If you don't have any fresh mint on hand, replace it with a tablespoon of chopped fennel fronds.
.
.


Photo by Cookie+Kate
Creamy Thai Carrot and Sweet Potato Soup
From Cookie+Kate
This red curry soup comes from Angela Liddon's cookbook Oh She Glows Every Day. It's totally vegan—a scoop of almond or peanut butter creates its creamy texture. Top your bowl with tamari almonds for crunch!
.
.


Photo by Minimalist Baker
Butternut Squash & Miso Brussels Sprouts Nourish Bowl
From Minimalist Baker
This veggie and grain bowl is flexible. You could make it as written, omitting the greens from the grain mixture, or add other vegetables from this week's share. Roasted carrots, sweet potatoes, and cauliflower would be fantastic instead of or alongside the roasted squash.
.
.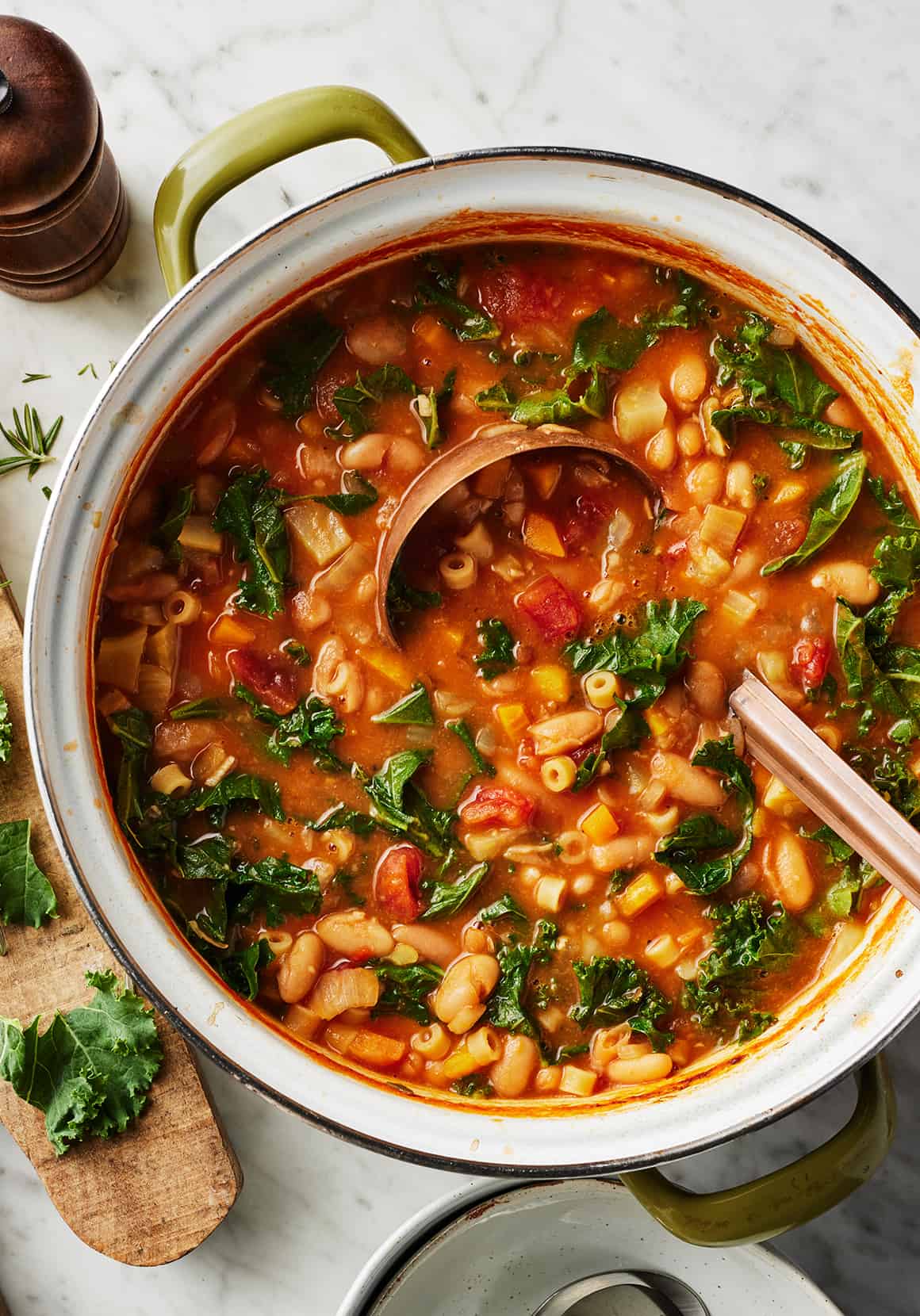 Photo by Eva Kolenko
Pasta e Fagioli
From Love & Lemons
Fennel adds rich, savory flavor to soups and stews, as this simple pasta e fagioli recipe demonstrates. Feel free to omit the kale here, or, if you like, add a few extra carrots in its place. This hearty noodle soup will be delicious either way.