Week #9, Eggplant
Vegetable of the Week: Eggplant
You could build a strong argument for broccoli as the vegetable of this week. You'll know what I mean once you unpack your box. Nonetheless, we have a thrilling first eggplant harvest to share this week. The plants are healthy and mostly free of bugs. It's a revelation what these plants can do under good conditions. We're still suffering drought here at our farm, but the eggplant are in a fields that's easy to water.
Preparation
For best flavor, store eggplants at room temperature for 2 – 3 days. If holding for longer than three days, store in the warmest part of your refrigerator. Eggplants do not store well for long periods of time. Many recipes instruct you to salt and drain eggplant "to remove bitter flavors." Eggplant this fresh is not bitter! You can skip the salting step.
There are many ways to use versatile eggplants. Here are a few ideas:
– Roast in the oven or over coals to cook and smoke your eggplant, then transform into baba ganouj with lemon, tahini, salt and garlic.
– Cut in 1/2 to 3/4 inch slices, peel, and rub with a little salad dressing (I use Newman's balsamic dressing), then grill slowly until soft and smoky. At this point, you can cut into cubes to make eggplant caponata with chopped tomatoes, onion, garlic, olives, capers, olive oil and red wine vinegar.
– Use the grilled cubes in casseroles or to top pizza.
– Add thin, grilled eggplant slices in grilled cheese sandwiches. Use hearty bread – this doesn't work well with soft sandwich bread.
– Deb has some very appealing eggplant ideas this week. See below.
Veggie List & Veggie Notes
Week #9; July 15/16, 2021
– Weekly shares
– EOW/ purple
– Sampler/ moon
Broccoli, 2 – 2.75 lb
Carrots, 2 lb
Cucumbers, ~4
Eggplant, 1 large
Fennel with fronds, 1 or 2 bulbs
Kale, 1 bunch
Green bell pepper, 1 small
Zucchini &/or summer squash, almost 2 lb
Walla Walla onion, 1 or 2
Basil, 1 husky sprig.
Some sites get a sunflower this week.
Next week's box will probably contain sweet corn, carrots, green beans, cucumbers, Walla Walla onion and more.
Carrots – This is the first carrot harvest of the season! These are quite nice, a variety called 'Romance' that's well-adapted for summer production.
Cucumbers – The cuke field is growing well right now, so we can send enough for a substantial cucumber salad.
Fennel (bulbs and lacy fronds) – Fennel is a 'swing vegetable'; it can be used raw or cooked. Clean well and slice as thinly as possible for use in raw salads. It is good simply prepared with olive oil, lime or lemon juice, salt and shaved parmesan cheese. Cooking softens and sweetens fennel, and mellows its anise flavor. Both the bulb and leaves are edible. Here are ideas from Alice Water of Chez Panisse about how to use fennel: 'It's strong anise characteristic seems to suit fish particularly well. … We use fennel all the time. We add the feathery leaves to marinades for fish and to numerous salads, sauces and soups and we use them as a garnish, too. … The bulbs are sliced and served raw in salads in various combinations with other vegetables, parboiled for pastas; caramelized and served as a side dish; braised whole; or cooked in vegetable broths & fish stocks."
Kale – Most sites get green kale (big, ruffled leaves) but two sites get lacinato kale (dark green leaves with a dimpled surface). They can be used interchangeably.
Storage: Cover and refrigerate.
Green bell pepper – Another first harvest!
Zucchini & summer squash – Storage: Zucchini and summer squash need refrigeration but do not do well at very cold temperatures, as they will soften and form pits in their surface. Refrigerate these squash but in the warmest part of your fridge.
Basil (branched, leafy stalk) – Everyone gets one husky sprig.
Storage: Basil deteriorates if stored in the refrigerator. It is best stored at room temperature with the cut ends in water, for example in a jar or vase. Treat it like a flower. Give the stem a fresh trim and change the water every day or two.
Sunflower (for 1 or 2 sites this week) – This cheerful variety 'Vincent's Choice' does not produce pollen, making it an excellent choice to pack with vegetables. The sunflowers are for beauty and joy, not to eat!
Storage: Trim the stem and place in water. If you re-trim the stem and change the water a few times, the flower should last about one week.
Pro tip: Do not put your basil and sunflower in the same jar of water. That would shorten the life of your basil.
RECIPES from DEB
Visit our 2020 Recipe Log or our 2019 Recipe Log or join our Facebook discussion group.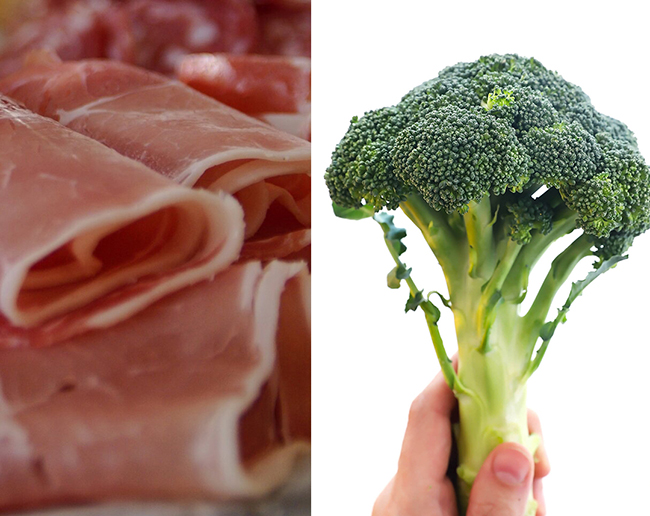 Ham (or not-ham) & Broccoli Rollups with Cheese Sauce
Serves 4-6
Takes about 30 minutes to prepare (a little longer if using brown rice) and 30 minutes to bake
Ingredients:
1 cup of white or brown rice
2 tablespoons butter
a handful of chopped parsley or other herbs (optional)
2 large stalks of broccoli, about 1 1/2 pounds
1 pound sliced deli ham, or smoked turkey
2 1/2 cups milk, skim, 2%, or whole will all work here, warmed slightly
1/4 cup all-purpose flour
salt & freshly ground black pepper
a few grates of nutmeg, or 1/4 teaspoon ground
1 teaspoon dry mustard, or a heaping teaspoon prepared mustard
2 1/2 cups (about 1/2 pound) shredded cheese – sharp cheddar, or combos are good – some cheddar, some Swiss, etc.
1/2 cup grated fresh Parmesan cheese
about 3/4 cup fresh bread crumbs
1 tablespoon butter
Heat the oven to 350°
Cook the rice in the recommended amount of water – about 1 1/2 cups for white, and closer to 2 cups for brown. When the rice is done, remove the cover and add the butter and parsley, if using. Recover and let stand for about 5 minutes, then toss with a fork to combine. Spread the rice in a buttered 2-quart casserole.
Cut the broccoli into trees, and either steam or blanch in boiling water until it's partially cooked and gives easily when pierced with a fork, but still bright green. Drain, run some cold water over to stop the cooking, and drain again.
Roll up each broccoli tree in a ham slice and arrange in a single layer on top of the rice.
Make the cheese sauce: Place the flour in a heavy bottomed pot, and whisk in the warm milk. Cook over medium heat until the sauce bubbles and thickens, then add the salt & pepper, nutmeg, and mustard. Remove from the heat and whisk in the cheese, and half the Parmesan cheese, saving the rest for topping.
Melt the 1 tablespoon butter in the pot you used to cook the macaroni, and toss the bread crumbs in it.
Pour the cheese sauce over the broccoli rolls and rice (you may not need it all; it freezes well). Top with the buttered bread crumbs and remaining Parmesan cheese, and bake for abut 30 minutes until browned and bubbling.
.
.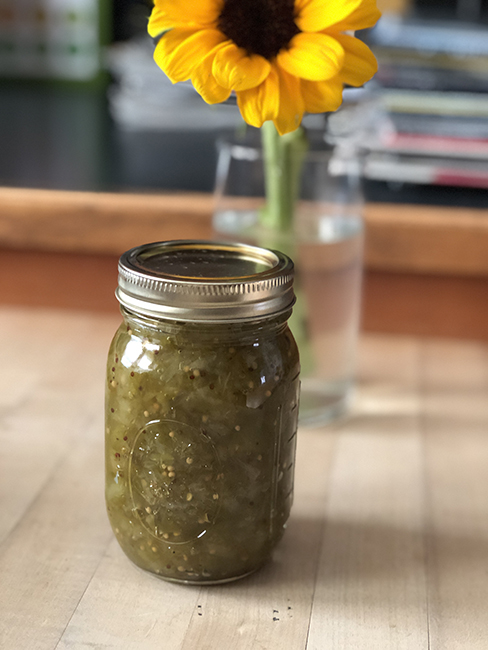 Small-batch Refrigerator Pickle Relish
Based on Serious Eats Sweet and Spicy Pickle Relish
Takes about 45 minutes
Makes one pint
This is a small batch of refrigerator pickle relish that you could make with vegetables in this week's box. If you want to make more, and can it, see Serious Eats for larger amounts and canning instructions.
one grated green pepper (about 3/4 cup)
1 1/2 cups grated cucumber (about 2 cukes)
1/2 cup minced or grated onion
1 cup apple cider vinegar, divided
1/2 cup granulated sugar
2 teaspoons kosher salt
2 teaspoons yellow mustard seeds
1/4 teaspoon celery seed
generous pinch of red chili flakes
Combine the green pepper, cucumber, and onion in a non-reactive (not aluminum) pot that's at least 6 quarts. Stir in 1/2 cup of apple cider vinegar and bring to a boil. Reduce the heat, and simmer, stirring occasionally, until the vegetables have cooked down and the liquid is reduced by about 1/3, 20-30 minutes. Drain the vegetables, discard liquid, and return vegetables to the pot.
Add remaining vinegar, sugar and the spices. Bring to a boil and cook for five minutes. Remove pot from heat, and transfer the relish to a clean one-pint jar. Chill overnight before eating. Keeps refrigerated for at least 6 months.
.
.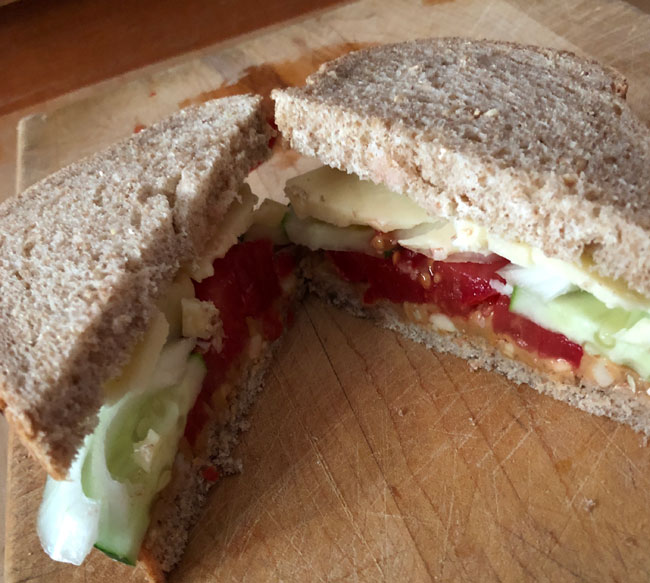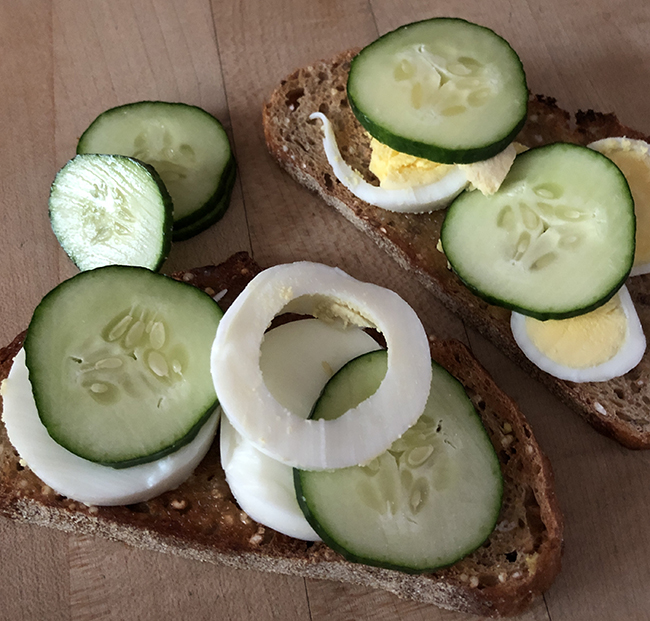 A few sandwich ideas for your cucumbers
Top, Diane's Dad's Summer Sandwich, the winner of an NPR recipe contest in 2013, deliciously combines peanut butter, cheddar cheese, tomatoes, and the cucumbers and sweet onion from the box in a sandwich.
Below, cucumbers and hard-boiled eggs on toast for breakfast.
.
.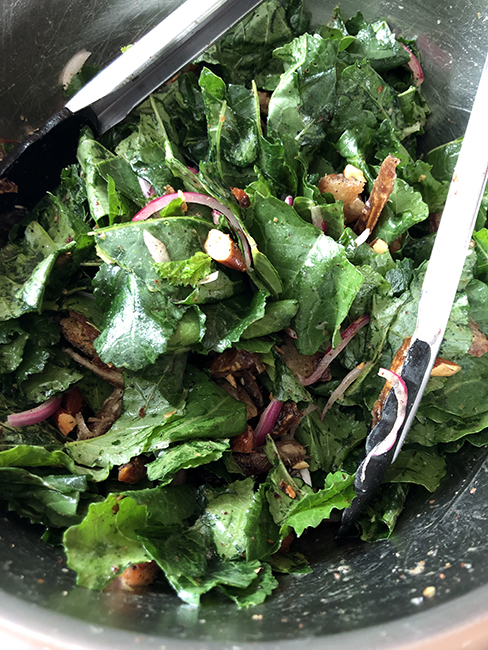 Kale Salad with Almonds, Dates & Toasted Pita
Takes about 30 minutes
Serves 6
Based on Yotam Ottolenghi's Baby Spinach Salad With Dates and Almonds from Lottie and Doof
1 tablespoon white wine vinegar
1/2 medium red onion, thinly sliced
6-8 pitted Medjool dates, cut into slivers lengthwise
2 tablespoons butter
2-3 tablespoons olive oil
2 small pitas, torn into bite-size pieces
1/2 cup/75g whole raw almonds, coarsely chopped
2 teaspoons sumac (available at Penzey's Spices)
good pinch red pepper flakes
1 bunch kale rinsed and spun dry and torn into pieces
2 tablespoons squeezed lemon juice
kosher salt & freshly ground black pepper
Combine the vinegar, onion, and dates in a small bowl. Add a pinch of salt, mix, and let marinate for about 20 minutes.
Melt the butter and 2 tablespoons of the olive oil in a medium frying pan over medium heat. Add almonds and cook, stirring until they're starting to smell toasty, about 5 minutes, and then add the pita and keep cooking and stirring until the pita is crunchy and browned. Remove from the heat and mix in the sumac, red pepper flakes, and another pinch of salt.
To serve the salad, place the kale in a large bowl and toss with the pita-almond mixture and the dates and red onion, the remaining tablespoon olive oil, and lemon juice. Taste and add more salt and pepper if desired.
.
.
Photo by Deb Perelman/Smitten Kitchen
Perfect Vegetable Lasagna
From Smitten Kitchen by way of Splendid Table – the original version at Smitten has more step-by-step photos; Splendid Table's reprint has fewer ads.
This recipe is perfect for using a lot of the vegetables from this weeks box: eggplant, fennel, kale, bell pepper, basil – you can even make a double batch, one to freeze.
.
.
Broccoli Pesto & Fusilli Pasta Recipe
From 101 Cookbooks
Here's a switch – use broccoli for pesto. In addition to eating the pesto on pasta, Heidi suggests thinning to make a salad dressing, mixing into soups, or stir into yogurts or fresh cheeses.
.
.
Deborah Madison's Shaved Fennel Salad with Celery and Egg
From The Wednesday Chef
In cold weather I love a fennel gratin, but this cool salad seems more appropriate for summer!
.
.
Photo by Emma Fishman
Spicy Braised Eggplant Noodles Recipe
From Bon Appétit
The authors of this recipe from Bon Appétit suggest it for a quick weeknight supper.
.
.
Roasted Carrots & Fennel
From Taste of Home
Roasting the lemon along with the vegetables adds a wonderful flavor.
.