Week #23, final purple & sun!
Schedule count down
– This week (October 24/25) is the final delivery for our EOW/purple and Sampler/sun members.
– Next week (Oct. 31/ Nov. 1) will be the final delivery for our Weekly and EOW/green members.

Your bok choy came from this pretty field of greens.

We dug our baby ginger this week. It's a nice crop this year, enough to deliver a plump piece in every CSA box. In background, Jory and Karen dig the ginger. My job is to divide the harvested rhizomes into portions. It's a bit of a jigsaw puzzle. I'll probably divide the root in the photo into three portions. I almost gave up growing ginger because the yields are so low. It simply needs a longer season than we have in Wisconsin. This spring, I tinkered with our planting techniques to get an early start on the season. It worked, so the ginger pieces are bigger this year. We have not yet replicated our spectacular 2015 crop, but we'll keep trying.
Veggie List and Veggie Notes
Week #23, October 24/25, 2019
– Weekly shares
– EOW/ purple
– Sampler/ sun
We're packing bok choy with scallions and ginger because they are a great combo for stir-fries or Asian dishes. I plan to make chicken soup, then add bok choy and ginger near the end of the cooking time, then garnish with sliced scallions.
Bok choy
Brussels sprouts, 1 lb
Butternut squash
Yellow potatoes, 3 1/4 lb
Leeks, 1.3 lb
Parsnips, ~1.5 lb
Peppers, a few green bells or fryers
Jalapeno chile, 1
Scallions, 1 bunch
Baby ginger, 1 piece
Each site gets something from this list: broccoli OR cauliflower (white or purple) OR Romanesco broccoli OR maybe something else.
Next week's box will probably contain Brussels sprouts, beets, carrots, celeriac, onions, Asian greens, sweet potatoes OR winter squash, and more.
Bok choy (large rosette with thick white stems and green leaves) – The bok choy has some minor damage from being covered with row cover on frosty nights. It's a reasonable trade-off, since we can't leave it unprotected and risk damage by frost.
This Asian green is good for stir-frying or sautéing or in soup. You can think of the stems and leaves as two separate vegetables. The stems require longer cooking. The leaves will cook almost as quickly as spinach. Storage: Bok choy stores well, so feel free to pull off leaves as you need them, or use the whole head at once. Refrigerate in a plastic bag or other container.
Brussels sprouts – If you are a new CSA member, please approach Brussels sprouts with an open mind. Many of us grew up eating awful, overcooked Brussels sprouts. These Brussels sprouts are completely different.
Here is our method to cook Brussels sprouts: Wash the sprouts and trim the cut ends. Cut an X in the stem end of large sprouts. Cut a single slit in small or medium sprouts. This does two things. It helps the Brussels sprouts cook evenly, plus it allows them to soak up any marinade or dressing. Place sprouts in a pot with one inch of water in the bottom and steam until tender, 7 to 10 minutes. If the sprouts are uneven in size, then set aside the smallest ones and add to the pot after the larger ones have cooked for a few minutes. Don't overcook them! You can also oven-roast Brussels sprouts.
Here are a few dressing ideas for cooked sprouts:
– Sherry vinegar/olive oil/Dijon mustard/garlic/white wine/salt and pepper. This is our favorite, especially when you combine the Brussels sprouts with slivered peppers and thinly sliced onions. Delicious warm, cold, or at room temperature.
– Balsamic vinegar/olive oil/garlic/salt and pepper
– Lemon juice and zest/melted brown butter/poppy seeds/white wine/garlic/salt
Satina yellow potatoes – These organic potatoes were grown by our friends at Igl Farms. Satina is a good all-purpose potato. Personally, I like these better than Yukon Golds because they're a little less sweet.
Peppers – Eat these soon! They've been exposed to cold nights, which shortens their storage. You'll get green or green/red peppers. Could be bells, could be frying peppers, could be a mix.
Baby ginger – This is baby ginger, bright white and pink because it hasn't grown a brown epidermis yet. The ginger sold in stores grows for a long season in warm places like Hawaii. Baby ginger is special because it has the full ginger flavor and spiciness but almost no fibers. That's why it's used to make the pickled ginger served with sushi. I asked the crew to wash it lightly to avoid bruising. Expect to do a final wash before using it.
Storage: Eat soon; baby ginger is perishable. Wrap in a damp cloth or paper towel, and keep in the refrigerator in a plastic bag. You can also freeze your ginger, then grate as much as you need from the frozen knob.
RECIPES
Visit our 2019 Recipe Log or our 2018 Recipe Log or join our Facebook discussion group.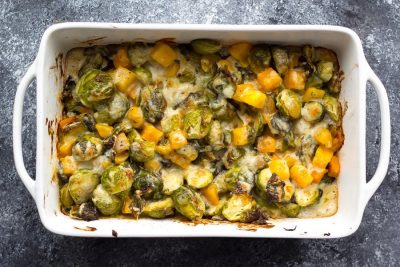 Brussels sprouts gratin
LOCAL THYME/ Comforting Classics
Butternut, Brussels Sprout and Leek Gratin
Creamy Brussels Sprouts and Potato Soup
Red Curry with Chicken, Peppers, Parsnips and Potato
Tofu, Bok Choy and Pepper Fried Rice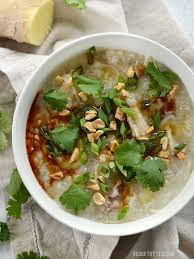 Congee with Bok Choy
LOCAL THYME/ Outside the Box Recipes
Butternut Cookies
Sautéed Sesame-Ginger Brussels Sprouts
Pear Parsnip Puree
Bok Choy Congee
LOCAL THYME/ Quick & Easy Meal
Salisbury Steak with Leek, Pepper, and Mushroom Gravy
????