Week #3; Komatsuna is a winner.

Komatsuna greens: delicious, resilient, beloved by flea beetles.
For years, we've searched for new tender greens to grow for our spring CSA boxes. There is a gap in harvests that is not easily filled by bok choy or mustard greens or arugula because they are prone to bolting (premature flowering) after fluctuating weather. We tried a new green this year called komatsuna. It's tender and delicious, retaining beautiful leaf texture and color even after alternating hot and cold weather and far too much wind.
I would call this a mild mustard green. Please ignore the flea beetle damage this week – that particular field was badly hit this year.
We recommend cooking this week's harvest rather than using in salads. Next year, we'll try a younger harvest for raw use. "Komatsuna is traditionally used in Japan either steamed and seasoned with soy sauce, or in stir fries and soups. It is also excellent braised." (from Johnnys Seeds)
Here's a particularly enthusiastic seed catalogue description:
"One of the "most underrated" leafy greens, Komatsuna is simply mouth watering. This leafy green is incredibly delicious, mild and tender. It holds superfood status in its native Japan, and in some studies it contained nearly twice as much calcium as whole milk per 100 grams! The leaves are also super high in beta carotene, as well as vitamins A, C and K. Komatsuna has been revered in Japanese, Taiwanese and Korean cuisine as a mouth-watering veggie for many years, and in America chefs and nutritionally minded foodies have identified it as a delicious, juicy and health-promoting green. Let the culinary experimentation begin!"
Use in any recipe that calls for mustard greens or bok choy. Phoebe has a few suggestions in our Recipes section below, or just google 'komatsuna recipes' for some traditional Japanese dishes.

The crew harvested your komatsuna in and after rain today. It was a muddy job and everyone was relieved when the rain stopped. The bottom crates are empty spacers that we use to keep our harvest crates off the mud. From left, Ella, Chelsea, Ari, Matt, Raul and Karen. Offscreen, Maggie, Madelyn and Owin.

Komatsuna bunches before washing. Plan to wash your greens carefully this week. Rain splashed soil and grit into your komatsuna, spinach, escarole and Romaine.
Veggie List & Veggie Notes
Week #3, June 9/10, 2022
– Weekly shares
– EOW/ green
Shiitake mushrooms, 1/2 lb
Escarole, 1 head
Romaine lettuce, 1 head
Spinach, 1 bunch
Komatsuna greens, 1 bunch
White salad turnips, 1/2 to 2/3 lb
Cilantro, 1 bunch
Scallions, 1 bunch
Salad radishes OR kohlrabi, small amount
Next week's box will probably contain white salad turnips, spinach, lettuce, spring greens, scallions and more.
Escarole (broad head of wavy green leaves) – These members of the chicory family can be used interchangeably in recipes. Both are good eaten raw or cooked. Their slightly bitter flavor is a good addition to mixed salads. They are excellent cooked alone or mixed with other greens. They cook quickly, but not as quickly as spinach. Cover and refrigerate.
Shiitake mushrooms – These are from Hidden Valley Mushrooms, the same people who grow button mushrooms for us. I love shiitakes cooked with spinach or other greens. Shiitakes must be cooked. A small subset of people can have a toxic reaction to raw or undercooked shiitakes. Once cooked, they are harmless. And tasty! Lightly sauté in butter and add to any dish. We use ours in frittatas, as well as sautéed and mixed into pasta salad or any dish. Sautéed shiitakes and spinach are a great topping for pizza or rice bowls, e.g. bibimbap.
Storage, general: Refrigerate in a dry paper bag, but not in your crisper drawer with other vegetables, especially brassicas. Do not cover the paper bag. Mushrooms are perishable so use soon.
White salad turnips ( 1 to 3 white roots) – I know that returning members look forward to these sweet and delicious turnips, which taste nothing like the turnips that are harvested in fall. We removed the tops this year and are sending just the roots.
– Storage: Cover and refrigerate.
– Uses: Salad turnip roots are excellent raw; Slice and add to salads. They can be cooked and are especially good when lightly sauteed in butter. Stir as little as possible so they brown on at least one side.
– Our favorite use: Slice the roots very thinly and combine with a mixture of rice vinegar, mirin, soy sauce, sesame oil. Eat immediately or marinate.
Romaine lettuce (upright head of lettuce with crisp leaves) – More sturdy and less fragile than our other spring lettuces. Great for Caesar Salad or lettuce wraps. If you're intimidated by the amount of salad greens this week, Ceasar salad is a good option because it shrinks a big head of lettuce and everyone will fight over the leftovers. Poof, it's gone.
Komatsuna greens (bundle of dark green leaves) – See above. Storage: Cover and refrigerate.
Scallions (bundle of green onions) – These are useful raw or cooked. Thinly-sliced raw scallions can be folded into biscuit dough or sprinkled on top of soups or salads. Terrific garnish for pasta dishes. Think pad thai.
(ONE site will receive instead of radishes) Kohlrabi (pale green, round vegetable with thick skin) – Crunchy and sweet, kohlrabi is a great addition to salads.
Storage: Kohlrabi bulbs will store for a month in the refrigerator. Remove the leaves if you plan to store for more than a few days.
Uses: Kohlrabi are good peeled and eaten out of hand, or added to sandwiches, or added to salads. It makes a nice salad on it's own. You can grate it, slice it, or cut it into matchsticks. It's also good cooked.
Greens ID

This week's escarole and Romaine lettuce look pretty similar. Examine the base to distinguish them. Escarole mid-veins are whiter and more pronounced. Also, escarole leaves are wavier.
RECIPES by PHOEBE
Spinach Pesto Pasta with Capers and Chickpeas
In this bright & briny pasta recipe, I use spinach two ways. I blend some into a vibrant pesto with lemon and capers, and I toss the rest with the pasta to add texture to the final dish. You could make this recipe with almost any pasta shape, but I think it's most fun when you use pipe rigate or orecchiette – something that will catch and cradle the capers and chickpeas.
Serves 4
Prep time: 15 minutes
Cook time: 20 minutes
For the pesto
½ cup toasted walnuts*
2 tablespoons fresh lemon juice
1 garlic clove
2 teaspoons capers
¼ teaspoon sea salt
2 cups spinach
¼ cup extra-virgin olive oil
½ cup freshly grated Parmesan cheese
Freshly ground black pepper
For the pasta
10 ounces pipe rigate or other short pasta
2 tablespoons extra-virgin olive oil
1½ cups cooked chickpeas, drained, rinsed, and patted dry, loose skins removed
1 tablespoon capers
4 cups spinach
Freshly grated Parmesan cheese, for serving
Make the pesto: In a food processor, place the walnuts, lemon juice, garlic, capers, salt, and a few grinds of pepper and pulse until finely chopped. Add the spinach and pulse to combine. With the food processor running, drizzle in the olive oil and pulse to form a thick sauce. Add the Parmesan and pulse until combined.
Make the pasta: Bring a large pot of salted water to a boil. Cook the pasta according to the package instructions, cooking until al dente. Before draining the pasta, reserve 1 cup of the starchy pasta water. Drain the pasta and set aside.
Meanwhile, crisp the chickpeas. Heat the olive oil in a large skillet over medium heat. Add the chickpeas and cook, stirring occasionally, for 6 to 8 minutes, or until the chickpeas are lightly crisp and beginning to brown. Stir in the capers and remove from the heat.
Return the pasta pot to the stove. Heat it over low heat, then add the spinach and 2 tablespoons of the reserved pasta water and stir until the spinach is just wilted. Add the pasta back to the pot and toss to combine. Stir in the chickpeas and capers. Add the pesto and ½ cup of the reserved pasta water and toss to coat, adding more pasta water as needed to loosen the sauce. Season to taste and serve with freshly grated Parmesan cheese.
*I like to toast the walnuts in a 325°F oven until fragrant, 5 to 10 minutes.
Sautéed Turnips with Miso Butter
White turnips are one of my favorite spring vegetables, and this easy side dish is a really simple, delicious way to enjoy them. I love how the rich, savory miso butter accents the natural sweetness of the sautéed roots.
Serves 2 to 4 as a side dish
Prep time: 5 minutes
Cook time: 8 minutes
1 1/2 tablespoons unsalted butter, at room temperature
2 1/4 teaspoons white miso paste
2 teaspoons extra-virgin olive oil
8 ounces white turnips, halved if small, quartered or cut into thin wedges if large
2 tablespoons water
Thinly sliced scallion greens or finely chopped cilantro, for garnish (optional)
Place the butter and miso paste in a small bowl. Use a fork to cream them together.
Heat the olive oil in a large lidded skillet over medium heat. Add the turnips, cut side down, and cook without stirring until they start to brown underneath, 4 to 5 minutes. Flip them over, add the water, and quickly cover the pan. Reduce the heat to medium-low and cook until the turnips are tender when pierced with a knife, about 3 minutes.
Uncover the pan and turn off the heat. Add the miso butter and allow it to melt, tossing the turnips to coat. Serve garnished with scallions, if using.
.
.


Photo by Stephanie and Mike Le
One Pan Creamy Dijon Mustard Chicken
From I Am A Food Blog
You can use any type of mushrooms in this one-pan chicken recipe, and I think this week's shiitakes would be delicious. For the greens, toss in spinach, chopped escarole, or especially komatsuna!
.
.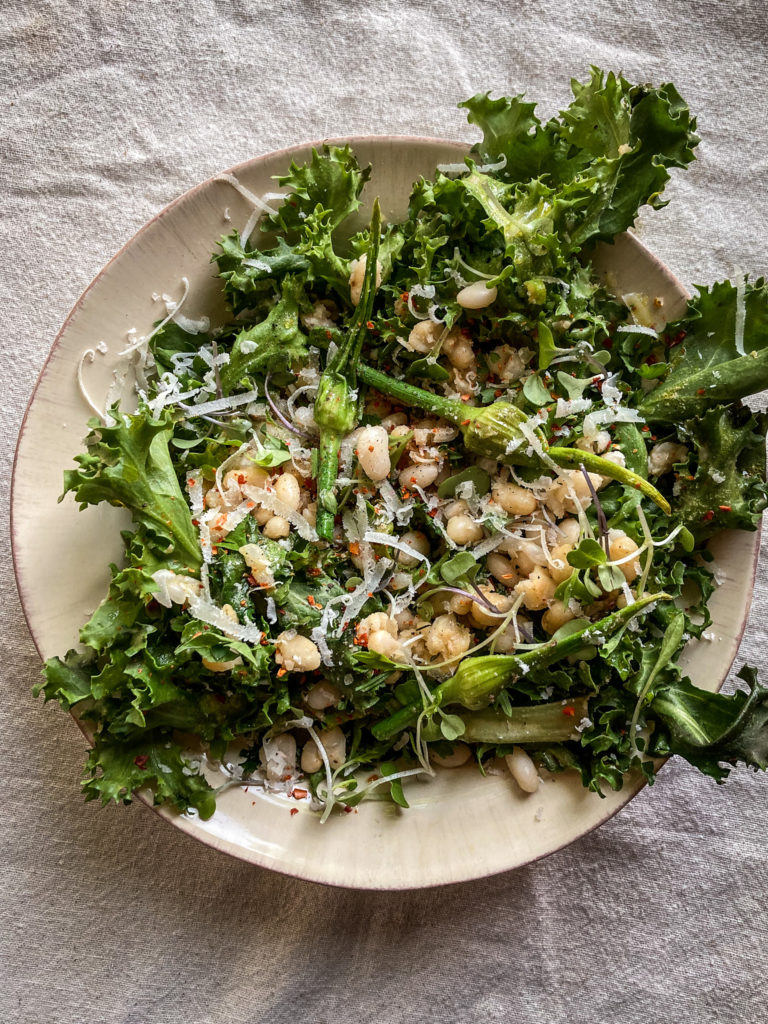 Photo by Andrea Bemis
Chicory Salad with White Beans, Anchovies & Parmesan
From Dishing Up The Dirt
This hearty salad would be a great showcase for this week's escarole! The bitter greens play off creamy white beans and an umami anchovy, garlic, and Parmesan dressing. This recipe calls for parsley. Feel free to skip it, or sub in fresh cilantro.
.
.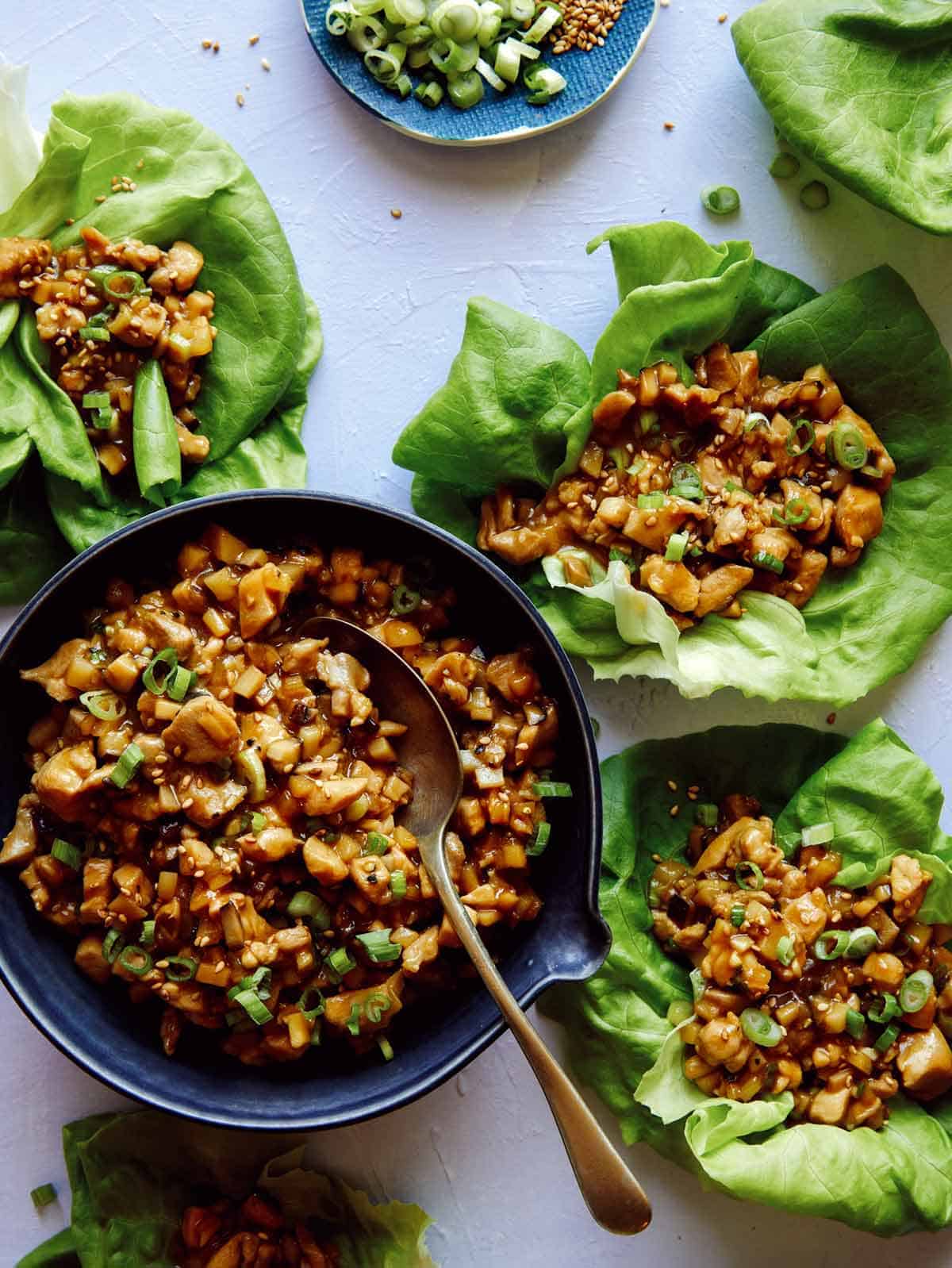 Photo by Spoon Fork Bacon
Chicken Lettuce Wraps
From Spoon Fork Bacon
These lettuce wraps would be such a fun way to use this week's romaine! The filling is a saucy, sweet, and savory mixture of chicken thighs, shiitake mushrooms, and garlic and ginger. It also includes canned bamboo shoots and water chestnuts. If you don't keep these ingredients on hand, feel free to skip them and add a few extra shiitakes instead.
.
.


Photo by Kathryne Taylor
Mega Crunchy Romaine Salad
From Cookie + Kate
This refreshing salad would be a great summer side dish or healthy lunch! A zippy cilantro dressing coats crunchy romaine, radishes, quinoa, sunflower seeds, and chewy dried cranberries. The recipe also calls for cabbage, which you can skip, and carrots, which you can replace with extra radishes or salad turnips.
.
.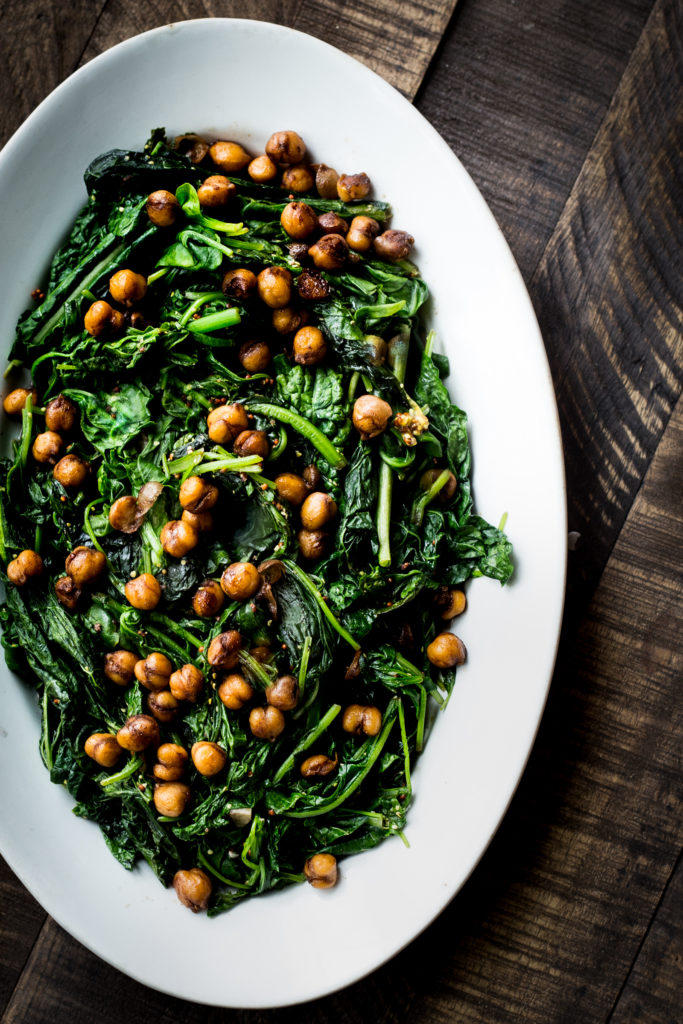 Photo by Andrea Bemis
Braised Mustard Greens with Sesame Chickpeas
From Dishing Up The Dirt
This recipe would be a simple, flavorful way to cook the komatsuna in this week's box. The greens are braised in miso water and then tossed with nutty sesame oil, maple syrup, and tangy rice vinegar. A roasted sesame chickpea topping adds crunch.
.
.


Photo by Pinch of Yum
Coconut Curry Ramen
From Pinch of Yum
Shiitake mushrooms add meaty texture and savory flavor to this rich vegetarian ramen. The recipe calls for bok choy, but a few handfuls of komatsuna would be a perfect sub.