Week #4, Farm tips for keeping cool
Hot days are brutal. Our trusty crew has suggestions for you.
"Hydrate or die-date". I do not love this phrase but it's compelling. Our final task each day is to wash and refill our water jugs and put them in the cooler overnight. Then we are ready with chilled water the next day.
Soak your hat. Better yet, soak then freeze it! The effect does not last long but it certainly wakes you up.
Appreciate the wind! A hot day is bearable with a steady wind.
Wear a lightweight long-sleeved shirt to keep the sun off your skin. It seems counterintuitive and that it would make you hotter but it does not, especially if there's a breeze. Trust me, you will feel better at the end of the day.
Soak your head under a faucet! It's the quickest way to cool down.
With temps in the 90's we need to watch for heat exhaustion. Our crew watch out for each other, especially the newer employees, making sure everyone rotates jobs between the field and the pack shed. Our walk-in coolers offer a quick respite and the inside of our barn stays cool, a good place to sit down if needed. We offer gatorade by the gallon.
We hope you are all doing well in the heat and taking care of yourselves.
Beth
Veggie List & Veggie Notes
Week #4, June 16/17, 2922
– Weekly shares
– EOW/ purple
– Sampler/ moon
Strawberries, 1 paper cup
Komatsuna, 1 big bunch
Spinach, 1 medium bunch
Red leaf lettuce
Zucchini or yellow squash, 1 or 2 ct
White salad turnips, ~1/2 lb
Kohlrabi, 1
Leek, 1 small
Scallions, 1 bunch
Next week's box will probably contain spring greens, snap peas, zucchini, lettuce, kohlrabi, scallions, strawberries and more.
Strawberries in a paper cup – Enjoy this tiny amount of berries. They are very ripe because of insane heat Tuesday and Wednesday so they are not going to last. Don't be fooled if they look over-ripe – they are delicious. I suggest that you eat them on your way home from your CSA site but you were probably going to do that anyway!
Komatsuna (large bundle of dark green leaves) – We've moved on to the next variety in this planting and we still love this new type of Asian green. Please ignore the flea beetle damage again this week – that's just how that field turned out. Can be used as a substitute for other Asian greens or mustard greens.
Zucchini or yellow squash – We should have one or two squash for each of you. This is the first harvest, the beginning of a long squash season. Some of these first fruits are lumpy, the result of incomplete pollination. This happens every year. The bees have found the zucchini field and pollination has already improved.
New varieties: We trying some new zucchini varieties, some of which are quite dark in color, so don't be surprised if your squash looks a little different this year.
Storage: Zucchini and summer squash need refrigeration but do not do well at very cold temperatures, as they soften and form pits in their surface. Refrigerate these squash but in the warmest part of your fridge. Wash the squash just before you use it.
Kohlrabi (pale green, round vegetable with thick skin) – Crunchy and sweet, kohlrabi is a great addition to salads.
Storage: Kohlrabi bulbs will store for a month in the refrigerator. Remove the leaves if you plan to store for more than a few days.
Uses: Kohlrabi are good peeled and eaten out of hand, or added to sandwiches, or added to salads. It makes a nice salad on it's own. You can grate it, slice it, or cut it into matchsticks. It's also good cooked.
Leek – We have one leek for each of you. Last fall, we ended the harvest season with every cooler full and we were pretty worn out. We left one bed of leeks in the ground and gambled that they would survive the winder. Some did, then regrew this spring into the leek you receive this week.
Storage: Cover and refrigerate. Use soon.
RECIPES by DEB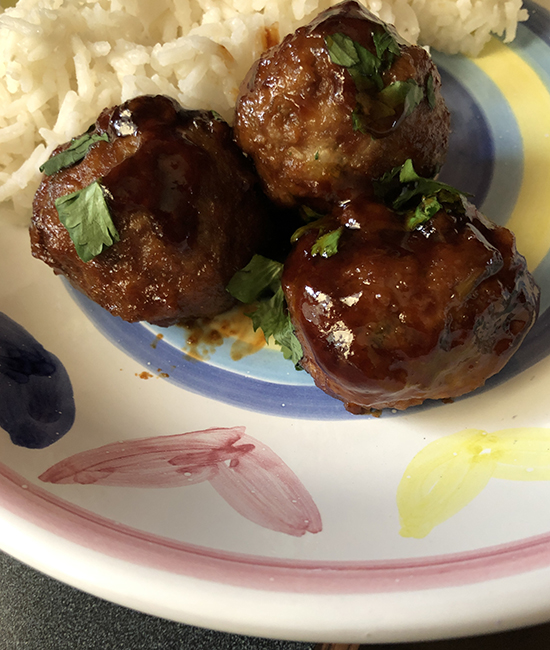 Scallion Meatballs
This dish is based on a recipe from The Canal House, that's made with ground turkey, while I have used ground pork. You may use either! You can also make small meatballs, and serve them as an appetizer, or larger ones – as shown – and serve them with rice for dinner.
Serves: 4 generously
Takes: 40 minutes
Sauce
1/2 cup dark brown sugar
1/2 cup water
1/2 cup soy sauce, reduced sodium if your prefer
1/2 cup vermouth (sweet or dry), or white wine of any variety
1/4 cup roughly chopped fresh ginger
1 teaspoon ground coriander
4 whole black peppercorns
1/2 cup ketchup
a good squirt of Siracha
Meatballs
1 pound ground pork or turkey
5-6 scallions, one small bunch, finely chopped (can be done in the food processor)
1 egg, lightly beaten
1 cup breadcrumbs
2 tablespoons sesame oil
2 tablespoons soy sauce
Freshly ground black pepper to taste
optional: fresh cilantro for garnish
Make the sauce: Combine the sugar and water in a wide skillet and heat over medium heat until the sugar dissolves. Add the soy sauce, vermouth, ginger, coriander, and peppercorns, and simmer until the sauce is slightly reduced and looks a bit syrup-y. Cool slightly and strain into a glass measuring pitcher with a spout. Add the ketchup and Siracha and set aside while you make the meatballs. Wipe out the skillet.
Make the meatballs: Heat the oven to 375°. In a large bowl or a stand mixer, combine the pork, scallions, egg, breadcrumbs, sesame oil, and soy sauce and mix throughly. Hands are good for this. Season with pepper.
Shape the meatballs: Here's where you get a choice – you can make golf-ball size dinner meatballs, using 3 tablespoons, yielding about 18 meatballs; OR appetizer size, using 1 tablespoon, yielding about 24. Either way, as you shape them, arrange the meatballs on a parchment-lined or lightly oiled baking sheet. Transfer to the oven and bake for about 20 minutes until lightly browned.
Finishing: Transfer the meatballs back into the wiped out skillet. Pour in the sauce, heat over low heat, and roll the meatballs around in the sauce till they're nicely glazed. Garnish with cilantro if using, and serve – with rice for dinner or toothpicks for appetizers.
.
.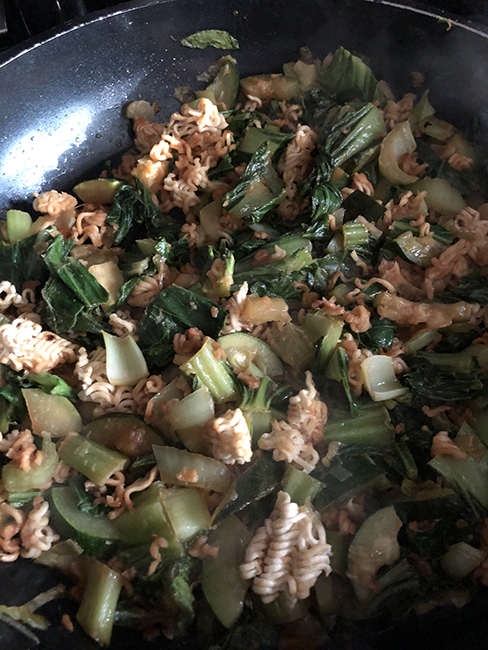 Stir Fry with Toasted Noodles
Serves: 3-4
Takes: 30 minutes
This recipe uses Komatsuna, leek, and zucchini from this week's box, but you could use just about any combination of veggies – clean out the crisper drawer! You can also use other types of noodles instead of ramen. Here's a picture of a batch I made with Udon, because one of our kids ate the last pack of ramen noodles.
Ingredients:
One 3-oz. package of ramen noodles, or about 3 oz of any other kind of thin noodle; spaghetti, Udon, angel hair
2 tablespoons of sesame oil or vegetable oil, divided
1 leek, white and light green parts, split lengthwise, rinsed, and chopped
About 1 pound of greens such as Komatsuna or bok choy, rinsed, leaves separated from stems, and chopped
1 medium zucchini or summer squash, chopped
1/4 cup hoisin sauce, purchased or homemade
Add one tablespoon of the oil to a large skillet or wok, and heat over medium-high heat until fragrant. Crush the ramen noodles by bashing the package with a rolling pin. If using another noodle type break them into 2-3 inch lengths. Add the noodles to the hot oil and toast, stirring often. When toasted transfer the noodles to a bowl.
Pour the remaining tablespoon of oil into the skillet, place it over medium-high heat and add the leek. Toss, turn the heat down, and cover for a few minutes to soften. Add the zucchini and Komatsuna stems, and continue to cook for about 5 more minutes, until softened. Make a space in the middle of the pan and add the hoisin sauce. Stir to melt the sauce, and add the leaves and toasted noodles. Cover and steam for a few minutes to wilt the greens. Uncover, stir, and if it seems too wet, cook a few more minutes to boil off the extra moisture.
.
.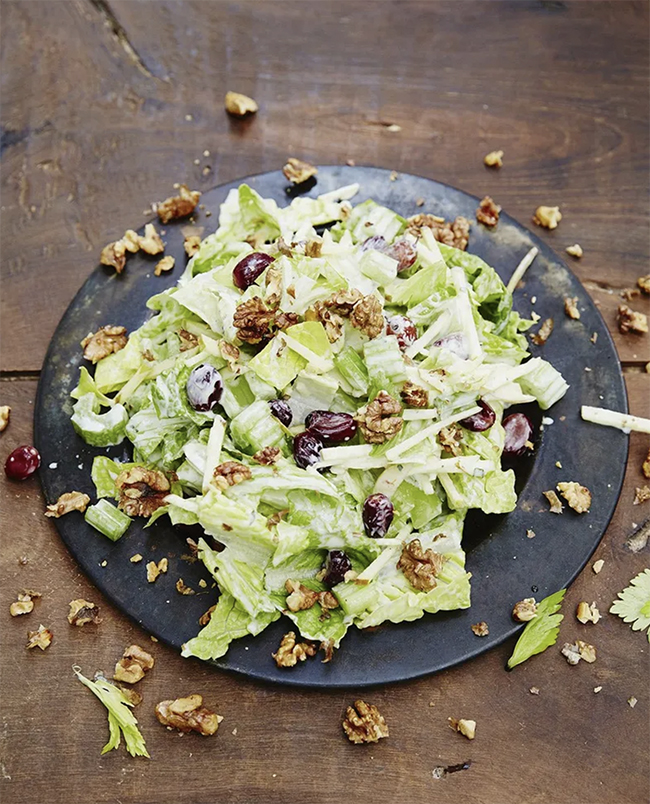 Photo from jamiroliver.com
Waldorf salad | Jamie Oliver
From Jamie Oliver
This recipe does include a bunch of things we do not have in the box, especially celery and fresh tarragon. The secret trick is caramelizing the grapes and walnuts. Try it with the red leaf lettuce and salad turnips subbed in for the apple – add a few pinches of dried tarragon to the lemony yogurt dressing and it will bring it together deliciously!
Spinach Mozzarella Grilled Cheese on Pretzel Bread
From i am a food blog
Here's a fun way to eat up this week's spinach – pretzel bread and buns are readily available at the grocery store.
Kohlrabi-and-Turnip Slaw Recipe
From marthastewart.com – Salad Recipes
This refreshing slaw recipe calls for about a pound of kohlrabi and 8 oz. of turnips – we have the right total amount of veggies from the box, but the reverse proportions. Feel free to use the larger amount of turnips, especially since the salad turnips are so mild, and less kohlrabi.
Leek Mac and Cheese Recipe
Grace Parisi, from Food & Wine
In this recipe, the tough green part of the leek is softened by slow cooking and added to Mac & cheese. You can add quicker cooking spinach or Komatsuna greens as well.
Simple Red Leaf Salad
From AllRecipes
Here's a nice salad idea for our red leaf lettuce.