Week #16, Final sweet corn

We've had a good run of sweet corn and hope you enjoyed it. This is our seventh and final delivery. Don't worry – soon there will be new fall veggies to replace it.
Veggie List & Veggie Notes
Week #16, September 8/9, 2022
– Weekly shares
– EOW/ purple
– Sampler/ moon
Sweet corn, 8 ears
Kale, 1 bunch
Carrots, 2 lb
Slicing & plum tomatoes, ~4 lb
Red & yellow peppers, mixed bell & frying, ~4
Zucchini &/or Zephyr squash, 1 – 2 squash
Yellow onion
Jalapeño chile (HOT), 1
Basil, 1 bunch
Next week's box will probably contain peppers, tomatoes, onions, greens, basil and more.
RECIPES by DEB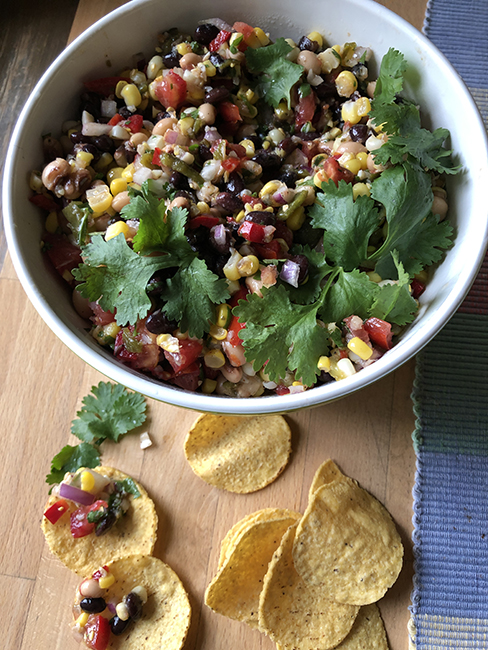 Photo by debslunch
Cowboy Caviar a.k.a. Black Bean & Corn Salad
Cowboy Caviar is a great recipe for this time of summer, when tomatoes, corn, and peppers abound, and it's easily adaptable to whatever vegetables you have on hand. You can serve it as an appetizer with a big pile of corn chips, or as a salad – especially nice with sliced avocado added. You can make this with either cooked-from-dry, or canned beans.
Takes about 30 minutes to assemble, plus chilling time, and allow extra time if you are cooking beans from dried
Makes about 8 cups = many appetizer servings or 8-10 as a salad
Dressing:
1/3 cup olive oil
1/3 cup lime juice
3-4 garlic cloves, minced or put thru a press
1 teaspoon white sugar
a few sprinkles of chili powder or Penzey's Pico Fruta
Kosher salt and black pepper
Salad
2 cups fresh corn kernels (from 3 to 4 cobs)
1 1/2 cups cored, seeded if desired, and chopped tomatoes (either slicing or plum is fine here)
3/4 cups red or white onion, finely chopped
1 1/4 cups or one 15-ounce can black beans, rinsed and drained
1 1/4 cups or one 15-ounce can black-eyed peas, rinsed and drained
1 cup of seeded and finely chopped red or yellow frying pepper
1 jalapeño, seeded and finely diced
Optional: 1/2 cup chopped cilantro leaves and tender stems, plus more for garnish
Optional: 1 scallion, white and green parts, thinly sliced, for garnish (optional)
Tortilla chips or avocado – or both! – for serving
Make the dressing: Whisk all the ingredients together in a spouted measuring cup – 2 cups is a good size for this. Set aside while you prepare the rest.
Husk the corn, and boil it in ample salted water for about 10 minutes, until tender. Let cool and cut the kernels from the cobs. Save the cobs for stock if desired.
Combine the tomatoes, onion, beans and black-eyed peas, peppers, and jalapeño in a large bowl. Note: Seeding the tomatoes is optional, but will make the dish less juicy, which can be helpful if you're using slicing tomatoes. To seed the tomatoes, core them and flatten them in the sink under the palm of your hand, squeezing out the seeds. For slicers you might want to cut them in half, first.
Pour in the dressing, and mix well. Toss in the cilantro if using, and taste for seasoning. Chill for at least 30 minutes or up to overnight, top with sliced scallions if using, and serve.
.
.


Photo by debslunch
Mediterranean pressed sandwiches
These sandwiches are what we ate for a picnic on Labor Day: The one on the right is a version of Pan Bagnat, kind of a Nicoise salad featuring tuna and tomatoes, on bread, and the sandwich on the left is a vegetarian version with goat cheese, tomatoes, and roasted peppers. Both sandwiches are brushed with olive oil, and spread with oil-poached garlic. If you are a New York Times subscriber you can watch a video by Melissa Clark (it might play for non-subscribers …) that shows her using her 7-year-old daughter to press the sandwich; if you do not have a 7-yo available, you can use a few heavy cans or jars of food. Like the Cowboy Caviar, feel free to adapt to the vegetables you have on hand.
Takes about 30 minutes to assemble, plus one or two hours to press, and optional chilling time
Serves 4-6
For one sandwich/4-6 servings:
1 ciabatta bread* or 4 crusty Kaiser rolls
1-2 whole bulbs of garlic, depending on size
1/4 to 1/2 cup olive oil
1 dried hot chile
1 red bell pepper, sliced into strips
thin slices of red or other onion
2 medium tomatoes, thinly sliced
a handful of basil leaves, torn into pieces
For the tomato-goat cheese variant:
3-4 four ounces goat cheese, softened
1/4 cup roasted red peppers, homemade or from a jar
For Pan Bagnat:
one 6 oz. can oil packed tuna
2 tablespoons capers, drained
1/2 zucchini or summer squash, thinly sliced – about 1/2 cup slices
*If you want to try making the ciabatta, this King Arthur recipe works well. Otherwise Madison Sourdough makes a nice ciabatta and you'll also find it in any grocery store with a good-sized bakery department.
Make the oil-poached garlic: separate the garlic cloves, peel them, and place them in a small saucepan with the dried chile. Pour in olive oil to cover the cloves and cook over medium heat for 10-15 minutes, until the cloves are very soft, checking by poking with a fork. Watch closely so it doesn't brown or burn. Cool, and fish the cloves of garlic out of the oil and mash them with a fork. Reserve the mashed garlic and oil separately.
Assemble the sandwich(es): Split the bread or rolls. For either variation, start by spreading a good portion of the mashed garlic on the bottoms of the bread. Brush more poaching oil over the garlic, and also brush the tops with oil. For the tomato version, spread goat cheese on the bottom of the sandwich, then layer on the sliced peppers, onion, and roasted peppers. Top with sliced tomatoes and torn basil. For the pan bagnat version, mix the un-drained tuna with the capers, and distribute evenly on the bottom of the sandwich. Shingle the sliced squash over the tuna, layer on the sliced peppers, onion, and top with sliced tomatoes and torn basil.
Press the sandwiches: put the tops on, and wrap in plastic wrap or waxed paper. Place the sandwiches between two cutting boards (or under one cutting board on the counter, if you don't have two) and top with a few heavy cans – like 28-ounce canned tomatoes – and press for 1-2 hours. After pressing you can serve immediately or chill for several hours or overnight.
Roasted Carrot Dip (Easy Recipe)
From Crowded Kitchen
Here's a fun way to use one pound of our carrots from this week, turning them into a vegan dip that can be enjoyed with bread of crackers.
.
.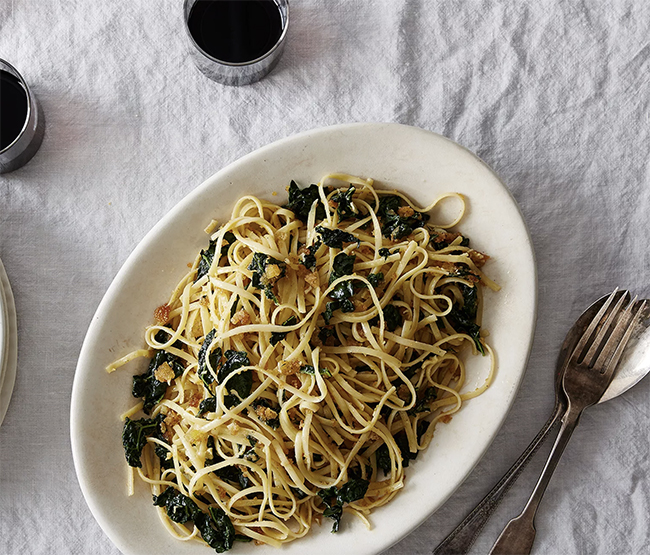 Photo by Bobbi Lin
Linguine with Breadcrumbs and Kale
From Food52
Turn this week's kale into an elegant-looking pasta that is nonetheless simple to prepare. This dish was an entry in a 5-ingredients or less contest that Food52 ran in 2017.
.
.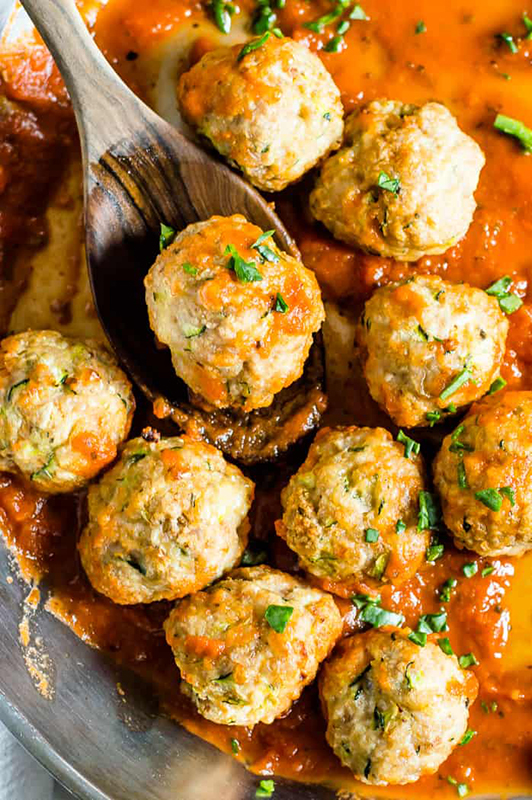 Photo by Natural Nurturer
Oven Baked Turkey Zucchini Meatballs
From The Natural Nurturer
When I tested these meatballs I transferred them into a pot of simmering tomato sauce after baking, where they fell apart a bit in the sauce. They were still tasty over buttered noodles the first night, and I turned the leftovers, broken meatballs and all, into an even tastier bow-tie pasta bake, dolloped with ricotta cheese and topped with bread crumbs.
.
.


Photo by Kate
Garden-Fresh Corn Salad
From Cookie & Kate
This fresh corn salad calls for radishes and cucumbers – sliced summer squash is a good substitute.
.
.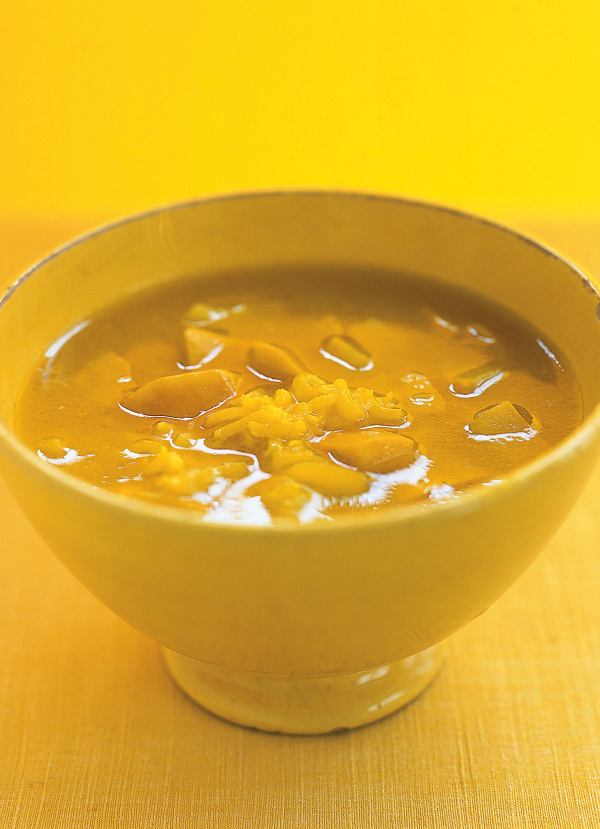 Photo by Petrina Tinslay
Happiness Soup
From Nigella Lawson
Made with summer squash and turmeric, Nigella calls this a "a yellow soup to banish the blues" – and it will be yellow made with Zephyr squash. If made with zucchini, the color won't be quite as sunny, but should still make you happy while eating it.
.
.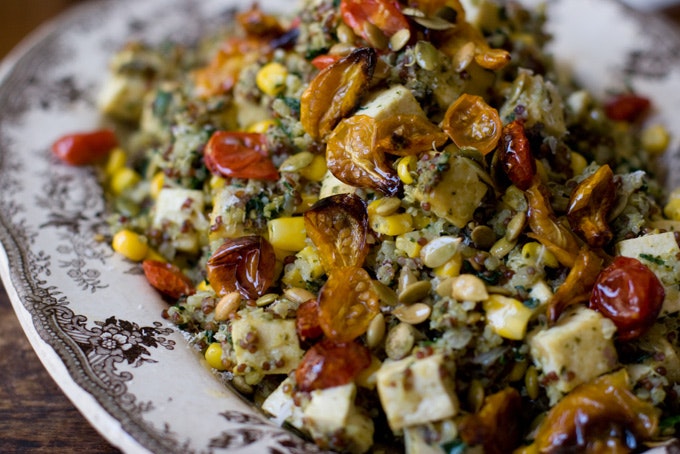 Photo by Heidi Swanson
Heather's Quinoa Recipe
From 101 Cookbooks
The recipe from Heidi Swanson's long-running vegetarian recipe blog 101 Cookbooks calls for either roasted cherry tomatoes or sun-dried tomatoes, but you coould roast our plum or slicing tomatoes to sub in. The recipe also includes basil pesto, that you can get from a jar, but it includes a recipe for pesto that you can make using the basil in this week's box.