Final green EOW week (Nov. 6/7)
Green every-other-week (EOW) members, this is your final delivery (November 6/7)
Weekly members and purple EOW members, your final delivery will be next week (Nov 13/14).
Wrap-up for green EOW members
Thank you for being members of our farm this year!  We could not continue to farm without dedicated customers like each of you.  This has been an unusually good growing season.  We hope you have enjoyed eating your produce as much as we have enjoyed producing it.
A few details:
– Please read next week's email for our annual survey.  Tell us your thoughts on this season.  We will incorporate your ideas into our plans for next year.
– Please return all your empty CSA boxes.  It is best to unpack your final box, and leave the empty box behind.  It will save you a trip to your site to return the box.  Please hunt through your house, garage, and car, and return any remaining empty boxes this week or next week.
– We expect to open 2015 registration soon for current Tipi members.  Watch for emails from us.
Photos of our farm for the Wisconsin Department of Ag
Tipi CSA member Jody Steele photographed our farm as part of a contract with the WI Dept of Agriculture (DATCP).  The goal is to gather photos representative of all types of farming that occur in Wisconsin.  Apparently they have an overabundance of cow and tractor photos.  DATCP chose two of Jody's Tipi photos to incorporate into their portfolio.  Jody visited during celeriac harvest, which is very timely because we will pack celeriac for everyone this week.  Jody, thank you for sharing these photos with us.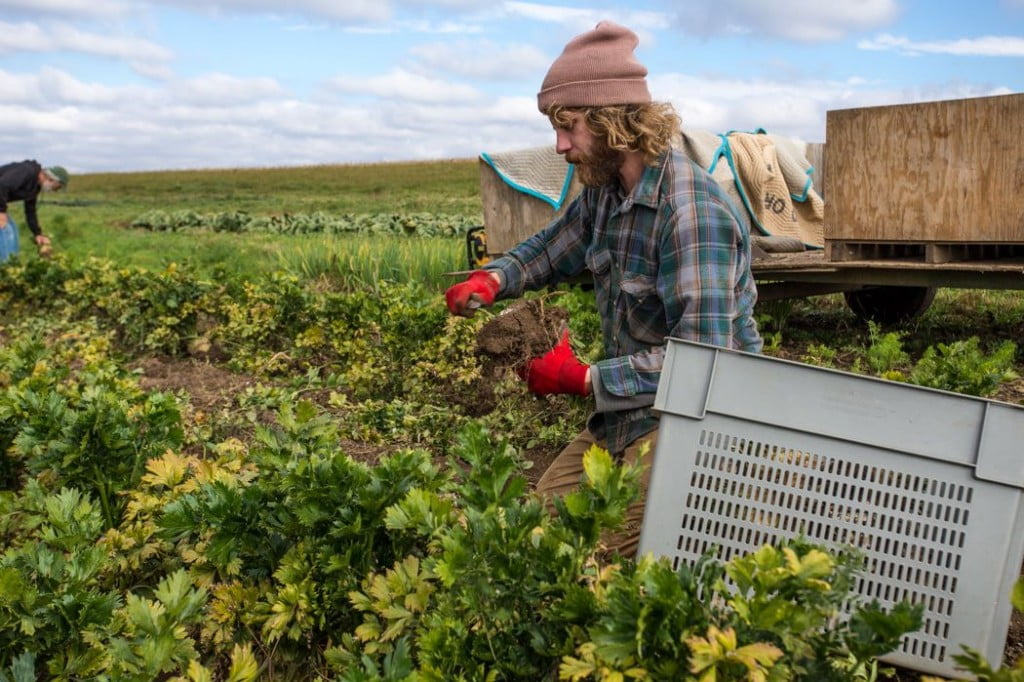 Michael trims celeriac.  I warned Jody that celeriac harvest would look as though we are harvesting lumps of mud.

Fortunately, they clean up to look like an ancient roots.  The celeriac/celery fragrance is intense and wonderful during harvest.

Our storage crop harvests are group activities. From left in the distance, Michael, Joel, Clint, Bonnie, Billy, Karen and Simone harvest celeriac.  We undercut the roots with a tractor and digger, but there's much work by hand to trim the tops and extra roots.

From left, Joel, Tristan and Billy harvest celeriac.

This is one of the photos that the Dept of Ag chose. Tristan loads harvested celeriac into wooden bins. We will wash and sell the roots through the winter. Celeriac stores extremely well.

DATCP chose this photo too.  This shows storage bins stacked on the right, plus our Deutz tractor and field disk.  Steve was disking fields the day Jody visited, turning the finished crops into the soil, and preparing the fields to seed to cover crops.

Moon over the pack shed.  Our workdays end after dark now.  It won't be long before our outdoor work is done.  We are racing to tuck away the remaining carrots and cabbage before temperatures fall dramatically next week.  Wish us luck.
Veggie list and veggie notes (Nov. 6/7, week #25, final green EOW box)
Brussels sprouts, on the stalk
Butternut squash
Celeriac, 1 or 2
Kale, 1 bunch
Frying peppers, about 4
Carrots, 2 lb
Onions, 2
Garlic
Broccoli OR cauliflower OR purple cauliflower, 1 small head
Next week's box will probably contain red potatoes, sweet potatoes, Brussels sprouts, butternut squash, leeks, beets, parnsips, a pepper, and (hopefully) some kind of leafy green.
Brussels sprouts – We are sending the sprouts on the stalk.  Pluck from the stalk soon to keep the sprouts from wilting.  Saves space in your fridge too!
If you are a new CSA member, please approach Brussels sprouts with an open mind.  Many of us grew up eating awful, overcooked Brussels sprouts.  These Brussels sprouts are completely different.
Here is our method to cook Brussels sprouts: Wash the sprouts and trim the cut ends. Cut an X in the stem end of large sprouts.  Cut a single slit in small or medium sprouts.  This does two things. It helps the Brussels sprouts cook evenly, plus it allows them to soak up any marinade or dressing.  Place sprouts in a pot with one inch of water in the bottom and steam until tender, 7 to 10 minutes.  If the sprouts are uneven in size, then set aside the smallest ones and add to the pot after the larger ones have cooked for a few minutes.  Don't overcook them!  You can also oven-roast Brussels sprouts.  Here are a few dressing ideas for cooked sprouts:
– Sherry vinegar/olive oil/Dijon mustard/garlic/white wine/salt and pepper.  This is our favorite, especially when you combine the Brussels sprouts with slivered peppers and thinly sliced onions.  Delicious warm, cold, or at room temperature.
– Balsamic vinegar/olive oil/garlic/salt and pepper
– Lemon juice and zest/melted brown butter/poppy seeds/white wine/garlic/salt
Butternut winter squash – These are the Waltham variety.  It can be difficult (and hazardous) to cut these large squash.  To soften your squash before cutting, microwave it for 1 to 2 minutes.  This makes any squash easier to cut or peel.
Celeriac (knobby, round, bizarre-looking vegetable which smells like celery) – Flavorful celeriac is good raw or cooked. It is excellent in mixed roasted veggies or in soup. It's especially good in cream soups, alone or mixed with potatoes. Grated raw celeriac is a great starting point for winter salads. Celeriac will store in your refrigerator for months. Cut off chunks as you need them. Peel before using.
Frying peppers – We harvested these last Friday, so use them quickly.