Week #6; Big family week on the farm
Once again, the next generation has joined the farm. Maggie Schley has worked for us 26 or 27 years. We've lost track of the exact number. Now, her daughter Ida (age 13) joins the farm crew one day per week. We are so thrilled to have her here. This is a big deal for us and Maggie and our entire crew. Ida is a natural! Of course!
Our kids Sophie and Ari began steady farm work around that age. Of course, they helped in small ways since they were young, standing on a stool to put garlic bulbs in the CSA boxes or washing melons in a giant tub on hot days. Ari was twelve when he was strong enough to catch watermelons tossed from the field. Sophie was about that age when she took over cash payments during farm u-picks. Gradually they joined the farm crew full-time in the summer. Now both of our kids are out of the house and living in the Twin Cities!
Sophie came home this weekend with five friends in tow, expecting to help with a strawberry u-pick. Strawberries were always her favorite crop and she wanted her friends to experience that and other childhood fun. The berries were not ready for a u-pick so they found other amusements; berry picking, kayaking, hiking, farm walks, volleyball in the yard, a bonfire, and eating lots of just-picked produce. I wondered what they were doing when they wandered the farm after dark. Turns out they were grazing in the berry field, by flashlight.

One of Sophie's visiting friends helps Steve plant beans.

Slumber party in the living room this weekend.
Let's not forget neighbors Karen, Caitlyn and Chance. Karen's worked for us ten years. Her children Caitlyn and Chance joined our crew as teenagers for a few years before moving on. It's been great to see all of these kids grow up.
Berries!

The berries are gorgeous this week. All your berries are ripe, even if one side is white and the other colored. This is normal for some varieties. Just eat one and you'll understand that they are ripe.
Tipi members, watch for emails from us in the next few days about a members-only berry u-pick!
Veggie List & Veggie Notes
Week #6, June 22/23, 2023
– Weekly shares
– BiWeekly/ green
– Sampler/ B group
Beth's notes:
– Expect grit in the lettuce and endive (frisee) this week. Like last week, it's the result of irrigation during this dry weather.
– We continue to send scallions each week, so you have something in the onion family to enliven your dishes. We'll include scallions for a few more weeks, then we'll switch to sweet onions, fresh garlic, cooking onions and eventually leeks. I've gathered lots of scallion recipes below.
Strawberries, 1 quart
Snap peas, ~1/2 lb
Zucchini &/or yellow squash, ~3 lb
Lacinato kale, 1 bunch
Endive (frisée), 1 head
Iceberg lettuce
Shunkyo radishes, 1 bunch
Scallions, 1 bunch
Garlic scapes, a handful
Next week's box will probably contain Caraflex cabbage, zucchini, scallions and more.
Strawberries – Strawberries are perishable. Refrigerate and eat soon.
Snap peas – These pea pods have strings to remove. Snap off the stem end and pull the string down the concave side of the pod (the inward-curing side). Throw away the string and eat the pod. The thicker pea pods will usually have a string along both edges. Remove them when you snap off the stem. Snap peas should be eaten pod and all. They are delicious raw, or very lightly cooked or stir-fried.
Heads up!: You may find some fibrous shell-type pods mixed in, from off-type plants.
Preparation: They will need a quick rinse to remove faded gray blossoms.
Storage: Refrigerate.
Zucchini &/or 'Zephyr' summer squash – It's summer now! Zucchini and squash are somewhat sensitive to cold temperatures.
Storage: Refrigerate in a warmer part of your fridge.
Lacinato kale (bundle of grey-green textured leaves) – This is our most beautiful green and a super food! Use like any kale.
Storage: Cover and refrigerate.
Endive (frilly head, also know as frisée) – Endive is closely related to escarole. These members of the chicory family can be used interchangeably in recipes, whether raw or cooked. Their slightly bitter flavor is a good addition to mixed salads. They are excellent cooked alone or mixed with other greens. They cook quickly, but not as quickly as spinach.
Storage: Cover and refrigerate.
Iceberg lettuce (round head of lettuce) – We've found an iceberg variety that grows well for us. It is crisp and tender inside. Examine closely before using in a wedge salad – some heads have grit from overhead irrigation.
Shunkyo radishes – This is a new variety for us this year, chosen because it is supposed to be unusually sweet, plus tolerant of hot weather. They are also pungent, a good cooking radish.
Garlic scapes (curly green things) – Garlic scapes grow at the top of garlic plants. We snap off the young scapes to direct the plants' energy into forming garlic bulbs underground. Use scapes as a substitute for garlic cloves. They can be minced, mixed with olive oil, and added to stir fries or simple pasta dishes. The scapes can be sautéed, but will not brown like garlic cloves. Expect them to retain their crunch even when cooked, and to be milder than garlic cloves, closer in pungency to the green garlic we've sent.

Top; Lacinato kale
Bottom; Endive, also known as frisée
Scallion Ideas
It is time for my annual roundup of favorite scallion ideas. We have sent scallions for many weeks in a row. They are the best seasonal allium (onion family plant) this time of year and are beautiful right now. Let's share a few of our favorite ways to prepare them.
Gingery Pea & Scallion Fried Rice (6/29/22 newsletter)
Scallion Meatballs (6/15/22 newsletter)
– Scallion biscuits (slice and add to your usual biscuit recipe). Or try Savory Cheese & Scallion Scones
– We have a favorite scallion dressing for adaptable pasta salads. We use it with spinach and asparagus in spring, then switch to grilled vegetables and sweet Walla Walla onions once those are available.
– Egg drop soup with spring greens, topped with sliced scallions
– Grilled scallion, asparagus and turnip salad
– Grilled beef bulgogi wrapped in lettuce leaves. Easily adapted to tofu.
– Salmon patties with minced scallions mixed into the batter.
Scallion Pancakes
I love scallion pancakes and have tried many recipes over the years.
Kimchi, Pork + Scallion Pancakes – Beth's comment: This is our household's favorite, but we add bay scallops instead of pork, halve the kimchi and add any green, whether spinach, komatsuna, napa cabbage or kale. Kale takes longer to cook than spinach, so reduce the amount and slice finely before adding to the batter. We skip the relish and use 1:1 soy sauce:rice vinegar for dipping sauce. These are hefty and filling.
Member suggestions:
Several of you have shared scallion pancake recipes in our Facebook discussion group over the years. Here are some of the recipe links and comments.
Korean Pancakes with Scallions (Pa Jun) – "So many scallions, so little time. Make Pa Jun, Korean scallion pancakes. There were a few different recipes in the newsletter but I like this one! Simple, fast, and delicious!"
Extra Flaky Scallion Pancake Recipe – This recipe makes layered pancakes. This is a J. Kenji López-Alt recipes, with his usual insightful explanations.
RECIPES by DEB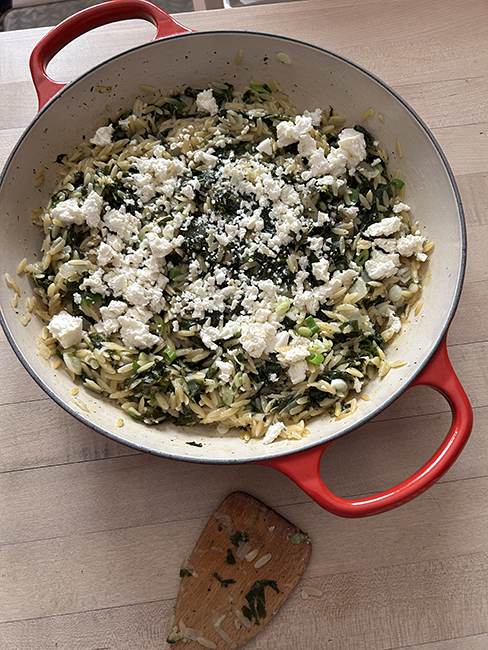 Photo by debslunch
Kale and Orzo "Risotto"
Based on a recipe by Hetty McKinnon, this one pot dish subs orzo, a rice-shaped pasta, for rice. Orzo cooks more quickly than rice and there's less need for stirring. I tested the recipe with curly kale, but the original recipe was designed for the lacinto kale in this week's box. With the flavors of spanakopita – herbs, greens, and feta – this is a tasty way to get even the greens haters in your house to eat their greens.
Serves: 4
Takes: 30 minutes
Ingredients:
about 1/2 pound lacinto kale, 8-9 ounces, rinsed, stems removed and leaves thinly sliced
1 cup onion, finely chopped
3 cloves garlic minced or put through a press
2-3 tablespoons olive oil
a big handful of fresh dill if available, OR 1 teaspoon dried
1 teaspoon dried oregano
a few pinches of kosher salt and freshly ground black pepper to taste
3 scallions, whites and green, thinly sliced
3/4 pound orzo
3 cups of vegetable broth
3 tablespoons salted butter
grated zest and juice of one lemon
3 ounces of feta crumbled (optional)
Rinse and slice the kale. Chop the onion. Pour the olive oil into a wide deep skillet with a cover or a Dutch oven, and heat over medium heat. Add the onion and garlic and cook for about 5 minutes until the onion is translucent.
Season with salt and pepper, add the fresh or dried herbs, and then add the kale and scallions. Toss everything together and cook covered for 5-10 minutes to wilt the kale.
Add the orzo and vegetable broth, bring to a boil, and then cover, reduce heat, and simmer for about 10 minutes. Stir a few times during the 10 minutes scraping the bottom, to reduce sticking.
Taste and when the orzo is tender and the broth is absorbed, add the butter, lemon zest and juice, and feta if using. Stir well, cover and remove from heat and let stand 5-10 minutes before serving.
Chocolate Zucchini Cake | King Arthur Baking
From King Arthur Baking
King Arthur's double chocolate zucchini bread is always a winner, but this cake was new to me this year. It uses three cups of zucchini or yellow summer squash, but no one will notice in this chocolatey, fudgy cake.
.
.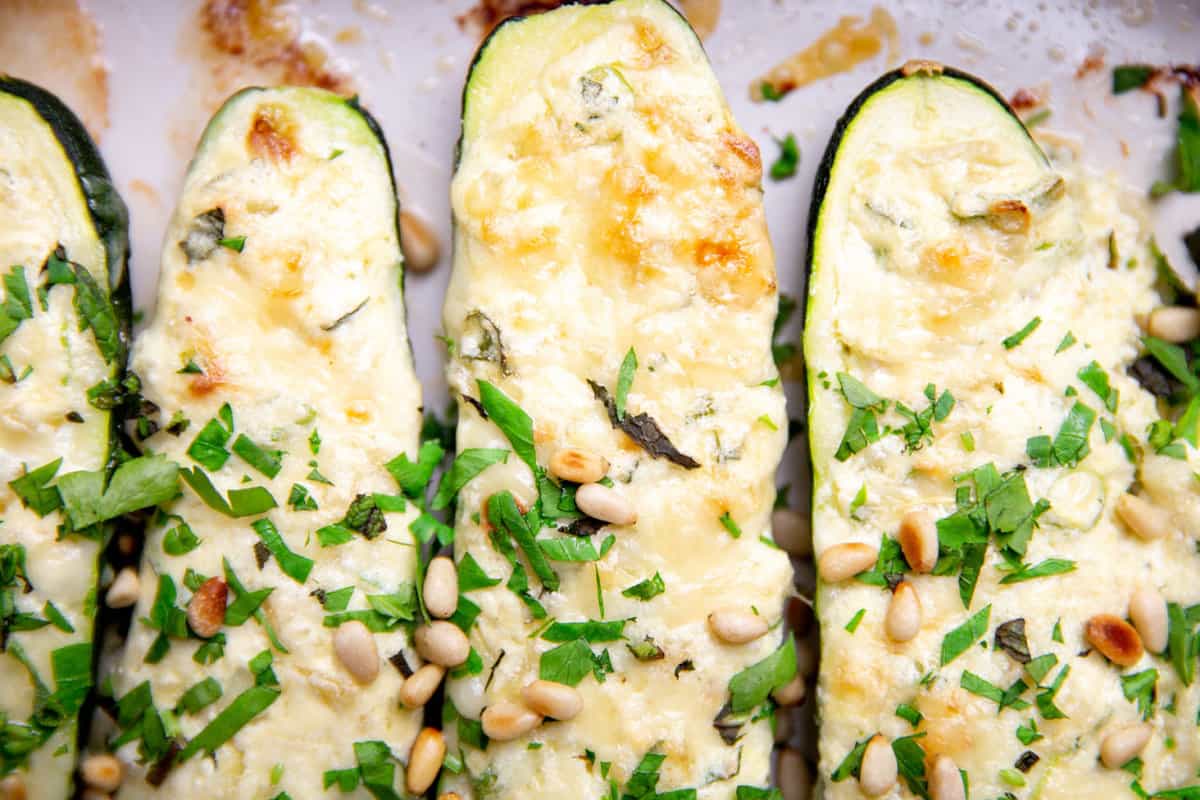 Vegetarian Stuffed Zucchini Boats | From Scratch Fast
From From Scratch Fast
This gluten free and meatless version of stuffed zucchini gets it flavor from ricotta and Comté cheeses, and fresh herbs. Cottage cheese can be subbed for the ricotta, and Swiss or Gruyere cheese can take the place of the Comté. And you can omit the fresh herbs – add an extra scallion or two – or use dried.
.
.

Frisée aux Lardons à la Breakfast Sandwich | Never Not Hungry
From Never Not Hungry
A traditional way of preparing curly endive, also called frisee, is Frisée aux Lardons, a bacon-y French bistro salad, with croutons fried in the bacon fat and typically some bacon fat in the dressing, and a soft cooked egg on top. So I love this idea of turning that salad into a breakfast sandwich. Alternatively, you could make this sandwich with shredded iceberg lettuce instead of the endive.
.
.

Pasta Primavera Recipe | Love and Lemons
From Love and Lemons
Love and Lemons' version of pasta primavera is a pretty way to eat up our zucchini and summer squash and you can sub in the snap peas for frozen – string the snap peas, and place them in the colander where you will drain the penne – pouring the hot pasta and water over the peas will cook them just enough. The recipe also calls for asparagus, red onion, and cherry tomatoes, and you can up the amount of squash to make up, and/or try adding scallions instead of the onion.
.
.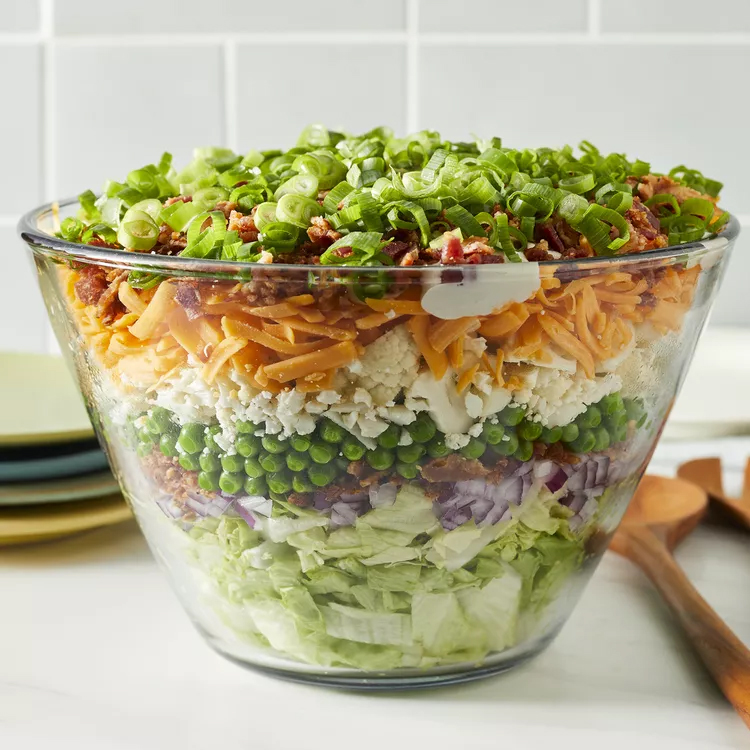 Photo by Meredith Food Studios
Seven Layer Salad | Allrecipes
From Leah Mae on allrecipes.com
Seven layer salad is a midwestern potluck staple, and usually made with iceberg lettuce. This version from allrecipes.com has a layer of cauliflower – personally I like a celery layer, but you can sub in what you have to make the seven layers. And use the snap peas in place of frozen. Another popular salad made with iceberg is wedge salad, and you could make the dressings from last week's Deconstructed Wedge Salad to serve over wedges of this week's iceberg.
.
.

Summer Squash Tacos with Kale Slaw | eMeals
From emeals.com
These vegan tacos are filled with sauteed squash and topped with a quick kale slaw and pepitas, or toasted pumpkin seeds. In the picture it looks as if a bit of cheese might have sneaked in there too – not vegan, but tasty if you eat dairy. A recipe for a suggested side dish of pinto beans and diced tomato over rice is also included.