Week #19.

The farm is beautiful in fall. Work has slowed slightly so we're able to enjoy our work more now. Above, Kristin cuts cauliflower and throws it to me on the wagon, to count and pack into bins. We're glad cauliflower harvest has started. We'll have enough for all the sites soon.
Veggie List & Veggie Notes
Week #19, September 23/24, 2021
– Weekly shares
– EOW/ purple
– Sampler/ sun
Green beans, 2 lb
Bok choy, 1 head
'Jester' winter squash, 1
Summercrisp lettuce
Tomatoes, ~2 lb, mixed plum & slicing
Red frying peppers, ~2
Oranos snack peppers, ~4
Jalapeno chile (HOT)
Onion, 1
Basil, 1 sprig
Garlic, 1 bulb
– Some sites get cauliflower.
– Some sites get a second 'Jester' winter squash
Next week's box will probably contain green beans, winter squash, potatoes, peppers and more.
Green beans – Wow, this planting is successful! Enjoy them fresh or blanch and freeze for winter.
Bok choy (large rosette with thick white stems and green leaves) – This Asian green is good for stir-frying or sautéing or in soup. You can think of the stems and leaves as two separate vegetables. The stems require longer cooking. The leaves will cook almost as quickly as spinach. Bok choy stores well, so feel free to pull off leaves as you need them, or use the whole head at once. Storage: Refrigerate in a plastic bag or other container.
Jester winter squash – This is a cross which gets its shape from its acorn parentage, and it's flavor from its sweet dumpling parentage. These Jester are delicious and ready to eat. Simply roasting cut halves shows off their flavor. They will not store well. Plan to eat within two weeks. Read last week's newsletter for lots of information about winter squash.
Summercrisp lettuce – This last lettuce of the season is a variety that tolerates hot weather. Summer is a difficult time to grow lettuce – it prefers cooler weather – so this type is helpful.

Keep an eye on your tomatoes
We're at the end of the season and these tomatoes will not last. Spread them on a plate and keep on your kitchen counter so you can quickly identify and eat any that develop flaws. They taste pretty darn good for this time of year! Don't keep in the paper bag.
Veggie ID

Bok choy (left) and Summercrisp lettuce. The lettuce varies in how much it's tinged with red.

Oranos snack peppers (orange) and frying peppers (red). If you receive a yellow pepper, then it's a frying pepper. There will be occasional bell peppers.
RECIPES from DEB
Visit our 2020 Recipe Log or our 2019 Recipe Log.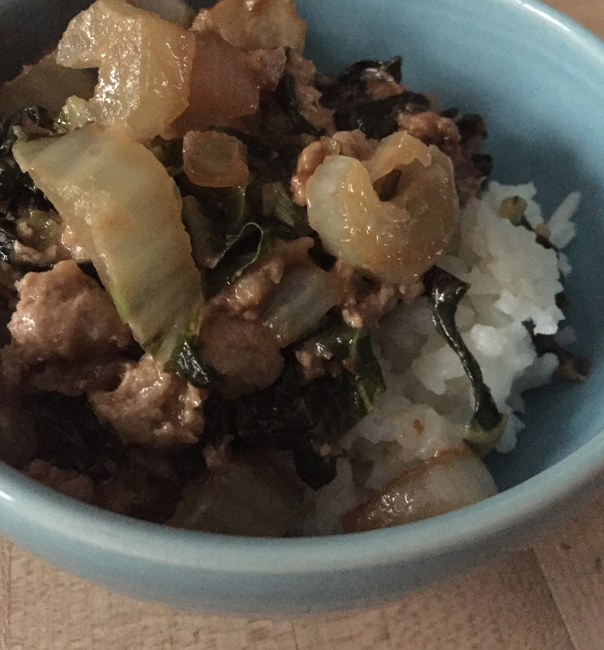 Bok choy, red pepper, and ground turkey, or pork, or tofu stir fry
Serves 6-8
Takes about 30 minutes, longer to cook brown rice
For serving:
1 1/2 cups white or brown rice
Sauce:
1/3 cup soy sauce
2 tablespoons Hoisin sauce
1-2 tablespoons dark brown sugar
1 tablespoon sherry or white wine (optional)
1 tablespoon sesame oil
1/2 cup chicken or vegetable stock or water
1-2 tablespoons cornstarch
Optional – pinch red pepper flakes or a good squirt of chili-garlic sauce, like Siracha
Stir Fry:
1 pound ground turkey, or pork, or a 12-14 ounce package of tofu
1 cup onion, sliced pole to pole
2 garlic cloves minced or put through a press
4 cups sliced bok choy, leaves and stems separated
1-2 frying peppers, thinly sliced
Optional – in lieu of red pepper flakes in the sauce, 1 jalapeño, finely chopped
1-2 tablespoons vegetable oil
First, put the rice on to cook.
Then, mix up all the sauce ingredients, except the cornstarch.
Heat 1 tablespoon of the vegetable oil in a wide deep skillet or wok, and brown the turkey (or pork). Add about half of the sauce to the pan, when the meat is almost done. If you are using tofu, crumble it, and brown it, and then add the sauce when it is browned on all sides. Transfer the mixture to a bowl or plate, and wipe out the skillet.
Add another tablespoon of the vegetable oil to your skillet, and stir fry the veggies in the order given: onion, garlic, bok choy, peppers. When the vegetable are almost done, add the protein mixture back into the pan. Mix the cornstarch into the sauce and add that, stirring so that everything is glazed nicely as it thickens.
Enjoy over rice.
.
.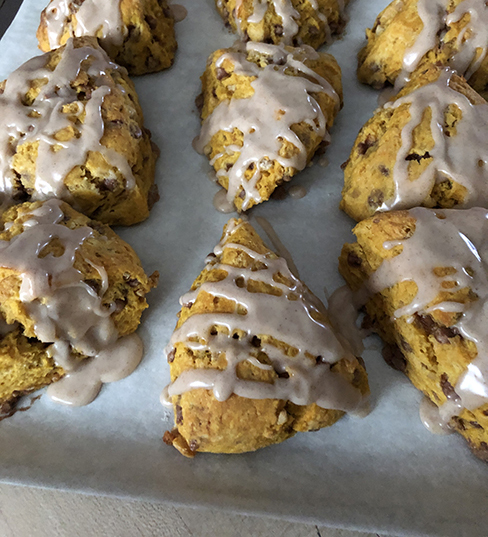 Pumpkin (or winter squash) Scones with Maple Glaze
Make 12 scones
Takes about 45 minutes
3 cups flour
3 tablespoons sugar
1 teaspoon cinnamon
1/2 teaspoon ground nutmeg, freshly grated
1/2 teaspoon ginger, or 1 tablespoon grated fresh ginger
OR omit the other spices and use to 2 teaspoons pumpkin pie spice
1/2 teaspoon salt
1 tablespoon baking powder
3 tablespoon butter
1 cup pumpkin or winter squash puree (approximately the yield of one roasted squash!)
1 egg
3 tablespoons honey
2-3 tablespoons milk, if necessary
Optional: up to 1 cup chopped dates, cinnamon chips, nuts, dried cranberries
Icing
1 cup confectioners' sugar
3 tablespoons maple syrup
Preheat the oven to 400 degrees.
Combine flour, sugar, spices, and baking powder in a bowl. Slice butter on top, and cut in with a pastry blender until the mixture has a meal-like consistency. Mix the pumpkin, egg, and honey, and add to the flour mixture, mixing and kneading until you have a soft dough, adding optional milk if necessary.
Divide the dough in half and on a floured surface, roll or pat it into two 8-9 inch circles, and cut each into 6 wedges. Place on a parchment lined, or un-greased baking sheet, and bake in the oven until browned and firm.
Combine the icing ingredients while the scones bake. Drizzle the icing over the scones after they have cooled for about 10 minutes.
.
.
Feisty Green Beans
From 101 Cookbooks.
Serves 4-6
Takes 45 minutes
From Heidi Swanson's 101 Cookbooks, Heidi says this recipe does have a lot of ingredients, but is worth making as written at least once. You'll also find recommendations for substitutions, and even more related green bean recipes, at the website.
.
.
Braised Green Beans with Tomatoes and Garlic Recipe
From Food and Wine.
Makes 8 servings
Takes 30 minutes active time + 40 minutes braising
There are A LOT of recipes for green beans braised with tomatoes out there; this one, by Rita Nakouzi, from Food & Wine, uses canned tomatoes, but fresh tomatoes from this week's box, peeled and diced, are even better. Deborah Madison's version from Vegetarian Cooking For Everyone layers onions, the beans, and diced tomatoes in a deep skillet, seasoned with whole cumin seeds and dill. Smitten Kitchen also offers a recipe for long cooked beans – Braised Romano Beans, that could be made with skinnier green beans.
.
.
Lemon Garlic Butter Chicken Thighs with Green Beans
From eatwell 101
Makes 3 servings
Takes 30 minutes
In this recipe from Eatwell 101 the green beans out number the chicken with delicious results!
.
.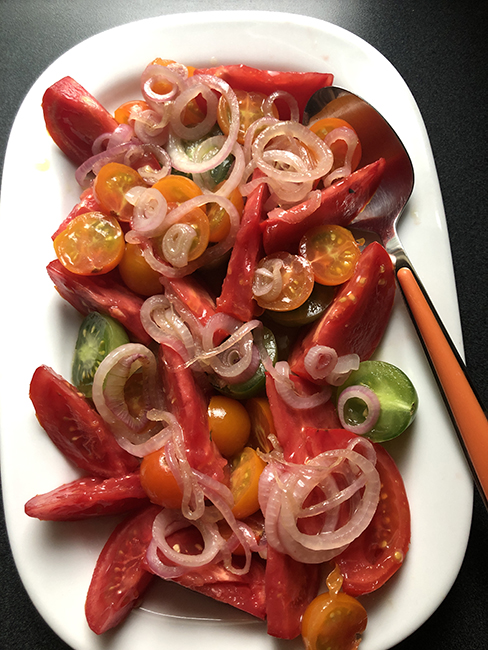 Tomato Salad with Warm Shallot Dressing
From Deb's Lunch
Serves 3, easily doubled
Takes less than 20 minutes
This is really non-recipe recipe – you can make it with any variety of tomatoes that you have and sub in onions or garlic for the shallots. Serve on a bed of the fresh lettuce from this week's box.
.
.
Sweet Pumpkin (or winter squash) Dip
From My Baking Addiction
Makes 16 servings
Takes 10 minutes active time + 3 hours to chill
My Baking Addiction suggests serving this sweet dip with mainly sweet dippers – apples, pretzels, ginger snaps – but few strips of the red or orange peppers from this week's box would not be out of place in the assortment.