Week #18; Winter squash season begins!

Everyone gets two acorn squash this week. One Jester (top) or Starry Night (middle) plus one Carnival (bottom).
We used to grow traditional green acorn squash but switched to the newer striped varieties because they taste better, the plants are more vigorous, and the squash are so pretty. Some Carnival squash are have yellow and orange stripes, some are green and cream. The colors vary with temperature during pollination.
Winter Squash Primer
We expect to have a steady supply of squash over the coming weeks. Let's review some basics about winter squash.
Expected life: Some winter squash varieties are ready to eat soon after harvest, others store deep into winter. This week's acorns are cured and ready to eat. Plan to eat these early varieties within two weeks of delivery. Jester has the shortest storage life, so eat that first if you receive one. Check our newsletter each week for storage information about squash delivered that week.
Storage: Do not refrigerate! Winter squash store best at room temperature with good air circulation. No cooler than 50 degrees. On your kitchen counter is good, where you can keep an eye on them. If you see deterioration, cook promptly. These early squash are not intended for storage. Do not cover – that promotes mold.
To make squash easier to cut: Microwave on high for 30 to 60 seconds, depending on size of the squash. This will soften the rind and flesh, making it much easier to cut.
Beth's favorite simple preparation (acorn or butternut): Winter squash are easily roasted in a 400F oven. The goal is to get brown, caramelized edges.
– Split in half with a sharp knife.
– Scoop out and discard seeds.
– Run the squash briefly under running water, then shake off the excess water. Place cavity-side-down on an oiled baking sheet. The little bit of moisture seals the squash to your roasting pan. The water soon evaporates, allowing the squash to brown and caramelize. Caramelization really boosts the flavor.
– Roast at 400F until easily pierced with a fork, 30 – 45 minutes depending on size. Flip over while hot. Add a little butter to melt and some seasoned salt. Cut into wedges and eat.
Stuffed squash
Acorn squash have a central cavity perfect for stuffing. Prepare your favorite fully-cooked stuffing, e.g. a rice or quinoa mixture. Roast your squash as described below. Preheat the stuffing. Fill the cooked squash with stuffing, top with grated cheese and return to the oven until everything is hot.
Can you eat the rind? In my opinion, rinds on these acorn squash are too tough to eat. Steve eats the Jester rind. I don't.
We pick, you wash. We remain short-handed this fall yet our crops are abundant. We are committed to getting them harvested and delivered to you, but have to focus on the essentials. You can help by washing your squash!


Please wash your squash to remove any soil.
Veggie List & Veggie Notes
Week #18, September 16/17, 2021
– Weekly shares
– EOW/ green
Koji greens, 1 head
'Carnival' winter squash, 1
'Jester' winter squash, 1
Leeks, ~2
Plum tomatoes, ~4 lb
A mix of colored bell & frying peppers, ~5
'Roulette' not-hot habanero, 3
Onion, 1
Garlic, 1 bulb
Basil, 1 sprig
Next week's box will probably contain winter squash, bok choy, Romano beans, tomatoes, peppers and more.
Koji greens (head of dark green leaves) – Refrigerate.
Koji greens are a lot like Yukina if you know that one; dark green with a nice balance of bitter flavor but not too strong. Like tat soi but with larger, lusher leaves and not so many leaf stalks. Recipes that use mustard greens or bok choy will work with Koji. In a contest for my favorite fall green, Koji runs neck and neck with bok choy.
Acorn squash – See above for cultivar photos. All types are cured and ready to eat. Plan to eat within two weeks.
Leeks (look like big scallions) – These alliums have a milder flavor than onions. Nonetheless, they can be used in recipes that call for onions. To wash, split the leek lengthwise, from the green tops about halfway to the base, leaving the base intact. Rinse well under running water, separating the layers to flush. If necessary, split the leek further if soil has penetrated more than halfway down the leek. Shake dry. Leeks are generally eaten cooked. They can be sauteed, steamed or roasted. Intact leeks will store 2 to 3 weeks if covered loosely and refrigerated. The outer leaves will yellow. Just peel them off and discard. The inner leek layers will be fine.
'Roulette' chiles (small, shiny, red, thin-walled) – This chile has been bred to have the aromatic taste of habanero chiles, with almost no heat. Snack on them to enjoy their flavor, or add them to any dish. To reduce all chances of spiciness, remove the seeds and midveins. These will be the smallest peppers in your box.
RECIPES from PHOEBE
Visit our 2020 Recipe Log or our 2019 Recipe Log.
Leek and Red Pepper Frittata
The beauty of a frittata is that you can eat it for any meal of the day! Serve this recipe for an easy weeknight dinner or weekend brunch. Any leftovers are great cold for lunch the next day.
Serves: 4-6
Prep time: 15 minutes
Cook time: 25 minutes
Ingredients
8 large eggs
2 tablespoons whole milk
2 garlic cloves, grated
1/2 teaspoon dried thyme
Heaping 1/4 teaspoon sea salt
1/4 teaspoon Dijon mustard
1/2 cup grated Gruyère cheese, divided
1 tablespoon extra-virgin olive oil
2 heaping cups thinly sliced leeks, white and light green parts
2 red frying peppers, diced
Fresh basil leaves, optional, for serving
Preheat the oven to 400°F.
In a large bowl, whisk together the eggs, milk, garlic, thyme, salt, and mustard. Fold in half the Gruyère and set aside.
Heat the oil in a 10-inch cast-iron skillet over medium heat. Add the leeks and a pinch of salt and cook, stirring, until the leeks soften, 3-4 minutes. Add the peppers and cook for 4-5 minutes, stirring often, until they soften.
Spread the vegetables in an even layer at the bottom of the skillet and pour the egg mixture evenly on top. Sprinkle on the remaining Gruyère and transfer the skillet to the oven.
Bake for 10-15 minutes, or until the frittata is set.
Slice and serve with fresh basil leaves, if desired.
.
.
Maple Sesame Grain Bowl with Acorn Squash and Greens
Acorn squash's natural sweetness tastes fantastic with the nutty sesame-maple-ginger sauce and earthy brown rice in this recipe. If you can't find adzuki beans, chickpeas would work nicely in their place.
1 acorn squash
1 large leek, white and light green parts, halved and chopped into 1-inch chunks
1/4 cup avocado oil, more for drizzling
1/4 cup maple syrup
2 tablespoons toasted sesame oil
2 tablespoons tamari or soy sauce
2 tablespoons plus 1/2 teaspoon rice vinegar, divided
2 tablespoons white miso paste
2 teaspoons grated fresh ginger
1/2 teaspoon dried ginger
4 garlic cloves, 2 grated, 2 chopped, divided
6 cups loose-packed Asian greens
3 cups cooked brown rice
1 1/2 cups cooked adzuki beans, drained and rinsed (1 14-oz can)
Sesame seeds, for serving
Sea salt
Preheat the oven to 400°F and line two large baking sheets with parchment paper.
Cut the acorn squash in half vertically and scoop out the seeds. Cut each half crosswise into 1/2-inch slices. Place the sliced squash on one of the baking sheets, toss it with oil and pinches of salt, and arrange it in a single layer. Place the leeks on the other baking sheet, toss with oil and salt, and spread them in a single layer. Transfer both baking sheets to the oven. Roast the leeks for 15 minutes, or until softened and just beginning to brown. Roast the squash for 25 to 30 minutes, or until completely tender and easily pierced with a fork, flipping halfway. If desired, peel the skin off the squash wedges after roasting.
Make the sauce. In a medium bowl, place the avocado oil, maple syrup, sesame oil, tamari, 2 tablespoons rice vinegar, miso, fresh and dried ginger, and grated garlic. Whisk vigorously until thoroughly combined. Set aside.
Heat a large nonstick skillet over medium heat and add enough oil to coat the bottom of the pan. Add the chopped garlic, greens, and a pinch of salt and cook, tossing, until the greens are just wilted. Remove from the heat and toss with the remaining 1/2 teaspoon rice vinegar.
Assemble bowls with the rice, adzuki beans, roasted squash, leeks, and sautéed greens. Sprinkle with sesame seeds and serve with generous drizzles of the sauce.
.
.
Saucy Chickpea Skillet with Creamy Lemon Zest Ricotta
These saucy chickpeas are like a distant cousin of shakshuka, the Middle Eastern and North African dish consisting of eggs poached in tomato sauce. Serve this recipe with baguette or other crusty bread for mopping up the creamy ricotta and sauce.
Serves: 2-4
Prep time: 15 minutes
Cook time: 25 minutes
Ingredients
1 pound plum tomatoes, roughly chopped
2 tablespoons extra-virgin olive oil
3 garlic cloves, sliced
1/4 teaspoon red pepper flakes
1 onion, diced
1 bell pepper, diced
1 1/2 cups cooked chickpeas, drained and rinsed (1 14-oz can)
1/4 teaspoon dried oregano
1 (4-inch) basil stem, leaves reserved for garnish
1 cup whole-milk ricotta cheese
1 teaspoon lemon zest, more for garnish
Sea salt and freshly ground black pepper
Parmesan cheese, for serving
Crusty bread, for serving
Place the tomatoes in a blender and puree until smooth. Set aside.
Heat the oil in a heavy 10-inch skillet over medium heat. Add the garlic and red pepper flakes and cook, stirring, until the garlic is fragrant and just beginning to brown, 1-2 minutes. Add the onion and bell pepper and cook, stirring occasionally, until softened, 5-8 minutes.
Stir in the chickpeas, oregano, basil stem, 1/2 teaspoon salt, and several grinds of fresh black pepper. Pour in the tomato puree and stir to combine. Simmer over medium-low heat, stirring occasionally, for 20-25 minutes, until the sauce has thickened.
Meanwhile, prepare the ricotta. In a medium bowl, stir together the ricotta, lemon zest, and 1/4 teaspoon sea salt.
When the chickpeas are ready, remove and discard the basil stem and season the sauce to taste. Serve in bowls with dollops of the ricotta, freshly grated Parmesan, and lemon zest and fresh basil for garnish. Enjoy with crusty bread.
Tomato Basil Bruschetta with Balsamic Drizzle
From Cookie & Kate
A classic way to use your tomatoes, basil, onion, and garlic. Enjoy this recipe as an appetizer, side dish, or light meal.
.
.

Garlic Ginger Beef Noodle Soup
From Spoon Fork Bacon
This recipe calls for spinach and kale, but the bok choy or koji greens from this week's box would be a great substitute.
.
.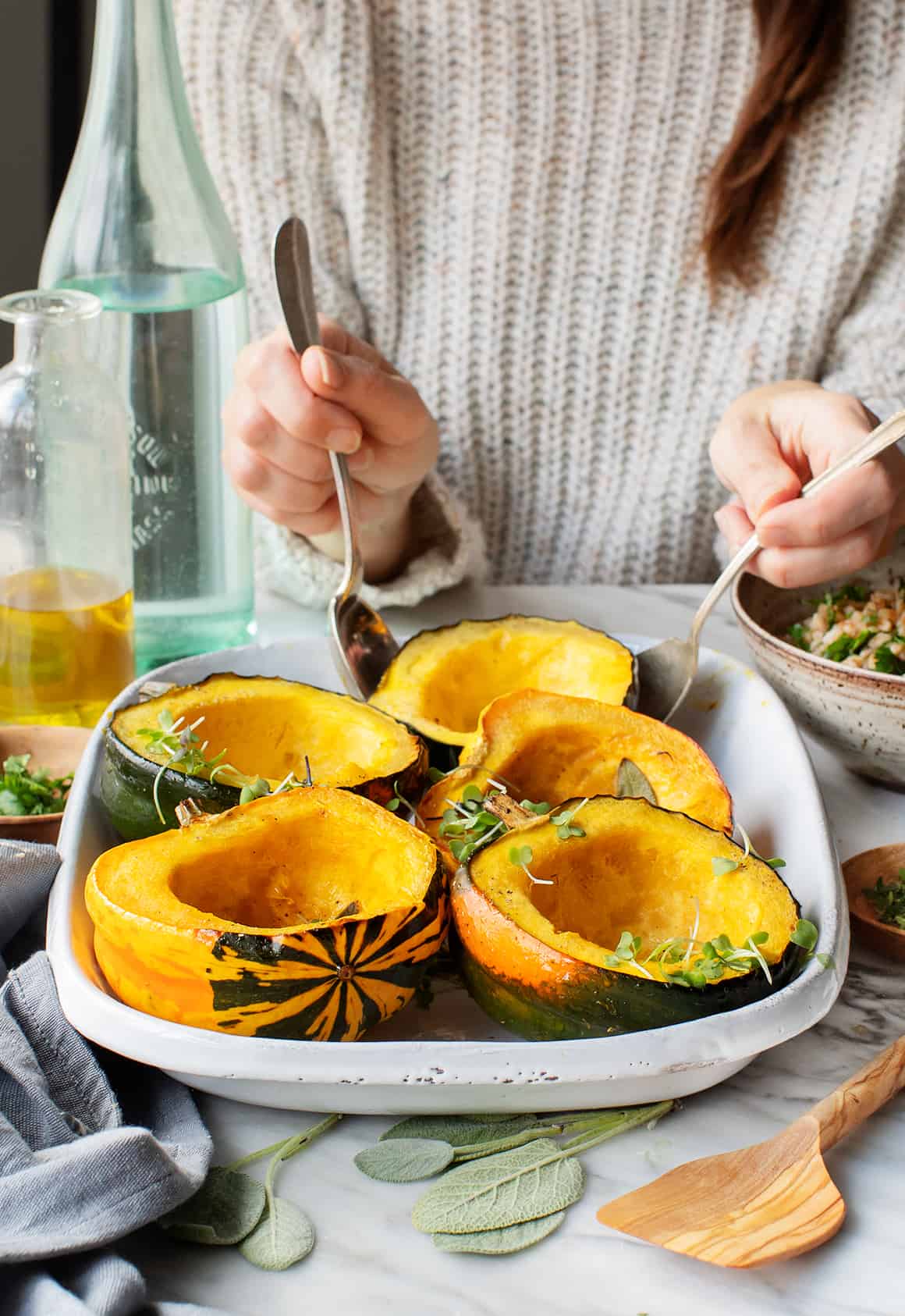 Maple Roasted Acorn Squash
From Love & Lemons
A simple, cozy fall side dish. Feel free to use dried rosemary and/or sage instead of fresh.