Monthly Archives:
September 2022

Chelsea throws winter squash to Carrot. Our little team of four people (including John) harvested about 15,000 lb of winter squash over the past month. We're in good shape now!

Carrot piles the squash in rows. We returned with a wagon and a larger team to pick up the squash and move them into the warm, dry greenhouse to cure. Kudos to the second team who hefted all of that squash three times on its journey into the greenhouse. Squash is heavy.
Frost is likely at our farm tonight. This is early and we are sad to say goodbye to tomatoes, basil and Romano beans. If temperatures are not too low, we might have a handful of tomatoes next week. The plants have remained healthy and the foliage might protect the tomatoes. We'll see. I asked our crew to pick a minimum of two pounds tomatoes this week and they brought in four pounds per CSA box! Maggie led the charge on that effort. A few later varieties are at their peak and she really wants you to have them.
There's a scramble before any frost, regardless of when it arrives. We will protect three pepper fields and one chile field tonight. We have enough peppers out there for another three or four more CSA deliveries, and are not willing to let them go. Two fields are covered with floating row cover (white fabric in the photo below) to trap heat from the ground. Steve set irrigation pipe in the other two fields. He'll irrigate tonight to keep the plants from freezing (as ice forms on the plants, it releases enough heat to maintain a steady 32 degrees). Wish us luck! Wish your peppers luck!
I think we need a new end-of-summer ritual that doesn't involve running around the farm protecting crops. Something calmer, more contemplative, something that doesn't require getting up in the middle of the night to start the irrigation.
We did not scramble to bring in winter squash. All are safe in our barn or greenhouse. We harvested steadily over the last three weeks as each variety matured. Winter squash harvest is exacting. We look for subtle signs that the fruits are mature, for best flavor. Each variety is a bit different. Delay harvest too long and they will rot, especially in wet or dewy weather. I trained a new squash team this year and they did great! This year's harvests are beautiful. We should have squash or sweet potatoes steadily for the remaining CSA boxes.
Fortunately, we have many frost-resistant crops. Here's a list of what you can look forward to before the end of the season. Broccoli, cauliflower, Romanesco, cabbage, choys and other greens, Brussels sprouts,carrots, beets, winter radishes, celeriac, parsnips, leeks, onions, garlic, scallions, fennel, potatoes, winter squash, sweet potatoes, parsley, cilantro, poblano chiles, and peppers of course.
Mmm, I love fall cooking.
Thanks for reading.
Beth

Raul, Ken and Carrot secure floating row cover over pepper plants to protect them from frost tonight.
Veggie List & Veggie Notes
Week #19, Sept 29/30, 2022
– Weekly shares
– EOW/ green
Romano beans, 1.4 lb
Broccoli, 1 medium head
Komatsuna greens, 1 bunch
'Jester' squash, 1
'Carnival' squash, 1
Tomatoes, plum & slicing, ~4 lb
Cayenne chile (HOT), in bag with tomatoes
Mixed bell & frying peppers (sweet), ~1.5 lb
Oranos or snack peppers (sweet), a few
Yellow or red onion
Basil, 1 medium bunch
Next week's box will probably contain cabbage, broccoli, peppers, winter squash and more.
Romano beans (final for the season) – Romano beans are more robust and meaty than green beans. They are excellent raw but really shine when gently braised for a long time, especially with tomatoes.
Storage: Refrigerate.
Broccoli – The fall broccoli and cauliflower plantings look great. Here is the first harvest.
Storage: Cover and refrigerate.
Komatsuna – We are enchanted with this Asian green, the same one that we sent in spring. Grown in fall, it is taller and the stems more fibrous. The leaves are delicious and can be used in any recipe that calls for mustard greens. Taste one of the stems raw and, if too fibrous, discard the stems.
Oranos or snack peppers (sweet) – Everyone gets a handful of snack peppers, either Oranos (orange, loose in your box) or mixed color snack peppers (in small paper bag). All are sweet and wonderful for snacking, loaded with flavor but sparse seeds.
Winter squash – You'll receive one portion of Jester squash this week, and one 'Carnival' squash. Both are acorn types, although 'Jester' has some delicata parentage. In my opinion, the skins are not edible. In Steve's opinion, Jester skins are edible.
Storage: Store at room temperature for up to two weeks. Keep an eye on your squash. If flaws develop, then cook soon.
Basil (final for the season) – The basil has some bronzing and speckling after a few cold nights. Use it soon – it won't store as long as our previous basil. We really wanted you to have it before it's lost to frost tonight. If it's more than you need, chop and freeze it.

Top, 'Jester' winter squash
Bottom, 'Carnival' winter squash

FYI, your HOT cayenne pepper is in the bag of tomatoes this week.
RECIPES by PHOEBE
Creamy Miso Acorn Squash Pasta
Blended roasted acorn squash gives this comforting pasta its delicious creamy texture. It also lends the sauce a subtle sweetness, which balances the intense umami flavor of the roasted onions, garlic, and white miso paste. To make this recipe quick and easy to prepare, feel free to roast the vegetables up to 2 days in advance.
Serves 3 to 4
Prep time: 15 minutes
Cook time: 45 minutes
1 medium acorn squash, halved lengthwise and seeds scooped out
½ onion, cut into wedges
3 garlic cloves, unpeeled
12 ounces medium shell pasta
2 tablespoons extra-virgin olive oil, plus more for drizzling
2 tablespoons white miso paste
2 teaspoons rice vinegar
Sea salt and freshly ground black pepper
Preheat the oven to 400°F and line a baking sheet with parchment paper.
Drizzle the cut sides of the squash halves with olive oil and sprinkle with salt and pepper. Place cut side down on the baking sheet. Add the onion wedges to the baking sheet and drizzle with olive oil and sprinkle with salt. Wrap the garlic cloves in a piece of foil with a drizzle of olive oil and add them to the baking sheet. Roast for 35 to 45 minutes, or until the squash is tender when pierced with a fork and the onions are soft and lightly browned.
Meanwhile, bring a large pot of salted water to a boil and prepare the pasta according to the package instructions, cooking until al dente. Reserve 1 cup of the hot, starchy pasta cooking water before draining. Drain and set aside.
Scoop 1½ cups of the roasted squash flesh out of the skin and transfer it to a blender (save any remaining flesh for another use). Add the roasted onion, peeled garlic, olive oil, miso paste, rice vinegar, and lots of freshly ground black pepper. Pour in ½ cup of the reserved pasta water and blend until smooth, adding more pasta water as needed to create a smooth and creamy sauce.
Return the pasta to the pot and pour in the sauce. Stir to coat. If the sauce is too thick, loosen it with another splash of pasta water. Season to taste and serve.
Zingy Lentil and Green Bean Salad
The flavors in this bright and briny salad only improve after a day or two in the fridge, so it's a great recipe to make ahead for lunches or quick meals throughout the week.
Serves 4
Prep time: 15 minutes
Cook time: 20 minutes
1 cup dry green or French green lentils, rinsed
4 ounces green beans or Romano beans, trimmed and cut into 1-inch pieces
1 tablespoon fresh lemon juice
1 tablespoon red wine vinegar
2 tablespoons extra-virgin olive oil
1 garlic clove, grated
½ teaspoon Dijon mustard
½ teaspoon dried oregano
½ teaspoon sea salt
¼ teaspoon honey
1 large tomato, cored and chopped
½ cup pitted and torn mixed olives
½ cup crumbled feta cheese
¼ cup diced onion
Freshly ground black pepper
Place the lentils in a medium saucepan and add water to cover by 2 inches. Bring to a boil, reduce the heat, and simmer until tender but not mushy, 15 to 20 minutes. Drain and rinse under cool water.
Meanwhile, blanch the green beans. Bring a medium pot of water to a boil and set a bowl of ice water nearby. Drop the beans into the boiling water and blanch for 3 to 6 minutes (closer to 3 if you're using regular green beans and closer to 6 if you're using Romanos), until tender but still bright green. Transfer to the ice water to stop the cooking process. Allow to chill for at least 1 minute, then drain and transfer to a kitchen towel to dry.
In a large bowl, whisk together the lemon juice, red wine vinegar, olive oil, garlic, mustard, oregano, salt, honey, and several grinds of pepper. Add the lentils and stir to coat, then stir in the green beans, tomato, olives, feta, and onion. Season to taste and serve.
.
.
Coconut Curry Soup with Chicken, Chickpeas, and Hearty Greens
From The Modern Proper
Use your komatsuna greens and peppers in this richly flavored curry soup! This recipe calls for canned diced tomatoes, but since there are so many fresh tomatoes in the box this week, I recommend using them instead. Substitute a heaping 1½ cups chopped fresh tomatoes for the canned ones.
.
.


Photo by Laura Wright
Braised Romano Beans with Spicy Cherry Tomato Sauce & Lemony Ground Walnuts
From The First Mess
This recipe is a spiced-up riff on one of the most classic Romano bean preparations, Romanos braised with tomatoes. It calls for cherry tomatoes, but you could easily substitute a pound of the fresh tomatoes from this week's box. Grate or chop them before adding them to the sauce. Substitute ⅓ cup diced onion for the shallot, and use 1 teaspoon dried thyme if you don't have fresh on hand.
.
.


Photo by Jeanine Donofrio and Jack Mathews
Maple Roasted Acorn Squash
From Love & Lemons
When I want to serve acorn squash as a simple side dish, this recipe is my favorite way to prepare it. Maple syrup brings out the squash's natural sweetness, and herbs like sage or rosemary add earthy autumn flavor. Dried herbs work perfectly here if you don't have fresh on hand.
.
.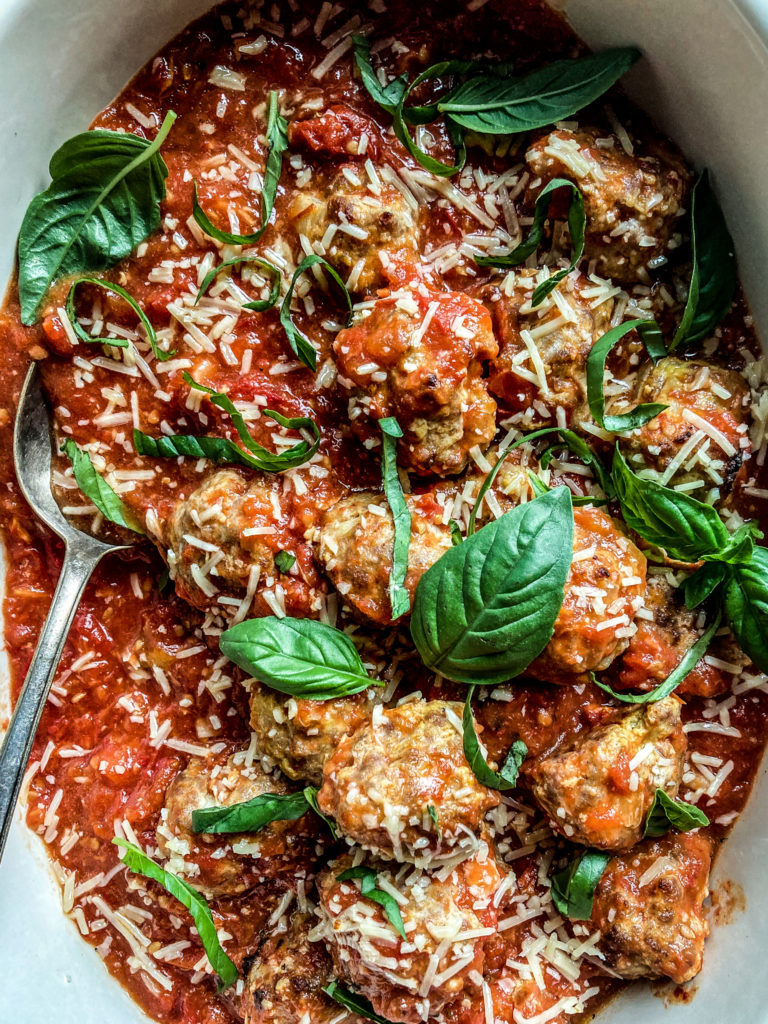 Photo by Andrea Bemis
Pork & Ricotta Meatballs with Roasted Garden Tomato Sauce
From Dishing Up The Dirt
This recipe features a simple roasted tomato sauce, which would be a great use for the tomatoes in your box this week. Simmer these tender ricotta meatballs in it, and then top them off with Parmesan and fresh basil for a comforting fall meal.
.
.


Photo by Erin Alderson
Tahini Noodle Bowl with Collards
From Naturally Ella
This recipe calls for collards, but it would work just as nicely with this week's komatsuna, though the komatsuna will cook a bit more quickly. To complete the dish, you'll toss the greens with noodles, peppers, and a creamy, lemony tahini sauce.
.
.


Photo by Jeanine Donofrio and Phoebe Moore
Broccoli Pesto
From Love & Lemons
This nut-free broccoli lemon pesto is bright and aromatic, and it comes together in right around 5 minutes. Toss it with pasta for a flavorful weeknight meal.