Week #15; There once was a day so hot …
There once was a day so hot,
That produce did threaten to rot.
''Twas hard for the crew
And prob'ly for you.
Fare well in the heat we did not.
Beth
Veggie List & Veggie Notes
Week #15, August 24/25, 2023
– Weekly shares
– BiWeekly/ purple
– Sampler/ C group
Bicolor sweet corn, 9 ears
'New Orchid' orange watermelon
Slicing tomatoes, 2.5 to 2.75 lb
Red peppers, 2 or 3, bell &/or frying peppers
Zucchini, 1 or 2
Cucumbers, ~2
Yellow onion
Basil, 1 sprig
Korean Red garlic
By site: Green beans (3/4 lb) OR 1 pint grape tomatoes
Next week's box will probably contain sweet corn, tomatoes, peppers, zucchini, basil, garlic and more.
'New Orchid' watermelon – This has a beautiful sherbet color, crisp texture and great flavor. It's a great variety.
Cucumbers – These might be the last cucumbers of the season. Sob.
Garlic – This is the Korean Red variety, large heads with lots of cloves.

If your Korean Red garlic has white papers, keep peeling and you'll find its beautiful purple color.
RECIPES by DEB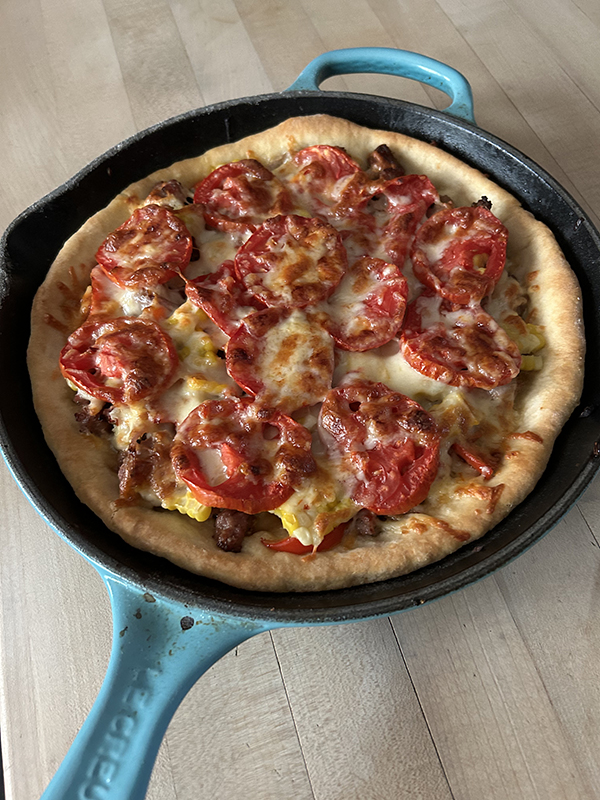 photo by debslunch
Quick Crust Deep Dish Pizza
Serves: 3-4
Takes: ~45 minutes, depending on what toppings you use!
This pizza is based on Jamie Oliver's Cheat's Deep-Pan Pizza. Jamie's is filled with sausage, onion, and pickled jalapeños and topped with cheddar, but you can use any type of summer vegetables, and add tomato sauce if you like (and have some around!). My version's filling is bulk Italian sausage, onions, garlic, corn, and red bell pepper topped with a combination of provolone and pepper jack and sliced tomatoes. The trick to this pizza is preparing the filling in a cast iron pan. That gets the pan hot and well greased, then you remove the filling and stretch the dough in the same pan, top, and bake in a hot oven. It's perfectly OK to omit meat and make your pizza vegetarian, just use the larger amount of olive oil when preparing the filling. The pizza needs to bake in a hot oven but only for a short time, so perfect for hot summer days!
Crust:
2 cups flour – I have only tested unbleached, but I'm sure adding part whole wheat would work just fine
3 teaspoons baking powder
1 teaspoon kosher salt
1 teaspoon sugar, optional
1/2 to 2/3 cup lukewarm water
1 tablespoon olive oil
Pizza:
1-3 tablespoons olive oil (the larger amount is recommended for a vegetarian pie)
8 oz. Italian sausage
3/4 cup sliced onion
2 cloves garlic
small amounts of dried oregano, fennel seed, red pepper flakes, optional
kernels cut from 1 ear of corn
half a bell pepper, sliced
OR about two cups assorted vegetables, OR less veggies and 1/3 cup prepared tomato sauce
1 generous cup grated cheese, your choice
sliced tomatoes for topping
julienned fresh basil leaves, optional
Make the crust: combine the flour, baking powder, salt, and sugar if using in a medium bowl. Add 1/2 cup water and the olive oil, and mix adding more water as needed to get a pliable dough, with no spots of dry flour. Turn the dough out onto a lightly floured surface and knead until smooth. Invert your scraped out mixing bowl over the dough and let it rest while you make the filling.
Make the filling: Heat the oven to 475°. Add 1 tablespoon olive oil to a 10-inch cast iron skillet over medium high heat. Add your sausage if using, and brown while breaking the meat into small chunks with a wooden spoon. Add onions, garlic, and optional herbs & spices, and continue to cook until onions are starting to caramelize, about 10 minutes. Add the corn and bell pepper, stir, and continue cooking until peppers are soft, another 5 minutes or so. For vegetarian pizza, start with 2 tablespoons of oil, add the onions and garlic, then any additional vegetables and spices you like. (Cubed zucchini from this week's box would be nice with corn!)
Assemble and bake the pizza: Turn the heat under the pan to low. Uncover your dough and roll out to a 9- to 10-inch circle. Scrape your filling into the mixing bowl that was covering the dough. If using meat, add more olive oil if the pan seems dry; if using vegetables only, add the 3rd tablespoon of olive oil. Fold your dough in half, gently – some people like to roll it around the rolling pin – and lay it in the pan. With your finger tips, carefully stretch the dough in the hot pan covering the bottom and going up the sides. If using sauce add it now, spread the filling over the crust, then rest of your toppings. Sprinkle the grated cheese over. If using fresh sliced tomatoes, make a layer of most of the cheese, arrange the tomatoes over the cheese, then top with the last of the cheese. Place in the oven and bake for 15-20 minutes until golden brown. Let rest 5-10 minutes before slicing. Top with fresh basil if desired. I like to remove the pizza from the pan to a cutting board to make it easier to slice.
Cucumber Caprese | Mark Bittman
From The Bittman Project
This is a formula, rather than a recipe, from Mark Bittman. Most of the content is behind a paywall but you can read Bittman's formula for Cucumber Caprese (and his dissing of more traditional Caprese with mozzarella), an interesting and refreshing way to eat up our summer cucumbers and tomatoes! Chunks of our slicing tomatoes can be subbed for the cherry tomatoes Bittman uses.
.
.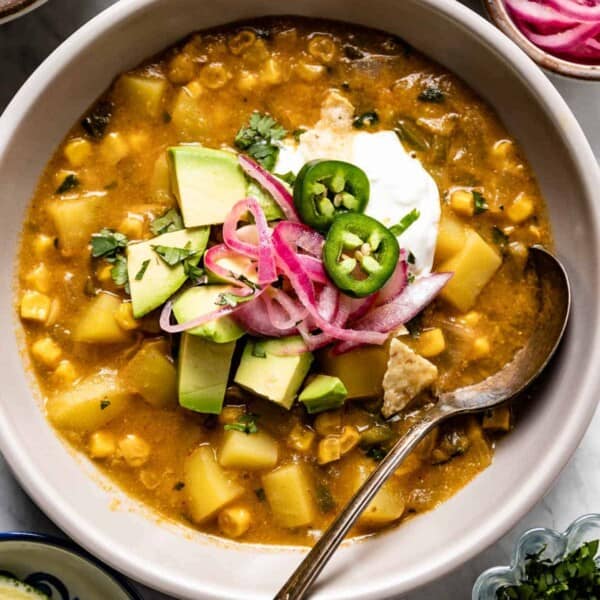 Mexican Street Corn Soup | Foolproof Living
From Foolproof Living
As I'm writing this it's 87° and feels like 92° outside, so soup might seem a bit off season. But in fact this soup could be prepared in the morning when it's cool, and reheated for a light supper, without your ever turning your oven on. It calls for potatoes, which do make it heavier – you could omit and increase the corn. The recipe suggests using kernels from 6-8 ears of corn to yield about about 4 cups of corn; I think you might not need that many ears. There are also suggestions for making the soup lower fat, and subbing bell pepper for the jalapeños. You can definitely adjust the toppings to your taste and what you have on hand.
.
.


photo by Julia Gartland
Nonnie's Tomato Pie Recipe | Food52
From Food52
This is a Southern-style tomato pie with mayonnaise in the filling so it does need to cool and set before cutting; the recipe recommends cooling 30 minutes. There's also a version at OuiChef, but the recipe on Food52 seems more updated, and provides better instructions for preparing and blind baking the crust, while still giving the option to use purchased crust if you like.
.
.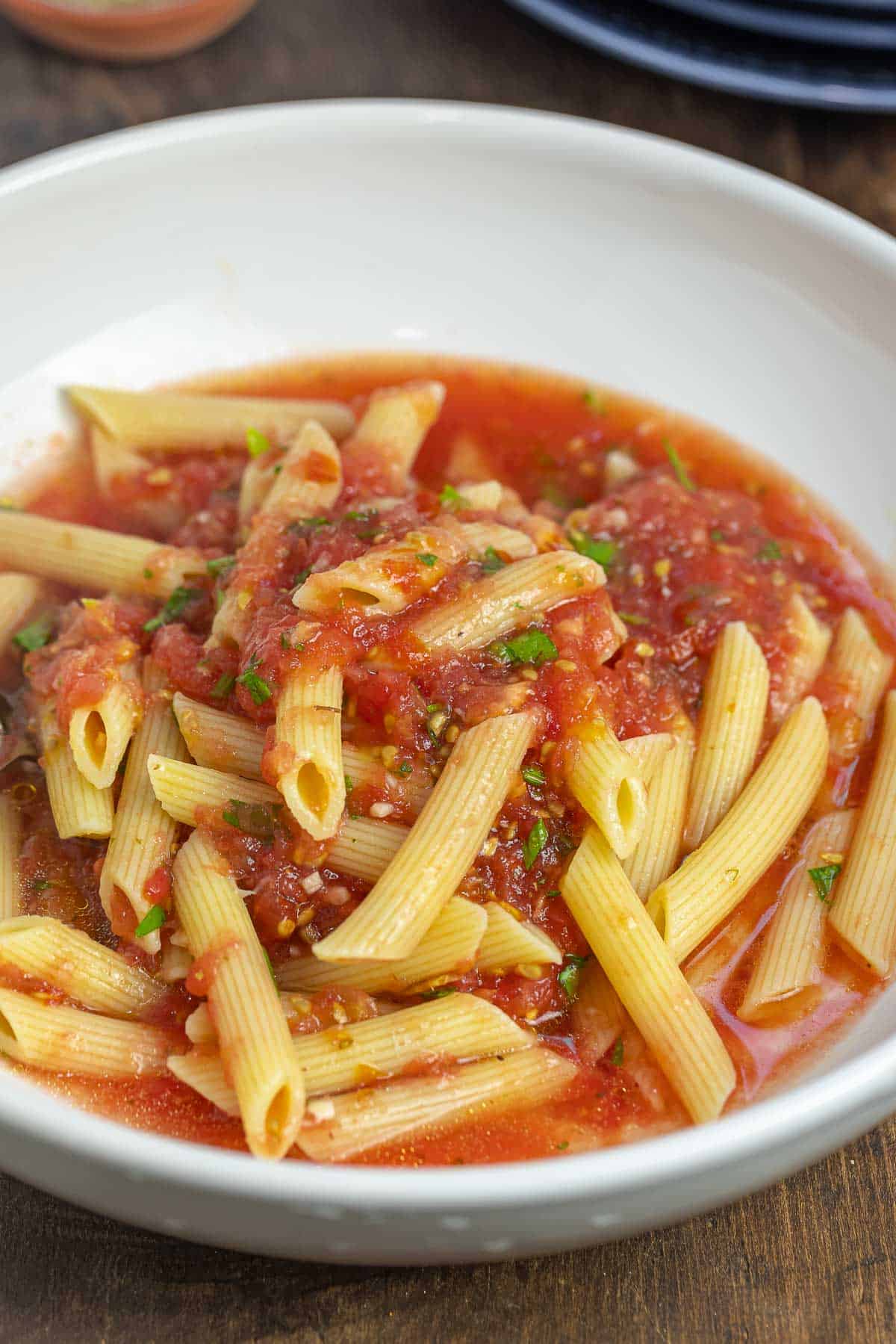 5-Ingredient No-Cook Tomato Sauce | The Mediterranean Dish
From the The Mediterranean Dish
The special technique in this no-cook tomato sauce is grating the tomatoes. You then mix in herbs and seasoning and a little olive oil, let the sauce marinate while you cook the pasta, add warm cooked pasta to the sauce, and serve. The recipe calls for parsley and dried oregano, but fresh basil from our box is a perfect substitution.
.
.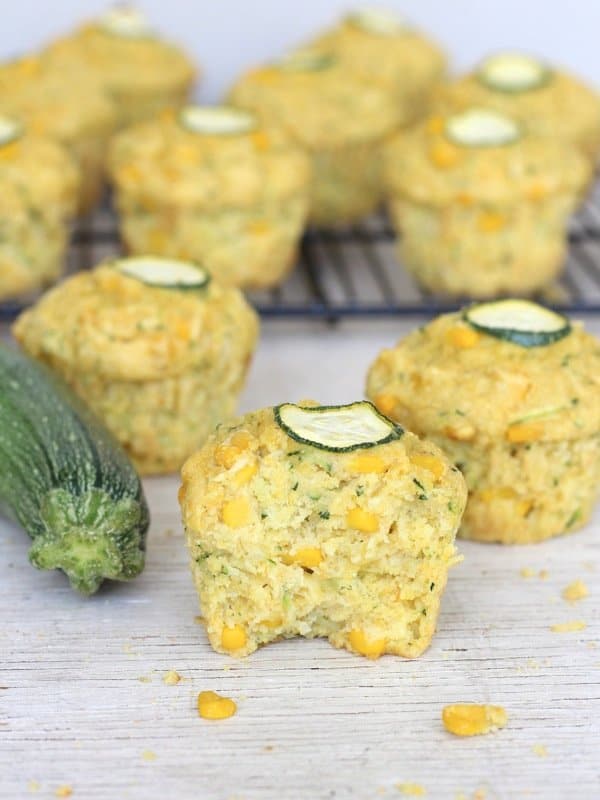 Zucchini Sweet Corn Muffins | The BakerMama
From the BakerMama
I have to admit that the zucchini garnish on these muffins throws me a bit – I'd probably leave it off! Regardless the combination of fresh corn, cornmeal, and zucchini in these moist and mildly sweet muffins is quite nice and they could accompany lots of different main dishes or be eaten for breakfast, lunch, or snacks.
.
.

Fresh Corn and Tomato Fettuccine Recipe | Taste of Home
From Taste of Home
This recipe instructs you to cook the corn with the pasta, still on the cob, which adds additional corn flavor to the pasta. If don't want to fish the corn cobs out of the pasta, you could boil the corn first in the same water, then remove and add the pasta. You can also sub regular onions for the green – cook them along with the bell pepper – and of course use fresh basil as a stand in for parsley.