Week #6; Strawberry U-Pick

We were pleased with how many kids came to the u-pick this year. We placed limits on how many berries each family could pick but that did not interfere with having a fun day at the farm.

Look at this stylish baby, dressed in a strawberry shirt!
For those who missed our berry u-picks, the next farm events will be tomato u-pick(s) later in the summer, then our fall gleaning and pumpkin u-pick. Let's discuss the berry u-picks, now that they are over.
We hope to have berries for everyone next year. Most years, we have enough u-pick berries for all the members who want them. Yields were low this year, due to frost and because we're down to five beds instead of seven. Next year's harvests will come from a new field. It's already planted and looking good.
We like the reservation system. It was essential during the pandemic and useful this year while berries were in short supply. We plan to continue with reservations for the rest of 2021, then will reevaluate next year. We realize not everyone was happy with the limits on picking, but we chose to prioritize offering u-pick to as many households as possible, over fewer people getting more berries. Sharing is always the right decision!
Tell us your thoughts. If you have suggestions or feedback on the u-picks, send us an email.
Reminder; July 1 payments
Many of you chose to pay in three installments. The final installment is July 1. If you chose to pay by credit card, the charge will be automatic. I'll deposit July 1 checks during the first week of July.
Better weed control than ever

A freshly cultivated and weeded celeriac field. The leeks at right are next. Both crops are in the field all season. Keeping them healthy and weeded in spring will double our yields later.
We've worked very hard on weed control this spring. Steve and I decided to hire slightly more staff (per acre) than usual, in hopes of getting our early weeding done on time. Time invested in June will pay off the entire season. So far, it's working. The dry weather helps enormously.

Top; Steve chops large bales of straw directly over a field of pepper plants.
Bottom, our crew spreads the straw to cover the ground and edges, but not the plants. From left, Karen, Matt, Anna, Ari, Zoe, and Billy.
We're experimenting with mulching our tomato and pepper fields with straw. We've tried this before with rotted leaves, but the leaves broke down too quickly and weeds took over. The straw will persist longer. We think covering the soil and controlling weeds will help with disease and insect problems on these crops. We'll see. The straw and extra labor are new expenses, but we hope the early efforts will pay off later with healthy crops.
Beth
Veggie List & Veggie Notes
Week #6, June 24/25, 2021
– Weekly shares
– EOW/ green
Strawberries, 1 pint
Fennel, 1 or 2 bulbs with fronds
Broccoli, 1 – 2 heads, ~2/3 to 1 lb total
Snow peas, 0.6 lb
Snap peas, 0.75 lb
(Both peas are in one bag.)
Collard greens, 1 medium bunch
Zucchini &/or yellow squash, a few
Lettuce, iceberg or red leaf
Scallions, 1 bunch
Next week's box will probably contain Caraflex cabbage, broccoli, zucchini/squash, scallions, and more.
Strawberries – Berries are perishable. Refrigerate and eat soon.
Fennel (bulbs and lacy fronds) – Fennel is a 'swing vegetable'; it can be used raw or cooked. Clean well and slice as thinly as possible for use in raw salads. It is good simply prepared with olive oil, lime or lemon juice, salt and shaved parmesan cheese. Cooking softens and sweetens fennel, and mellows its anise flavor. Both the bulb and leaves are edible. Here are ideas from Alice Water of Chez Panisse about how to use fennel: 'It's strong anise characteristic seems to suit fish particularly well. … We use fennel all the time. We add the feathery leaves to marinades for fish and to numerous salads, sauces and soups and we use them as a garnish, too. … The bulbs are sliced and served raw in salads in various combinations with other vegetables, parboiled for pastas; caramelized and served as a side dish; braised whole; or cooked in vegetable broths & fish stocks."
Snap peas and snow peas. Both types have strings to remove. Snap off the stem end and pull the string down the concave side of the pod (the inward-curing side). Throw away the string and eat the pod. The thicker pea pods will usually have a string along both edges. Remove them when you snap off the stem.
– Snap peas (plump pea pods) – These peas should be eaten pod and all. They are delicious raw, or very lightly cooked or stir-fried. Preparation: They will need a quick rinse to remove faded gray blossoms. Storage: Refrigerate.
– Snow peas (larger, flatter pea pods) – These are excellent stir fried or in raw salads.
Zucchini & summer squash – Zucchini and summer squash need refrigeration but do not do well at very cold temperatures, as they will soften and form pits in their surface. Refrigerate these squash but in the warmest part of your fridge. These early squash are still rather lumpy because of incomplete pollination. This happens every year.
Collard greens (modest bunch of flat green leaves) – Oh, these are nice right now; young and tender.
Storage: Cover and refrigerate.
RECIPES from PHOEBE
Visit our 2020 Recipe Log or our 2019 Recipe Log or join our Facebook discussion group.
Cold Peanut Noodles with Snow Peas and Scallions
Make this recipe gluten-free by using 100% buckwheat soba noodles and tamari instead of soy sauce.
Serves 2-4
Prep time: 20 minutes
Cook time: 11 minutes
Ingredients
For the peanut sauce:
1/4 cup natural creamy peanut butter
1 1/2 tablespoons tamari or soy sauce
1 tablespoon rice vinegar
2 teaspoons honey
1 teaspoon toasted sesame oil
1/4 teaspoon ground ginger
1-2 tablespoons water
For the noodles:
1/2 cup frozen shelled edamame
6 oz snow or snap peas, sliced in half on the bias
5 oz soba noodles (or 2 bundles from an 8 oz package)
1-2 scallions, thinly sliced on the bias
Crushed peanuts, for serving
Sriracha, for serving
Make the peanut sauce: In a small bowl, stir together the peanut butter, tamari, rice vinegar, honey, sesame oil, and ginger. Add water, 1 tablespoon at a time, to thin the sauce to your desired consistency. Set aside.
Bring a pot of salted water to a boil and place a large bowl of ice water nearby. Drop the edamame into the boiling water and blanch for 3 minutes. Add the snow peas to the pot and cook for 1 minute more, until all the vegetables are tender, but still bright green. Drain and transfer to the ice bath to stop the cooking process. Let chill for 2 minutes. Drain the vegetables and transfer them to a kitchen towel to dry. Wipe out the bowl and set aside.
Bring a pot of unsalted water to a boil, and cook the soba noodles according to the package directions. Drain and rinse under cool water. Toss with a drizzle of sesame oil to prevent sticking.
Add the noodles, edamame, and snow peas to the large bowl and toss with the peanut sauce. Season to taste with more tamari, sesame oil, and rice vinegar as desired.
Divide the noodles among plates or bowls and top with the scallions, crushed peanuts, and drizzles of sriracha.
Shaved Fennel and Snap Pea Salad with Cherries and Lemon
You can toast the sunflower seeds on the stove or in the oven for this recipe – whichever you prefer. To toast them on the stove, add them to a small, dry skillet over low heat and cook, stirring often, until fragrant. Otherwise, preheat the oven to 350°F. Spread the sunflower seeds in single layer on a baking sheet and toast for 5 minutes. Transfer to a separate plate or bowl to cool.
Serves 4
Prep time: 20 minutes
Cook time: 2 minutes
Ingredients
3 scallions
2 tablespoons extra-virgin olive oil
2 tablespoons fresh lemon juice
1 1/2 teaspoons lemon zest
1/2 teaspoon sea salt
1 fennel bulb, sliced paper-thin
8 oz snap or snow peas
1/4 cup tender fennel fronds, roughly chopped
1/4 cup toasted sunflower seeds
2 tablespoons dried tart cherries
Freshly ground black pepper
Use a sharp knife to thinly slice the scallions on the bias. Place them in a bowl of ice water to chill for 15 minutes.
In a large bowl, whisk together the olive oil, lemon juice and zest, and salt. Add the shaved fennel and toss to coat. Set it aside to marinate while you prep the remaining ingredients.
Bring a large pot of salted water to a boil. Meanwhile, use a slotted spoon to scoop the scallions out of the ice water and onto a kitchen towel to dry. Reserve the bowl of ice water.
Drop the snap peas into the boiling water and blanch for 1-2 minutes, or until tender but still bright green. Drain and transfer to the ice water to stop the cooking process. Let chill for 2 minutes, then drain and transfer to a kitchen towel to dry.
Slice the blanched snap peas in half on the bias. Add them to the bowl with the fennel along with the scallions, fennel fronds, sunflower seeds, dried cherries, and several grinds of pepper. Toss to combine, season to taste, and serve.
Double Fennel Pasta with Parmesan and Garlic
Serve this pasta as-is, or top it off with toasted breadcrumbs or pine nuts for crunch! Red pepper flakes would be delicious here too.
Serves 4
Prep time: 15 minutes
Cook time: 30 minutes
Ingredients
1/4 cup extra-virgin olive oil
8 garlic cloves, thinly sliced
1 fennel bulb, thinly sliced
12 oz spaghetti or linguine pasta
2 tablespoons white wine vinegar, divided
1/4 teaspoon sea salt, more to taste
1 cup freshly grated Parmesan cheese, more for serving
1 cup tender fennel fronds, roughly chopped
Freshly ground black pepper
Bring a large pot of salted water to a boil.
Add the olive oil to a large skillet over medium heat. When it shimmers, add the garlic and cook, stirring often, until it begins to brown around the edges, 3-5 minutes. Reduce the heat as necessary to avoid burning. Use a slotted spoon to scoop the garlic out of the skillet, leaving the oil behind. Set the garlic aside.
Add the fennel and a generous pinch of salt to the skillet and cook, stirring occasionally, until it is very soft and beginning to brown, 10-15 minutes.
Meanwhile, cook the pasta. Drop the pasta into the boiling water and cook until al dente, following the package instructions. 2 minutes before the pasta is ready, scoop 3/4 cup of the starchy pasta water out of the pot and set aside. Drain the pasta and toss with a drizzle of olive oil to prevent sticking.
When the fennel is tender, stir 1 tablespoon of the white wine vinegar into the skillet. Cook for 30 seconds. Add the pasta and toss to coat. Sprinkle the salt and half the Parmesan cheese over the pasta. Pour in half the reserved pasta water and use tongs to toss the pasta and evenly incorporate the cheese. Add the remaining Parmesan and pasta water and toss until a light sauce coats the pasta. Add the remaining 1 tablespoon vinegar and the fennel fronds and toss again.
Season to taste with salt and pepper and serve with more Parmesan cheese, if desired.
These "chips" are fun and delicious way to celebrate zucchini season! Enjoy them on their own, or serve them with marinara or romesco sauce for dipping.
.
.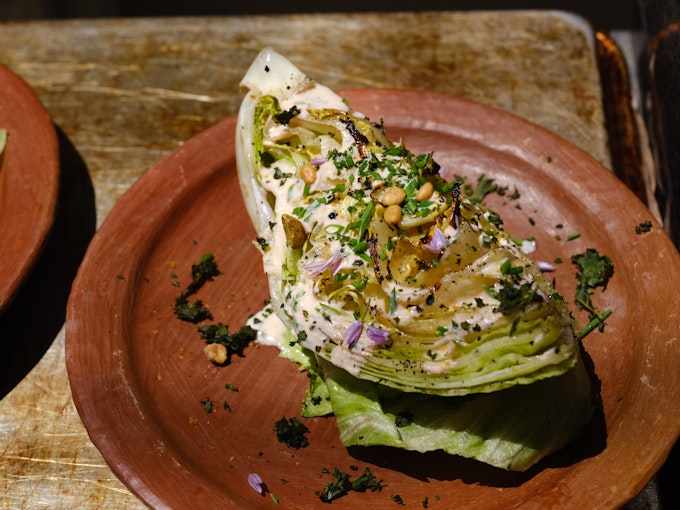 Photo by Heidi Swanson
This dressing and topping combination will work well on grilled or raw lettuce – note that you should only try grilling your lettuce if you got iceberg in your box this week. To use the box produce, replace the chives in this recipe with half the amount of minced scallion tops.
.
.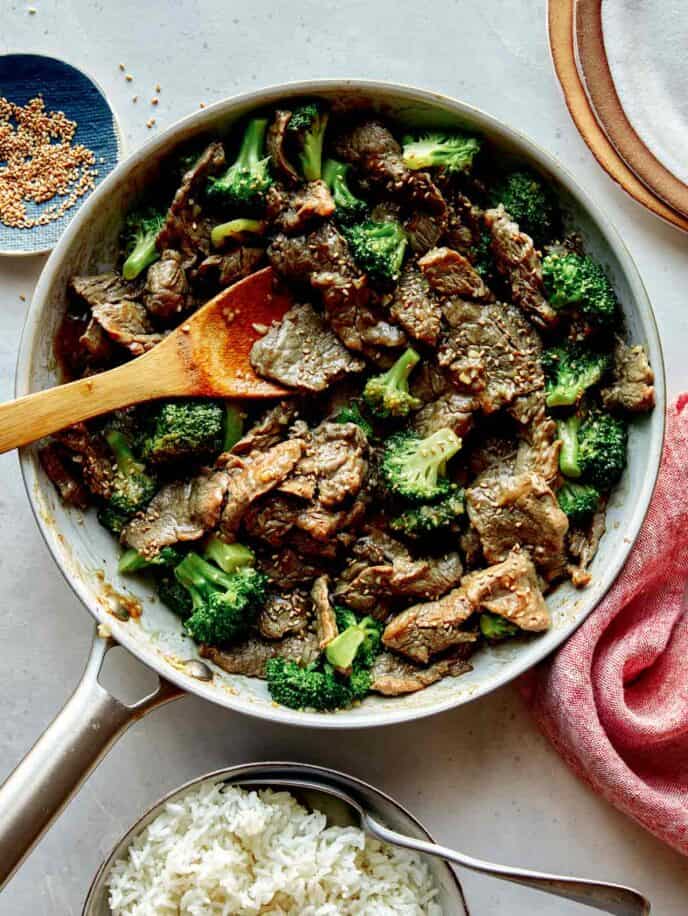 Photo by Spoon Fork Bacon
This recipe calls for a few ingredients you might not have in your pantry – notably oyster sauce and Shaoxing wine. If you're not able to find them, try replacing the oyster sauce with a mix of hoisin and soy sauce or a scant amount of soy sauce plus an extra pinch of brown sugar. Omit the Shaoxing wine, or substitute dry sherry or cooking sherry.
.
.


Photo by Minimalist Baker
A quick and easy way to use the collards in this week's box! Make a half recipe, using all collards instead of a mix of collards and kale. Skip the shallot, or replace it with a few sliced scallions.
.
.


Photo by Smitten Kitchen
A comforting, delicious, and kid-friendly way to use the broccoli in this week's box.
.
.


Photo by Jack Mathews
Speaking of kid-friendly recipes… No one will guess that there's a vegetable inside this moist, chocolatey bread!