Monthly Archives:
July 2021

Sweaty, sweaty garlic harvest.
It's taken a few weeks but all our garlic bulbs are harvested and drying under cover somewhere on the farm. It's a big project, especially because we increased the size of the planting this year.
There's always some drama about when to begin the harvest. I watch how the plants are maturing and make the call once I think the bulbs and surrounding papers are ready. We often begin garlic harvest later than other farms, I think because our winter straw mulch is thick. Usually we bring the crop in steadily over a few weeks. With this year's heat, the garlic matured quickly and we had to finish the harvest in a few long days.
We run an undercutter through the field to lift the bulbs, then shake the dirt off, wash the roots, and move the trimmed plants indoors to dry.

Most of the garlic is upstairs in our barn loft. It's warm, dry and away from light, perfect for curing garlic. We lay the plants on overturned wooden bins that we'll use for carrot harvest in fall. We store the bins in the loft when not in use, and they make a perfect surface to cure the garlic.

It's pretty exciting to see it laid out like this. We'll save the largest bulbs to plant this fall for next year's garlic bulbs. The smallest bulbs will be planted to harvest as green garlic next spring, but the rest is for you folks! We'll start packing garlic in the CSA shares once it's dry enough to peel.
Thanks for reading.
Beth
Veggie List & Veggie Notes
Week #11, July 29/30, 2021
– Weekly shares
– EOW/ purple
– Sampler/ sun
Sweet corn, 8 or 9 ears
Green beans, ~1 lb
Cucumbers, 3 or 4
Zucchini, several
Green bell peppers, 3
Cherry tomatoes, 1 pint
Slicing tomato, 1
Beets, 2 lb
Walla Walla onion, 1 or 2
Basil, 1 sprig
– Some sites get muskmelon.
– Some sites get yellow watermelon.
– Some sites get red watermelon.
Next week's box will probably contain melons, tomatoes and more.
Sweet corn – Ears are smaller this week, as we've switched varieties. Many of the ears have bug damage so I offer the same advice as last week. I suggest cutting off the tips before shucking the corn. Sweep the trimmed tips into the compost and you will never see the bugs.
Storage. Sweet corn is best when fresh, so we encourage you to eat it asap. Store in the refrigerator, in the husks if you have the room, or husked in a plastic bag.
Cooking. It is quicker to steam sweet corn than to boil it.
1.) Stand ears of corn upright in a tall pot. Put one inch of water in the pot.
2.) Bring the water to a boil. If the corn is cold when you begin cooking, steam for 5 – 6 minutes. If the corn starts at room temperature, steam for 4 – 5 minutes. The cooking time will vary somewhat depending on how many ears are in the pot. Pay attention to how the corn smells. The scent changes once the corn is ready. Another clue: water will bead on the corn until it is cooked. Don't overcook it.
Green bell peppers – These first beauties are fragrant and crisp. One site gets 1 red bell pepper + 2 green bells. There were a few surprises in the pepper patch! Everyone else gets 3 green bells.
Cherry tomatoes – Eat soon. Store in the refrigerator. Cherry tomatoes are more resistant to chilling damage than slicing tomatoes.
Slicing tomatoes – Everyone gets one tomato!
Beets – Storage: Cover and refrigerate. Beet roots will store for months. Wash well to remove leaf fragments. For all the cooking methods below, wash and scrub the beets but do not peel. The skins slip off easily once the beets are cooked and cooled.
Cooking beet roots on the stovetop: Slice or quarter, cover with water in a pot, and simmer until tender. This will take from 25 to 45 minutes depending on how large the beet pieces are. Drain.
Roasting beets in oven: Wash beets, but do not peel. On a sheet of aluminum foil, put beets (halved or quartered if large), salt, pepper and a few sprinklings of water. Seal the foil packet, and roast at 400 oF until tender, about 45 minutes to 1 hour. Slip off skins once cool.
Microwave: Slice beets in half and place in a large microwave-proof bowl. Add ¾ inch water and cover with a plate. Microwave on high until tender, about 9-20 minutes, depending on your microwave's power. Drain and slip off skins.
Uses: Use cooked beets in cold salads, or dress simply with vinaigrette, onions, salt and pepper. Beets are also good tossed with sour cream, minced onion, fresh herbs and walnuts.
Basil (one sprig) – There's minor damage from Japanese beetles this week. They love basil.
Muskmelons (some sites) – Some are ripe and ready to eat. Some need to ripen a day or two on your kitchen counter. Keep at room temperature but refrigerate if not eaten within 2 – 3 days.
Red watermelon (some sites),
Yellow watermelon (some sites) – These are seeded melons. If uncut, watermelon can be stored at room temperature for a week. Refrigerate once it's cut.
RECIPES by DEB
Visit our 2020 Recipe Log or our 2019 Recipe Log .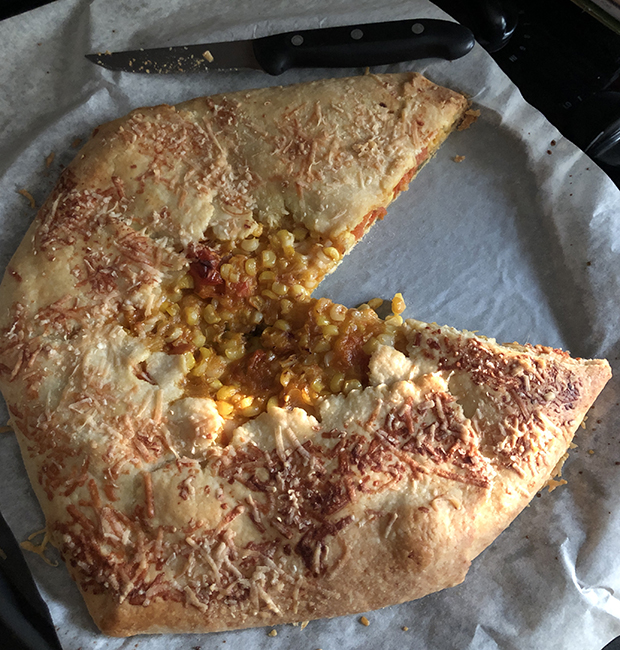 Burst Cherry Tomato & Corn Galette with Cornmeal Crust
Serves 5-6
Takes about 45 minutes to assemble, not counting chilling the crust, and about 25-30 minutes to bake
This is my riff on a Smitten Kitchen recipe, with more corn, less squash, and a bit of cornmeal adding extra crunch to the crust.
Crust:
1 1/4 cups all purpose flour
1/4 cup yellow cornmeal
2 teaspoons sugar
a good pinch of kosher salt (or use salted butter)
1 stick of butter
1 tablespoon vegetable shortening
3-4 tablespoons cold water
Combine the flour, cornmeal, salt, and sugar in the bowl of a stand mixer – or in a large mixing bowl. Slice the butter and vegetable shorting into the bowl, and cut in the shortening until it resembles coarse crumbs using the paddle attachment for the mixer, or a pastry blender, or two knives or your fingers. Switch to a fork if mixing by hand. Drizzle in the water a tablespoon at a time, mixing, until the dough clumps. Shape into a disk, wrap in plastic or wax paper, and chill while you're making the filling. I use a pastry cloth for rolling out the dough and wrap it in that.
Filling:
about 2 tablespoons of olive oil
one large shallot or about 1/3 cup chopped sweet onion, white or purple
the kernals cut from 2-3 ears of corn
2 cups cherry tomatoes OR 2 cups tomatoes, peeled, seeded, and diced – if you want to save your cherry tomatoes for eating!)
big pinch of Kosher or coarse salt
salt and freshly ground pepper
3/4 cup grated cheese of your choice (Swiss is tasty)
2-3 tablespoons basil pesto, store bought is perfectly OK
milk or half & half for brushing
2-3 tablespoons grated Parmesan
Warm the olive oil in deep wide skillet, and add the shallot. Saute a few minutes until softened and then add the cherry tomatoes. Cover, and shake the pan to roll the tomatoes around and listen for them to burst. I find I have to uncover the pan and smush some for them with a spoon. When the cherry tomatoes are mostly burst, add the corn. If you are using diced tomatoes, add corn and tomatoes to the shallots, and then proceed as follows. Cover the pan and cook about 5 minutes until the corn is cooked. Uncover and cook until most of the liquid is evaporated – which might take a bit longer with juicier diced tomatoes. Transfer the filling to a large plate or metal pan and spread it out to cool – you can even stick it in the fridge – so that it won't melt the crust when you assemble the galette.
Assemble the galette: Heat oven to 375°. On a floured surface – I like a pastry cloth – roll the dough out into a rough circle, as big as you can get it – I think mine was about 16 inches. Transfer the crust to a parchment-lined baking sheet; I used a 14-inch dark colored pizza pan – dark is good for a crisper crust. I fold the dough gently in half, without pressing down, just kind of flop it, then unfold it onto the baking pan. Spread the pesto on the crust, then top with the grated cheese, and the cooled filling. Fold the edges of the crust over the filling, brushing with milk as you go, pleating the edge to make it fit. The center will be open. Brush the crust with more milk, and sprinkle with the Parmesan.
Bake the galette 25-30 minutes, or until puffed and golden brown. Remove from the oven and let stand for 5 minutes. Cut into wedges and serve hot, warm or at room temperature.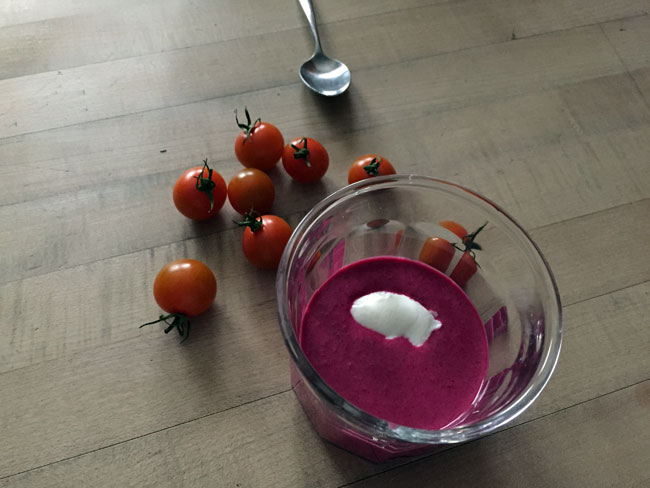 Sweet Sour Cold Beet Borscht
Serves about 6
About 40 minutes to prepare, plus time to chill
Based on my grandma Mollie and Mollie Katzen, this is a meatless sweet sour soup that's a beautiful color.
1 1/2 pounds of beets
3 cups of water
1 teaspoon salt
2 tablespoons lemon juice
3 tablespoons sugar or honey
2 cups buttermilk
Optional garnishes: chopped fresh dill; cucumber – peeled, seeded, and grated; chopped pickles; sour cream
Trim and peel the beets, and place them in medium sauce pan with the water and salt. Bring to a boil, then partially cover and lower the heat and simmer until the beets are tender – about 20-30 minutes. Remove the beets with a slotted spoon, and transfer the water to the container you plan to chill the soup in. Add the lemon juice and sugar to the water. When the beets are cool enough to handle, grate them and add them to the container. Cover and chill until very cold.
When you're ready to serve, add the buttermilk, and taste for seasoning. Serve with the optional garnishes.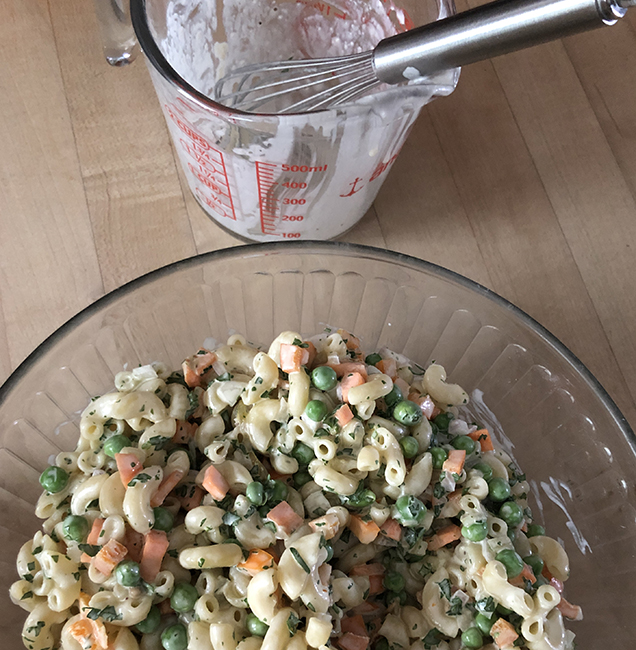 Suitable-for-picnics Macaroni Salad
Takes 30 minutes not counting chilling
Makes 8-10 servings
Salad:
1/2 pound elbow macaroni
3/4 cup frozen peas – or green beans, cut into 1-inch lengths and cooked till tender
1 bell pepper diced
1 carrot peeled and diced
1/3 cup finely chopped sweet onion or purple onion
3 tablespoons chopped parsley, or basil, or dill
Dressing:
1/2 cup mayonnaise
1 tablespoons sweet pickle relish (recipe in the week 9 newsletter)
1 tablespoon lemon juice
1 tablespoon sugar
1 tablespoon cider vinegar
A few shakes of hot pepper sauce, like Frank's, or to taste
Boil the macaroni in salted water until it's tender. Place the peas (if using) in your colander and pour the hot macaroni over to thaw. Rinse with cold water and allow to drain. Combine the green beans (if using), bell pepper, carrots, and onion in a large bowl. Add the macaroni. Whisk together the dressing ingredients, pour over the salad and mix well. Taste for seasoning, and chill. You might need to add a bit more mayo before serving.
.
.


Photo by Kate
Vegetarian Stuffed Peppers Recipe
From Cookie + Kate
cookieandkate.com/vegetarian-stuffed-peppers-recipe/
This recipe will work equally well with the green peppers we got this week. I really like the technique of roasting the peppers before you stuff them; I had always cooked them in water!
.
.


Photo by Jenn Segal
Corn, Zucchini & Tomatoes with Goat Cheese
Once Upon a Chef
www.onceuponachef.com/recipes/corn-zucchini-tomatoes-with-goat-cheese.html
Walla Walla onion can step in for the shallots.
.
.


Photo by James Ransom
Jennie Cook's Zucchini Butter Recipe
Food52
food52.com/recipes/23071-jennie-cook-s-zucchini-butter
This recipe has been my go-to for lots of zucchini since it went on Food52 in 2013. Even though it's called zucchini butter, it can be made dairy-free, and it's good on toast as shown, folded into scrambled eggs, and can be frozen. Defrost it in December and spoon over a log of goat cheese for a fancy appetizer at your holiday parties!
.
.


By Doreen Colondres
Pasta with Fresh Green Beans, Corn & Basil
From The Kitchen Doesn't Bite
www.thekitchendoesntbite.com/index.php/recipes/starving/1340-pasta-with-fresh-green-beans-corn-basil
A quick pasta recipe that can be served hot or cold.
.
.


Photo by Loren Runion
Cucumber Cream Cheese Tea Sandwiches Recipe
From The Spruce
www.thespruceeats.com/cucumber-cream-cheese-tea-sandwiches-recipe-765606
The author of this recipe suggests that several of the tasks in making these sandwiches are suitable for kids, and might even teach geometry!