Week #15; Tomato Care

Ripe (top) and less ripe tomatoes (bottom).
We are heading into peak tomato season. Ripe tomatoes are delicious but highly perishable so let's talk about how to take care of the ones you receive.
Ripeness: Each delivery, we pack a mix of ripe and less-ripe tomatoes so you can stretch them through the week. In the photo above, the top tomatoes are ready to eat. The bottom tomatoes can ripen at room temperature for a few days.
Storage: Tomatoes retain their best flavor and texture when stored at room temperature, no lower than 55 F. I encourage you to spread your tomatoes on plates so you can watch them. Eat first the ripest ones or any showing flaws.
However, you should refrigerate your tomatoes if they are fully ripe and you don't expect to eat them right away. It is better to sacrifice a little flavor and texture than to let your tomatoes spoil. Also, fully ripe tomatoes are less sensitive to chilling injury.
They will need washing: Expect to wash your tomatoes. We handle the ripe tomatoes as little as possible to avoid bruising.
(Left) The yellow arrow shows small inconsequential flaws that will grow with time. Eat now.
(Right) The purple arrows show leaf residue bits stuck to the tomato. Wet the tomato and the residue will come right off.
This week's pepper ID

Left; everyone gets one bell pepper (top, blocky) and one frying pepper (bottom, slender).
Right; everyone gets one 'purplish' bell pepper, somewhere on this spectrum of shades. They are absolutely gorgeous as they ripen from purple to pale purple to orange to red.
Veggie List & Veggie Notes
Week #15, August 26/27, 2021
– Weekly shares
– EOW/ purple
– Sampler/ sun
Sweet corn, 8 ears
Red watermelon
Plum tomatoes
Slicing tomatoes
(About 4 lb total, all in one bag)
Red peppers, ~2, bell or frying
Purplish bell pepper, 1
Zucchini &/or yellow squash, a few
Cucumber, 1 – 2
'Expression' onion, 1
Cilantro, 1 bunch
Jalapeno chile (hot), 1
Garlic, 1 bulb
Next week's box will probably contain tomatoes, peppers, and lots of summer veggies.
Peppers – The red and purple peppers are all sweet this week.
Jalapeno (small, dark green) – This is a hot chile.
RECIPES from DEB
Visit our 2020 Recipe Log or our 2019 Recipe Log.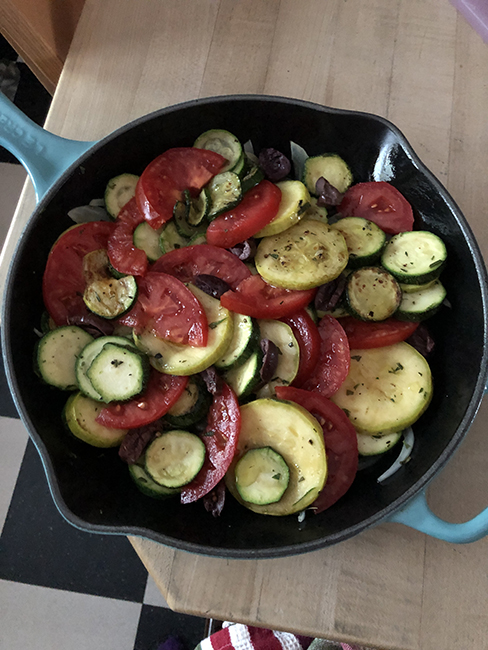 Zucchini & Tomato Tian with Olives
Adpated from Deborah Madison's "The Savory Way"
Makes 4 servings
Takes about 20 minutes to assemble and 35 minutes to bake.
One nice thing about this dish is that it can be served warm or at room temperature, so on a hot summer day it can be be baked in the cooler morning for serving later. It's also a great brunch dish, served accompanied by scrambled eggs with cheese.
about two tablespoons of olive oil
1 onion, peeled and thinly sliced, pole to pole (1 1/2 to 2 cups slices)
2 garlic cloves, peeled and slivered
2 tablespoons chopped fresh herbs (parsley, sage, rosemary, thyme) if available or 1 1/2 teaspoons dried thyme or herbes de Provence
salt and freshly ground pepper
1 1/4 pounds zucchini or summer squash sliced into thin rounds
1/2 pound plum tomatoes, sliced into rounds
4 black olives (like Kalamata) pitted and sliced into quarters
Heat the oven to 375°. Lightly oil a shallow baking dish that holds about 6 cups. Warm a scant tablespoon of the oil in a skillet and cook the onions over medium heat until they are softened, about 5 minutes. Transfer them to the dish, and add half the herbs. Warm another tablespoon of oil in the same skillet and cook the zucchini with a little salt, stirring frequently, until it starts to color. Add the rest of the herbs, and distribute the zucchini over the onions in the baking dish. Tuck in slices of tomato and olives, and drizzle the remaining olive oil over the top. Cook covered for about 25 minutes, then uncover for another 10 or so to evaporate the juices.
.
.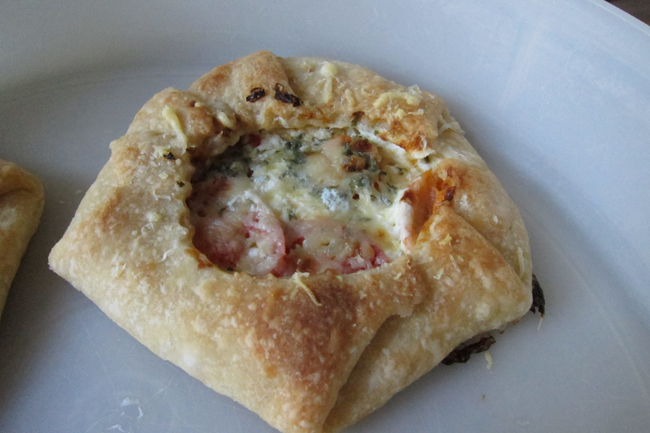 Tomato Hand Pies
Makes 4-5 large pies
Takes about about an hour not counting chilling time for the crust. Instead of a homemade crust you could make these with store bought puff pastry; instead of pleating the edges, a flop-over and crimp style is recommended – something like this.
Pie crust:
1 1/2 cups flour (unbleached white or whole wheat)
good pinch salt, unless you're using salted butter
2 teaspoons sugar
1/2 cup butter, either salted or un- (1 stick, 8 tablespoons)
1 tablespoon vegetable shortening or lard
1 tablespoon sugar
2-4 tablespoons cold water
Filling:
3-4 Roma tomatoes, or 2-3 slicing tomatoes
1/4 to 1/3 cup pesto
4-6 ounces mozzarella or Provolone, grated (a generous cup of grated cheese)
4-6 tablespoons cup grated Parmesan
egg wash: 1 egg beaten with a splash of water
Make the crust: measure the flour, salt and sugar into the bowl of your stand mixer (my favorite method), your food processor, or a mixing bowl. Slice the butter and shortening over the top and combine with the flour mixture, using the paddle attachment of the mixer, by pulsing the processor, or using a pastry blender, 2 knives or your fingers, until you have a crumbly mixture with no butter lumps bigger than currants. With the mixer or processor running, or while stirring with fork, drizzle in the water by tablespoons, until the mixture just starts to come together in clumps. Stop before you have one big ball. Turn the crust out onto a floured surface and knead lightly to bring it together. Gather it into a ball, flatten into a disk, wrap (in plastic, wax paper, one of your reusable snack/sandwich bags), and chill for about an hour, and up to 2 days.
Assembly: If the dough has been chilling, get it out of the fridge about 15 minutes before you want to roll it out, to soften just a bit.
Slice the tomatoes and arrange them on paper or dish towels to drain. Grate the cheeses.
Heat the oven to 400° and line a large baking sheet with parchment paper.
Roll out the dough and cut it into 4 or 5 rough squares, each approximately 6 inches. Brush each square with some of your egg wash, and spread some pesto in the center. Arrange about 3 tablespoons of the mozzarella over the pesto, and top with as many tomato slices as will fit. Seal the pies by pleating the edges, brushing with more egg wash as necessary to make them stick. Use 2-3-inch round cookie cutter to cut a center opening. Sprinkle Parmesan over the top. Bake for 20-25 minutes until the cheese is melted and the crust is nicely browned.
.
.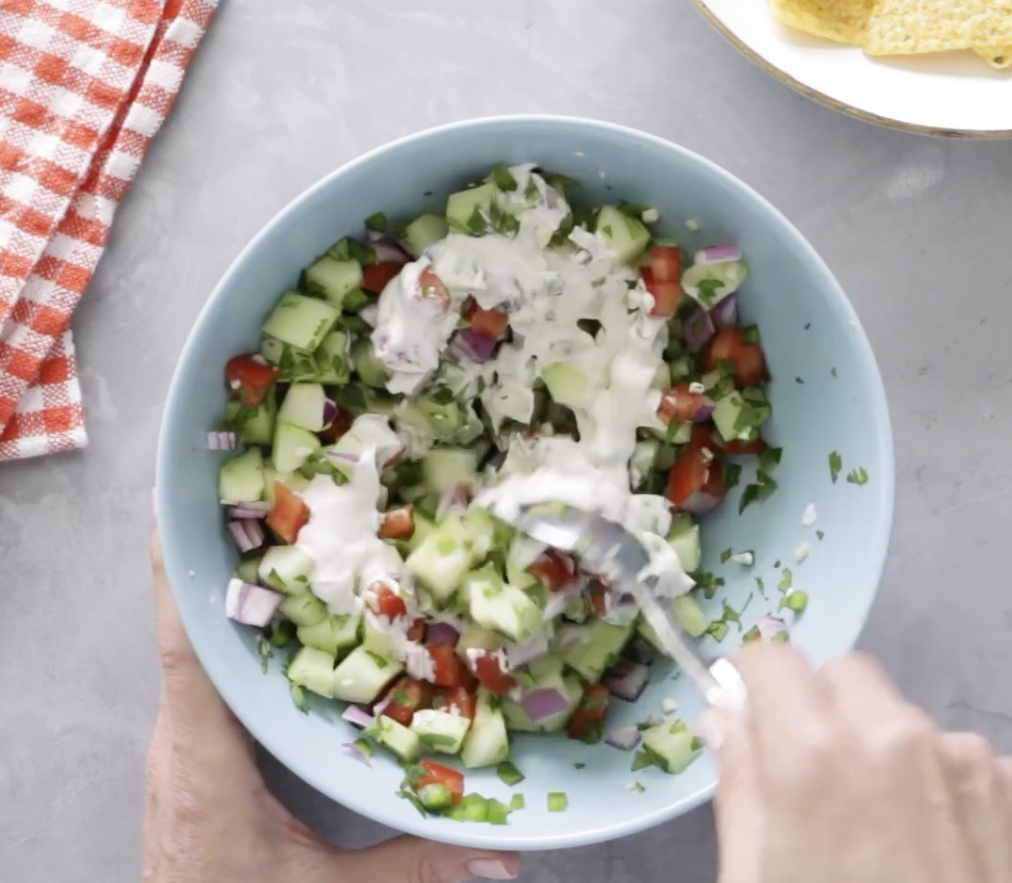 Photo by Taste of Home
Creamy Cucumber Salsa
Adapted from Taste of Home
This mildly spicy salsa has the sour cream mixed in, rather than served alongside.
Makes about 2 cups
Takes about 20 minutes
2 cups chopped cucumber, peeled and seeded
1/2 cup chopped seeded tomato (cut the tomatoes in half and squeeze to remove the seeds)
1/4 cup chopped onion, purple or white
1 jalapeño pepper, seeded and finely chopped – leave seeds in for more heat, or omit for less
1/4 cup chopped cilantro, leaves and tender stems only
1 garlic clove, minced or put through a press
1/4 cup sour cream
1 tablespoon lemon or lime juice – or a combination
1/2 teaspoon ground cumin
optional: 1/4 teaspoon seasoned salt, or Old Bay
Tortilla chips for serving
Combine the cucumber, tomatoes, onion, jalapeño, cilantro, and garlic in a medium bowl. Whisk the sour cream and lemon juice together, add the spices, and pour over the vegetables. Mix well, and serve with tortilla chips.
.
.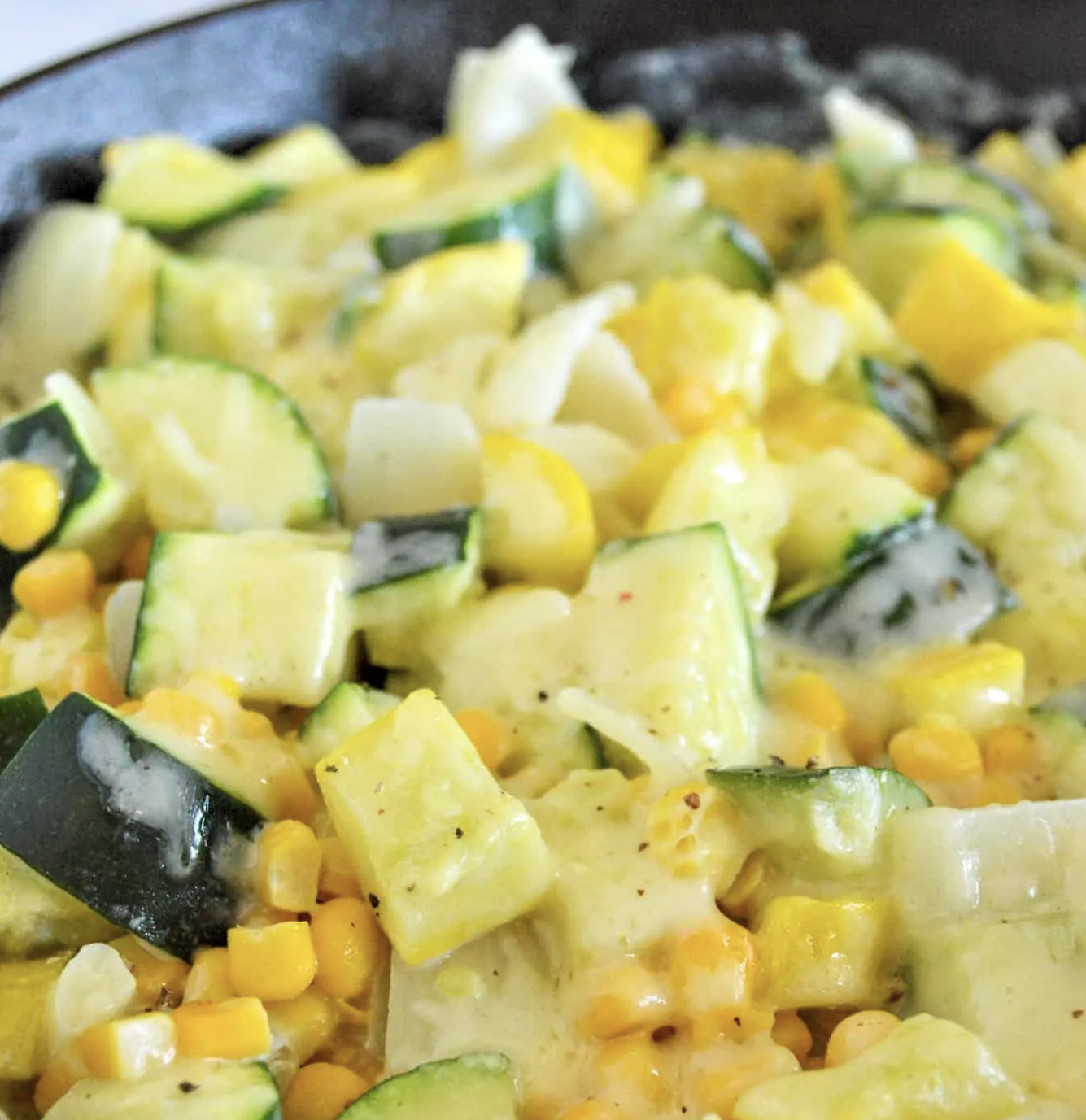 Calabacitas
Calabacitas translates to zucchini, but in New Mexico it's most frequently this mixture of corn, zucchini, onions, and cheese. It's great as a side dish, and can also be used as an enchilada filling.
Makes 6 servings
Takes about 25 minutes
1 tablespoon butter
1 medium onion, chopped fine
1 clove garlic, minced or put through a press
2-3 medium zucchini squash, cubed
optional – 1 jalapeño pepper, seeded, minced
salt & freshly ground pepper
kernels cut from 2-3 ears of corn – 2 1/3 to 3 cups
1/3 cup half and half
generous 1/2 cup Colby or cheddar cheese, shredded
Melt the butter in a large skillet. Add the onion, and cook over medium heat until the onion softens, about 5 minutes. Add the garlic, zucchini, and jalapeño if using, season with salt and pepper, and continue to cook until the zucchini is starting to soften, 5-10 minutes. Add the corn, cover, and cook until the corn is softened, another 5 minutes. Stir in the half and half, top with the cheese, cover, and turn off the heat and let stand a few minutes to melt the cheese
.
.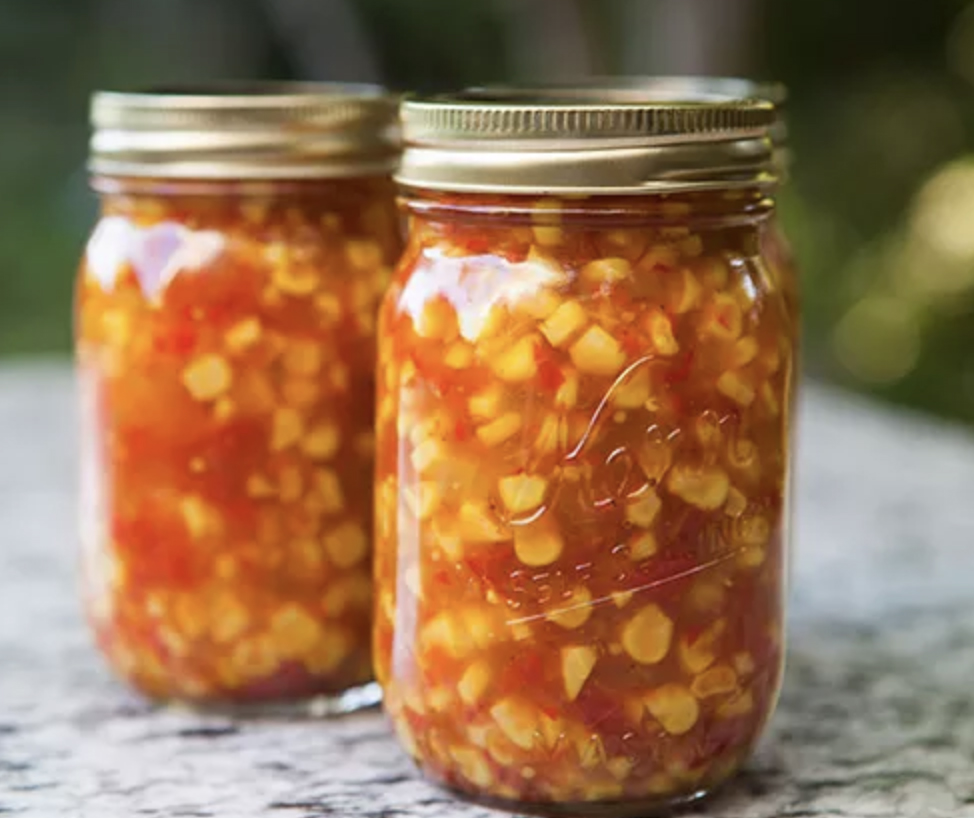 Photo by Elise Bauer
Homemade Corn Relish
From Simply Recipes, the author recommends this relish on hot dogs, which sounds delicious to me.
.
.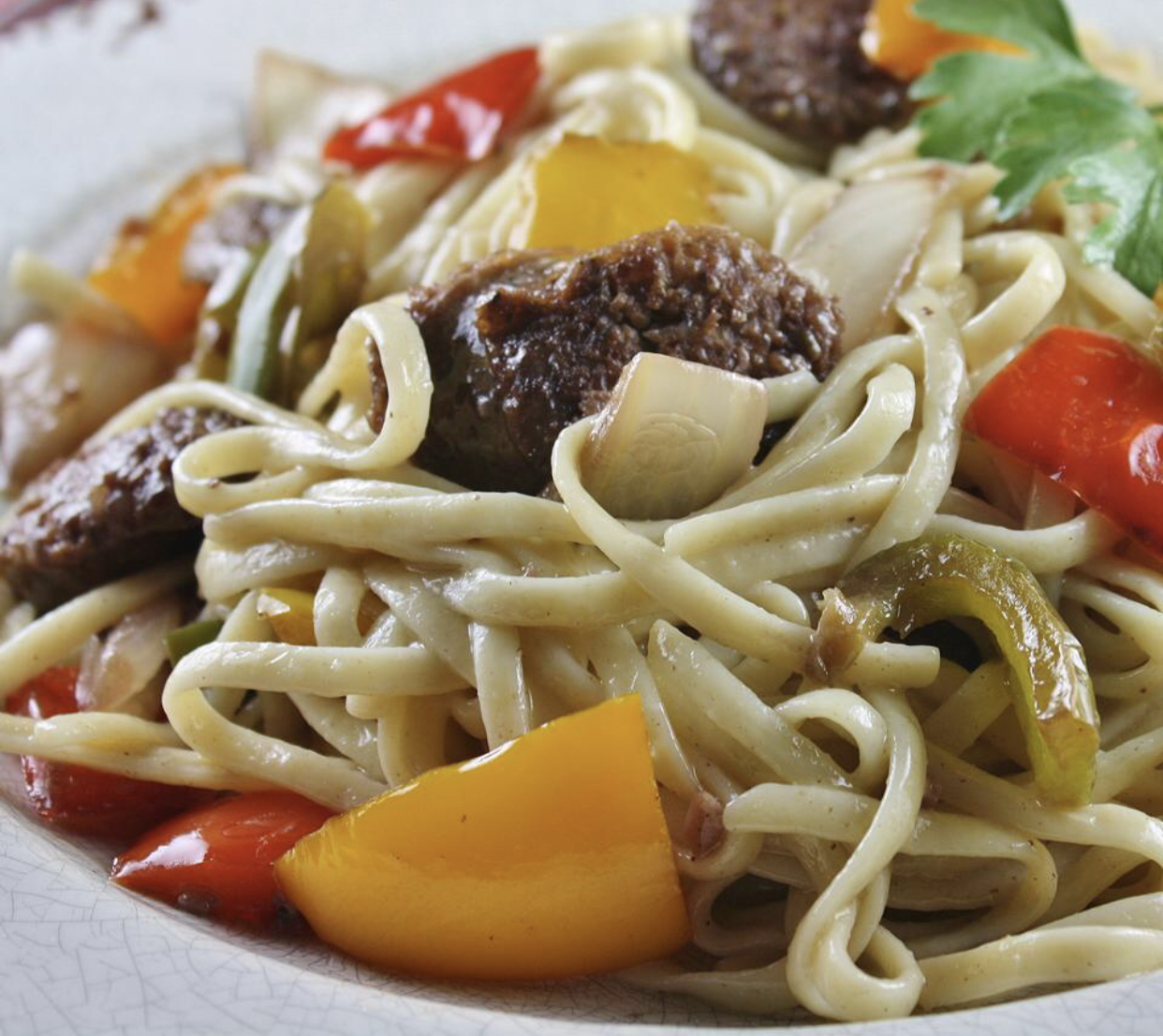 Linguine with Summer Peppers & Sausage
This quick pasta from Epicurious with peppers and sausage serves two but is easily doubled!
.
.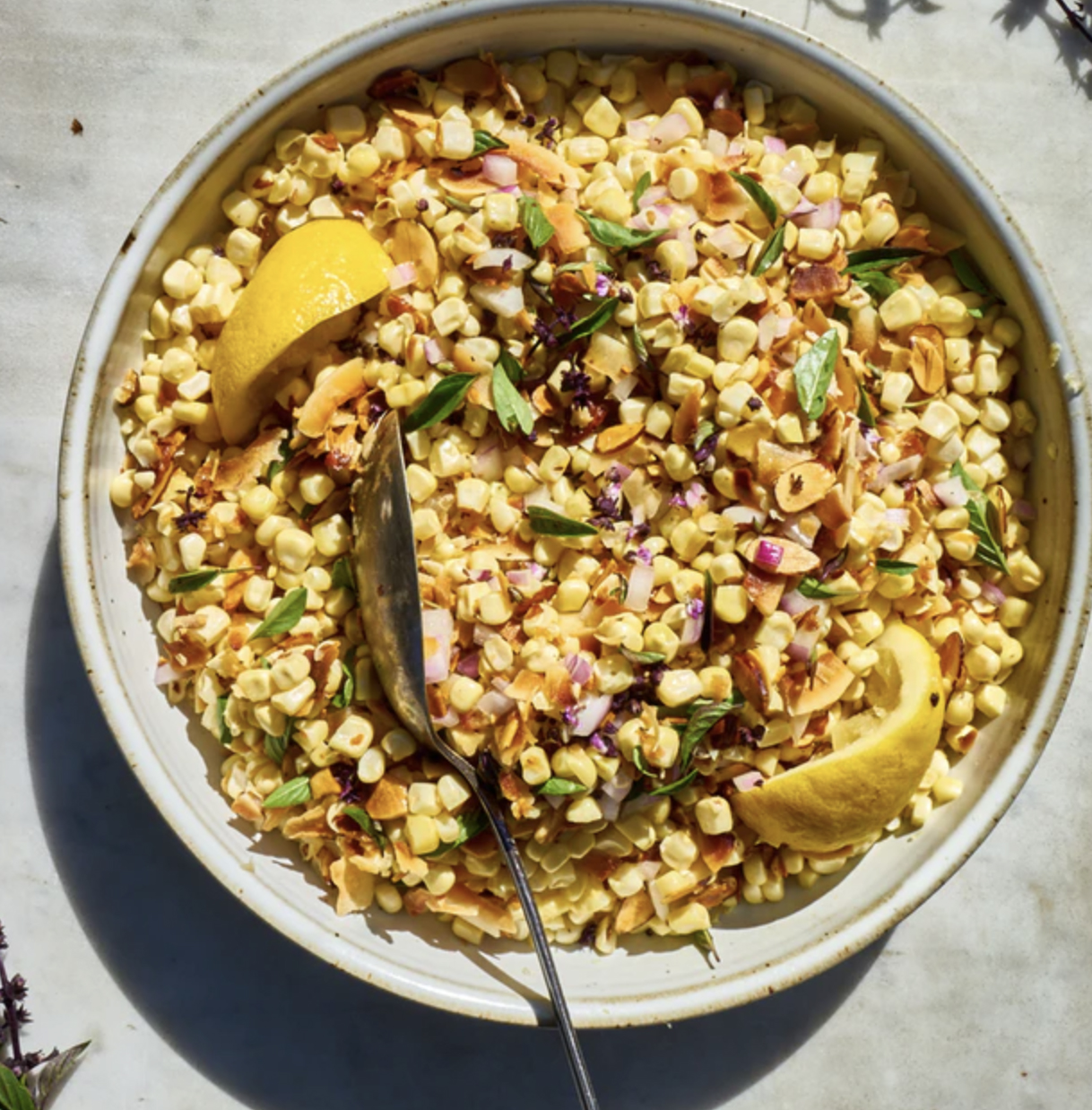 Photo by Heidi Swanson
A Really Great Coconut Corn Salad Recipe
This corn salad from Heidi Swanson's venerable vegetarian cooking blog, 101 Cookbooks, sounds exotic at first, but really plays up the familiar flavors of buttery corn.
.
.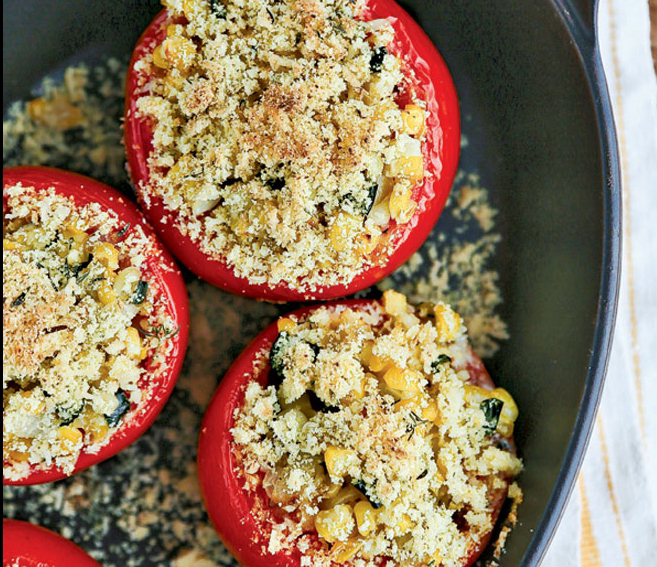 Photo by Angie Mosier
Creamed Corn–Stuffed Tomatoes
by Virginia Willis, from Edible Tulsa | Edible Communities
These stuffed tomatoes can be made gluten free. The recipe is by Virginia Willis, and there's a whole section of tomato recipes on her website, including another version of stuffed ones.
.