Week #5
The hot weather has been hard on the strawberries. They are smaller than usual but intensely flavored. We should have one pint for everyone this week. Savor and enjoy them! Check your email later this week for messages from the farm about berry picking.
Our daughter Sophie broke her ankle so I spent most of the last week in St Paul, helping her before and after surgery. She fell while climbing in an indoor 'bouldering' gym. The surgery went well but she has a long recovery ahead. Anyway, if you sent me an email this week but didn't hear back from me, please just send it again. I kept up with email but something might have slipped through the cracks.
Beth
Veggie List & Veggie Notes
Week #5, June 23/24, 2022
– Weekly shares
– EOW/ green
Strawberries, 1 pint
Snap peas, 0.7 lb
Napa cabbage
Swiss chard, 1 medium bunch
Zucchini & yellow squash, ~3.5 lb
Iceberg lettuce
Kohlrabi
Scallions, 1 bunch
Next week's box will probably contain snap & snow peas, zucchini, spinach, greens, lettuce and more.
Strawberries – Storage: Refrigerate and eat soon! They are delicious!
– Most berries are quite clean. If you want to clean your berries, rinse gently. Don't soak them, just rinse.
– Please recycle your strawberry containers. We no longer collect them for re-use. Please do not return them to your pick-up site.
Snap peas – These pea pods have strings to remove. Snap off the stem end and pull the string down the concave side of the pod (the inward-curing side). Throw away the string and eat the pod. The thicker pea pods will usually have a string along both edges. Remove them when you snap off the stem. Snap peas should be eaten pod and all. They are delicious raw, or very lightly cooked or stir-fried.
Heads up!: You may find some fibrous shell-type pods mixed in, from off-type plants. This happens with some varieties.
Preparation: They will need a quick rinse to remove faded gray blossoms.
Storage: Refrigerate.
Napa cabbage (large, pale green cabbage with crinkled leaves) – Napa cabbage is an interesting vegetable, useful for both fresh, raw salads and for cooking. Its most famous use is fermented kimchi. I like to prepare a fresh, unfermented kimchi. Same seasonings, but it's ready to eat right away. You will be amazed at how much shredded napa cabbage shrinks when prepared this way. See here for an example, but cut the salt in half (or even further): Grilled Flank Steak with Kimchi-style Coleslaw.
Storage: Napa stores very well. When refrigerated, it will keep for several weeks. Peel off the outer layer and it will be ready to use. Here are a few preparation ideas from the 'Asparagus to Zucchini' cookbook.
– Chop raw napa into green salads.
– Substitute napa in traditional coleslaw.
– Chinese cabbage cooks quickly. Steam 3-5 minutes, or until leaves are wilted down but remain slightly crisp.
– Substitute napa cabbage for common cabbage in recipes, but reduce the cooking time by 2 minutes.
– Napa cabbage is the main ingredient in egg rolls. Try making an egg roll mixture to eat as a cooked side dish instead of preparing time-consuming egg rolls.
RECIPES by PHOEBE
Garlic Noodles with Spicy Tofu Crumbles & Roasted Napa Cabbage
Heads up: this recipe calls for quite a bit of cabbage. It might seem like too much to fit on one large baking sheet, but it really wilts down as it cooks, becoming tender and caramelized so that it practically melts into the garlic noodles. The other fun thing about this recipe is the sriracha tofu crumbles. They're crispy and spicy, and, if you ask me, easier to work with than cubed tofu, which has a tendency to fall apart anyway. We like to eat them straight off the baking sheet!
Serves 4
Prep time: 15 minutes
Cook time: 30 minutes
10 cups shredded Napa cabbage (about 1 pound)
3 scallions, thinly sliced, green tops reserved
Tamari
Avocado oil
14 ounces extra-firm tofu, patted dry and roughly crumbled
2 tablespoons sriracha
8 ounces dry wheat noodles
1½ tablespoons rice vinegar
2 garlic cloves, grated
Preheat the oven to 425°F and line two large baking sheets with parchment paper.
Place the cabbage and the white parts of the scallions on one of the baking sheets and drizzle with 1½ tablespoons tamari and 1 tablespoon avocado oil. Toss to coat and spread evenly on the baking sheet. Place the tofu on the second baking sheet and drizzle with 1½ tablespoons tamari, 2 teaspoons avocado oil, and the sriracha. Toss to coat and spread evenly on the baking sheet. Place both baking sheets in the oven and roast until the tofu is browned and crisp around the edges and the cabbage is soft and browned, 30 to 40 minutes, tossing the cabbage twice throughout the cooking process.
Meanwhile, bring a large pot of water to a boil and prepare the noodles according to the package instructions. Drain and rinse under cold water, running your fingers through the noodles to prevent clumping.
In a large bowl, whisk together 3 tablespoons avocado oil, 1 tablespoon tamari, the rice vinegar, and garlic. Add the noodles and toss to coat. Add the roasted cabbage and toss again.
Portion the noodles into bowls and top with the sriracha tofu. Garnish with the reserved scallion tops and serve.
Zucchini Turkey Burgers
Grated zucchini (or yellow squash) adds moisture to these easy homemade turkey burgers. Serve them on buns with your favorite fixings. Iceberg lettuce from this week's box would be great!
Serves 4
Prep time: 20 minutes
Cook time: 10 minutes
1 teaspoon extra-virgin olive oil, plus more for cooking the burgers
1 cup grated zucchini
1 pound lean ground turkey
2 tablespoons finely chopped scallions
1 tablespoon Dijon mustard
1 tablespoon mayonnaise
1 garlic clove, grated
¼ teaspoon cayenne pepper
1 teaspoon sea salt
Freshly ground black pepper
4 hamburger buns, for serving
Desired fixings, for serving
Heat the olive oil in a large nonstick or cast-iron skillet over medium heat. Add the zucchini and cook, stirring occasionally, until softened, about 3 minutes.
Transfer the zucchini to a large bowl and add the turkey, scallions, mustard, mayo, garlic, cayenne, salt, and several grinds of pepper. Use a fork or spatula to mix until well combined. Form the mixture into 4 patties and chill for at least 10 minutes and up to an hour to make the patties easier to handle.
Heat the same skillet over medium-high heat and coat the bottom with oil. Add the patties and cook until browned on both sides and cooked through, 4 to 5 minutes per side. (When checked with a meat thermometer, the internal temperature should reach 165°F.) Reduce the heat as needed if the burgers brown too quickly.
Serve on the hamburger buns with your desired fixings.
Zucchini Butter Spaghetti
From Smitten Kitchen
In this 8-ingredient recipe, grated, sautéed zucchini transforms into an irresistible sauce for pasta. The recipe calls for a handful of basil leaves, but you could easily skip them or replace them with any leafy herb that you happen to have on hand.
.
.


Photo by I am a food blog
Homemade Pork and Garlic Chinese Potstickers
From I am a food blog
If you're looking for a fun cooking project to try this summer, make your own dumplings at home! This recipe has a flavorful pork, scallion, and napa cabbage filling and uses store-bought dumpling wrappers to streamline the cooking process.
.
.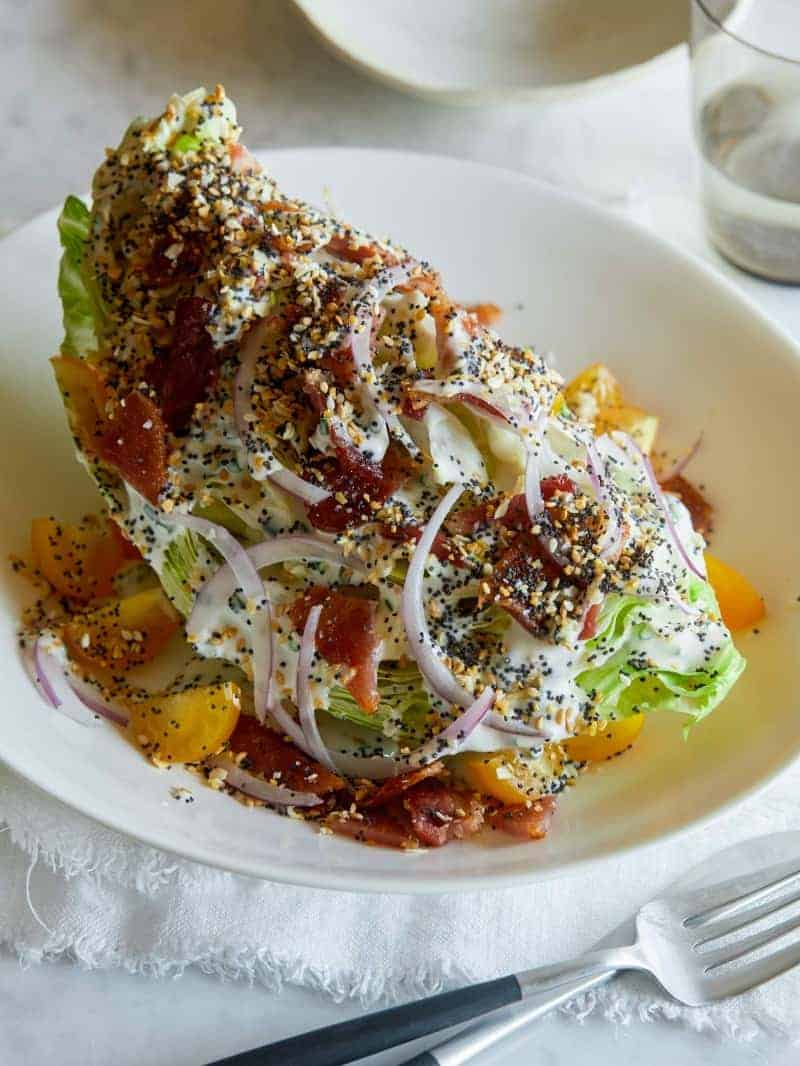 Photo by Spoon Fork Bacon
Everything Bagel Seasoning Wedge Salad
From Spoon Fork Bacon
This fun riff on a classic wedge salad would be a great way to use the iceberg lettuce that's in the box this week. Substitute minced scallions for the chives and dill in the dressing, and skip the red onion and cherry tomatoes on top. Thanks to the creamy, tangy ranch dressing, crispy bacon, and everything bagel seasoning, the salad will be plenty flavorful without them.
.
.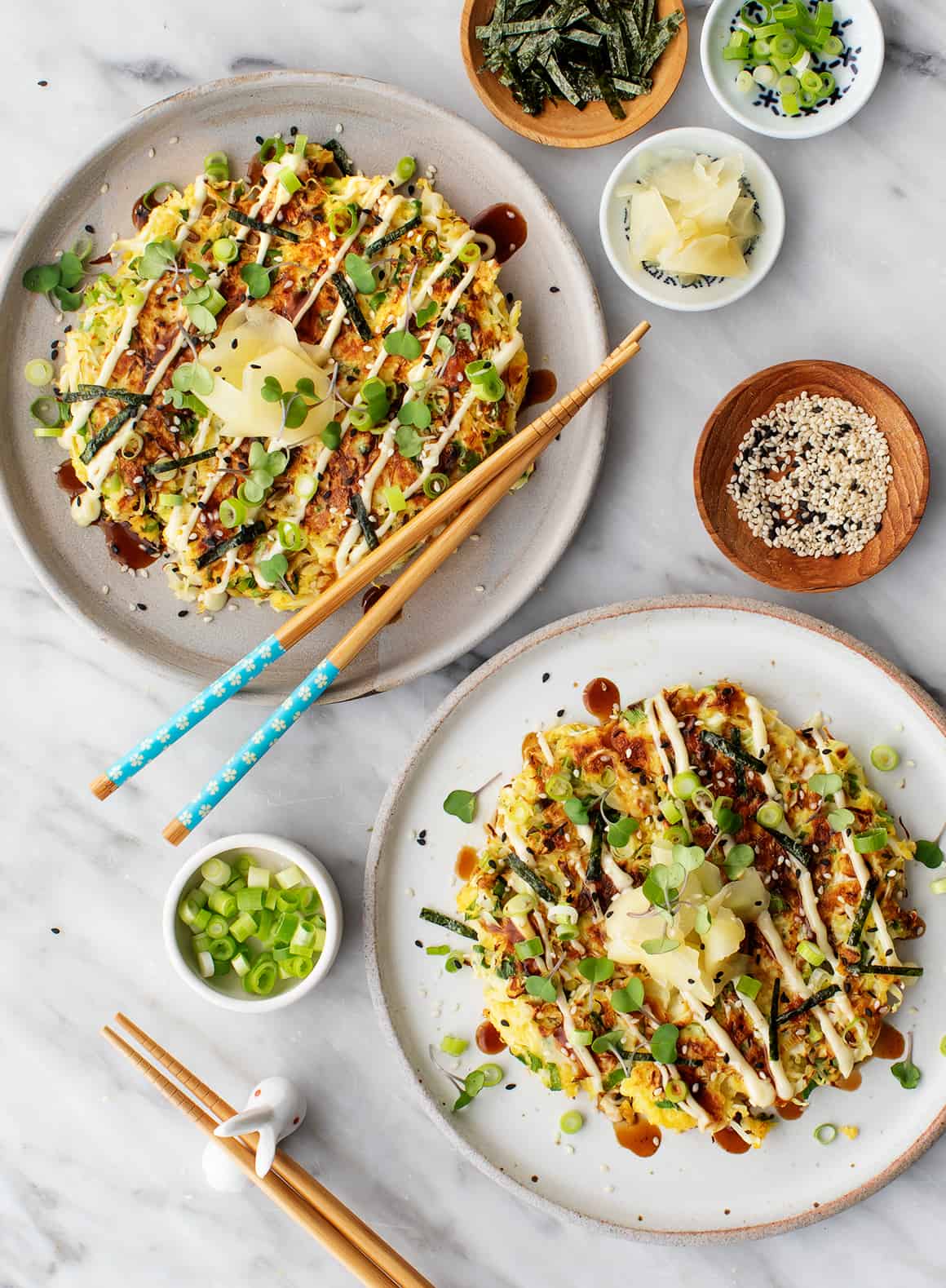 Photo by Love & Lemons
Okonomiyaki
From Love & Lemons
Okonomiyaki are savory Japanese pancakes made with cabbage, scallions, and often assorted seafood or meats. This recipe isn't traditional in that it's vegetarian, but it is really delicious and surprisingly simple to make. Don't hesitate to pile on the toppings – they're a huge part of what makes this recipe so flavorful and fun to eat!
.
.


Photo by Andrea Bemis
Kohlrabi Chicken Salad
From Dishing Up The Dirt
Kohlrabi adds crunch to this veggie-forward twist on classic chicken salad. Feel free to skip the dill, or substitute any soft, leafy herb that you happen to have on hand.
.
.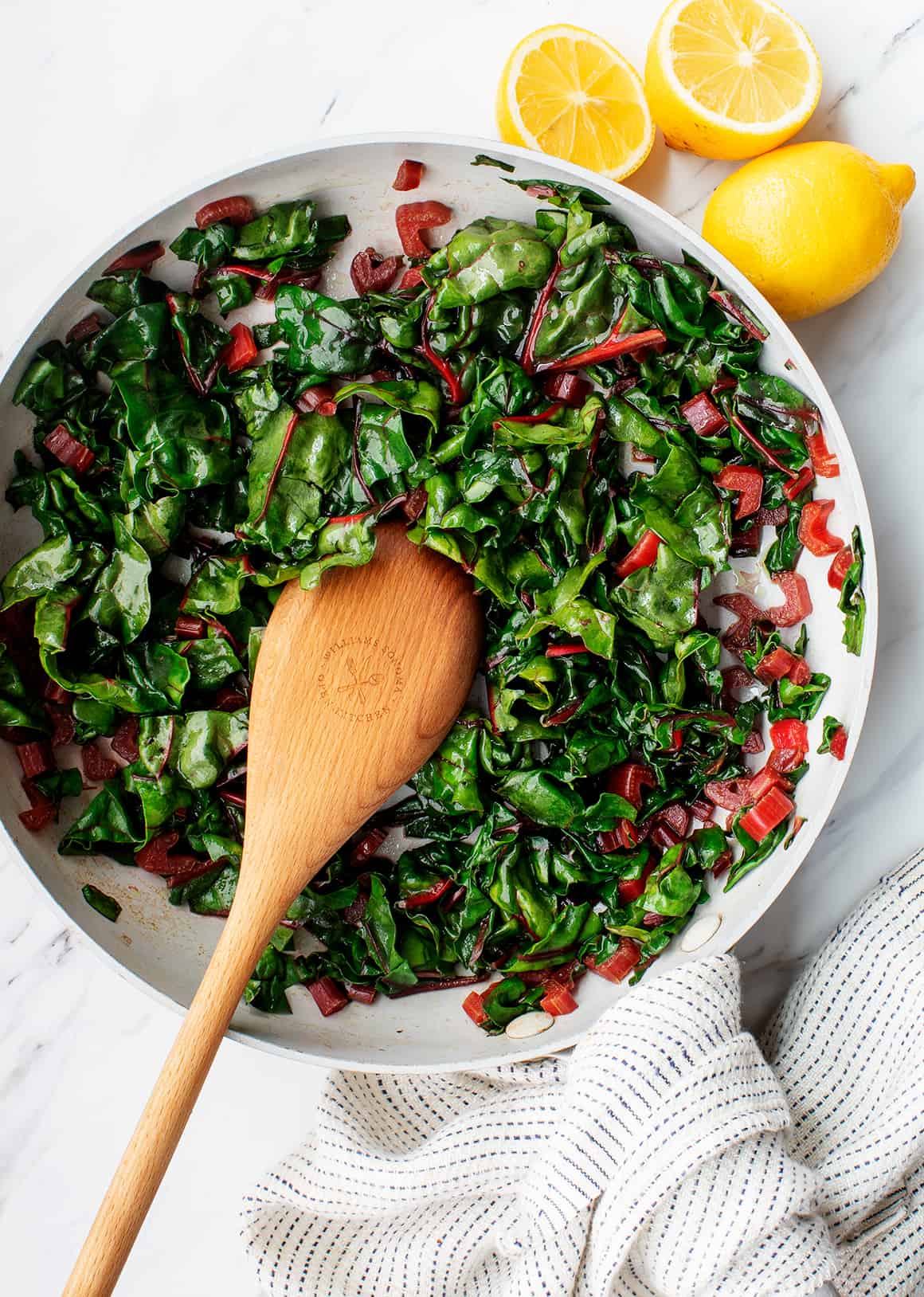 Photo by Love & Lemons
Simple Sautéed Swiss Chard
From Love & Lemons
Serve these lemony sautéed greens (and stems) as a side dish, or use them as a starting point for a larger meal. Toss them with pasta, Parmesan, and toasted pine nuts for a quick dinner, or add them to a frittata with scallions from this week's box.