Week #1; A low threshold for joy
Welcome to our CSA! Deliveries begin this week for:
– Weekly members, and
– Every-other-week/ purple group
– Sampler/ moon group
Log into your dashboard to view your schedule, at tipiproduce.csaware.com/accounts/login.jsp .
Download this season's calendar here.
Farm Beauty
During the pandemic, friend told me that she developed a low threshold for joy. Life was so constrained that, give her a tasty snack or a kind word and she was thrilled. "It's all out of proportion," she said. I feel that way too, and find myself appreciating our farm's beauty more intensely than I ever have. All my photos seem to focus on the sky or brilliant spring colors.
In the photo above, we transplanted cabbage in April. Look at that sky!

The pea field.

Rain has been sparse, so we've had to irrigate more than usual. This photo at dusk shows Steve watching our irrigation gun spew water over a field of young onions. The hose reel will slowly coil up the heavy hose, pulling the irrigator down the field. The field at right is under a white layer of row cover, a lightweight fabric that we use to cover our spring crops, to trap extra heat. Your lettuce and spinach came from that field.

Team radish. I bought new rain gear last season. We have no trouble finding each other these days. From left, Karen, Simone, Danni.
Things you need to know.
♦ On Thursday, we deliver CSA boxes to Evansville, Fitchburg, Madison, McFarland, Middleton, Oregon and Verona.
♦ On Friday, we deliver CSA boxes to Janesville.
♦ We post this newsletter/blog each Wednesday night, with a list of veggies for the week, quantities, information about storage and preparation, news of the farm, recipes, and a forecast for the next week's box. I'll send you an email on Wednesday night once the newsletter is posted and ready to read.
♦ EOW, Sampler and Weekly members, we assume you read all the newsletters, even on your "off" weeks. This newsletter (and our emails to you) are our means to communicate with you.
♦ Want earlier notice of what will be in the box? Check the sidebar on our website homepage around 7 – 8 p.m. on Wednesday night. I'll post the list under "Box Contents." Check the Veggie List section of this newsletter each week for a forecast for the next week. The list is rarely complete but the items listed are ones we feel confident about.
♦ The first few boxes of the season are often the lightest. EOW members, do not worry that you have signed up for the wrong share! Our deliveries get heavier and more abundant as the season progresses.
♦ Wash your produce well this week to remove grit. It rained yesterday and today, driving grit into the asparagus and anything that forms a head (lettuce, arugula, spinach). Our crew took extra care with washing but expect to wash everything.
How to wash greens efficiently and to maximize storage life
Washing and drying your lettuce and other greens prolongs their storage life. Here's our approach. It works.
1. Fill your sink or a basin halfway with cold tap water. If you have two sinks, fill one sink partway with cold water.
2. Chop your lettuce, spinach, escarole or other green to the size you wish.
3. Dump it into the water and swish around gently but thoroughly.
4. Working in two batches (for average lettuce head) or more batches (big spinach bunches, Romaine), pull handfuls out of the water and drain in the basket of a salad spinner.
5. After all the greens have been rinsed one time, dump the water. Rinse the sink/basin and refill with cold tap water.
6. Repeat the process.
7. Spin your greens dry and store in a dry container. They store much longer when spun dry.
This works because …
– pre-chopping the greens frees soil trapped in the head.
– the large amount of water washes and dilutes away the grit.
– By pulling the greens out of the water, you take advantage of the draining action to pull the grit with it.
– Storing greens dry lessens spoilage.
Veggie List and Veggie Notes
May 20/21, 2021 (Th/Fri sites)
Potatoes, 3.5 lb
Asparagus, ~1/2 lb
Spinach, 2 bunches, ~1.5 lb total
Green leaf lettuce
Arugula, 1 medium bunch
Amara kale, 1 bunch
Salad radishes, 1 bunch
Green garlic, 1 bunch
Next week's box will probably contain spinach, lettuce, button mushrooms, asparagus, radishes, rhubarb and more.
Potatoes – Please refrigerate these potatoes. They are in great shape now but will sprout within days if stored at room temperature! They've been stored all winter and want to grow. Store in a paper bag to protect from light, even in the fridge. We grow everything we send in our CSA boxes except potatoes, mushrooms and some asparagus, all of which we buy from organic growers that we trust. We purchased these potatoes from Jesse & Jonnah Perkins at Vermont Valley Farm. Jesse says the potatoes have a higher sugar content because of starch to sugar conversion during cold storage. That means the potatoes taste a bit sweet, and will blacken slightly when fried. It's a harmless color change due to the sugar conversion. You will receive either 'Goldrush' russets or 'Red Prairie' red potatoes.
Spinach – The spinach is abundant, so we're sending two bunches, totaling about 1.5 lb. Quality is good for either salads or cooking. It looks like a lot but shrinks when cooked.
Amara kale – We've grown this variety a few times and grew it this spring to provide variety among our cooking greens. Here's the seed catalog description: "While technically a mustard, Amara is known by several different names including Ethiopian kale, highland kale, Abyssinian mustard, and Texsel greens. The attractive, dark green leaves are tender, slightly savoyed with a wavy margin, and have an excellent rich flavor. Good in salads or as a cooked green." This stuff is pretty interesting. It has the texture of kale but the spiciness of mustard. I'd say it's about half as spicy as mustard greens. The flavor is strong once cooked but quite good.
Use: Use like any kale or mustard green. Eat the leaves and mid veins. Discard the stems and petioles, which are too tough.
Storage: Cover and refrigerate.
Arugula – (bunch of green leaves with pungent scent) – This is a spring treat! Arugula is good mixed with lettuce or spinach in salads, or added to cooked dishes such as lasagne or quiche. I love it on sandwiches. This arugula will not store for long. Eat soon. Cover and refrigerate.
Salad radishes – These are so good right now; tender, crisp and not too spicy. They are great in salads or thinly sliced on sandwiches. A few years ago, I was served open-faced radish and butter sandwiches on toast and was impressed with how tasty they were. Use good quality butter.
Storage: Cover and refrigerate.
Asparagus – Our asparagus grew slowly following frosty nights, then burst into growth in the last few days. Some of the asparagus is from our farm and some is from our friends Tim and April's Lotfotl Farm. They have a larger asparagus field than they need, so we go and pick it for them once a week.
Prep: Wash your asparagus thoroughly to remove hidden grit. Submerge in water with the tips pointing down, soak briefly, then swish vigorously and pull out of the water. The draining action helps pull the grit out of the asparagus tips. Repeat several times.
Storage: Asparagus is perishable, so eat it as soon as possible. Store in a paper towel, cloth or paper bag, then wrap loosely in a plastic bag. The paper bag protects the asparagus tips from direct contact with the plastic bag. The plastic bag keeps the asparagus from wilting.
Preparation: We snap our asparagus at harvest, rather than cutting. Therefore, there is no need to snap the stalks to remove fibrous ends. For the same reason, it is not necessary to peel the asparagus stalks. It's OK to trim the cut end a bit.
Cooking: If your asparagus stalks vary greatly in size, you will want to cook the thicker ones longer. Put an empty steamer pot over water, and bring the water to a boil. Add the asparagus. Cover and steam over medium heat until just tender. Use two forks or a spatula to turn the asparagus during cooking, rotating the bottom spears to the top. Drain and serve. Alternatively, you can lay spears flat in the bottom of a broad pan, with ½ inch of water. Also excellent broiled or grilled. Good dressed with vinaigrette, or with lime juice, salt and pepper.
Green garlic (looks like scallions, tastes like garlic) – Last fall, we planted garlic cloves that grew into the stalks we harvested this week. If left to grow until mid-summer, the slim white bulb on this week's garlic will divide and form the usual cluster of cloves in a garlic bulb. This year's green garlic is robust.
Preparation: Green garlic is more pungent than scallions, so slice thinly and use sparingly when raw. It mellows when cooked. Chop and add to any cooked dish that would benefit from garlic. Use the white bulbs and pale green stems. Avoid the dark green stems and leaves, as these are fibrous.
RECIPES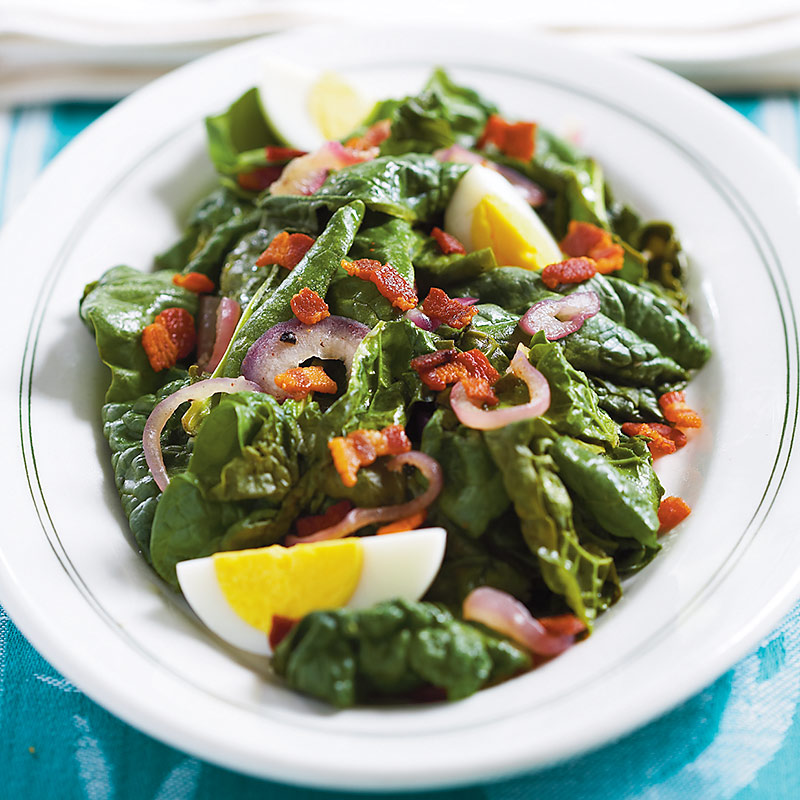 Wilted spinach salad with bacon and asparagus
From DebsLunch
Feeds 4 or more depending on what else is being served.
Takes about 30 minutes.
Approximately 2 pounds spinach, kale, argula, or other greens: lettuce, or cabbage; stemmed if necessary, washed, dried, and cut or torn into bite size pieces (cabbage can be shredded)
8 strips (half a pound) of bacon, sliced into 1-inch pieces
1/4 – 1/3 cup cider vinegar
2 – 4 TBLS brown sugar
1/2 of a red onion, sliced thinly
2 hard boiled eggs
1/2 pound of asparagus, roasted or steamed
lots of freshly ground black pepper
Croutons
Put the greens in a large heat proof (metal or glass) bowl. Cook the bacon until crisp and, using a slotted spoon, remove to paper towel to drain. Pour off all but 4 TBLS of the bacon fat from the pan. Add the vinegar and sugar, and cook until the sugar is dissolved. Boil until a bit syrup-y. Add the onion at the last minute if using. Take the dressing off the heat and pour over the greens. Add the bacon bits and toss. If the greens do not wilt as much as you would like, put the bowl over the warm burner and toss until the salad is more wilted (this works best with a metal bowl). Grind in the pepper and toss again. Top with the asparagus, boiled eggs, and croutons.
.
.
.

Cheater's many greens Caesar salad
Make enough for about 6 – 8 people
Takes 30 minutes
About 2 pounds of greens – roughly 1/2 the spinach, some of the Amara kale, and Argula from this week's box
a hunk of old bread, about 2 – 3 slices
1 – 2 TBLS olive oil
2 – 3 whole cloves of garlic
2/3 cups mayonaise
juice of 1/2 a lemon, or a little more to taste
another clove of garlic, minced or put through a press
a few shakes of Worcestershire sauce
1/2 – 1 cup grated Parmesan
coarse salt and freshly ground pepper
Wash and dry the greens, and tear them into bite size pieces. Place in a bowl with room for tossing. Tear the bread into rough cubes. Heat the olive oil in a skillet and fry the bread in it along with the garlic cloves until nicely toasty. Let cool slightly and then dump into the salad bowl. For the dressing, [This is the cheater's part] whisk together the mayo, lemon juice, crushed garlic, and Worcestershire sauce. Add a handful of Parmesan, and taste – add more lemon, cheese, Worcestershire – what ever you think it needs (I sometimes sneak a pinch of sugar into the dressing). Toss the salad with a liberal amount of dressing, adding more Parmesan, and salt and pepper. Taste for seasoning and when you like it, serve.
.
.
.


Photo by The Leek & The Carrot
Spinach, Radish & Green Garlic Dip
Adapted from Bon Appetit
Takes 30 minutes.
Serves many.
2 tablespoons butter
2 green garlic, white and pale green parts only, minced
1 bunch radishes, roots shredded and greens, roughly chopped
Spinach, roughly chopped
1 teaspoon Kosher salt
8-ounce cream cheese
2 ounces Parmesan cheese (about 1 cup)
1/2 teaspoon freshly ground black pepper
Melt butter in a medium saucepan. Add garlic and saute for 1 minutes over medium heat until very fragrant. Add radishes and cook, tossing, until well-coated in butter, 1-2 minutes longer. Add spinach and radish greens along with salt. Cook until wilted and most of the liquid is cooked off., 5-10 minutes. Add cream cheese and cook until melted. Stir in Parmesan and pepper until melted and creamy. Taste and adjust seasonings.
Serve warm with toast, in a bread bowl or with crackers.
.
.
.


Photo by Smitten Kitchen
Spinach and Cheese Strata
From Smitten Kitchen
smittenkitchen.com/2009/12/spinach-and-cheese-strata/
This filling recipe is good for any meal from breakfast to dinner. From Deb Perelman of Smitten Kitchen "I'm all about hosting brunch, but only if I can make everything in advance. .. This strata — really, a savory bread pudding — is the missing piece because not only can you make it the night before, you are supposed to."
.
.
.

Creamy Green Garlic Salad Dressing
From Willy Street Co-op
Makes a generous cup of dressing
Tangy and garlicky, this salad dressing is amazing over a simple green salad of crunchy Romaine and blanched vegetables.
Alex Raij's Radishes with Vanilla Butter & Salt, 2 Ways
Food52 Genius Recipe
"Alex Raij was initially inspired by a snack at Roscioli delicatessen in Rome that combined salty Spanish anchovies with curls of cold vanilla butter. "I was so enchanted with it, I came home and put it on everything now," Raij said. Her take on Roscioli's dish, a deliberately plain cracker with a thin tube of vanilla butter and a very good-quality Spanish anchovy, has been on the menu at her NYC restaurant El Quinto Pino ever since, and she riffs on it often for parties, big and small."
.
.
.


Photo by the Kitchen Girl
Arugula Pesto with Walnuts
From The Kitchen Girl
"Arugula pesto is a 5-minute pesto recipe made with fresh arugula, Parmesan cheese, walnuts, olive oil, and lemon. It's nutty, zesty, peppery and can be served as a sauce, dip, or spread."