Week #14, Photos from Ari
Beth's surgery went very well. She is recovering without trouble and glad that it is over. She'll be back to work full time next week. In the meantime, our son Ari took farm photos to share this week. He is home from college this summer, working on the farm crew, and knows our farm well.
Steve

Maggie grades and weighs slicing tomatoes.

Plum tomatoes, straight from the field

A row of carrot seedlings, before being weeded by hand.

And after weeding! Our crew spends many, many hours weeding carrot fields.

Yellow garden spiders are abundant in the pepper and tomato fields this year, spinning their webs and protecting us from flies and pests.

The peppers have something to tell you.
Veggie List & Veggie Notes
Week #14, August 25/26, 2022
– Weekly shares
– EOW/ purple
– Sampler/ sun
Sweet corn, 9 or 10 ears
Slicing & plum tomatoes, ~4 lb
Cherry tomatoes, 1 pint
Red beets, 2 lb
Leeks, ~1.25 lb
Red peppers (bell &/or frying), 2 or 3
Zucchini or yellow summer squash, ~2 lb
Yellow onion
Jalapeno, 1
Basil, 1 husky sprig
Next week's box will probably contain sweet corn, tomatoes, peppers, carrots and other summer veggies.
Sweet corn – We are back to our favorite 'Vision' variety. There is almost no bug damage this week. Yeah!
Beets – Storage: Cover and refrigerate. Beet roots will store for months. Wash well to remove leaf fragments. For all the cooking methods below, wash and scrub the beets but do not peel. The skins slip off easily once the beets are cooked and cooled.
Cooking beet roots on the stovetop: Slice or quarter, cover with water in a pot, and simmer until tender. This will take from 25 to 45 minutes depending on how large the beet pieces are. Drain.
Roasting beets in oven: Wash beets, but do not peel. On a sheet of aluminum foil, put beets (halved or quartered if large), salt, pepper and a few sprinklings of water. Seal the foil packet, and roast at 400 oF until tender, about 45 minutes to 1 hour. Slip off skins once cool.
Microwave: Slice beets in half and place in a large microwave-proof bowl. Add ¾ inch water and cover with a plate. Microwave on high until tender, about 9-20 minutes, depending on your microwave's power. Drain and slip off skins.
Uses: Use cooked beets in cold salads, or dress simply with vinaigrette, onions, salt and pepper. Beets are also good tossed with sour cream, minced onion, fresh herbs and walnuts.
Leeks (look like big scallions) – These alliums have a milder flavor than onions. Nonetheless, they can be used in recipes that call for onions. To wash, split the leek lengthwise, from the green tops about halfway to the base, leaving the base intact. Rinse well under running water, separating the layers to flush. If necessary, split the leek further if soil has penetrated more than halfway down the leek. Shake dry. Leeks are generally eaten cooked. They can be sauteed, steamed or roasted. Intact leeks will store 2 to 3 weeks if covered loosely and refrigerated. The outer leaves will yellow. Just peel off and discard those yellow leaves. The inner layers will be fine.
RECIPES by DEB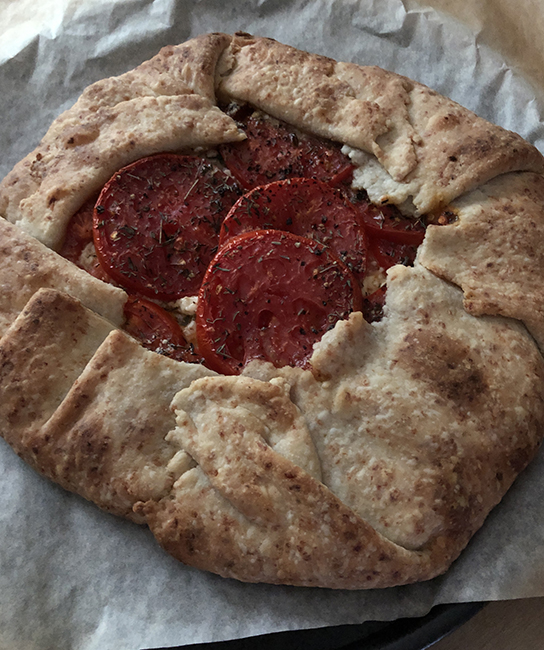 Photo by debslunch
Tomato-Feta Galette with Parmesan Crust
Every summer has to have its edition of tomato pie. (see the newsletter for prior pies, e.g. tomato handpies from 2021, or Smitten Kitchen's burst tomato galette, that has corn & summer squash in the filling) What makes this pie so appealing is that it avoids sogginess by keeping things simple: the filling is sliced tomatoes, feta, herbs, and shallots – that's it!
Takes about 45 minutes to assemble and bake, plus 30 minutes to overnight to chill the crust.
Serves 6
Crust:
1 1/2 cups flour
good pinch salt, unless you're using salted butter
2 teaspoons sugar
1/2 cup butter, either salted or un- (1 stick, 8 tablespoons)
1 tablespoon vegetable shortening or lard
1/2 cup grated Parmesan cheese
2-4 tablespoons cold water
Filling:
4-5 ounces feta cheese (a heaping cup), crumbled
1 medium shallot, finely chopped – about 3 tablespoons
1-2 tablespoon soft fresh herbs, such as basil, parsley, or thyme; or 1 teaspoon dried thyme
1 pound of tomatoes, your choice of variety, sliced about 1/4-inch thick. If you include cherry tomatoes in your mix, cut them in half
freshly ground black pepper and kosher or coarse salt for sprinkling
Make the crust: measure the flour, salt (if using), and sugar into the bowl of your stand mixer (my favorite method), your food processor, or a mixing bowl. Slice the butter and shortening over the top and combine with the flour mixture, using the paddle attachment of the mixer, by pulsing the processor, or using a pastry blender, 2 knives or your fingers, until you have a crumbly mixture with no butter lumps bigger than currants. Add the Parmesan. With the mixer or processor running, or while stirring with a fork, drizzle in the water by tablespoons, until the mixture just starts to come together in clumps. Stop before you have one big ball. Turn the crust out onto a floured surface and knead lightly to bring it together. Gather it into a ball, flatten into a disk, wrap (in plastic, wax paper, one of your reusable snack/sandwich bags), and chill for about 30 minutes, and up to 2 days.
When you're ready to bake, place a rack in the lower middle of your oven and heat to 400°. Line a baking sheet or pizza pan with parchment paper.
On a lightly floured work surface, roll out the crust to a rough 12-inch or larger round. It's okay if the dough isn't perfectly round. Flop the crust in half and transfer to your parchment-lined pan – some people like to roll the dough around the rolling pin, and unroll it onto the pan. Once you have the crust in the pan, spread the feta in an even layer leaving a 2-3 inch border – think a 9-inch circle in the middle of your pan. Scatter the chopped shallot over the cheese, and add half of the chopped herbs, some salt and pepper, and lay the tomatoes on top. If you're using cherry tomatoes, try to put the halves cut side up.
Gently fold the edges of the crust over the tomatoes, covering about 2 inches of the filling and pleating the crust as you go. Top with the rest of the herbs, and a little more salt.
Bake until the crust is golden-brown and the tomatoes are soft, about 30-45 minutes – watch that the bottom does not get too dark, and move the baking tray to a higher position in the oven if you think that's starting to happen. Cool on the baking sheet for 5 minutes, then transfer to a wire rack to cool for 10 minutes more. Serve warm or at room temperature.
.
.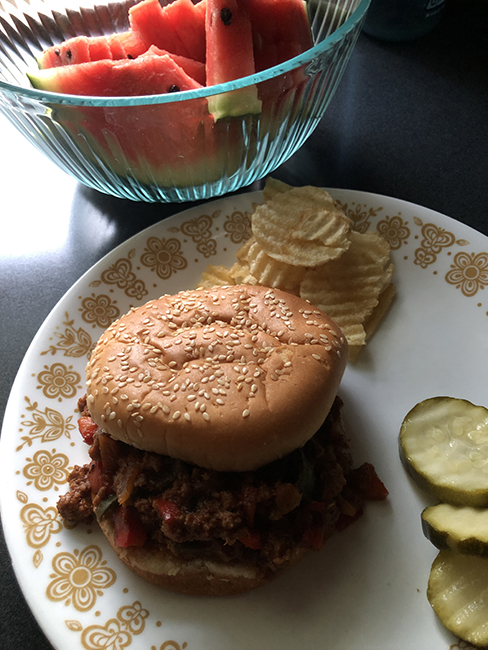 Photo by debslunch
Beef & Sausage Sloppy Joes with Peppers
This quick dinner-as-a-sandwich can be prepared with any variety of peppers, sweet or hot. I tested it with one large red frying pepper and one medium poblano, but you can adjust based on your tastes, and desire for hotness.
Takes about 30 minutes
Serves 6-8
1 tablespoon olive oil
1 cup diced onions or leeks
1 to 1 1/2 cups chopped peppers, any variety
1 cup peeled, seeded, and diced tomatoes, preferably plum
1 tablespoon fresh garlic, minced or put through a press
1 pound ground beef
1/2 pound bulk Italian sausage, sweet or hot (I used sweet)
1 tablespoon brown sugar
2 teaspoons chili powder
2 tablespoons tomato paste
8 ounces light or dark beer, or chicken broth
2 tablespoons – or more, to taste – ketchup
2 tablespoons – or more, to taste – Worcestershire sauce
Salt and freshly ground black pepper
Hamburger buns, potato chips, and pickles for serving
Heat the oil in a skillet or wide pot over medum heat and add the onions, peppers, tomatoes, and garlic, and cook until softened, about 5 minutes.
Add the meats and continue to cook, breaking the meat up with a spoon, until browned, 6-8 minutes. Season with salt and pepper, and add the brown sugar, chili powder, and tomato paste. Cook for about a minute, and add the beer (or broth), ketchup, and Worcestershire sauce. Bring to a boil then reduce the heat and simmer until thickened and to cook off the alcohol in the beer, at least 8-10 minutes.
Taste and adjust seasoning to see if it needs more ketchup or salt & pepper. Serve on buns with pickled zucchini and slices of Tipi watermelon for a perfect summer meal.
Beetroot and Chickpea Dip
From Nigella Lawson
Nigella is hesitant to call this hummus, not wanting offend hummus purists, although it does include chickpeas and tahini, but says you can eat in the same way you'd enjoy hummus, spread thickly on bread or toast, or scooped up with pita or veggies as shown. And even a hummus purist would agree that the beets turn the chickpeas a lovely shade of pink.
.
.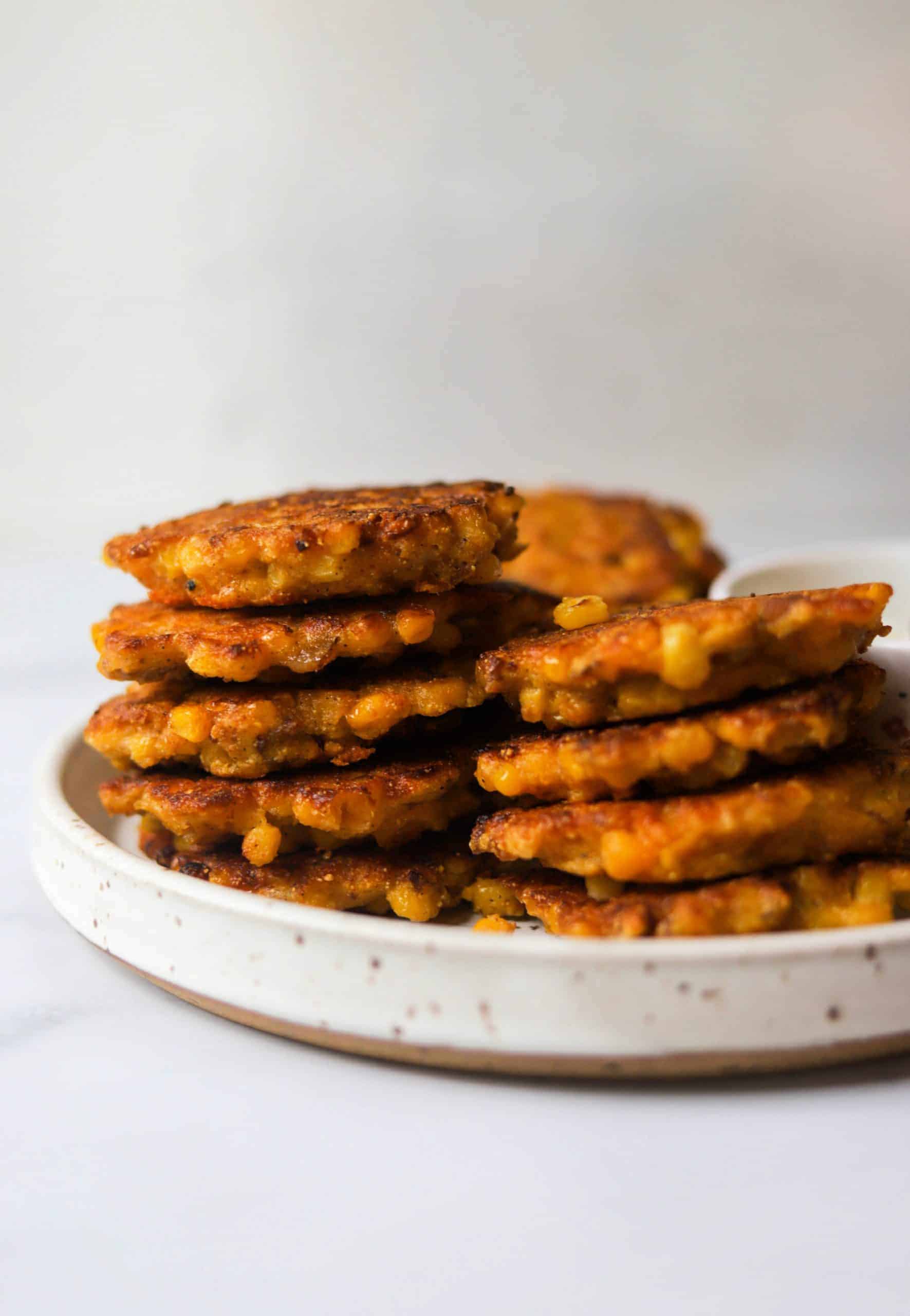 Photo by Julie
Sweet Corn and Bacon Fritters
From the Healthy Epicurean
This recipe calls for three cups of cooked corn, so cut the kernels off 3-4 ears of corn. You can husk the corn and cut off the kernels while it's raw – be sure to run the knife down the cob to get all the juice; OR cook the corn on the cob first, then cool and slice off the kernels for a less-splatter-y procedure. The added bacon sets these fritters apart!
.
.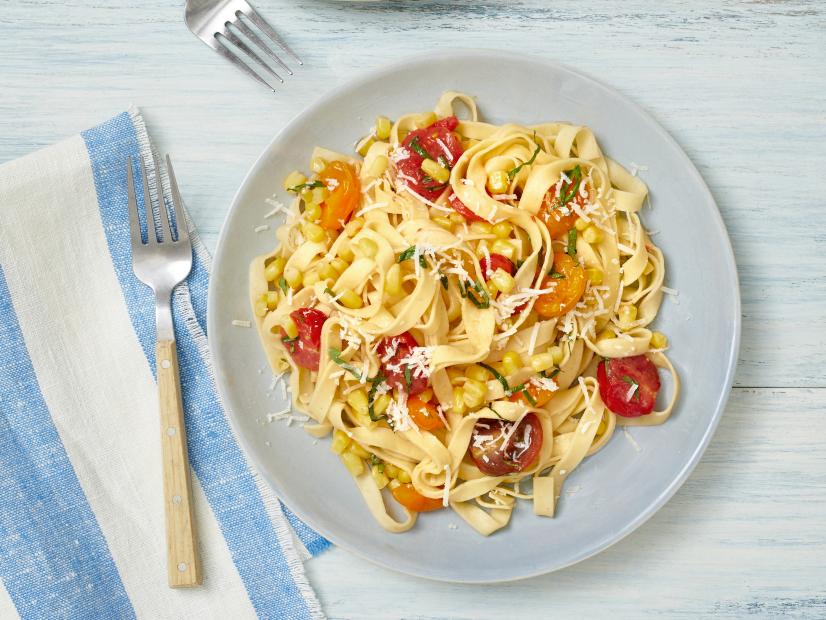 Tagliatelle with Corn and Cherry Tomatoes
By Anne Burrell for Food Network
Here's a quick pasta with cherry tomatoes, corn, and fresh basil, all featured in this week's box.
.
.


Photo by Jenn Segal
Roasted Beet Salad with Goat Cheese, Walnuts & Honey-Dijon Vinaigrette
From Once Upon a Chef
This recipe suggests buying pre-roasted beets, which you don't have to do, given the fresh ones in the box! And Nigella's recipe for Beetroot and Chickpea Dip provides roasting instructions.
.
.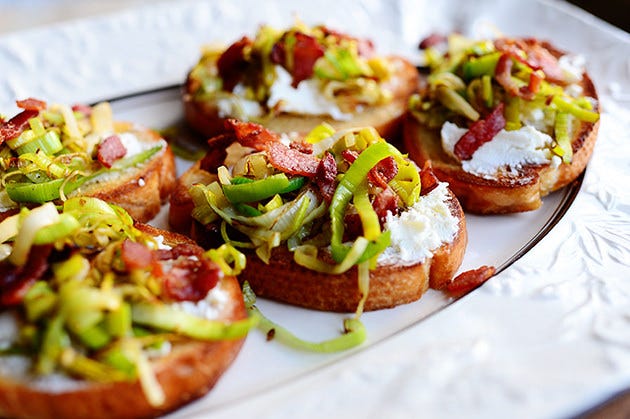 Bruschetta with Leeks, Goat Cheese, and Bacon
By Ree Drummond for Pioneer Woman
I was a little hesitant to put another recipe in that also called for bacon and goat cheese, but these bruschetta look so good, and are a fine way to use this week's leeks.
.
.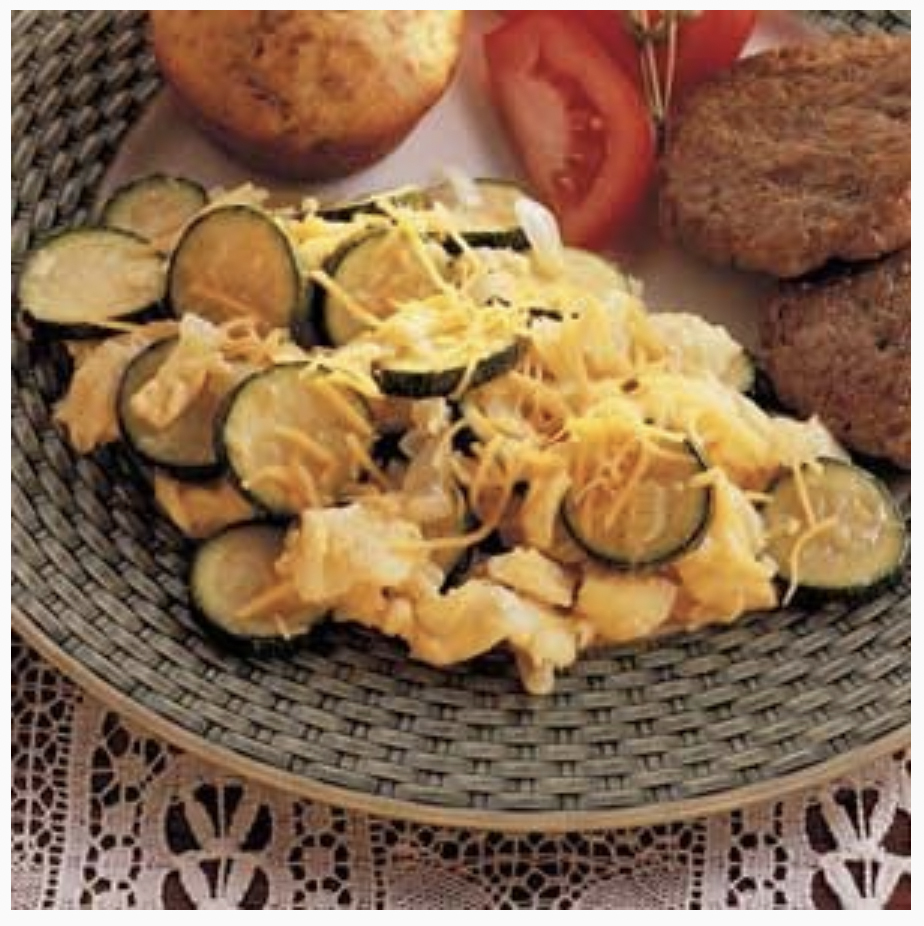 Photo by Taste of Home
Zucchini Scramble
From Taste of Home
Here's an easy way to use the zucchini or summer squash in this weeks box – serve with sliced tomato as shown to make a pretty plate.