Week #2; Forward motion

We think you will enjoy this box! Clockwise from top; rhubarb, spinach, green leaf lettuce, salad radishes, button mushrooms, and bok choy, plus asparagus and green garlic in center. The cilantro was not yet harvested so it didn't make the photo.
Farm news
We are moving forward at a rapid pace, planting crops, training new employees, and harvesting produce for all of you. Let's share a few images and stories from the week.

The wind was crazy this week! We lined up a large crew for Monday, expecting to spend the day transplanting the seedlings in the photos above. The wind ended that plan. We raise our seedlings in our greenhouses and move them outside to 'harden off' in a sheltered spot near the buildings. Wind is buffered by trees to the west and south. Exposure to sun and wind and rain helps prepare the seedlings but, early in the week, wind out in the unsheltered fields was too fierce. Even hardened seedlings are fragile and can break. So we switched gears, worked on other projects and are now ready to transplant most of the seedlings above on Thursday and Friday.

We add new employees are our work increases. Above, crew leader Maggie shows new employees Madalyn and Ella (off screen) how to harvest and bunch cilantro. The bunch size is important, to ensure we have enough crop for both this week's and next week's CSA deliveries. In the background Karen (10th season) gathers the harvest tools. At left, Ari (5th season of work, 19th year of residence) watches.

Abby washes your rhubarb.
Our rhubarb fields have recovered from last year's devastating late May frost. Returning members, you may remember that we had almost no rhubarb for you because of that frost. The plants regrew, but needed a season's recovery before we could harvest again. They are looking good now.
Veggie List & Veggie Notes
Week #2, June 2/3 2022
– Weekly shares
– EOW/ purple
– Sampler/ sun
Asparagus, ~1 lb
Bok choy, 1 medium
Button mushrooms, 12 oz
Cilantro, 1 bunch
Green garlic, 1 bunch
Lettuce, green leaf
Rhubarb, 1.75 lb
Salad radishes, 1 bunch
Spinach, 1 bunch
Next week's box will probably contain spinach, lettuce, salad turnips, shiitake mushrooms, escarole, another type of spring green and more.
VEGGIE NOTES
Visit this section each week for information about each vegetable, including anything I want you to know about this week's harvest. I list the storage and prep information once or twice, but then I stop repeating it. We encourage you to read the newsletter each week so you have this information ready when you receive a vegetable for the first time. For this week, I'll repeat everything relevant from our 5/26/22 newsletter, to make things easy for members getting their first box this week.
Asparagus – This is my favorite spring treat! Some of the asparagus is from our farm and some is from our friends Tim and April's Lotfotl Farm. They have a larger asparagus field than they need, so we go and pick it for them once a week.
Prep: Wash your asparagus thoroughly to remove hidden grit. Submerge in water with the tips pointing down, soak briefly, then swish vigorously and pull out of the water. The draining action helps pull the grit out of the asparagus tips. Repeat several times.
Storage: Asparagus is perishable, so eat it as soon as possible. Store in a paper towel, cloth or paper bag, then wrap loosely in a plastic bag. The paper bag protects the asparagus tips from direct contact with the plastic bag. The plastic bag keeps the asparagus from wilting.
Preparation: We snap our asparagus at harvest, rather than cutting. Therefore, there is no need to snap the stalks to remove fibrous ends. For the same reason, it is not necessary to peel the asparagus stalks. It's OK to trim the cut end a bit.
Cooking: If your asparagus stalks vary greatly in size, you will want to cook the thicker ones longer. Put an empty steamer pot over water, and bring the water to a boil. Add the asparagus. Cover and steam over medium heat until just tender. Use two forks or a spatula to turn the asparagus during cooking, rotating the bottom spears to the top. Drain and serve. Alternatively, you can lay spears flat in the bottom of a broad pan, with ½ inch of water. Also excellent broiled or grilled. Good dressed with vinaigrette, or with lime juice, salt and pepper.
Bok choy (rosette with thick white stems and green leaves) – This Asian green is good for stir-frying or sautéing or in soup. You can think of the stems and leaves as two separate vegetables. The stems require longer cooking. The leaves will cook almost as quickly as spinach. Bok choy stores well, so feel free to pull off leaves as you need them, or use the whole head at once. Storage: Refrigerate in a plastic bag or other container.
Some heads have small flower stalks which you can eat or remove. The plants have begun flowering in response to cold – hot – cold weather this spring.
Button mushrooms – These organic mushrooms are from Hidden Valley Mushrooms from Wisconsin Dells. We bring in mushrooms from Mary and Ed every spring because they combine so perfectly with our spring vegetables, for salads, quiches, etc.
Storage: Here are Mary's suggestions for storing the mushrooms:
– Store separate from leafy greens, which hasten mushroom aging.
– If storing for more than a few days, remove from the box and refrigerate in a paper bag with holes punched in the side. Keep dry.
– Don't wash to clean, just wipe with a damp cloth.
Cilantro – Used in both Mexican and some Asian cuisines. Good to season stir-fries, salad dressing, salsa, etc.
Storage: Cover and refrigerate.
Green garlic (looks like scallions, tastes like garlic) – Last fall, we planted garlic cloves that grew into the stalks we harvested this week. If left to grow until mid-summer, the slim white bulb on this week's garlic will divide and form the usual cluster of cloves in a garlic bulb.
Preparation: Green garlic is more pungent than scallions, so slice thinly and use sparingly when raw. It mellows when cooked. Chop and add to any cooked dish that would benefit from garlic. Use the white bulbs and pale green stems. Avoid the dark green stems and leaves, as these are fibrous.
Lettuce – See the "How to wash greens efficiently and to maximize storage life" section in our 5/26/22 newsletter. That approved to wash and spin dry your greens will be useful all season. Storage: Refrigerate in a bag or other container.
Rhubarb – Storage: Refrigerate in a plastic bag. FYI, 1.75 lb of rhubarb yields 5 – 5.5 cups when chopped.
Stewed rhubarb: This is the simplest way to prepare rhubarb. Chop rhubarb into one inch chunks. Stir over medium heat with a small amount of water in the bottom of the pan. The rhubarb will release moisture as it cooks. Stew until it softens and falls apart. Sweeten to taste with honey or sugar. Eat warm on its own, over vanilla ice cream, on pancakes, etc.
Preserve: Rhubarb is so easy to freeze. Wash, chop and pop it in a freezer bag. That's it; no need for blanching. When baking muffins or cakes, add the frozen rhubarb directly to the batter.
Salad radishes – These are so good right now; tender, crisp and not too spicy. They are great in salads or thinly sliced on sandwiches. A few years ago, I was served open-faced radish and butter sandwiches on toast and was impressed with how tasty they were. Use good quality butter.
Storage: Cover and refrigerate.
Spinach – This batch is tender and excellent for salads or cooking. See the "How to wash greens efficiently and to maximize storage life" section in our 5/26/22 newsletter.
RECIPES by DEB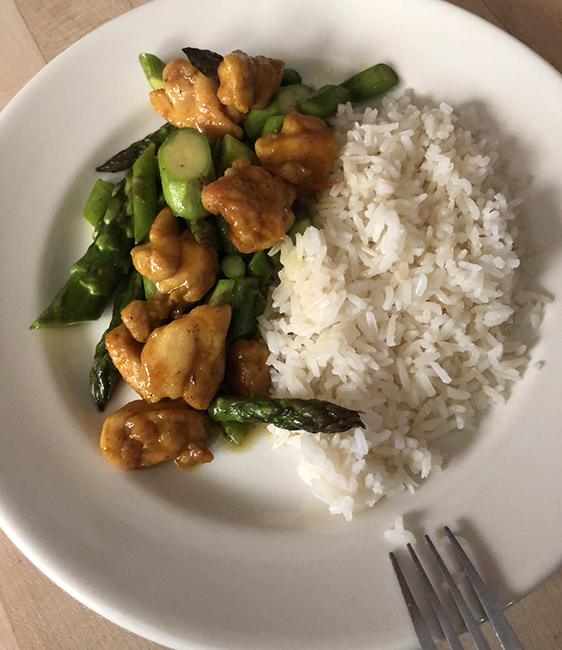 Turmeric-Black Pepper Chicken With Asparagus
This dish is based on a recipe from the New York Times, that suggests subbing in any quick cooking vegetable for the asparagus, such as the bok choy or spinach in this week's box, and serving it with rice or noodles, or in lettuce cups. You could also sub tofu or shrimp for the chicken.
Serves: 4
Prep time: 15 minutes
Cook time: 10 minutes, not counting time for rice or noodles
3 tablespoons honey
1.4 cup water
3/4 teaspoon ground black pepper, plus more to taste
1 1/2 teaspoons kosher salt, divided, plus additional to taste
2 tablespoons all-purpose flour
1 1/2 teaspoons ground turmeric
1 pound boneless, skinless chicken thighs or breasts, cut into bite size pieces
1 tablespoon coconut or canola oil
3/4 asparagus, trimmed and sliced on an angle into about 1-inch lengths, leaving the tips a bit longer
1 teaspoon unseasoned rice vinegar or soy sauce
Optional – 1 lime, cut into wedges for serving
Stir together the water, honey, pepper, and a 1/2 teaspoon salt in a small bowl or spouted measuring cup, and set the honey mixture aside.
Combine the flour, turmeric, and 1 teaspoon salt in a shallow bowl of plate. Add the chicken pieces and toss until coated.
Heat the olive oil in large skillet over medium heat. Add the spinach and a pinch of salt and cook, tossing, until just wilted, 1 to 2 minutes.
Heat the oil in a 10-inch or larger nonstick skillet over medium-high heat. Add the chicken and cook until the turmeric is fragrant and the chicken is golden brown on both sides, 2 to 3 minutes per side. Add the asparagus, stir to combine, and cook until crisp-tender, 1 to 2 minutes.
Add the honey mixture and cook, stirring, until the chicken is cooked through and the sauce has thickened, 2 to 3 minutes.
Remove from heat and stir in the vinegar or soy sauce. Season to taste with additional salt and pepper to taste, and serve over rice or noodles with lime wedges if you like.
.
.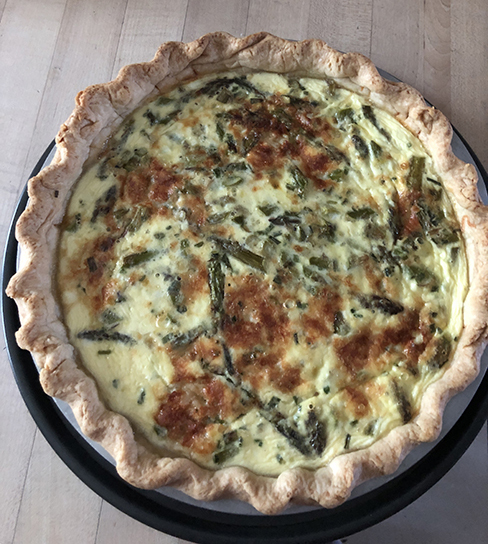 Master recipe for vegetable quiche
Use this recipe to turn any number of vegetables from this week's box – like mushrooms, asparagus, spinach, or a combination! – into quiche. See process pictures here.
Serves: 6-8
Prep time: 30 minutes, plus an hour or overnight to chill the crust
Cook time: 40-45 minutes
Crust:
1 1/2 cups flour (unbleached white or whole wheat)
good pinch salt, less if you're using salted butter
2 teaspoons sugar
1/2 cup butter, either salted or un- (1 stick, 8 tablespoons)
1 tablespoon vegetable shortening or lard
1 tablespoon sugar
2-4 tablespoons cold water
Filling:
1-2 tablespoons butter or olive oil
1/2 to 1 cup chopped onion, or other onion-like vegetable – green garlic, shallots, scallions, leeks, etc.
Two generous cups vegetables, cleaned and sliced, e.g. asparagus, broccoli, mushrooms, kale or other sturdy greens, etc. The exception is spinach – since it will wilt down a lot, you'll need to start with at least half a pound and up to one pound of spinach.
salt and freshly ground pepper, maybe a grate or two of fresh nutmeg
1 1/2 cups grated cheese, 3-4 ounces, or similar volume crumbled goat cheese or feta
2-4 eggs
1 1/2 to 1 2/3 cups half & half, buttermilk, heavy cream, or a mixture
Make the crust: measure the flour, salt and sugar into the bowl of your stand mixer (my favorite method), your food processor, or a mixing bowl. Slice the butter and shortening over the top and combine with the flour mixture, using the paddle attachment of the mixer, by pulsing the processor, or using a pastry blender, 2 knives, or your fingers, until you have a crumbly mixture with no butter lumps bigger than currants. With the mixer or processor running, or while stirring with fork, drizzle in the water by tablespoons, until the mixture just starts to come together in clumps. Stop before you have one big ball. Turn the crust out onto a floured surface and knead lightly to bring it together. Gather it into a ball, flatten into a disk, wrap (in plastic, wax paper, one of your reusable snack/sandwich bags), and chill for about an hour, and up to 2 days.
Roll out the crust: If the dough has been chilling, get it out of the fridge about 15 minutes before you want to roll it out, to soften just a bit. Roll out the crust and fit it into a shallow 9-inch pie plate, metal preferred. The crust browns better in metal then glass, and tends to slip down the sides less. Set the crust in the fridge or freezer while you prepare the filling.
Make the filling: melt the butter or pour the olive oil in a 10-12 inch skillet with a lid. Add the onions and sauté over medium heat until softened but not browned, 5-10 minutes. If you are using a vegetable with harder parts, such as asparagus stalks or broccoli or chard stems, add them now. Season with salt and pepper and continue to cook until starting to soften, another 5 minutes or so. Add the rest of the vegetable, e.g. asparagus tips or broccoli florets. Cover the pan the let everything steam until the vegetables are done to your liking – they should be a little underdone than for regular eating, since they will cook again in the quiche. If you are using greens add them to the onion mixture, and cover right away to wilt. Remove the lid and cook for a few more minutes to boil off any excess liquid. Remove from the heat and let cool.
Heat the oven to 375° Get the quiche crust out of the fridge or freezer, and place it on a cookie sheet or pizza pan, dark colored (better for browning) if you have one.
Assemble the quiche: Sprinkle a layer of cheese into the bottom of the crust, reserving about 1/3 cup for topping. Beat the eggs in a spouted measuring cup that's at least 2 cups (one pint) or larger if you have one. Add enough of whatever dairy product you are using to come to 2 1/4 cups. Add the vegetable filling on top of the cheese, and then pour in the egg mixture. Some people like to put the vegetable & cheese filled quiche onto the oven rack, and then add the egg to avoid having to walk across the kitchen with a liquid-filled quiche. If your oven racks don't slide in smoothly you might spill the quiche at that point, however.
Bake for about 25 minutes on an upper rack then move to a lower rack and bake another 20 minutes or so until puffed and golden. Allow to rest for a few minutes before cutting and serving. Enjoy hot or room temperature.
Baby Bok Choy with Oyster Sauce
From Food Network
This recipe calls for about 1 1/2 pounds of bok choy; we're getting a bit less than that in the box – but it's a light amount of sauce so will not overpower the smaller amount of vegetables!
.
.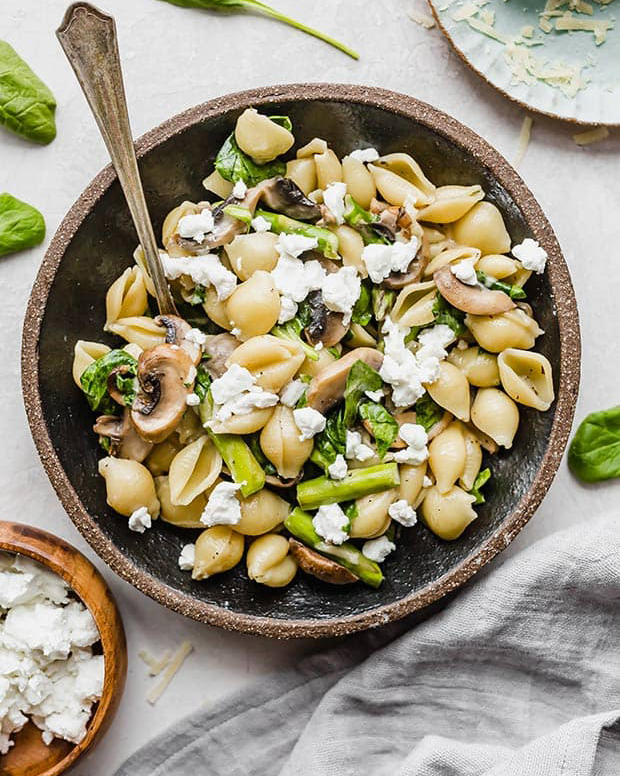 Photo by Whitney of Salt & Baker
Creamy Goat Cheese and Asparagus Spinach Pasta
From Salt & Baker
This light pasta dish can be prepared in 30 minutes or less, and seems designed for the produce in this week's box, mushrooms, asparagus, and spinach. Sub in the white parts of one stalk of green garlic, minced, for the garlic clove called for.
.
.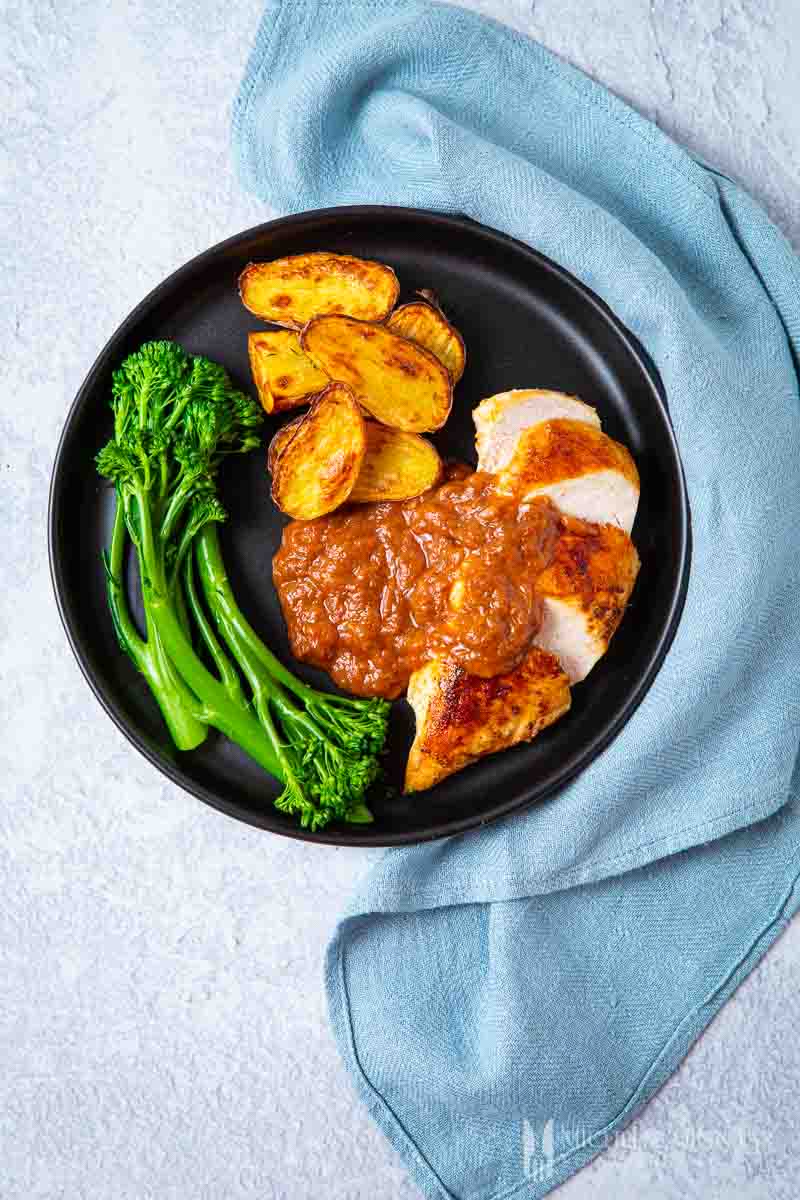 Photo by Michelle Minnaar
Chicken with Rhubarb
From the Greedy Gourmet
This quick dinner shows off the savory side of rhubarb. Serve with sauteed spinach and cilantro rice (stir about 1/4 cup chopped cilantro into 2 cups of cooked rice) for a complete meal.
.
.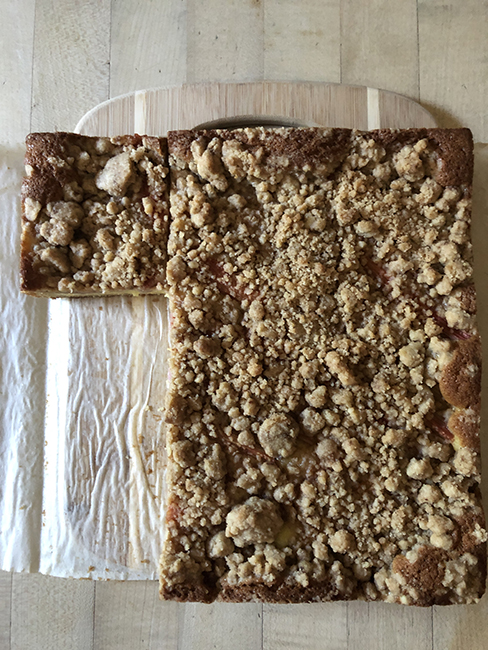 Photo by DebsLunch
Rhubarb Custard Crumb Cake
From DebsLunch, based on Nicola Lamb
How many recipes for rhubarb cake can anyone possibly need? This crumble-topped, custard-filled version is a welcome addition to your recipe files!
.
.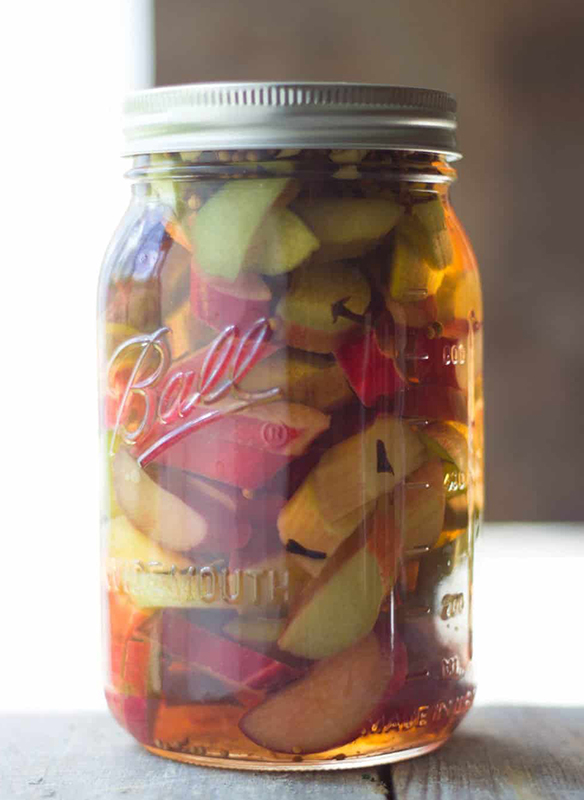 Photo by Julie of the Healthy Epicurean
Sweet Pickled Rhubarb
From The Healthy Epicurean
Another savory rhubarb recipe, and there are any number of ways to use this pickled rhubarb from the Healthy Epicurean; serve it with roasted chicken or other meats, top a bagel with cream cheese, or add it to a salad – see suggestions following. This recipe provides instructions for canning the pickled rhubarb to make it shelf-stable, but it will work as a refrigerator pickle and should keep in the fridge for several months.
.
.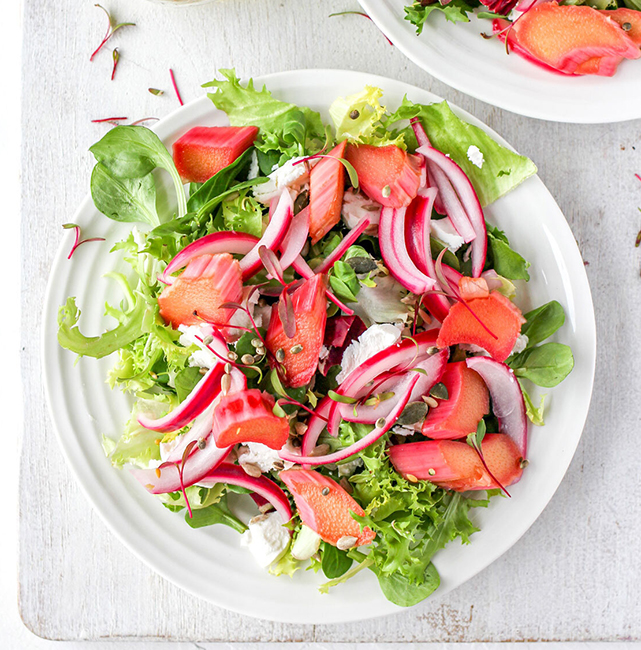 Photo by The Mother Cooker
Quick Pickled Rhubarb Salad with Goats Cheese
From The Mother Cooker
This recipe from a UK blog, where they have rhubarb much earlier in the year then we do, can be used with the sweet pickled rhubarb, and also provides another formula for pickling your rhubarb, and suggestions for combining it in a salad with lettuce from this week's box, goat cheese, onion pickled along with the rhubarb, and a dressing made from olive oil and pickling brine. A few sliced mushrooms or spinach leaves or salad radishes would also be tasty in this salad.