Week #20; Who grows your food? Part 2.

Sweet potato harvest with the H-2A crew.
I wrote last week to honor our hard-working farm crew. This week, let's acknowledge another group who works for us a few days each year. Since 2015, we have hired a migrant labor crew to weed carrots and do other big jobs. Labor contractor (team leader) Carlos Aguilera brings 35 people to our farm for four or five days. All are temporary agricultural workers from Mexico or Central America, working in the US under the H-2A program for agriculture.
Many of you buy our carrots and other produce at Willy Street Coop through the winter. Without their labor, we could not grow these winter crops. We plant carrots on a tight schedule in July so they are ready to harvest in fall. That puts us on a tight weeding schedule too. Our regular crew does not have time to weed these big fields; they already have a full workload. So we bring in Carlos' crew.
Thirty-five guys show up in a colorful school bus, spread out in our fields and leave them clean of weeds a few hours later. We have a short list of jobs for them. This year, they weeded carrots and beets, harvested green beans, onions and sweet potatoes, and helped us clean up finished fields. They accomplished all that in just four six-hour days. They are professional farmhands with high standards for their work.
Carlos' primary contracts are with seed producers in the area. (He must have a signed contract at each business where they work.) We are their smallest contract, offering just a few days per season, so we have to work with whichever days they are available, usually on weekends.
US Immigration showed up at our farm for a surprise inspection this year. Remember the August day when temps hit 99 degrees? Two immigration agents walked into our work shed, asking to see paperwork for the H-2A crew. We had it but our employees were arriving at the same time so it was a scramble. That day, agents visited each farm where Carlos' team works. I am reassured to know they do that, that they are watching out for the welfare of these workers. Carlos told me the agents visited the farm where they were stationed that day, to check working conditions and that workers have access to their own passport. That's important, as abusive labor contractors could hold their workers' passports. That's illegal.
Carlos Aguilera is well-organized and seems to take good care of his team. Over the years I've had our Spanish-speaking employees work side-by-side with the H-2A crew. I learned that they spend 90% of their time making fun of us and the rest teasing Carlos.
What is their favorite vegetable? We send them off with lots of melons and sweet corn, their favorites among what we grow. They are most excited for the corn, telling us they roast it and eat it sprinkled with cheese, salt and chile peppers.
Thanks for reading.
Beth and Steve
Veggie List & Veggie Notes
Week #20, September 28/29, 2023
– Weekly shares
– BiWeekly/ green
– Sampler/ D group
Green cabbage
Cauliflower, 1 head
Broccoli, 1 head
Leek, 1 or 2
Acorn squash, 2, 'Starry Night' or 'Jester' or 'Carnival'
Green beans, ~1 lb
Frying peppers, ~4 ct
Oranos snack peppers, several
Jalapeno chile, 1
Garlic, 1 head
Next week's box will probably contain cauliflower, winter squash, peppers and more.
Cauliflower and broccoli – Storage: Refrigerate.
Leeks (look like big scallions) – These alliums have a milder flavor than onions. Nonetheless, they can be used in recipes that call for onions. To wash, split the leek lengthwise, from the green tops about halfway to the base, leaving the base intact. Rinse well under running water, separating the layers to flush. If necessary, split the leek further if soil has penetrated more than halfway down the leek. Shake dry. Leeks are generally eaten cooked. They can be sauteed, steamed or roasted. Intact leeks will store 2 to 3 weeks if covered loosely and refrigerated. The outer leaves will yellow. Just peel off and discard those yellow leaves. The inner layers will be fine.
Winter squash – Store at room temperature.
Oranos snack peppers (sweet, orange) – Everyone gets a handful of Oranos snack peppers. These are sweet and wonderful for snacking, loaded with flavor but sparse seeds.
Jalapeno chile – These are small, green and shiny. Some have a red tip. These are the only hot pepper in the box.
Garlic – This is the German Extra Hardy variety, with large cloves. FYI, some heads look odd because they dried slower than I would have liked.
RECIPES by PHOEBE

Winter Squash & Pecan Pâté
Don't let the name pâté put you off—this savory squash dip is made with 100% plants! It's creamy, nutty, and tangy, with a subtle sweetness from the squash and roasted alliums. Served with crackers or crostini, it would be a lovely appetizer for a fall gathering.
Prep time: 15 minutes
Cook time: 45 minutes
Serves 8
1 cup raw pecan halves
1 acorn squash
½ medium onion, cut into 4 wedges
4 garlic cloves, unpeeled
¼ cup extra-virgin olive oil, plus more for drizzling
2 tablespoons apple cider vinegar
1 teaspoon dried thyme
1 teaspoon ground cumin
¾ teaspoon sea salt, plus more for sprinkling
2 tablespoons water, plus more as needed
Freshly ground black pepper
Pepitas, for garnish (optional)
Crackers and/or baguette, for serving
Preheat the oven to 375°F and line a baking sheet with parchment paper.
Spread the pecans evenly on the baking sheet and place in the preheating oven. Toast until fragrant, 5 to 8 minutes, while the oven preheats. Transfer to a bowl and set aside.
Slice the squash in half vertically and scoop out the seeds. Rub the squash halves with a drizzle of olive oil and sprinkle with salt and pepper. Place cut side down on the baking sheet and add the onion wedges. Drizzle the onions with olive oil and sprinkle with salt. Place the garlic cloves in a small piece of foil and drizzle with olive oil. Wrap tightly and place on the baking sheet.
Roast the vegetables for 20 to 25 minutes, or until the onions are browned and soft. Remove the onions from the baking sheet and continue roasting the squash and garlic until the squash is soft and easily pierced with a fork, another 10 to 20 minutes. Remove from the oven and allow to cool slightly, then peel the garlic cloves and measure 2 cups of the roasted squash flesh.
Place the pecans in a food processor and process until finely ground. Add the 2 cups squash, the roasted garlic, onions, olive oil, apple cider vinegar, thyme, cumin, salt, and 2 tablespoons water. Process until smooth, adding more water as needed to form a smooth, creamy spread. You may need up to 6 tablespoons total depending on the moisture content of your squash. Season to taste.
Transfer the pâté to a serving dish. Top with a drizzle of olive oil and pepitas, if using, and serve with crackers or baguette.
Tri-Color Pepper Steak with Leeks
From The Woks of Life
Many Chinese pepper steak recipes call for onions, but this twist by The Woks of Life features leeks instead…dark green tops included! If you don't keep Shaoxing wine on hand, replace it with dry cooking sherry or stock.
.
.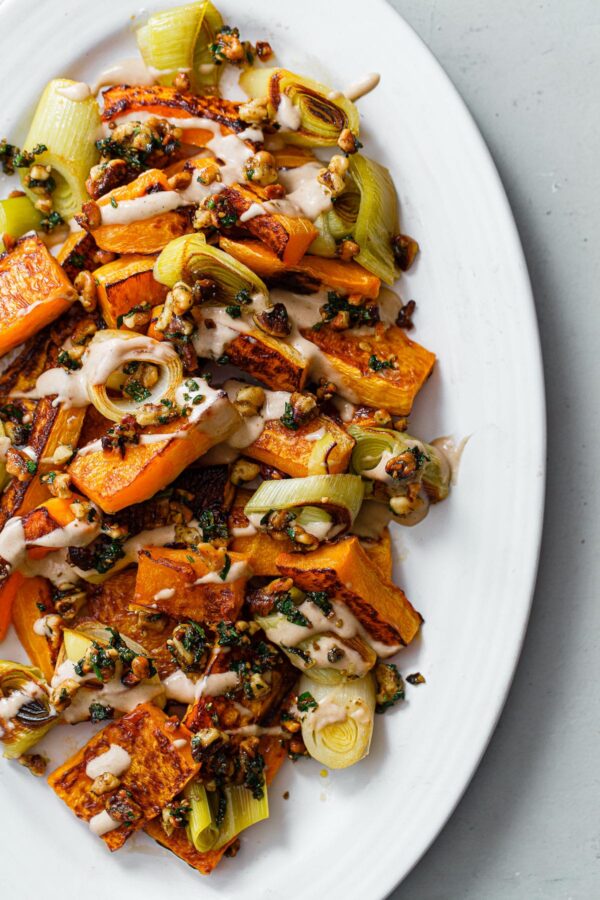 Photo by A Beautiful Plate
Roasted Squash and Leeks with Orange Tahini Sauce, Walnuts, and Za'atar
From A Beautiful Plate
This recipe highlights one of my favorite ways to cook leeks: by simply roasting them! They add lovely savory flavor to this stunning fall side dish, which features creamy roasted squash, a citrusy tahini sauce, and walnuts for crunch.
Acorn squash will work well here in place of the butternut, though I recommend roasting the squash in wedges with the skin on instead of attempting to peel it. If you don't have fresh parsley, omit it, and season the roasted vegetables with an extra pinch of za'atar.
.
.


Photo by Jeanine Donofrio and Jack Mathews
Fettuccine Alfredo
From Love & Lemons
This homemade fettuccine Alfredo is creamy and comforting, but it isn't made with any cream. Instead, boiled and blended cauliflower creates the sauce's luscious texture. I promise you can't taste it!
.
.


Photo by Smitten Kitchen
Crispy Cabbage and Cauliflower Salad
From Smitten Kitchen
This humble salad consists of nothing more than roasted cabbage and cauliflower tossed in a creamy tahini dressing. It's simple and satisfying, full of caramelized flavor. Serve it with a dollop of harissa alongside to add a kick of heat.
.
.


Photo by The First Mess
Vegan Chopped Cabbage Roll Skillet
From The First Mess
This hearty skillet meal is two steps away from traditional cabbage rolls. For one, it's plant-based, made with lentils and walnuts instead of meat. Second, instead of stuffing individual cabbage leaves with the lentil mixture, you chop and roast the cabbage. Then, just before serving, you stir it into the saucy lentils. As a result, this recipe is much simpler to make than the classic dish, though it's every bit as delicious.
Tip: It calls for a yellow onion, but leeks would be great here too!
.
.


Photo by Eva Kolenko
Sautéed Green Beans
From Love & Lemons
A lemon-Dijon dressing brightens up these quick sautéed green beans. If you don't have fresh thyme on hand, replace it with 1 teaspoon dried, or omit it.