Week #8; A date on the tractor.
These days, it's rare for me and Steve to do field work together. Our responsibilities pull us in different directions. Of course, we talk endlessly about the farm (and about you!) at the dinner table. At this busy time of year, we often race to stay ahead of our crew. This week, we did not have long to prep a field before our crew was ready to transplant watermelons, so Steve & I worked together to speed the job. It felt like a date!

We use this implement to shape beds for transplanting and to lay plastic mulch.

Steve drives the tractor because he's skilled at driving in a straight row. Straight rows make the next jobs of transplanting and cultivation easier. Meanwhile, I perch on the back seat, ready to jump off at the end of each row to cut the plastic mulch and drip tape, reposition both in the next row, and cover the ends with soil.

The crew was ready with the transplanter and a wagon of watermelon seedlings. They started transplanting in the first bed while we were still laying mulch.

Eventually, the melon plants will completely cover the ground, as you see in this photo of a more mature field. At that point, we cannot cultivate or even weed by hand without damaging the vines. Now you see why plastic mulch is helpful in this setting.
We've tried paper mulches but have not found one that lasts long enough to be useful. Paper breaks down quickly under sunshine and moisture. New products continue to be released, so we're hopeful that some day we can switch from plastic mulch to paper or plant-based mulch.
Thanks for reading.
Beth
Veggie List & Veggie Notes
Week #8; July 7/8, 2021
– Weekly shares
– EOW/ green

Pretty Swiss chard ready to pack in CSA boxes
Caraflex cabbage
Swiss chard, 1 bunch
Zucchini &/or yellow squash, ~3 lb
Snap & snow peas, 0.7 lb
(Both types of peas are in one bag.)
Broccoli, 1 – 3 heads
Cucumber, 2
Lettuce, 1 small head
Walla Walla onion, 1
Basil, 1 husky sprig
Garlic scapes, 1 small handful
One or two sites get a sunflower this week.
Next week's box will probably contain broccoli, zucchini, cucumbers, fennel, carrots, basil, Walla Walla onion and more.
Caraflex cabbage (pointed head) – This is another head of the tender salad-type cabbage we sent last week. These heads average 2 lb, not too big. It's so good right now that we're sending it two weeks in a row, so each EOW group gets it. We've got a batch of cole slaw in the fridge right now!
Swiss chard (pretty bundle of green leaves) – Our crew did a nice job mixing colors for pretty bunches. Swiss chard is a close relative of spinach, but requires a bit more cooking. Use as a substitute in any recipe that calls for spinach, just cook the chard a little longer. Both stems and leaves are delicious. The stems requite longer cooking, so cut them free from the leaves when preparing. That lets you cook the stems longer.
Snap & snow peas – As usual, both types are in one bag, with snow peas on the bottom this time (so far at least!). We really like this new snap pea variety, PLS140. Long pods, sturdy plants and good flavor despite the heat. Hot weather is always a challenge for peas. Enjoy this batch – it's the final planting for the year.
Broccoli – We remain amazed by the broccoli this year. This is much bigger than our usual broccoli planted in spring.
Cucumbers – The cukes have a lot of scarring this week from insects and wind. You might need to peel your cuke(s) this week.
Walla Walla onions – These fat onions are sweet, crisp and very mild. Wonderful raw or lightly cooked. Try cutting into wedges, threading on a skewer and grilling. Do not try to fry these onions – it doesn't work because of their high water content.
Storage: It's OK to store at room temperature for up to one week. Otherwise, refrigerate.
Basil (branched, leafy stalk) – Everyone gets a husky sprig, the first cutting of the season.
Storage: Basil deteriorates if stored in the refrigerator. It is best stored at room temperature with the cut ends in water, for example in a jar or vase. Treat it like a flower. Give the stem a fresh trim and change the water every day or two.
Basil forecast: We think this will be a good basil year. Keep your fingers crossed. We've settled on a favorite disease-resistant variety, to avoid the disease that has ended our basil crops early the past few years. I think we'll have a steady supply during tomato season, and plenty to sell to members who want extra basil for pesto.
Garlic scapes (curly green things) – Garlic scapes grow at the top of garlic plants. They look like flower buds but are actually clusters of tiny bulblets. We snap off the young scapes to direct the plants' energy into forming garlic bulbs underground. Use scapes as a substitute for garlic cloves. They can be minced, mixed with olive oil, and added to stir fries or simple pasta dishes. The scapes can be sautéed, but will not brown like garlic cloves. Expect them to retain their crunch even when cooked, and to be milder than garlic cloves, closer in pungency to the green garlic we've sent.
Sunflower (for 1 or 2 sites this week) – We continue experimenting with sunflowers as they are one of the few flowers that we can send in the CSA boxes. This cheerful variety 'Vincent's Choice' does not produce pollen, making it an excellent choice to pack with vegetables. The sunflowers are for beauty and joy, not to eat!
Storage: Trim the stem and place in water. If you re-trim the stem and change the water a few times, the flower should last about one week.
RECIPES from PHOEBE
Visit our 2020 Recipe Log or our 2019 Recipe Log.
.
.

Zucchini Fritters with Lemon Yogurt Sauce
These fritters are a delicious appetizer, or, if they're paired with a salad, a yummy meal on their own. They're best served right after cooking, when they're still warm and crispy. The fritter recipe is adapted from Julia Turshen's.
Serves: 3-4
Prep time: 20 minutes
Cook time: 20 minutes
Ingredients
For the yogurt sauce:
1/2 cup plain Greek yogurt
1 teaspoon minced garlic scapes
1 teaspoon fresh lemon juice
1/2 teaspoon lemon zest
1/4 teaspoon sea salt
Freshly ground black pepper
1 teaspoon minced fresh basil, about 3 large leaves
For the fritters:
1/2 cup all-purpose flour
1 teaspoon baking powder
1 teaspoon sea salt
1 pound zucchini and/or yellow squash, coarsely grated
1 large egg, beaten
1/2 cup sunflower or vegetable oil, for frying
Make the yogurt sauce: In a small bowl, stir together the yogurt, garlic scapes, lemon juice, lemon zest, salt, and pepper. Fold in the basil, season to taste, and set aside.
Make the fritters: In a large bowl, whisk together the flour, baking powder, and salt.
Place the grated zucchini on a clean kitchen towel and wrap it up tightly. Wring out the liquid over the sink.
Unwrap the squash and add it to the bowl with the flour mixture. Add the egg and mix until everything is well combined. It will seem stiff and dry at first, but it will come together as you stir.
Line a plate with paper towels.
Heat a large nonstick skillet over medium-high heat and add 1/4 cup of the oil. When the oil shimmers, drop in heaping tablespoonfuls of the batter and use the back of a spoon or fork to press each one into a flat pancake. Be careful not to crowd the fritters.
Cook until the fritters are brown and crisp on both sides, about 2-3 minutes on the first side and about 2 minutes on the second side. Transfer to the lined plate and fry the remaining batter in batches, adding the remaining oil to the skillet as needed.
Sprinkle the warm fritters with salt and serve with dollops of the lemon yogurt sauce.
Beans & Greens Tacos with Pickled Chard Stems
These tacos have a soft, aromatic beans-and-greens filling, so I like to top them with pickled chard stems for crunch. Note that I only pickle 1 cup of chard stems for this recipe. If you have additional chard stems, you'll dice them up and cook them with the taco filling.
Serves: 3-4 (makes 8 tacos)
Prep time: 30 minutes
Cook time: 15 minutes
Ingredients
For the pickled chard stems:
1 bunch Swiss chard stems
1 garlic scape, thinly sliced
1/3 cup rice vinegar
1/3 cup white wine vinegar
1 tablespoon cane sugar
1/4 teaspoon sea salt
For the tacos:
1 tablespoon avocado oil
1 onion, thinly sliced
1 teaspoon sea salt, divided
3 garlic scapes, thinly sliced
Remaining diced chard stems
1 (14-ounce) can pinto beans, drained and rinsed
1 1/2 teaspoons ground cumin
1 1/2 teaspoons ground coriander
1/8 teaspoon cayenne pepper
1 bunch Swiss chard leaves, thinly sliced into ribbons
2 tablespoons fresh lime juice
8 tortillas, warmed
1/3 cup crumbled feta cheese
Make the pickled chard stems: Cut the chard stems into 1-inch matchsticks to yield 1 cup. Dice any remaining chard stems and set aside.
Place the matchsticks and the garlic scape in a medium jar with a tight-fitting lid. Add the vinegars, sugar, and salt and seal the lid. Shake vigorously until the sugar and salt dissolve. Set aside.
Make the tacos: Heat the oil in a large skillet over medium heat. Add the onion and 1/4 teaspoon salt and cook for 5 minutes, or until the onion softens. Add the garlic scapes and reserved diced chard stems from above (note: not the pickled ones!) and cook for 3 minutes more.
Add the beans, cumin, coriander, cayenne, and the remaining 3/4 teaspoon salt, and cook for 1 minute, or until fragrant.
Add half the chard leaves and 1 tablespoon lime juice and cook, tossing, until the leaves wilt. Add the remaining chard leaves and cook until just wilted. Add the remaining 1 tablespoon lime juice and season to taste.
Assemble the tacos with the tortillas, beans and chard filling, pickled chard stems, and crumbled feta cheese.
Garlicky Stir-Fried Cabbage with Seared Tofu
If you're not in the mood for tofu, no worries! This tangy, garlicky cabbage would be a delicious side dish for almost any protein. To make this recipe a larger meal, serve it with cooked rice.
Serves: 4
Prep time: 1 hour and 30 minutes (includes marinating time)
Cook time: 15 minutes
Ingredients
For the tofu:
1/4 cup tamari or soy sauce
2 tablespoons maple syrup
2 tablespoons rice vinegar
1 teaspoon toasted sesame oil
1 teaspoon sriracha
2 garlic cloves, grated
14 ounces extra-firm tofu, sliced into 1-inch-thick triangles
2 teaspoons avocado oil
For the cabbage:
2 tablespoons avocado oil
2 tablespoons thinly sliced garlic (about 8 medium cloves)
2 tablespoons thinly sliced garlic scapes
1/4 teaspoon red pepper flakes
1 small green cabbage, shredded (about 6 cups)
3/4 teaspoon sea salt
2 tablespoons rice vinegar, divided
For serving:
1/4 cup chopped peanuts
1/4 cup torn fresh basil leaves
Make the tofu marinade: In a small bowl or liquid measuring cup, whisk together the tamari, maple syrup, rice vinegar, sesame oil, sriracha, and garlic.
Arrange the tofu in a single layer in an 8×8″ baking dish, or similar. Pour the marinade evenly over it, cover, and refrigerate for 1 hour or overnight, flipping partway through the marinating time.
Make the cabbage: Heat the oil in a large nonstick skillet over medium heat. Add the garlic, garlic scapes, and red pepper flakes and cook, stirring constantly, for 2 minutes. Turn down the heat as needed to avoid burning.
Add half the cabbage, the salt, and 1 tablespoon of the rice vinegar and toss until the cabbage starts to soften. Add the remaining cabbage and rice vinegar and toss again, cooking until all the cabbage has softened slightly but still has some bite, 3-5 minutes. Transfer the cabbage to a large bowl and set aside while you cook the tofu.
Wipe out the skillet and return it to medium heat. Add the 2 teaspoons avocado oil. Remove the tofu from the marinade and arrange it with one triangular side down in the skillet. You may need to work in batches depending on the size of your pan. Cook until the tofu is browned and lightly crisp on the first side, about 2 minutes. Flip and cook for 2 minutes more.
Assemble plates with the cabbage and tofu and garnish with the peanuts and basil.
This garlic-lovers spaghetti is an easy way to use a whole bunch of Swiss chard. Like the taco recipe above, it uses both the stems and the leaves.
.
.


Photo by How Sweet Eats
This recipe is a great one to make ahead for lunches. The cucumber from this week's box will give it a nice crunch!
.
.


Photo by Smitten Kitchen
Roasting is one of my favorite ways to cook cabbage, as it becomes deliciously crisp and browned around the edges. A shower of Parmesan cheese takes these wedges over the top.
.
.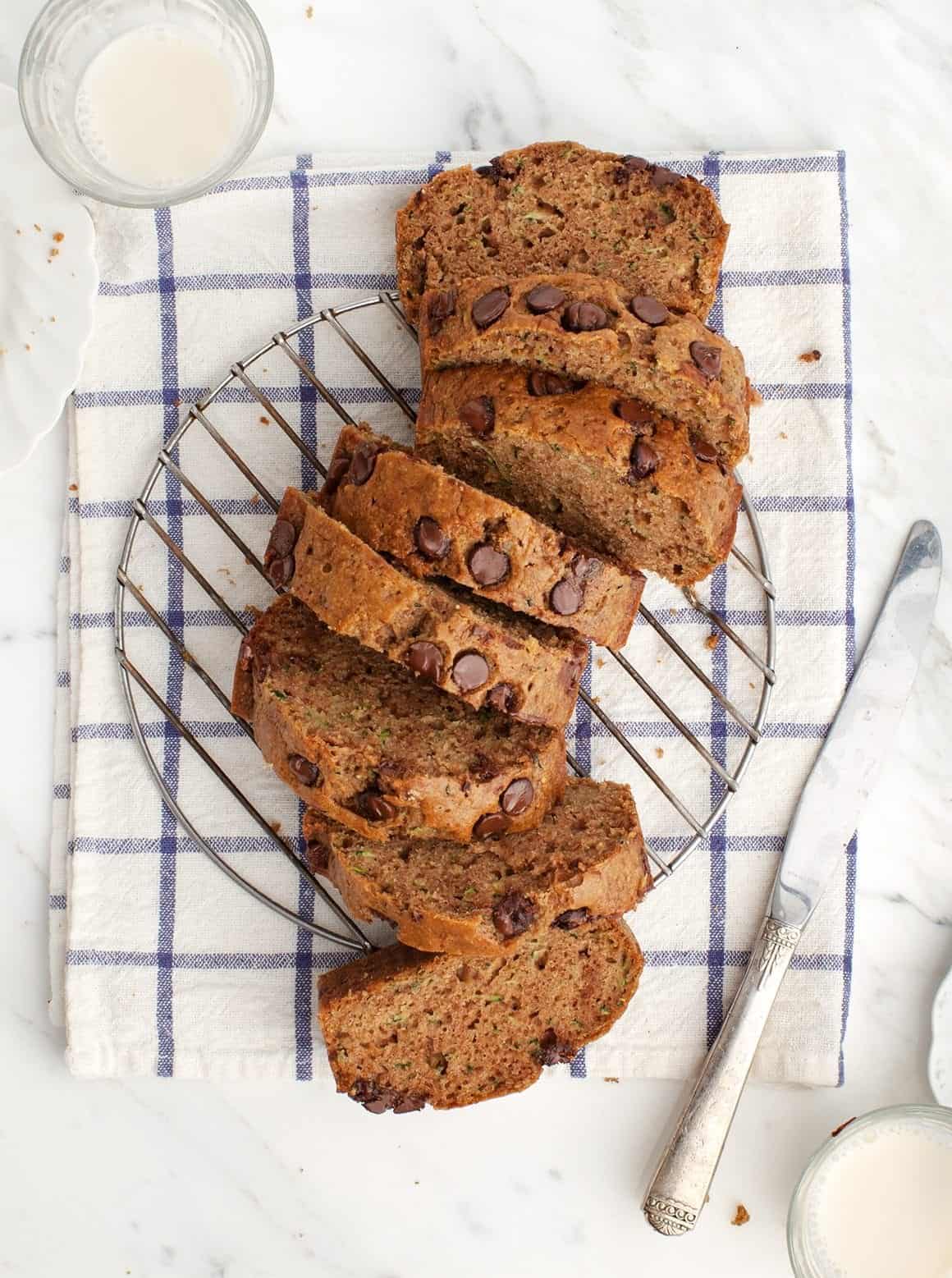 Photo by Jack Mathews
This recipe makes two loaves. Devour them both right away, give one to a friend, or freeze one loaf for another day.
.