Week #7; Farm-keeping
Think housekeeping, but for a farm. There are essential tasks that should not be neglected. We accomplished a lot this week, but without the stress of strawberry picking and u-picks. We pushed ourselves and our crew pretty hard during berry season. It's the only way to get everything harvested. This week was calm and very productive, with a welcome rainy day on Tuesday.

Remember the tomato field we mulched with straw? Now it's time to trellis the tomatoes, so the plants are off the ground and easier to pick. Top, Ari winds string around a wooden stake, then weaves the plants in place. Bottom, you can see there's a string on both sides of the plants. In the background, Billy weaves the adjacent row.

Steve plants carrots for fall harvest!

This earlier carrot field will be ready to harvest in a few weeks. We have cultivated mechanically as much as we can. At this point, we need to weed by hand. This is a good job for a group, so the work is social and progress is quick.
Save the boxes!

There are already big stacks of damaged boxes in the barn. Let's solve this problem, and avoid the waste. The boxes are expensive and we count on using them many times.

The tabs holding the bottom of the box together are vulnerable to damage as the box is flattened.

Once ripped, the box will not safely hold a heavy cabbage or jar of tomato juice, et.

This is a view of the bottom of the box. When unfolding the tabs on the bottom of the box, it is tempting to grab the edge and pull up. Don't do it! That will rip the tabs.

Instead, grasp the edge and pull toward yourself. The box will fold at its natural crease. Repeat for the other tab, and the box will be easy to flatten.
Finally, feel free to watch our old video on this topic.

Thank you so much for the extra attention to this.
Beth & Steve
Veggie List & Veggie Notes
Week #7, July 1/2, 2021
– Weekly shares
– EOW/ purple
– Sampler/ sun
Tipi tomato juice, 1 quart
Caraflex cabbage, ~2 lb
Broccoli, ~2.5- 2.75 lb
Snap peas, 0.4 lb
Zucchini &/or yellow squash, a few
Green leaf lettuce, 1 small head
Scallions, 1 bunch
Dillweed, 1 bunch with leaves & flowers
Garlic scapes, a small handful
A few sites get an extra item. These are the first, sparse harvests. We'll rotate to everyone soon.
– One site gets a sunflower, for beauty and color.
– A few sites get a cucumber. These early cukes are oddly shaped but are very fresh! Soon we'll have enough for all.
Next week's box will probably contain summer vegetables! We're not sure which ones yet!
Tipi tomato juice – At peak season most years, we take our tomatoes to a small batch processor in East Troy, to process into tomato juice. It's a great way to capture ripe tomatoes when abundant. Drink the juice or try making an easy soup with vegetables from your CSA box, with zucchini, scallions, and dill (if you like dill). Or make holiday cocktails!
Storage: Store the juice out of sunlight at room temperature when unopened. Refrigerate after opening. The juice is already seasoned so do not add salt if you cook with it.
Ingredients: organic tomatoes from Tipi Produce, salt, organic garlic, organic onion, organic black pepper. Nutritional information is posted here.
'Caraflex' cabbage – This is a nice salad-type that we grow in summer. Don't you love the pointy shape? It has thinner, more tender leaves than the usual green cabbage. Great in salads and slaws but can also be cooked. Here's the description from the seed catalogue: "Inner leaves are tender, crunchy, and have an excellent, sweet and mild cabbage flavor. Perfect for summer salads, slaws, or cooked dishes." We're sending it this week so you can make slaw for your holiday picnics.
Broccoli – Wow, for our farm, this is great spring broccoli! Most years, we struggle to grow broccoli in spring (fall is easier). It reflects our light-textured soils. Clearly, the broccoli plants were very happy with year.
Scallions – This is the last batch of scallions until fall. We hope you enjoyed them.
Garlic scapes (curly green things) – Garlic scapes grow at the top of garlic plants. They look like flower buds but are actually clusters of tiny bulblets. We snap off the young scapes to direct the plants' energy into forming garlic bulbs underground. Use scapes as a substitute for garlic cloves. They can be minced, mixed with olive oil, and added to stir fries or simple pasta dishes. The scapes can be sautéed, but will not brown like garlic cloves. Expect them to retain their crunch even when cooked, and to be milder than garlic cloves, closer in pungency to the green garlic we've sent.
RECIPES from DEB
Visit our 2020 Recipe Log or our 2019 Recipe Log or join our Facebook discussion group.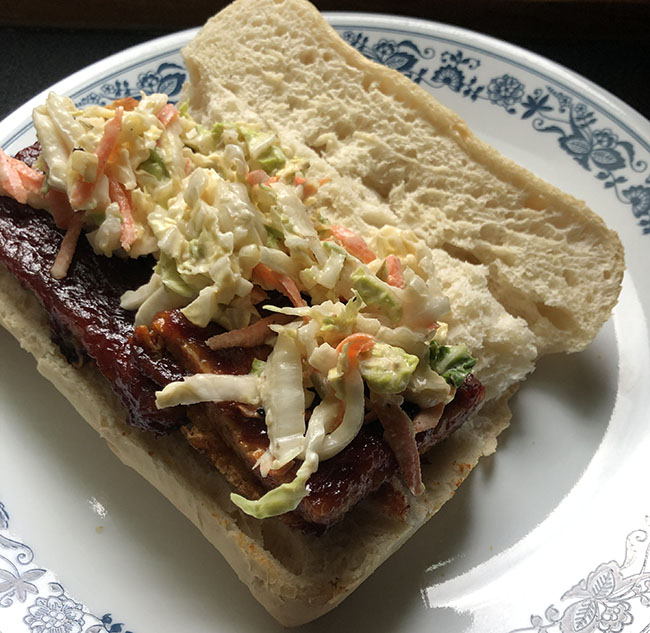 Quick BBQ tofu or chicken sandwiches with slaw
Serves 4
Tofu/chicken takes 30 minutes prep, and 30 minutes baking
Slaw takes 15 minutes prep, 1-3 hours wilting, 1 hour or more chilling
Tofu or chicken and sauce
(you can make this even quicker by skipping the sauce ingredients, and covering the tofu or chicken with about a cup of your favorite bottled barbecue sauce):
one 16 oz. package of firm tofu (such as Bountiful Bean, made in WI) OR 16 oz. skinless boneless chicken breast
3-4 tablespoons vegetable oil, divided
about 3 tablespoons flour for dredging
2 tablespoons rice vinegar
3 TBLS soy sauce
1 8 oz. can of tomato sauce
1 large chipotle chile in adobo (or more if you like heat; these also come in cans)
2 tablespoons maple syrup
2 tablespoons molasses
2 teaspoon cumin
1 reaspoon dried oregano
pinch red pepper flakes
1 teaspoon chili powder
1 teaspoon paprika
4 soft French rolls
mustard & coleslaw for serving
Coleslaw:
6 cups shredded cabbage
1 carrot grated
1/4 cup sugar
1 teaspoon kosher salt
1/4 cup mayonnaise or vegan mayonnaise
juice of one large lemon or 3 tablespoons cider or rice vinegar
freshly ground black pepper
optional: 1/2 teaspoon celery seed
Preheat the oven to 350°. Squeeze some of the water out of the block of tofu, halve the block, and cut the halves into slices – you should get 4 slices per half. Dredge the tofu in flour, heat about a tablespoon of the oil in a large skillet, and fry the tofu in batches turning once until it is browned on both sides, adding more oil as necessary.
If you are using chicken, cut each breast into 3 or 4 pieces, then pound with a meat mallet until flattened to about an inch thick. Dredge in flour and fry following the same directions as for the tofu.
For sauce, combine one tablespoon of the oil, the rice vinegar, soy sauce, tomato sauce, chipotle chile, maple syrup, molasses, cumin, oregano, red pepper flakes, chili powder, paprika, and salt & pepper to taste in a food processor or blender jar, and whir until smooth. Pour enough of this sauce to cover the bottom of a one to two quart baking dish, and transfer the tofu or chicken into the dish as it's fried. When you get all the tofu or chicken into the dish, pour in the rest of the sauce from the blender.
Cover the baking dish with foil, and bake for about 30 minutes, until all the sauce is absorbed.
Warm the buns, spread with mustard if desired, and make sandwiches with the tofu or chicken, and top with coleslaw.
For the coleslaw: In a large bowl, toss the shredded cabbage & grated carrot with the sugar and kosher salt. Transfer the cabbage mix to a colander – it helps to do this in the sink! – and set the colander inside the bowl. Let the coleslaw wilt for at least 1 hour and up to three. Lift the cabbage and colander out of the bowl, discard the liquid, and rinse and dry the bowl. Put the cabbage mixture back into the bowl and add the mayo, lemon juice, black pepper and celery seed if using and mix well. Chill the coleslaw for an hour before serving.
For coleslaw lovers, here are some additional coleslaw variations.
.
.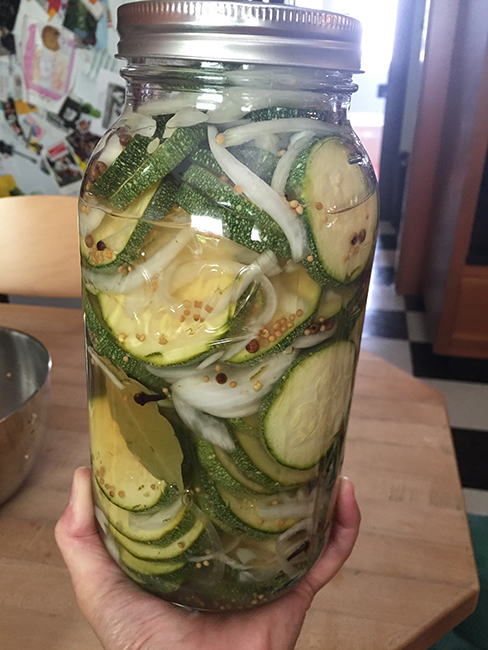 Refrigerator Zucchini Pickles
Makes 2-3 pints of pickles
Takes about 30 minutes prep, marinate at least overnight before serving
These are refrigerator pickles, not intended for canning, and are similar in sweetness to a bread & butter pickle. For those with access to Local Thyme, Pat offers Sweet Zucchini Pickles which includes turmeric, to give the pickles the traditional bread & butter pickle yellow color.
Equipment: 2-3 pint jars, or one 2 quart jar
1 1/2 pounds zucchini, rinsed, ends trimmed, and sliced into rounds
1 onion, peeled and halved and sliced into half moons
1-2 tablespoon mixed pickling spices (or make your own blend of mustard seeds, bay leaf, peppercorns)
2-3 whole garlic cloves, peeled – or cut garlic scapes from the box into lengths that will fit into your jars
1-2 dried hot red pepper (optional)
sprigs of fresh dill
1 cup vinegar, white or cider
1 tablespoon kosher salt
1/2 cup sugar
about 2 1/2 cups water
Divide the zucchini and onion slices into your jars, and add the pickling spices, garlic, and red pepper if using. Tuck in the sprigs of dill. Combine the vinegar, kosher salt, sugar, and water in a saucepan, and bring to a boil, stirring to dissolve the salt and sugar. Pour over the vegetables while still hot. Seal the jars with lids, and chill at least overnight before eating. Delicious on cheese sandwiches!
.
.
Master roasted broccoli recipe
Serves 4
Takes 20 minutes
1 3/4 pounds broccoli
3 tablespoons olive oil
pinch of kosher salt or 1/2 teaspoon table salt
1/2 teaspoon sugar
plenty of ground black pepper
Heat the oven to 400°. Oil a large baking sheet with 1/2 to 1 tablespoon of the oil, and place it in the oven to heat. Rinse the broccoli, and cut the heads away from the stalks. Separate the heads into florets. Peel the stalks, and slice into rounds. In a large bowl, toss the broccoli with the remaining oil, salt, and sugar. Transfer to the heated baking sheet and roast for until tender and well browned, abut 10 minutes. Serve with lemon wedges if desired.
.
.
Here's a three-pack of broccoli salads for you to choose from for holiday picnics!
Charred Broccoli and Avocado Salad
From Chocolate & Zucchini
cnz.to/recipes/vegetables-grains/charred-broccoli-and-avocado-salad-recipe/
A vegan option with a creamy tahini dressing.
.
.
Favorite Broccoli Salad
From Cookie and Kate
cookieandkate.com/favorite-broccoli-salad-recipe/
Another no-mayo version, with a honey-mustard dressing and dried cranberries
.
.
Broccoli Salad with Bacon, Cheddar & Almonds
From Once Upon a Chef.
www.onceuponachef.com/recipes/creamy-broccoli-salad-with-bacon-cheddar-almonds.html
This is the version most of us have encountered at potlucks, with bacon and a sweet mayonnaise-based dressing. You can sub sunflower seeds for the almonds.
.
.
Fettuccine with Walnuts, Zucchini Ribbons, and Pecorino Romano
From Bon Appetit
www.bonappetit.com/recipe/fettuccine-with-walnuts-zucchini-ribbons-and-pecorino-romano
Sub in the fresh dill from the box for the basil and mint called for here.