Monthly Archives:
August 2023
We have a new favorite place to enjoy amazing meals prepared with local foods. During the pandemic, a group of farmer friends started a prepared foods venture called the Community Kitchen Co-op. This year, they are offering sit-down meals in their beautiful shop in tiny Monticello, south of Verona. The Monticello Social Club hosts five-course, fixed-menu meals every two weeks. We've attended three times so far. These folks know how to cook! The spread is always amazing. Most of the photos are from the August 26 dinner with a few thrown in from earlier evenings.
This is not some weird paid promo. I don't do that. These are people I admire for their work in local communities. I love what they are doing it and want to spread the word. While it's called a 'social club', it is completely open to the public. Look for Steve and me if you attend a meal – we try to go at least one per month. The meals are family style and everyone is friendly. These generous meals are the equivalent of the best that Madison has to offer. Come hungry!
Beth
How to freeze sweet corn.
We hope you are enjoying the steady sweet corn as much as we are. Next week (Sept 7/8) will be the final corn delivery. If you're looking for new ideas, here are a few, all using kernels cut from the cob. I recommend working on a cutting board in your sink, to contain the splatter.
– To freeze corn, cook it as usual, let cool, and cut the kernels from the cob. Pack in freezer boxes or bags. Include the accumulated corn juice, which will help protect the kernels from freezer burn.
– Cooked kernels are good in salsa.
– Raw kernels can be added to soups, stews, tomato sauces. Add and stir during the last few minutes of cooking.
– By now, you probably realize that you can eat raw corn straight from the cob. That's a Tipi farm favorite!
Veggie List & Veggie Notes
Week #16, August 31/ Sept 1, 2023
– Weekly shares
– BiWeekly/ green
– Sampler/ D group
'Vision' sweet corn, 9 ears
Red or orange or yellow watermelon
Slicing tomatoes, ~3 lb
Red frying pepper, 1
Yellow bell pepper, 1 or 2
'Orano' orange snack peppers, a few
Zucchini, ~1.25 lb
Yellow 'Expression' onion
Basil
Korean Red garlic
By site: 1 cucumber or another pepper
Next week's box will probably contain sweet corn, tomatoes, peppers, zucchini and more.
Sweet corn – This is another beautiful batch of 'Vision'. No bugs.
Slicing tomatoes – These are riper than usual and so delicious, due to the hot weather. Eat soon. Spread on a platter on your kitchen counter so you can keep an eye on them. If you see flaws developing, refrigerate.
Peppers – Some of the yellow peppers have black seeds. This is undetectable from the outside, and largely does not affect the pepper itself. If you find this, you will want to trim away the core and rinse the pepper. This is frustrating for us since we cannot recognize it from the outside. And the peppers themselves are so great. We think it's a transient problem. Doesn't seem to affect anything other than the yellow bells.
RECIPES by PHOEBE
Creamy Corn Casserole with Basil
If you're anything like me, you'll go back for a second serving of this casserole as soon as you've finished your first! I love the combination of textures here. A creamy blend of ricotta and Parmesan lightly binds the crisp, juicy corn kernels together, and a crunchy layer of breadcrumbs tops it all off. Pair this casserole with a salad for a light vegetarian dinner, or serve it alongside your favorite protein for a heartier meal. Adapted from the Farro & Greens Gratin in Love & Lemons Simple Feel Good Food.
Serves 4 to 6
Prep time: 20 minutes
Cook time: 30 minutes
1 cup diced zucchini (about ½ medium)
2 large eggs
1 cup whole milk ricotta cheese
½ cup grated Parmesan cheese
2 garlic cloves, grated
1 teaspoon lemon zest
½ teaspoon sea salt, plus more for sprinkling
Freshly ground black pepper
1 tablespoon extra-virgin olive oil, plus more for drizzling
1 cup diced onion (about ½ medium)
Kernels from 3 ears fresh sweet corn (about 2¼ cups)
1 cup panko or toasted homemade breadcrumbs
⅓ cup finely chopped fresh basil, plus more whole leaves for garnish
Red pepper flakes
Place the zucchini in a colander and toss with a pinch of salt. Set aside to drain.
Preheat the oven to 375°F and oil a 9×9-inch or similar baking dish.
In a large bowl, beat the eggs. Add the ricotta, Parmesan, garlic, lemon zest, salt, and several grinds of pepper and mix well to combine. Set aside.
Heat the olive oil in a large skillet over medium heat. Add the onion and cook, stirring occasionally, until soft, about 5 minutes.
Shake any excess water off the zucchini, then add the zucchini to the pan. Cook for 1 minute. Add the corn and cook, stirring occasionally, until bright yellow and slightly softened, about 3 minutes. Remove from the heat.
Place the breadcrumbs in a small bowl and drizzle with 1 teaspoon olive oil. Toss to coat, adding more oil as needed, until all the breadcrumbs are lightly coated.
Add the corn mixture to the bowl with the ricotta and mix to combine. Fold in the basil. Transfer the mixture to the prepared baking dish and use a spatula to spread in an even layer. Sprinkle with the breadcrumbs and bake for 18 to 23 minutes, or until the breadcrumbs are golden brown and the casserole is set. Remove from the oven and let stand 5 minutes at room temperature.
Garnish with fresh basil leaves, sprinkle with red pepper flakes, and serve.
.
.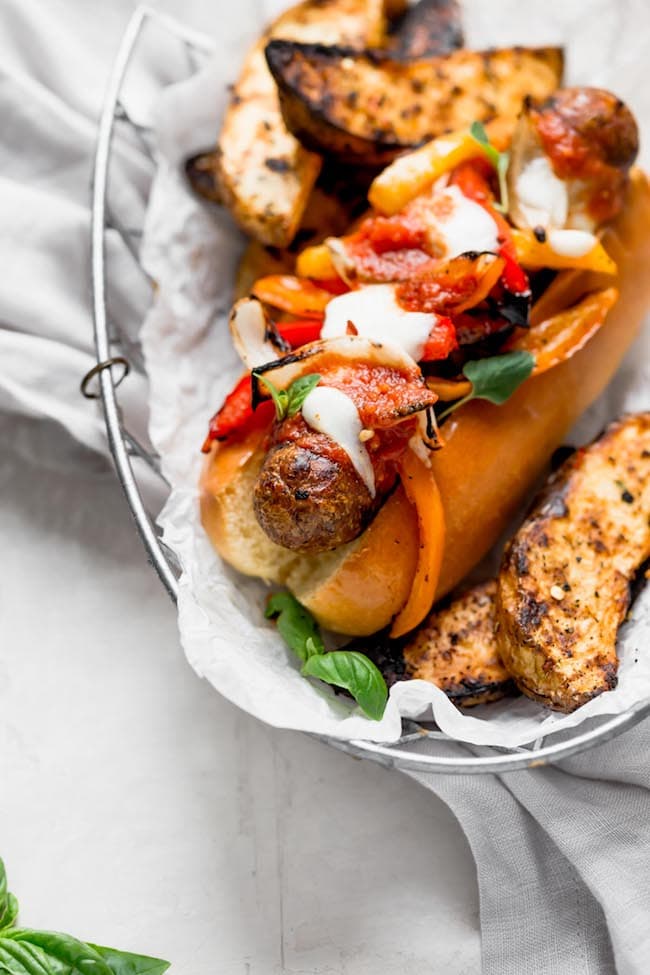 Photo by Two Peas and Their Pod
Grilled Italian Sausage and Peppers
From Two Peas and Their Pod
This recipe would be perfect for a Labor Day cookout! Grill up Italian sausages with onions and peppers, and stuff them into buns with marinara and melty mozzarella.
.
.


Photo by Smitten Kitchen
Grilled Pepper and Torn Mozzarella Panzanella
From Smitten Kitchen
Panzanella, a Tuscan bread salad, is traditionally made with tomatoes, but in this recipe, Deb swaps in grilled sweet peppers for a delicious twist. Top it off with the basil from this week's box!
.
.


Photo by What's Gaby Cooking
Basil Vinaigrette Pasta
From What's Gaby Cooking
It's not pesto pasta…it's basil vinaigrette pasta! Gaby adds zucchini to this summery pasta dish, but you could toss in any veggie you like—sweet corn, peppers, or even chopped fresh tomatoes.
Note: If you don't have a shallot, omit it from the dressing, or replace it with 1/4 cup diced onion. Use thinly sliced onion in the pasta.
Tomato Salad
From Love & Lemons
If you love tomatoes, you'll love this salad! It's amazingly simple, so it really lets the tomatoes shine. Serve it as an easy side dish with any summer meal.
Note: If you don't have parsley on hand, skip the gremolata, and top the salad with extra basil.
Tomato Bruschetta
From Spoon Fork Bacon
If you're hosting a gathering over Labor Day weekend, bruschetta would be a wonderful appetizer! Balsamic vinegar, garlic, and black pepper add depth of flavor to the classic tomato and basil topping.
.
.


Photo by Minimalist Baker
Grilled Corn & Zucchini Salad with Sun-Dried Tomato Vinaigrette
From Minimalist Baker
This bountiful summer salad features grilled zucchini, sweet corn, and a creamy sun-dried tomato and basil dressing. Serve it as a side dish at your next cookout, or toss in roasted chickpeas to make it a meal.
There once was a day so hot,
That produce did threaten to rot.
''Twas hard for the crew
And prob'ly for you.
Fare well in the heat we did not.
Beth
Veggie List & Veggie Notes
Week #15, August 24/25, 2023
– Weekly shares
– BiWeekly/ purple
– Sampler/ C group
Bicolor sweet corn, 9 ears
'New Orchid' orange watermelon
Slicing tomatoes, 2.5 to 2.75 lb
Red peppers, 2 or 3, bell &/or frying peppers
Zucchini, 1 or 2
Cucumbers, ~2
Yellow onion
Basil, 1 sprig
Korean Red garlic
By site: Green beans (3/4 lb) OR 1 pint grape tomatoes
Next week's box will probably contain sweet corn, tomatoes, peppers, zucchini, basil, garlic and more.
'New Orchid' watermelon – This has a beautiful sherbet color, crisp texture and great flavor. It's a great variety.
Cucumbers – These might be the last cucumbers of the season. Sob.
Garlic – This is the Korean Red variety, large heads with lots of cloves.

If your Korean Red garlic has white papers, keep peeling and you'll find its beautiful purple color.
RECIPES by DEB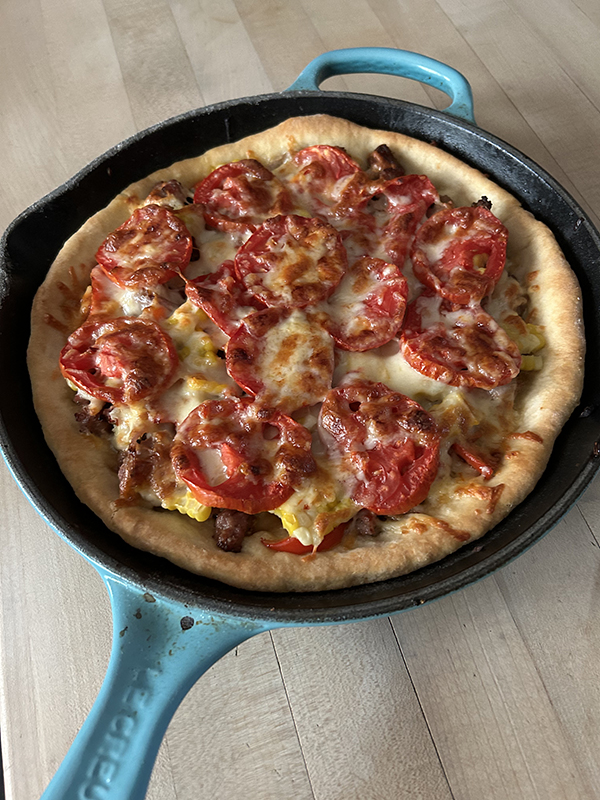 photo by debslunch
Quick Crust Deep Dish Pizza
Serves: 3-4
Takes: ~45 minutes, depending on what toppings you use!
This pizza is based on Jamie Oliver's Cheat's Deep-Pan Pizza. Jamie's is filled with sausage, onion, and pickled jalapeños and topped with cheddar, but you can use any type of summer vegetables, and add tomato sauce if you like (and have some around!). My version's filling is bulk Italian sausage, onions, garlic, corn, and red bell pepper topped with a combination of provolone and pepper jack and sliced tomatoes. The trick to this pizza is preparing the filling in a cast iron pan. That gets the pan hot and well greased, then you remove the filling and stretch the dough in the same pan, top, and bake in a hot oven. It's perfectly OK to omit meat and make your pizza vegetarian, just use the larger amount of olive oil when preparing the filling. The pizza needs to bake in a hot oven but only for a short time, so perfect for hot summer days!
Crust:
2 cups flour – I have only tested unbleached, but I'm sure adding part whole wheat would work just fine
3 teaspoons baking powder
1 teaspoon kosher salt
1 teaspoon sugar, optional
1/2 to 2/3 cup lukewarm water
1 tablespoon olive oil
Pizza:
1-3 tablespoons olive oil (the larger amount is recommended for a vegetarian pie)
8 oz. Italian sausage
3/4 cup sliced onion
2 cloves garlic
small amounts of dried oregano, fennel seed, red pepper flakes, optional
kernels cut from 1 ear of corn
half a bell pepper, sliced
OR about two cups assorted vegetables, OR less veggies and 1/3 cup prepared tomato sauce
1 generous cup grated cheese, your choice
sliced tomatoes for topping
julienned fresh basil leaves, optional
Make the crust: combine the flour, baking powder, salt, and sugar if using in a medium bowl. Add 1/2 cup water and the olive oil, and mix adding more water as needed to get a pliable dough, with no spots of dry flour. Turn the dough out onto a lightly floured surface and knead until smooth. Invert your scraped out mixing bowl over the dough and let it rest while you make the filling.
Make the filling: Heat the oven to 475°. Add 1 tablespoon olive oil to a 10-inch cast iron skillet over medium high heat. Add your sausage if using, and brown while breaking the meat into small chunks with a wooden spoon. Add onions, garlic, and optional herbs & spices, and continue to cook until onions are starting to caramelize, about 10 minutes. Add the corn and bell pepper, stir, and continue cooking until peppers are soft, another 5 minutes or so. For vegetarian pizza, start with 2 tablespoons of oil, add the onions and garlic, then any additional vegetables and spices you like. (Cubed zucchini from this week's box would be nice with corn!)
Assemble and bake the pizza: Turn the heat under the pan to low. Uncover your dough and roll out to a 9- to 10-inch circle. Scrape your filling into the mixing bowl that was covering the dough. If using meat, add more olive oil if the pan seems dry; if using vegetables only, add the 3rd tablespoon of olive oil. Fold your dough in half, gently – some people like to roll it around the rolling pin – and lay it in the pan. With your finger tips, carefully stretch the dough in the hot pan covering the bottom and going up the sides. If using sauce add it now, spread the filling over the crust, then rest of your toppings. Sprinkle the grated cheese over. If using fresh sliced tomatoes, make a layer of most of the cheese, arrange the tomatoes over the cheese, then top with the last of the cheese. Place in the oven and bake for 15-20 minutes until golden brown. Let rest 5-10 minutes before slicing. Top with fresh basil if desired. I like to remove the pizza from the pan to a cutting board to make it easier to slice.
Cucumber Caprese | Mark Bittman
From The Bittman Project
This is a formula, rather than a recipe, from Mark Bittman. Most of the content is behind a paywall but you can read Bittman's formula for Cucumber Caprese (and his dissing of more traditional Caprese with mozzarella), an interesting and refreshing way to eat up our summer cucumbers and tomatoes! Chunks of our slicing tomatoes can be subbed for the cherry tomatoes Bittman uses.
.
.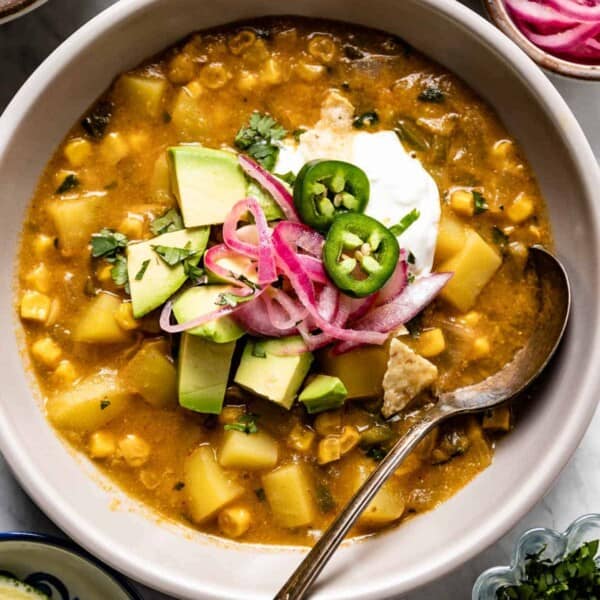 Mexican Street Corn Soup | Foolproof Living
From Foolproof Living
As I'm writing this it's 87° and feels like 92° outside, so soup might seem a bit off season. But in fact this soup could be prepared in the morning when it's cool, and reheated for a light supper, without your ever turning your oven on. It calls for potatoes, which do make it heavier – you could omit and increase the corn. The recipe suggests using kernels from 6-8 ears of corn to yield about about 4 cups of corn; I think you might not need that many ears. There are also suggestions for making the soup lower fat, and subbing bell pepper for the jalapeños. You can definitely adjust the toppings to your taste and what you have on hand.
.
.


photo by Julia Gartland
Nonnie's Tomato Pie Recipe | Food52
From Food52
This is a Southern-style tomato pie with mayonnaise in the filling so it does need to cool and set before cutting; the recipe recommends cooling 30 minutes. There's also a version at OuiChef, but the recipe on Food52 seems more updated, and provides better instructions for preparing and blind baking the crust, while still giving the option to use purchased crust if you like.
.
.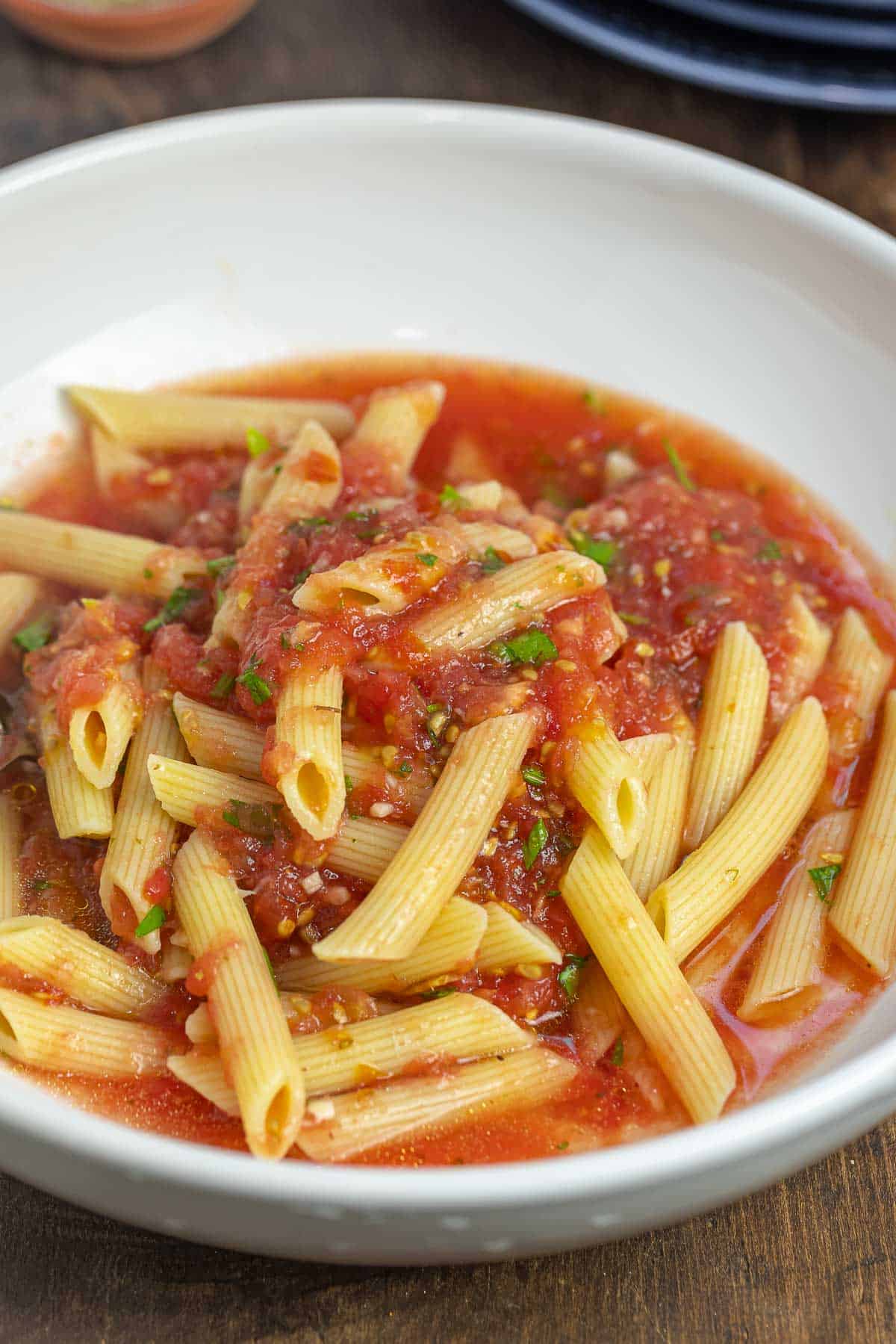 5-Ingredient No-Cook Tomato Sauce | The Mediterranean Dish
From the The Mediterranean Dish
The special technique in this no-cook tomato sauce is grating the tomatoes. You then mix in herbs and seasoning and a little olive oil, let the sauce marinate while you cook the pasta, add warm cooked pasta to the sauce, and serve. The recipe calls for parsley and dried oregano, but fresh basil from our box is a perfect substitution.
.
.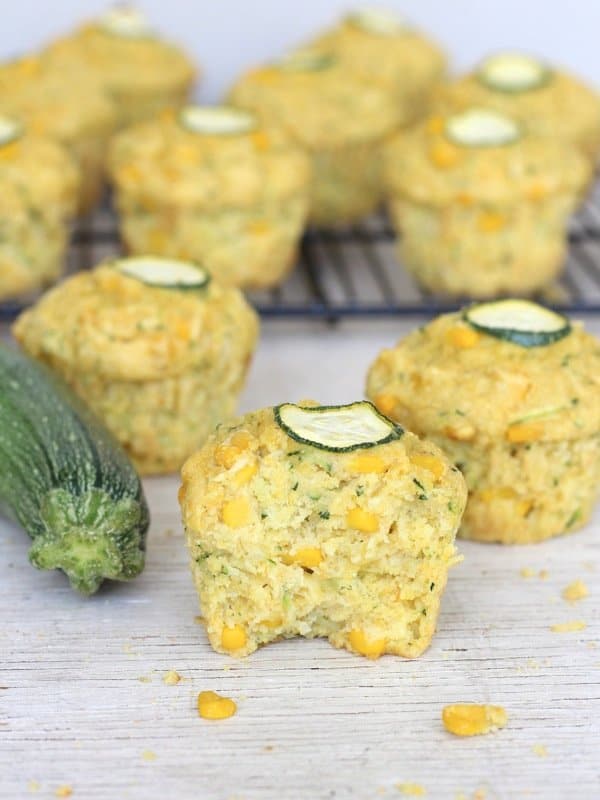 Zucchini Sweet Corn Muffins | The BakerMama
From the BakerMama
I have to admit that the zucchini garnish on these muffins throws me a bit – I'd probably leave it off! Regardless the combination of fresh corn, cornmeal, and zucchini in these moist and mildly sweet muffins is quite nice and they could accompany lots of different main dishes or be eaten for breakfast, lunch, or snacks.
.
.

Fresh Corn and Tomato Fettuccine Recipe | Taste of Home
From Taste of Home
This recipe instructs you to cook the corn with the pasta, still on the cob, which adds additional corn flavor to the pasta. If don't want to fish the corn cobs out of the pasta, you could boil the corn first in the same water, then remove and add the pasta. You can also sub regular onions for the green – cook them along with the bell pepper – and of course use fresh basil as a stand in for parsley.
Farm News

Have you heard about this stuff called … mud? We rediscovered it on Monday, during the first all-day rain of the year. We had to get the rain gear out of storage. That's pretty crazy; it's August. We are happy to get the rain – it has been a very droughty season here.

The irrigator is parked, at least for now.

We said good-by to longterm employee Karen.
After ten years working for us, she's returning to school to become a registered nurse. Karen is great, up for any challenge and friends with all her coworkers. We will miss her energy and deep Tipi experience. She lives across the road so this is not a formal goodbye.

Gorgeous corn.
This is a beautiful batch of sweet corn. It's the 'Vision' variety again. You know you can eat raw corn, right? That's how we celebrate the end of each sweet corn harvest. It is amazing straight from the plant.

Corn smut.
Here's a twist. If you find large black kernels in your sweet corn, it is a naturally occurring fungus called corn smut. Known in Mexico as huitlacoche, it's a delicacy when young. By the time the corn is ready to harvest, the kernels are fully black inside and not good to eat. If you catch it younger, the corn kernels are their normal color, often veined with black. It's a delicacy and very delicious. Tastes like a combo of corn and mushrooms. Corn smut is more common at the tip of the ear but we throw away those obvious ears. It's harder for us to detect when under the husks, and therefore more likely to show up in your CSA box.
The rest of the ear is perfectly fine. Snap off and throw away the black kernels, then eat the ear of corn.

Looks like I will lose a chunk of garden. That's the risk if you plant too close to the road.
Power outage
Our power was off Tuesday afternoon. That's a huge problem because we need functioning coolers and plenty of wash water. Turns out that a crew installing underground fiber optic cable severed the main electric line for our road. What a sheepish-looking group of men standing by the side of the road. They freely admitted it was their mistake. And a dangerous one! The utility got the power back in a few hours and life went back to normal. Next step, they tear up the roadside in front of our house.

Believe it or not, Steve and I got away for a weekend. I rented a lake house halfway to St. Paul and our kids met us there. It was great! It's amazing how restorative just a few days can be.
Thanks for reading. Have a great week!
Beth
Veggie List & Veggie Notes
Week #14, Aug 17 / 18, 2023
– Weekly shares
– BiWeekly/ green
– Sampler/ B group
Sweet corn, 9 ears
Red watermelon
Green beans, 3/4 lb
Slicing tomatoes, ~3 lb
Cherry tomatoes, 1 pint
Zucchini or yellow squash, 1 or 2
Cucumbers, 3
Silver Slicer cucumber, 1 or 2
Red bell peppers, 2
Yellow 'Elsye' onion
Jalapeno chile
Next week's box will probably contain sweet corn, melon, tomatoes, peppers and more summer goodness. It's that time of year!
Red watermelon – These compact beauties are 'Mini Love'.
Zucchini or yellow squash – First harvest from a new patch!
Cucumbers – Folks, enjoy these cukes as their season will end soon. I have sent a lot of cucumbers recently, including this week. Our second planting is on richer soil and has cranked out so many fruit. It peaked in this week and last week but I think it's going to crash soon.
Yellow onion – This variety is supposed to be mild, but we are finding that all the onions this year are pungent. These will fry better than the recent Walla Walla onions.
Storage: Room temperature or refrigerate.
RECIPES by PHOEBE
Sheet Pan Gnocchi with Tomatoes and Peppers
I've developed a few sheet pan gnocchi recipes for Love & Lemons this year, and I think they're such a fun, easy way to make dinner! You don't have to boil the gnocchi—just toss it with veggies, olive oil, and flavorful seasonings, and roast until it's tender and the veggies are browned. The red pepper flakes add a spicy kick to this recipe. Use less (or omit them) if you're sensitive to heat.
Prep time: 10 minutes
Cook time: 20 minutes
Serves 3 to 4
1 pound store-bought gnocchi, refrigerated or shelf-stable
1 large slicing tomato, cut into thin wedges
1 bell pepper, stemmed, seeded, and thinly sliced
½ small onion, thinly sliced
2 garlic cloves, thinly sliced
2 tablespoons extra-virgin olive oil
1 tablespoon red wine vinegar
1 teaspoon dried oregano
½ teaspoon sea salt
¼ teaspoon red pepper flakes, less if sensitive to spice
Freshly ground black pepper
4 ounces fresh mozzarella cheese, torn
Preheat the oven to 450°F and line a large baking sheet with parchment paper.
In a large bowl, combine the gnocchi, tomatoes, peppers, onion, garlic, olive oil, vinegar, oregano, salt, red pepper flakes, and several grinds of pepper. Toss until the gnocchi and vegetables are well coated in the seasonings.
Spread evenly on the prepared baking sheet. Roast for 17 to 22 minutes, or until the gnocchi is tender and the vegetables are browned.
Remove from the oven and scatter the cheese evenly on top. Season to taste and serve.

Photo by Jack Mathews and Jeanine Donofrio
Watermelon Gazpacho
From Love & Lemons
It looks like we have a warm week ahead of us, so I thought a gazpacho recipe was in order! This recipe is a great fit for this week's box, using watermelon, tomatoes, cucumbers, peppers, and jalapeño. Here are a few tweaks to save you a trip to the store:
Make sure to seed the watermelon!
Replace the green onions with 1/8 white or Spanish onion. Add more to taste.
Omit the basil if you don't have any on hand.
Easy Corn Fritters
From A Couple Cooks
These corn fritters really are easy, made with basic ingredients that you likely have on hand. Replace the green onion with a couple tablespoons of minced white onion.
Cucumber Tomato Salad with Greek Dressing
From Cookie + Kate
This simple salad will pair nicely with almost any summer meal. Omit the fresh herbs if you don't have any on hand—the tangy dressing packs this salad with plenty of flavor.
Almond Butter Tofu Stir Fry
From Minimalist Baker
Almond butter adds rich, nutty flavor to this simple weeknight stir fry. The recipe calls for green beans and small, spicy peppers (your jalapeño would work!), but for a milder version, you can toss in a bell pepper or two.
Zucchini Smoothie
From Love & Lemons
I thought it would be fun to feature some zucchini breakfast recipes this week. First up is this smoothie. Even though it's made with a vegetable (and other good stuff like almond butter and dates), it tastes like a chocolate milkshake. A perfect breakfast for a hot summer day.
Zucchini Baked Oatmeal Cups
From The First Mess
The easiest way to take oatmeal on the go! These cute little oatmeal cups are vegan and gluten-free…and studded with chocolate chips, because who doesn't like chocolate for breakfast?
This week's sweet corn is week #3 of seven plantings. If all goes according to plan, we will have seven straight weeks of corn for you. You told us you want steady corn (and lots of it!) so this is it. This is a very nice batch this week, of our favorite 'Vision' variety.
We have small sweet corn fields scattered around the farm. You can see staggered plantings in the photos. The top photo, taken July 15, shows a field with three sequential plantings, transplanted one week apart. The youngest are the wispy ones on the right. The bottom photo shows corn closer to maturity. The rows on the left should be ready to harvest in three weeks. The taller ones on the right should be ready in two weeks.
Salsa box!
We're sending ingredients to make a batch of salsa this week, with tomatoes, onion, bell pepper, jalapeño chile, and cilantro. For adventurous salsa makers, corn kernels are great too.
Veggie List & Veggie Notes
Week #13, August 10/11, 2023
– Weekly shares
– BiWeekly/ purple
– Sampler/ A group
Sweet corn, 9 ears
Yellow Doll watermelon
Slicing tomatoes, 3 lb
Cherry tomatoes, 1 pint
Green beans, about 1 lb
Bell peppers, red or purple, 2
Silver Slicer cucumbers, a handful
Cucumbers, 2 or 3
White onion
Cilantro, 1 bunch
Jalapeno chile (HOT), 1
Next week's box will probably contain sweet corn, melons, tomatoes, peppers, cucumbers, onion and more.
White onion – These are more pungent onions than the Walla Wallas that we've sent in recent weeks. We consider them intermediate between Wallas and yellow storage onions in both pungency and ability to be fried. In other words, these will fry better than Wallas but not as well as a yellow onion.
Storage: These can be stored at room temperature or refrigerated.
Cilantro (small bunch, fragrant leaves) – Used in both Mexican and some Asian cuisines. Good to season stir-fries, salad dressing, salsa, etc.
Storage: Cover and refrigerate.
Jalapeno chile – I suspect most of you are familiar with these small green chiles. Good flavor and medium heat.
Storage: Refrigerate.
RECIPES by PHOEBE
Phoebe is back and sharing recipe duties with Deb, who has been a trouper while Phoebe was away. I am lucky to have these two fabulous helpers!
Creamy Tahini Chicken Salad
A Mediterranean spin on chicken salad! A creamy tahini-yogurt dressing coats tender chicken breast, juicy tomatoes, crisp cucumber, and artichoke hearts. I love it on a sandwich, with crackers, or stuffed into pita bread.
Serves 2 to 4
Prep time: 30 min
Cook time: 20 min
¼ cup extra-virgin olive oil
3 tablespoons fresh lemon juice
½ teaspoon sea salt
Freshly ground black pepper
1 pound boneless, skinless chicken breast
1 slicing tomato (8 ounces), cut in a ½-inch dice
½ large cucumber (6 ounces), peeled if skin is thick, seeded, and cut in a ½-inch dice
4 canned artichoke hearts, drained and rinsed, cut in a ½-inch dice
¼ cup kalamata olives, pitted and torn
Pita bread, optional, for serving
Creamy Tahini Dressing
¼ cup tahini
¼ cup whole milk Greek yogurt
2 tablespoons fresh lemon juice
1 garlic clove, grated
½ teaspoon sea salt
3 tablespoons water, plus more as needed
At the bottom of an 8×8-inch baking pan or other shallow dish, whisk together the olive oil, lemon juice, salt, and pepper. Add the chicken and flip to coat in the marinade. Set aside at room temperature for 30 minutes or cover and refrigerate for up to 2 hours.
Preheat the oven to 450°F and line a baking sheet with foil or parchment paper. Transfer the chicken to the baking sheet and bake for 15 to 25 minutes, or until the internal temperature reads 165°F when pierced with an instant read thermometer in the thickest part of the breast. Remove from the oven and let rest for at least 5 minutes.
Meanwhile, make the dressing: In a small bowl, whisk together the tahini, yogurt, lemon juice, garlic, salt, and water. The dressing should have a creamy but pourable consistency. If it is too thick, add water, 1 tablespoon at a time, until it reaches your desired consistency.
Cut the cooked chicken breast into a ½-inch dice. Place it in a large bowl and add the tomato, cucumber, artichokes, and olives. Pour in the dressing and fold to coat. Season to taste with salt and pepper and serve immediately with pita bread, if desired.
Homemade Salsa
From Love & Lemons
If you've never made homemade salsa before, this is the week to try it! It's easy to make in the food processor, and it has a fresher, brighter taste than typical jarred salsa. Great on your favorite Mexican dishes or with tortilla chips.
Elote
From Love & Lemons
One of the most delicious ways to eat grilled corn on the cob! Slather the ears with mayo and sprinkle them with Cotija cheese, chili powder, cilantro, and lime for a flavorful side dish or snack.
Charred Green Beans with Cilantro Vinaigrette
From A Beautiful Plate
Char this week's green beans in a hot oven or on the grill. Then, toss them with a simple cilantro dressing for a zesty side dish!
Best Corn Salad
From Spoon Fork Bacon
If you're looking for an out-of-the-box corn salad recipe, this one might be for you. It has a few unique elements:
1) Charred halloumi cheese offers a rich, salty contrast to the sweet corn kernels.
2) It has a brown butter dressing, which gives it nutty depth of flavor.
The recipe calls for chives, but you could sub in a little diced white onion for a similar savory kick.
Summer Crunch Salad
From Dishing Up The Dirt
This salad recipe was made for this week's box! It features sweet corn, cucumbers, cherry tomatoes, and bell peppers, all tossed in a tangy vinegar dressing with some creamy goat cheese. Swap out the parsley for cilantro.
Castelvetrano Greek Pasta Salad
From What's Gaby Cooking
This pasta salad recipe would be great for a simple dinner, packed lunch, or picnic. It's filled with chewy pasta, briny olives, tangy feta, and lots of veggies—you'll use some cucumber, cherry tomatoes, peppers, and onion from this week's box.

We are wealthy in watermelons.
Wow, the farm is incredibly productive right now. This is common in a drought year on a vegetable farm IF you have irrigation. Everything is growing strongly, probably because diseases are low during the dry weather. Insect populations can go either way in a drought but seem to be at normal levels right now. It was great to get rain over the weekend but it soaked in quickly and we are irrigating again already.
I'll be honest. We're pretty whipped by the extra work, so I don't have much to share tonight except a beautiful evening sky over the barn and silo. The farm is absorbing all our attention and energy right now.
Take care,
Beth
Tomato Care

Ripe (top) and less ripe tomatoes (bottom).
We are heading into peak tomato season. Yeah! Ripe tomatoes are delicious but highly perishable so let's talk about their care.
Ripeness: Each delivery, we pack a mix of ripe and less-ripe tomatoes so you can stretch them through the week. In the photo above, the top two tomatoes are ready to eat. The bottom two tomatoes can ripen at room temperature for a few days.
Storage: Tomatoes retain their best flavor and texture when stored at room temperature, no lower than 55 F. I encourage you to spread your tomatoes on plates so you can watch them. Eat the ripest ones first, or any showing flaws.
However, you should refrigerate your tomatoes if they are fully ripe and you don't expect to eat them right away. It is better to sacrifice a little flavor and texture than to let your tomatoes spoil. Also, fully ripe tomatoes are less sensitive to chilling injury.
They might need washing: We handle the ripe tomatoes as little as possible to avoid bruising.
(Left) The yellow arrow shows small inconsequential flaws that will grow with time. Eat now!
(Right) The purple arrows show leaf residue bits stuck to the tomato. Wet the tomato and the residue will come right off.
Veggie List & Veggie Notes
Week #12, August 3/4, 2o23
– Weekly shares
– BiWeekly/ green
– Sampler/ D group
Sweet corn, 9 ears
Carrots, 2 lb
Slicing tomatoes, ~2.5 lb
Cherry tomatoes, 1 pint
Green beans, 0.8 lb
Cucumbers, ~2
Silver Slicer cucumbers, 2 or 3
Green bell pepper, 1 large
Zucchini &/or yellow squash, ~1 squash
Walla Walla onion
BY SITE: muskmelon OR Yellow Doll watermelon
Next week's box will probably contain sweet corn, tomatoes, green beans, cucumbers, melons, onions and more.
Sweet corn – There are far fewer caterpillars than last week. This is good news. If you see browning at the tip, cut off the tip before shucking the corn.
Green beans – Storage: Store in the warmest part of your refrigerator.
Cucumbers – We've begun harvests from our second cucumber field. These are beautiful, beautiful cukes. You'll notice less scarring now, which is typical as we move from an older to younger planting. We are sending both green slicing cukes plus a special variety called Silver Slicer. These smaller cucumbers are thin-skinned, like pickling cucumbers, and have delicious flavor. No need to peel these ones. For that matter, there's no need to peel the green cucumbers either, unless you receive an unusually large one. We will distribute the green and Silver cucumbers by site over the coming weeks, as we harvest them.
Walla Walla onion – Please refrigerate your Walla Walla this week. They are not storage onions, and the recent hot weather is not good for them. Keeping them cold is your best option.
Muskmelons (some sites) – Refrigerate or let ripen at room temperature for up to two days, max.
Yellow Doll watermelon (some sites) – Watermelons can be refrigerated or stored at room temperature until they are cut. Once cut, they need to be refrigerated.

You'll get a mix of slicing cucumbers (green) and Silver Slicer cukes (white) over the coming weeks.
RECIPES by DEB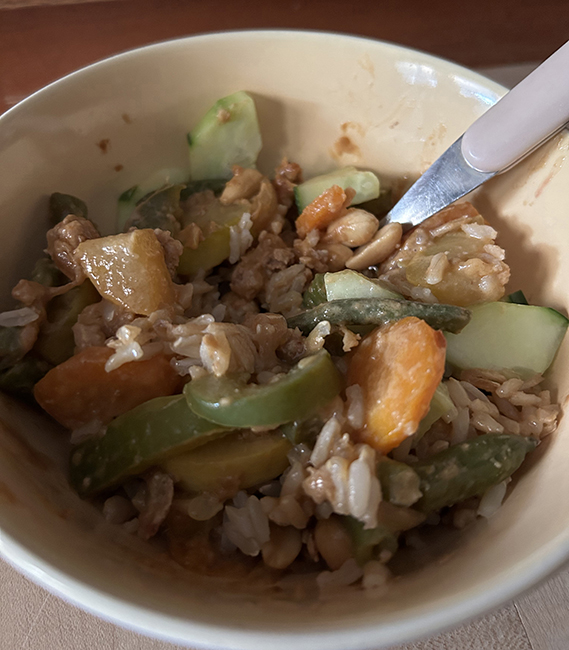 Photo by DebsLunch
Summer vegetable stir fry with peanut sauce
You can adapt this recipe using what you like and have on hand. You need about 8 ounces of protein, plus 4-6 cups chopped vegetables (not counting onions and garlic!) to serve four. I used ground turkey, but you can sub ground pork or chicken or tofu. My stir fry has green beans, carrots, yellow summer squash, and bell pepper, but again use what you have. The peanut sauce recipe makes about 2 cups and you'll only need one so will have extra for another purpose. This is a plain & simple peanut sauce that you can jazz up by adding Siracha or other hot sauce, and is great as a dip with cucumbers or steamed broccoli, and on sauteed chicken, or to make cold noodle salad. You can also top your stir fry with marinated cucumbers – here's a pic; method in the week 11 newsletter (in the headnote for the Spicy Peanut Noodles with Cucumber recipe).
Serves 4-5
Takes about 45 mins. to 1 hour
Peanut sauce:
1 cup peanut butter, natural smooth or crunchy or commercial will all work fine
3 tablespoons lime juice or rice or cider vinegar
2 tablespoons soy sauce or tamari
2 tablespoons toasted sesame oil
1 tablespoon brown sugar, maple syrup, or honey
approximately 1/2 cup coconut milk or hot water or a combination to thin
Stir fry:
1 cup white or brown rice
kosher salt
1 tablespoon vegetable oil
8 ounces ground turkey or pork, or firm tofu, crumbled
2-4 cloves garlic, minced or put through a press
1 tablespoon fresh ginger, peeled and grated
salt and pepper to taste
1 cup sliced onion
2 medium carrots, thinly sliced on the diagonal
1 to 1 1/2 cups green beans, trimmed and cut into 2 inch pieces – measure after cutting
1 medium yellow squash or zucchini, quartered lengthwise and cut into chunks
1 green or red bell pepper, thinly sliced
1 cup of the peanut sauce
1 tablespoon Siracha or other Asian hot sauce, optional
Optional toppings: salted roasted peanuts, more hot sauce, cucumbers tossed with a little rice vinegar and salt, as discussed last week under Spicy Peanut Noodles with Cucumber.
If using brown rice, start cooking that first. Start white rice after you make the peanut sauce. Combine the rice and two cups water in a sauce pan with a lid. Bring to a boil, uncovered, add a pinch or two of kosher salt, then cover and turn the heat way down. Check after about 45 minutes to see if the water is absorbed and there are steam holes through the rice indicating it's done.
Make the peanut sauce: Combine all the ingredients except the coconut milk or hot water in blender or a bowl, and either blend or whisk to combine. Add coconut milk and/or hot water until you get a good pourable consistency.
Cook the stir fry: Pour the oil into a deep wide skillet with a lid and heat over medium. Add the turkey or other meat, or tofu crumbles, and cook stirring, and if using meat, breaking it up with a wooden spoon, until starting to brown, about 5 minutes. Add the garlic and ginger and salt and pepper, and stir until fragrant. Add the onions. At this point add the veggies in order of the length of time they take to cook, and cover the pan for a few minutes to steam the veggies a bit – add a few tablespoons of water if things start sticking. In this version, start with the carrots, then green beans, and finally squash and bell pepper. Total cooking time will be about 15 minutes.
When all the veggies are cooked to your liking, add the peanut sauce and Siracha. Mix to coat everything with the sauce and once it's bubbling, cook for a few minutes uncovered to meld. Taste to see if it needs more salt, peanut sauce, or Siracha, and serve over rice with optional toppings.
.
.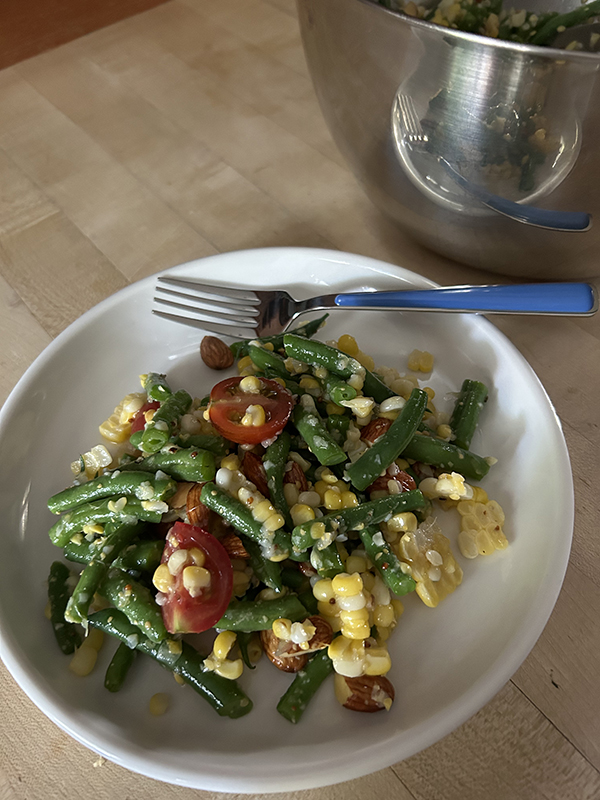 Photo by DebsLunch
Corn and green bean salad with cherry tomatoes and nuts
You can cook the corn for this salad using any method you like: steaming, as Beth suggests (Veggie Notes/ Sweet corn), boiling, or even roasting, on the grill or in the oven (see this link for oven roasting in the husks) or on the stove in a grill pan. You'll need about 4 ears of corn, so if you cook up a bunch of corn to eat on the cob, you can use the leftovers!
Dressing:
1 large clove garlic, minced or put through a press
2 tablespoons white wine or cider vinegar
1 teaspoon brown sugar, plus more to taste
2 teaspoons grainy or Dijon mustard
1/4 cup olive oil or vegetable oil
salt and freshly ground pepper to taste
Salad:
3-4 cups corn kernels, cut from about 4 ears of corn
2/3 to one pound green beans, cooked and cut into 2 inch lengths
3/4 cup toasted nuts, coarsely chopped – I used whole almonds but walnuts or pecans would also be good
9-10 cherry tomatoes cut in half
Make the dressing: Combine the garlic, vinegar, sugar, and mustard in a small bowl or spouted glass measuring cup. Whisk in the oil until emulsified. Season with salt & pepper. Alternatively, combine everything in a jar with a tight fitting lid and shake to combine.
Add the corn and green beans to a large mixing bowl, and toss with most of the dressing. Add the nuts and cherry tomatoes, toss again, and taste to see if it need more dressing or seasoning. This salad is good right away, but can also be chilled overnight – bring to room temperature and add the nuts right before serving.
Corn Salsa Recipe | The Girl Who Ate Everything
From The Girl who Ate Everything
This corn salsa recipe also provides a few more suggestions for how to cook your corn. I suggest saving the cobs for veggie stock; see this 2020 Tipi newsletter for tips on corn cob stock, under 'Sweet Corn Risotto with Corn Cob Broth & Cherry Tomatoes'. Feel free to omit cilantro, and sub Walla Walla onion for the purple onion – place the chopped onion in a strainer and rinse with cold water if it seems strong, then drain and add to salsa. You can also omit the jalapeño or use jarred or canned chiles, or a few dashes of red pepper flakes if you don't have fresh.
.
.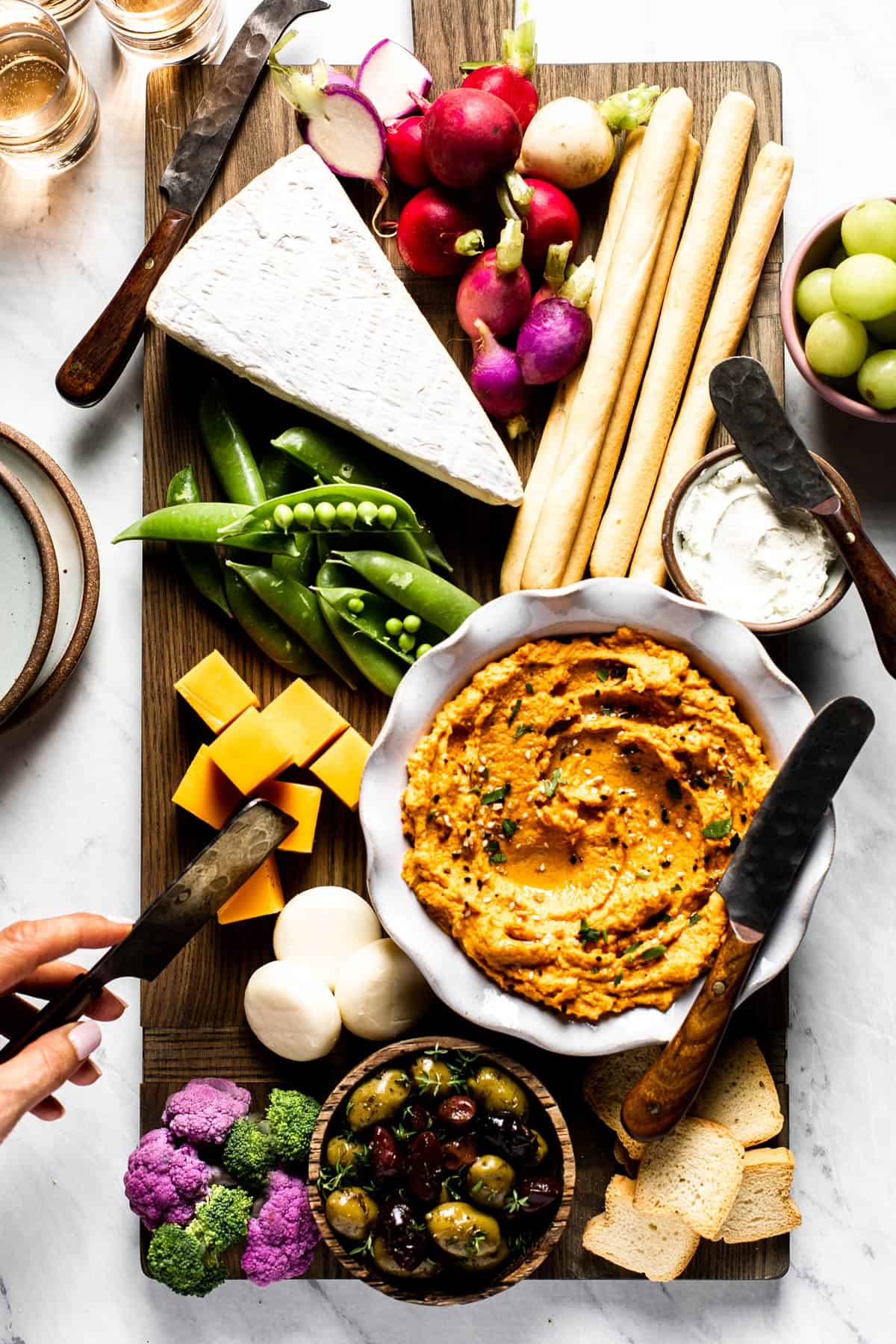 Roasted Carrot Hummus | Foolproof Living
From Foolproof Living
There are plenty of versions of dips with roasted carrots out there; this hummus from Foolproof Living is gluten free (if served with gluten free dippers) and vegan – and will surely appeal to any hummus lovers.
.
.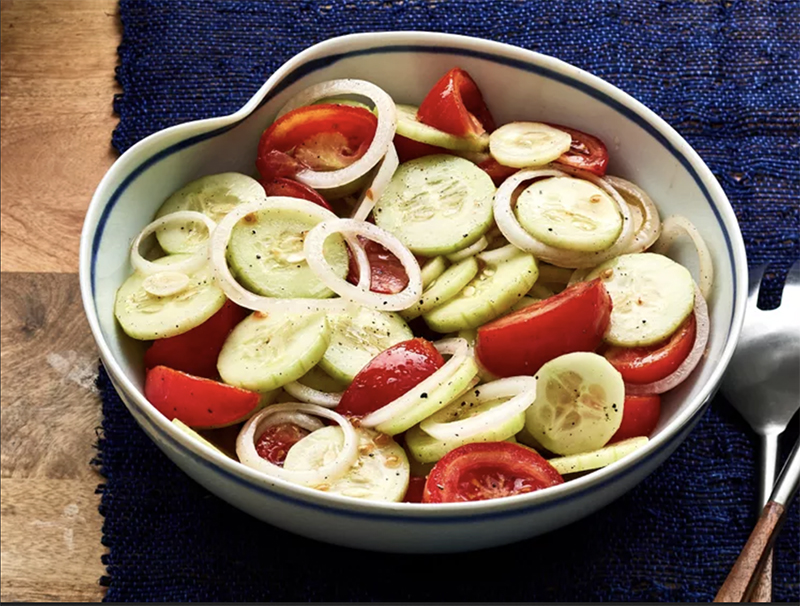 Photo by DOTDASH Meredith Food Studios
Marinated Cucumber, Onion, and Tomato Salad | Allrecipes.com
Recipe by BogeyBill from Allrecipes.com
This marinated salad only takes a few minutes of chopping, and because it's marinated, it's actually better made ahead.
.
.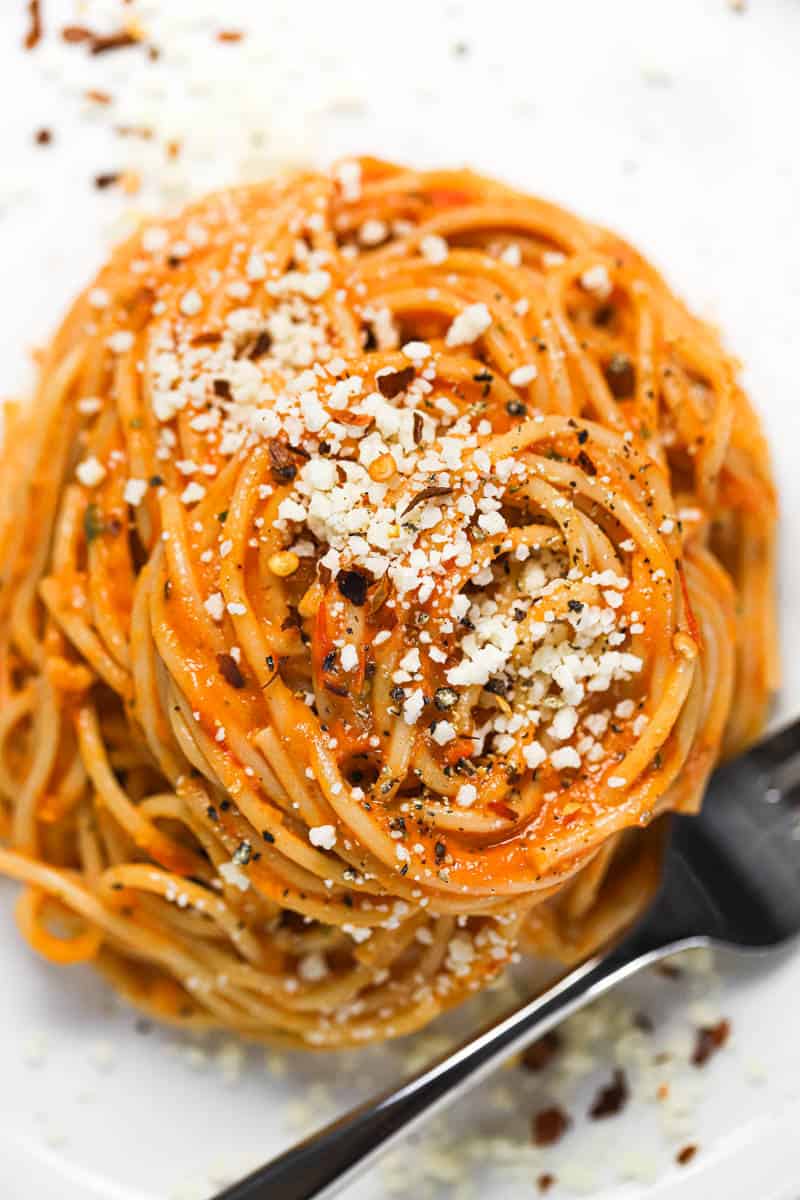 Roasted Tomato Cream Sauce | Midwest Foodie
From Midwest Foodie
As this recipe says, you can use whatever kind of tomatoes you have for this sauce – the roasting process concentrates even the juicier slicers. It calls for 3 pounds of tomatoes, which is about what we got this week, but it makes 5 cups of sauce, and that's more than you need for a pound of pasta. So, if you don't want to devote all of this week's tomatoes to sauce, you could halve it and still have enough for a pasta dinner. You can simply omit the fresh basil if you don't have any, or substitute dried.
.
.


Photo by Tieghan Gerard
Smashed Cucumber and Watermelon Feta Salad | Half Baked Harvest
From Half Baked Harvest
This recipe from Half Baked Harvest combines the watermelon & feta salad that's been popular for years, with the smashed cucumber technique that's we've been hearing about much more recently. Muskmelon can sub for watermelon if that's what you get in your box – or try this cantaloupe and feta salad, with fresh mint. The salad will taste good without the fresh herbs, or you can sub small amounts of dried – about half a teaspoon of dill or basil. Like all Half Baked Harvest recipes it calls for avocado, which you can omit. Persian cucumbers are small and seedless, and a combination of 2-3 of our silver slicer and regular cucumbers will work fine here, and you can seed the green cucumbers if you wish.