Week #17; purple + A

Photo credit Mary Ann Eastman
Winter squash harvest begins! The first squash are curing and will be in your box next week. Above, 'Heart of Gold,' a pretty and tasty squash.

I will be away this coming week
I am going to visit family for a few days. If you have questions or need help, please email me by 12 noon on Thurs 9/8. Let's take care of things now because I will have limited internet access while away. Steve and our hardworking crew will take care of things while I am gone. Thanks!
Beth
Veggie List & Veggie Notes
Week #17, September 7/8, 2023
– Weekly shares
– BiWeekly/ purple
– Sampler/ A group
Sweet corn! Final batch!, ~10 ears
Slicing tomatoes, ~4 lb
Red or yellow frying peppers, ~3
Colored bell pepper, 1 or 2
Oranos snack peppers, 1 or 2
Zucchini &/or yellow squash, ~2 lb
Yellow onion
Red onion
Basil
Next week's box will probably contain bok choy, winter squash, watermelon, tomatoes, peppers, and more.
Sweet corn report – This is the seventh and final sweet corn delivery for the year. We truly hope you have enjoyed it. We both love it, especially Steve. He has eaten his weight in sweet corn.
You will receive a mix of yellow (Vision) and bicolor corn (Solstice). We did not see many caterpillars in this batch but this is the time of year when they can reappear. You can always take a close look and chop off the tip before shucking if you think there's a caterpillar.
Slicing tomatoes – They are at their peak, beautiful and delicious!
Peppers – Pepper medley this week. Storage: Refrigerate.
Onion – You'll receive a yellow onion and a red onion this week. Storage: Store these onions uncovered at room temperature.
RECIPES by DEB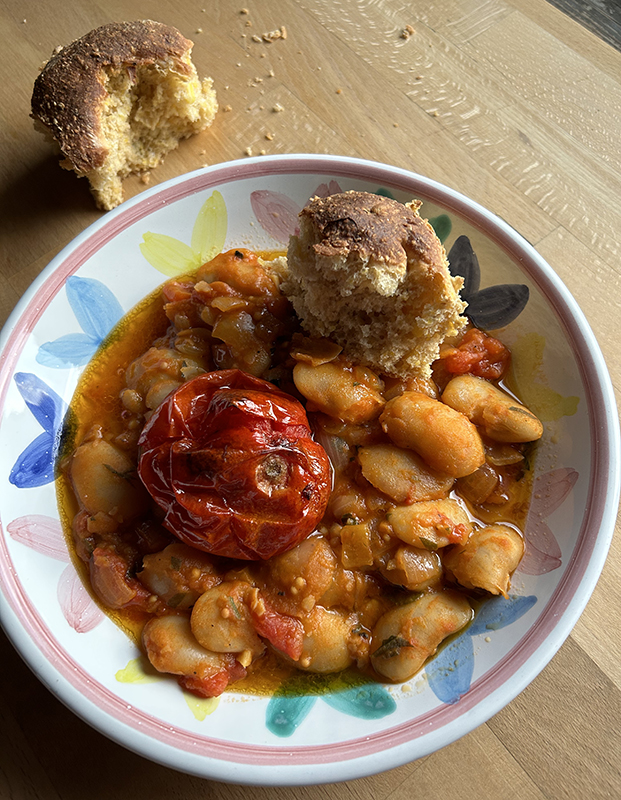 photo by debslunch
Roast Tomatoes over Spicy Beans with More Tomatoes
Takes: 45 mins. to one hour
Serves: 4-6
This recipe includes tomatoes two ways – roasted and in a sauce with a bit of Korean gochujang. It's based on a recipe by the British food writer and cookbook author Nigel Slater, who uses butter beans, which is what the Brits and some US Southerners call lima beans. I used giant white Corona beans from Rancho Gordo (sometimes available at Willy Street Co-op). You can use any meaty white beans in this recipe, such as great northern beans or cannellini beans; I think even garbanzo beans would work, either canned or cooked from dried. You can also use any type of tomatoes – I roasted slicers and used Romas in the sauce – but again use what you got. Be sure to drizzle a few spoonfuls of the roasted tomato juices over each serving, and serve with crusty bread for mopping up the sauce, possibly the yeasted corn bread below.
For the roasted tomatoes:
5-8 tomatoes, depending on size and how many people you're serving
3-4 tablespoons of olive oil
For the beans and sauce:
1 1/2 to 2 cups chopped onions
salt and fresh ground pepper to taste
3 tablespoons olive oil
3 cloves of garlic, peeled and shopped or put through a press
3/4 pound tomatoes, slicers or Romas, chopped – peeling optional
2 teaspoons yellow mustard seeds
1 teaspoon ground cumin
1-2 tablespoons gochujang, depending on your taste for heat
2 14-ounce cans white beans, drained, saving about 1/2 cup of the liquid, OR 2 1/2 to 3 cups white beans cooked from dried, with about 1/2 cup of the cooking liquid
Chopped fresh herbs, such as basil or parsley, optional
Roast the tomatoes: Heat the oven to 425°. Rinse the tomatoes you're going to roast, and remove the stems, but otherwise leave whole. Nestle the tomatoes in a glass baking dish that holds them pretty snugly, and drizzle the 3-4 tablespoons olive oil over. Try to use a baking dish that just holds the tomatoes – I used a slightly-too-large dish and my kitchen got a little smoky until the tomato juices ran and covered the exposed olive oil in the bottom of the pan! Roast for about 40 minutes, until the tomatoes are brown on top – the original Nigel Slater recipe says until they have "tan on their shoulders" – and they're just starting to split and collapse.
While the tomatoes roast, make the beans and sauce: pour the 3 tablespoons olive oil into a 10-12 inch deep skillet with a lid, and heat to medium high. Add the onions and salt and pepper, stir, and reduce the heat to so it's at a gentle simmer. Add the garlic. Cook gently until the onions are tender, about 10 minutes. Add the chopped tomatoes, mustard seeds, cumin, and gochujang, and continue to cook until the tomatoes are starting to break down, about another 10 minutes. Add the beans and their liquid, stir, and taste for seasoning. Cook for about 10 more minutes until the beans are heated through. If the roasting tomatoes aren't done at this point, cover the pan, reduce the heat to low, and simmer until the roasters are ready.
Stir the optional chopped herbs into the sauce, and serve in wide shallow bowls. Give each person a whole tomato with some of the tomato juices.
Yeast-raised Cornbread Recipe | 101 Cookbooks
From 101 Cookbooks
Here's a fun way to use our fresh corn, and this bread is a nice accompaniment to the beans & tomatoes. Cookbook author and photographer Heidi Swanson has been posting recipes to her 101 Cookbooks blog for close to 20 years, and this is an early one, from 2007, and works beautifully as written. I tweaked Heidi's method just slightly: I made a sponge with all of the water and yeast, and let that rise for about an hour until nice and bubbly. Then I added the remaining flour, and cornmeal, oil, honey, and corn. I omitted the chives, and also used a combination of white and whole wheat flour, instead of the white whole wheat suggested. Finally, instead of doing a rise at the ball of dough phase I shaped my rolls and let those rise for about another hour, and baked them. Heidi suggests baking the rolls in muffin tins which would be pretty if you have fluted ones, as shown in the top picture – I baked my rolls in 2 cake pans, and got 16 as promised in the recipe.
Hippie Hash (The Best Veggie Hash) | Slender Kitchen
From Slender Kitchen
This flexible recipe for veggie hash is great with a whole variety of toppings, from fresh herbs and feta cheese, as shown the picture, to avocados or a fried egg. The version here includes broccoli, but the main veggies are zucchini or summer squash and peppers, both in this week's box.
.
.

Simple Sausage and Corn Tart | An Oregon Cottage
From An Oregon Cottage
This corn-peppers-sausage tart is made with an easy press-in olive oil crust. The recipe includes a bacon variation, but you could also omit meat entirely for a vegetarian pie.
.
.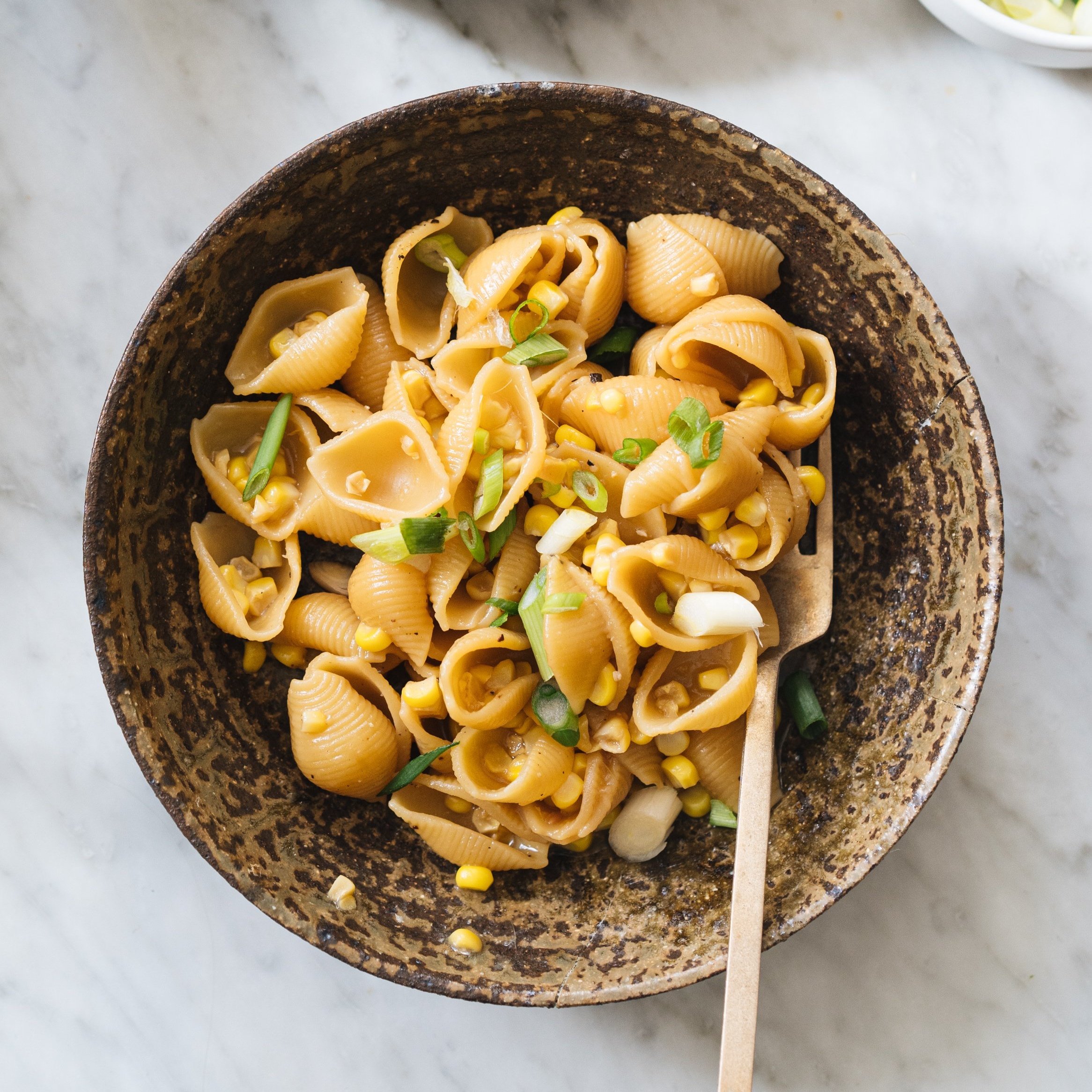 One-pot Miso Corn pasta| ABC Everyday
By Hetty McKinnon, From ABC Everyday
This quick one pot pasta with fresh corn is from Hetty McKinnon, who writes wonderful recipes for vegetables, but most are at NYT Cooking, which is available by subscription only. If you are a subscriber, check out Hetty's Sook Mei Faan (Cantonese Creamed Corn With Tofu and Rice) at NYT Cooking, for a nice cool summer dish, that despite the cream in the name, is vegan.
.
.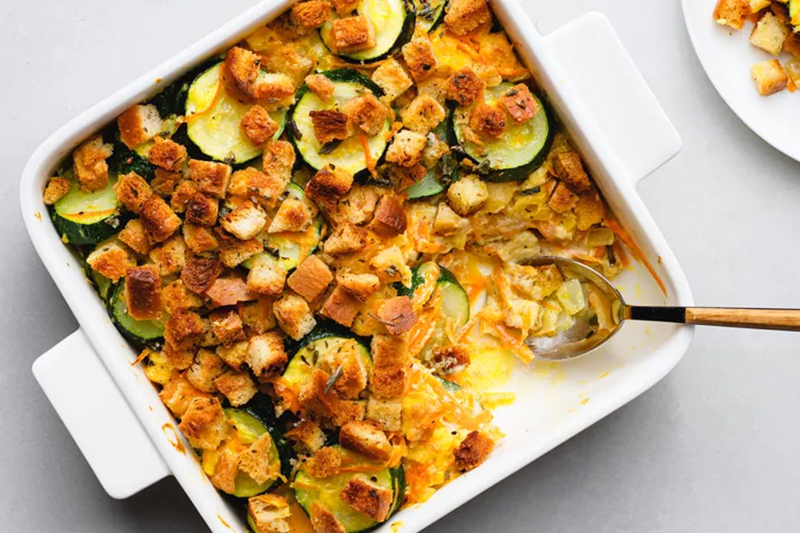 Zucchini and Stuffing Casserole | The Spruce Eats
From The Spruce Eats
This zucchini casserole includes processed ingredients that most of us who get CSA boxes don't like to use, stuffing mix and cream of chicken soup. I first encountered it in a community garden cookbook from my hometown, Pittsburgh PA, and thought it was so delicious I set out to recreate it without the stuffing mix and soup. One option is to make a cream sauce with vegetable or chicken broth to replace the soup, and make homemade croutons to replace the stuffing mix. An even easier method is to sub in 2 eggs and 3/4 cup of milk for the soup and use 2 cups of bread crumbs, toasted in some of the butter, instead of the stuffing mix.
.
.


Photo by Sally McKenney
Zucchini Oatmeal Chocolate Chip Cookies | Sally's Baking Addiction
From Sally's Baking Addiction
The final recipe for end-of-the-summer zucchini! Cookies with oatmeal and chocolate chips. I have always found the recipes Sally's Baking Addiction to be thoroughly tested – they work! Sally's website links to a number of additional ideas for zucchini, sweet and savory – including a zucchini casserole with feta cheese, and no stuffing mix.