Yearly Archives:
2023

We've had some gorgeous fall days. Your head of red cabbage is somewhere in this photo.
This is the final CSA delivery for these groups:
– BiWeekly/ purple, and
– Sampler/ C group.
Next week will the final delivery of the entire May – October CSA season.
"Squash & Sweets" box
Check your emails from me. I sent a link to sign up for one additional box, with delivery in early November. It's a 'Squash & Sweets' box, filled with winter squash and sweet potatoes. We have great and abundant crops of both. The photo shows 9 lb sweet potatoes and 16 lb total winter squash but don't get attached to the exact proportions; we'll settle the ratios once we grade everything.
Fun things to do in our area (Q & A from the Gleaning Party)
I enjoyed conversations with many of you during the Gleaning Party. You asked many great questions. Let me answer one of them.
Question: What are other fun things to do in this area?
A: Take a cheese tour! Here is my recommended sequence:
– Flora's Butterfield Bakery in Albany (Thurs, Fri, Sat, Sun; 8am – noon). Stop for cheesecake, cinnamon rolls, cinnamon doughnuts and hand pies. Arrive early if you want a slice of cheesecake as she sells out fast. The cinnamon doughnuts are my favorite. Steve's is the hand pies. Disclaimer, Flora worked for us briefly as a teenager, many years ago. She started her baking business while young and her family built her commercial kitchen in their garage.
– Maple Leaf Cheese Store in Juda (Open every day). Stock up on local cheese including award winners from Maple Leaf, Roth Cheese, etc. The prices are very reasonable. Don't be intimidated by the setting. It looks like a truck stop but the cheese store is located in the front of the building.
– Ten Eyck Orchard in Brodhead (Open seasonally, Mon – Sun). While you are in the area, stop for apples of course. They grow an impressive range of varieties. Ask someone for help and they will explain the varieties and offer samples to taste. We've gotten to know sixth-generation orchardist Drew and his wife Meg. Also, they sell Flora's doughnuts and hand pies, an option if Flora's shop is sold out.
– Decatur Dairy in Brodhead (Mon – Sat). Have a grilled cheese sandwich and eat outside at their picnic tables. They are perched atop a hill with terrific views. Yes, the sandwiches are made with white bread. Yes, it's more cheese than you should eat at one time. Yes, you have to be really hungry to finish that entire sandwich. Yes, my favorite is the dill havarti with dill pickles. I stop there after volunteering at prairie burns, when I am ravenous. Be prepared to wait on the weekends. Decatur Dairy recently completed a big expansion, the result of collaboration between the Decatur creamery and the 70-farm co-op that supplies their milk. I love stories like this.

Steve and I did a mini cheese tour last weekend, which is how we ended up with a lunch like this. Clockwise from top left, Maple Leaf cheese curds, Ten Eyck apples, Flora's cinnamon doughnuts.
A: Destination Dining
Register for a Monticello Social Club dinner for a spectacular multi-course meal prepared with local foods. We are signed up for October 28, to celebrate our last big CSA delivery. If you attend please be sure to introduce yourself! I wrote about the Social Club in a recent newsletter.
A: Visit a Prairie
The Driftless area west of us has many pockets of remnant prairie, a legacy of its untillable steep hills. I volunteer with the local Prairie Bluff chapter of the Prairie Enthusiasts, doing seed collecting, burning, etc. My favorite prairie is Muralt Bluff which is spectacular in spring and fall. The decades of volunteer effort really show. Conservation of Muralt Bluff had a dramatic beginning:
During the early 1970s Albany natives Gary Eldred and John Ochsner independently discovered this patch of unusual tall grasses and flowers. The next spring in April of 1975, together with Jonathan Wilde, Tim Hammerli and others, they dropped a match in the southeast corner and watched the fire follow the wind across the field to the north. Their suppression tools – snow shovels and burlap bags — proved inadequate to slow or stop the fire. The Albany Fire Department responded to reports of a wild fire, but they were unable to get their trucks up the bluff, so everyone stood and watched as the fire eventually ran out of fuel. Many cedar trees were scorched, the ground was blackened. But that summer the bloom of flowers – long suppressed by lack of fire – was impressive enough that the Green County Board of Supervisors was persuaded to buy the acreage.
I volunteer with John Ochsner – he is still working out there! And people still tease him about starting that out-of-control fire.
A: Eat your cheese and apples at the Sugar River
There's a nice park between the Sugar River and mill race in Brodhead called Pearl Island with map here. Or you can wander short prairie trails to the river at Three Waters Reserve.
Veggie List & Veggie Notes
Week #23, October 19/20, 2023
– Weekly shares
– BiWeekly/ purple
– Sampler/ C group
Red cabbage
Brussels sprouts, 3/4 lb
'Metro' butternut squash
Parsnips, 1.5 lb
Leeks, ~1 lb
Colored peppers, ~2
Scallions, 1 bunch
Korean Red garlic, 1 bulb
Everyone gets two of these:
White cauliflower &/or purple cauliflower &/or purple broccoli
Next week's box will probably contain butternut squash, Brussels sprouts, sweet potatoes, beets, carrots, and more.
Brussels sprouts – If you are a new CSA member, please approach Brussels sprouts with an open mind. Many of us grew up eating awful, overcooked Brussels sprouts. These Brussels sprouts are completely different.
Here is our method to cook Brussels sprouts: Wash the sprouts and trim the cut ends. Cut an X in the stem end of large sprouts. Cut a single slit in small or medium sprouts. This does two things. It helps the Brussels sprouts cook evenly, plus it allows them to soak up any marinade or dressing. Place sprouts in a pot with one inch of water in the bottom and steam until tender, 7 to 10 minutes. If the sprouts are uneven in size, then set aside the smallest ones and add to the pot after the larger ones have cooked for a few minutes. Don't overcook them! You can also oven-roast Brussels sprouts.
Here are a few dressing ideas for cooked sprouts:
– Sherry vinegar/olive oil/Dijon mustard/garlic/white wine/salt and pepper. This is our favorite, especially when you combine the Brussels sprouts with slivered peppers and thinly sliced onions. Delicious warm, cold, or at room temperature.
– Balsamic vinegar/olive oil/garlic/salt and pepper
– Lemon juice and zest/melted brown butter/poppy seeds/white wine/garlic/salt
Butternut squash – The workhorse of squash! We are sending the flavorful 'Metro' variety, good for roasting or soups or casseroles or baked goods.
Storage: Store uncovered at room temperature.
Safety tip: Microwave your squash for one to two minutes before cutting or peeling. This softens the squash and makes it easier and safer to cut.
Parsnips (These look like large white carrots) – Those long, white roots are not carrots, they are parsnips. The two vegetables are related. When cooked, parsnips are sweet and starchy. For the best flavor, brown them to caramelize the sugars. Here are a few ideas for parsnip preparation:
– Caramelize the parsnips by roasting them in a vegetable medley.
– Parsnip fries are delicious: cut like French fries, oil lightly, place on a cookie sheet and roast in a hot oven until brown and cooked through.
– Try substituting grated parsnips in a potato pancake recipe. They brown beautifully and are very tasty.
– Steve loves pan-fried parsnips with onions and garlic.
Leeks (look like big scallions) – These alliums have a milder flavor than onions. Nonetheless, they can be used in recipes that call for onions. To wash, split the leek lengthwise, from the green tops about halfway to the base, leaving the base intact. Rinse well under running water, separating the layers to flush. If necessary, split the leek further if soil has penetrated more than halfway down the leek. Shake dry. Leeks are generally eaten cooked. They can be sauteed, steamed or roasted. Intact leeks will store 2 to 3 weeks if covered loosely and refrigerated. The outer leaves will yellow. Just peel them off and discard. The inner leek layers will be fine.
Pepper – This is probably the last pepper of the season. It is from a field that escaped frost damage. Eat soon – peppers that have been chilled like this are good now but might not store for long.
RECIPES by DEB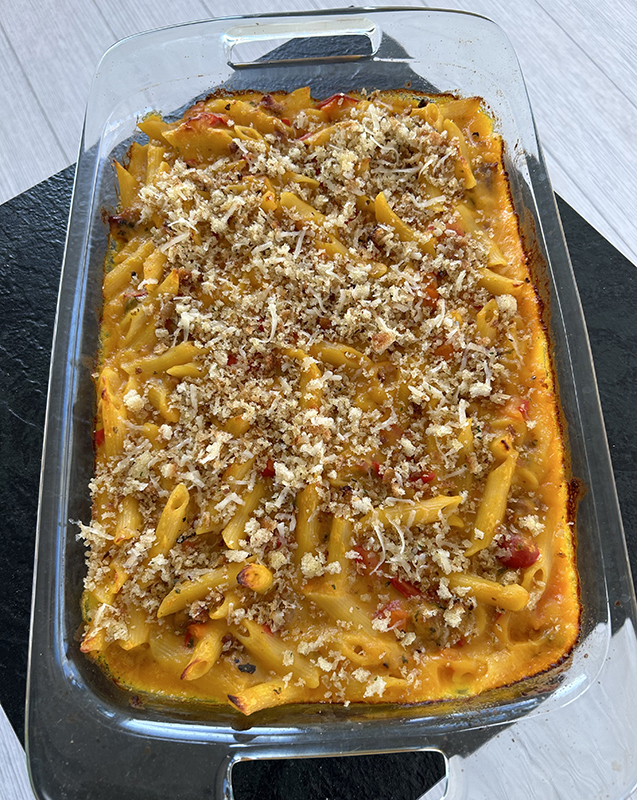 Butternut squash, sausage, and pasta bake
This pasta bake is like many others: homey and cheesy and comforting. What sets it apart is the butternut squash in the sauce, that makes the dish taste as rich as similar bakes with a lot more cheese. I've used ground or link pork sausage here, but try chicken or turkey sausage if you prefer, and you can make this vegetarian by subbing in some greens instead of the sausage.
Prep time: 30 mins.
Baking time: 30 mins.
Serves: 8
12 ounces pasta of your choice, I used penne
1 tablespoon olive oil
8 ounces ground Italian sausage or 3-4 links with casings removed or sliced, if it's the type of sausage where you can't remove the casing
1 large bell pepper, seeded and chopped
Sauce:
2 tablespoons butter
2-3 leeks, white and light green parts only, split longways and thinly sliced
2 pounds butternut squash, peeled and cut into cubes
2 to 2 1/2 cups chicken or vegetable broth, OR 2 cups reserved pasta cooking water and 1 bouillon cube
1/2 teaspoon ground or freshly grated nutmeg
1/2 cup grated Parmesan
1 1/2 cups grated cheese – sharp cheddar or a combination of cheddar and Swiss is good
kosher salt and freshly ground black pepper
Topping:
1 cup breadcrumbs (can be fresh or dried)
2 tablespoons olive oil
1 small garlic clove, minced or put through a press
1/4 cup grated Parmesan
Cook the pasta in a large pot of well-salted boiling water until it's a bit underdone, since it will be baked. Drain, reserving 2 cups of the cooking water if you are not using broth. Drop the bouillon cube into the reserved pasta water to melt while you prepare the other parts of the dish.
Heat the olive oil in a large skillet, and brown the sausage. If using ground sausage, break it into smaller clumps with a wooden spoon as it browns. If you have any other type of link sausage, slice it and brown in the oil. Add the chopped bell pepper and continue to cook until the pepper is soft. Remove from the heat and set aside.
Melt the butter in a large pot or Dutch oven with a lid. Add the leeks and a generous pinch of kosher salt, stir, and cover. Reduce the heat to low, and cook until the leeks are soft but not brown, about 10 minutes. Add the squash cubes and the broth (or pasta water/bouillon mixture), cover, and simmer until the squash is tender, about 10 minutes. The squash cubes should be submerged; add a little more water if necessary. Remove from the heat and puree until smooth using an immersion blender. You can also use a food processor or blender but cool the mixture for about 10 minutes before proceeding. Add the nutmeg and the Parmesan and grated cheese(s) and stir until the cheese melts. Taste and season with salt if needed and freshly ground pepper.
Heat the oven to 400°. Stir the sausage mixture and the pasta into the sauce and spread into a 9 x 13 x 2 baking dish. Bake for 20 minutes until bubbly.
For the topping, heat the olive oil in a pan and add the minced garlic. Add the bread crumbs, stir to coat with oil, and cook a few minutes until the crumbs are slightly toasted and the garlic is fragrant. Set aside to cool. After the pasta has baked for 20 minutes combine the 1/4 cup Parmesan and the crumbs, which should be cool by now, and top the pasta with this mixture. Bake for 10 more minutes and serve.
Lemony Roasted Parsnip Hummus | power hungry
From power hungry
I think most of us are familiar with roasting parsnips to bring out their natural sweetness. Here roasting is taken one step further, and the roasted parsnips are pureed with lemon and garlic and almond butter to make hummus. You could sub in the more traditional tahini for the almond butter if you like.
.
.

Roasted Cabbage Salad with Sesame Honey Red Onions | Justine Doiron
From Justine Snacks
This roasted cabbage salad is made with green cabbage, but red cabbage will work just as well. At the website, it's shown served on toast spread with labneh or strained yogurt, but could also be served without the toast, or on toast spread with a little goat cheese.
.
.

Photo by Jessica Merchant
Maple Sheet Pan Sausage with Butternut Squash and Brussels Sprouts | How Sweet Eats
From How Sweet Eats
Sheet pan dinners are quick and easy and this one transforms our Brussels sprouts, garlic, and butternut squash into dinner. The recipe suggests serving this with brown rice; buttered noodles or orzo would be a nice alternative.
.
.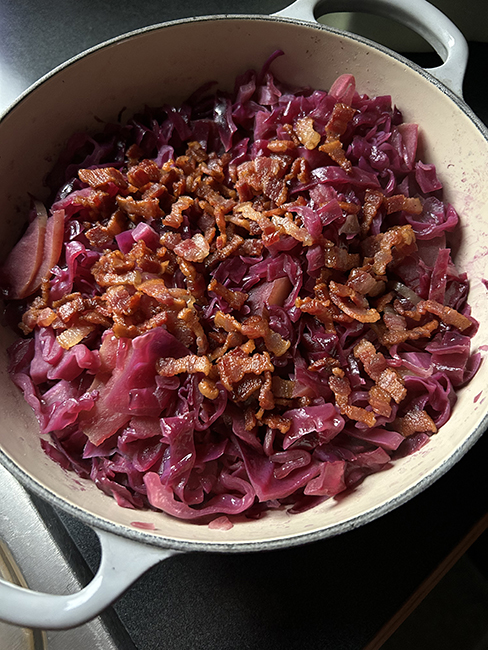 Braised red cabbage with apple and bacon | DebsLunch
From DebsLunch
This is a traditional, slightly sweet-sour, red cabbage preparation. If you'd like to make it vegetarian/vegan, omit step one, frying the bacon, and start with step 2, sauteing the onions in 2-3 tablespoons of olive or vegetable oil.
.
.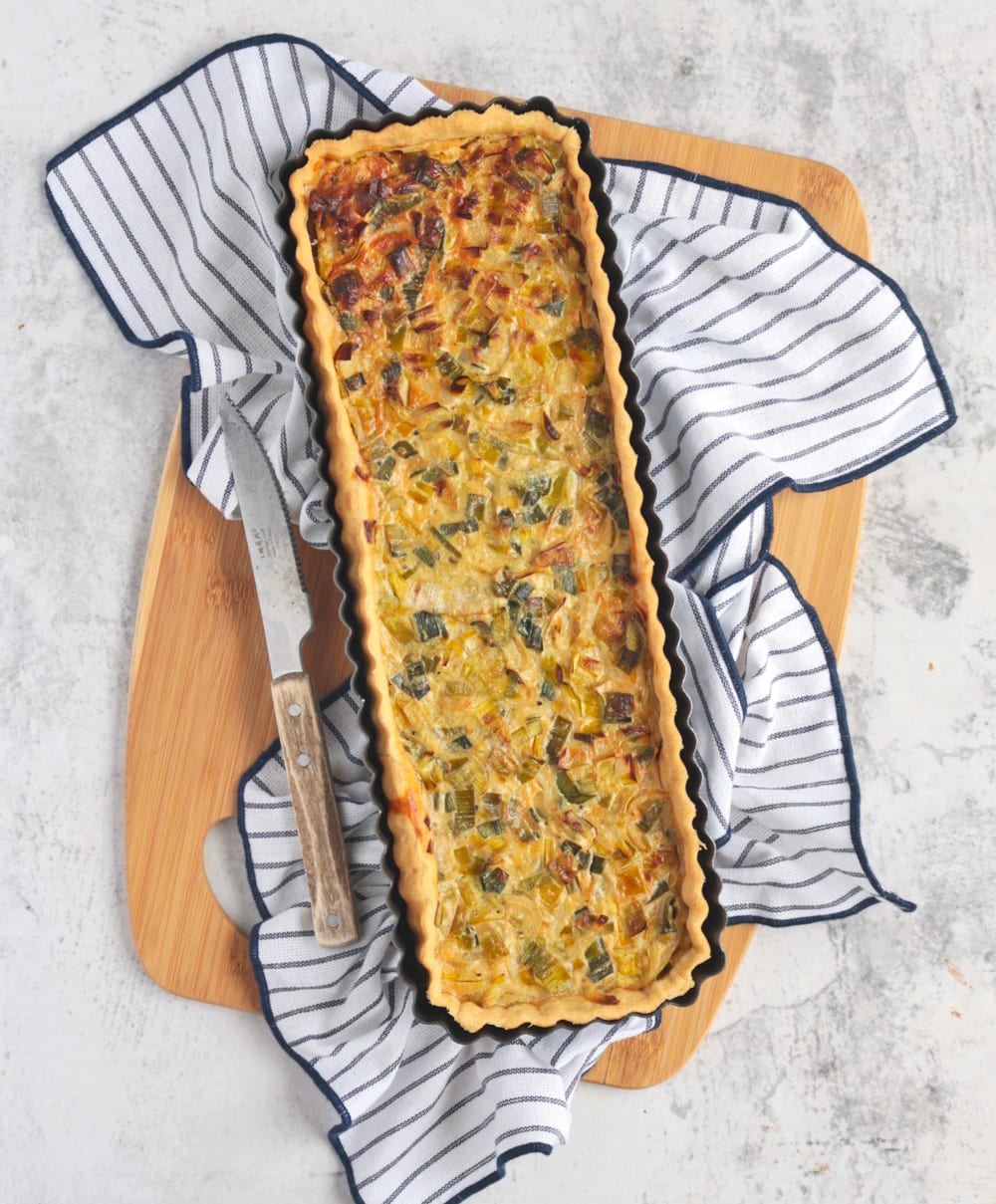 Leek Tart with Gruyere and Onions | A Baking Journey
From A Baking Journey
There are tons of recipes for leek tart or leek quiche floating around on the Web – I chose this one since it is mostly leeks and cheese and also has good instructions for making your tart dough and fitting it into the pan. The recipe suggests blind-baking the crust and does not provide instructions for that – so here is a set from Sally's Baking Addiction. The recipe calls for one small brown onion, which is the Australian name for yellow onions (that have a brown skin). If you like you could could double the leeks and omit the brown onion. Personally, I'd sub nutmeg for the optional cumin.
.
.

Tuscan White Bean and Butternut Squash Soup | Fork Knife Swoon
From Fork Knife Swoon
This is a brothy soup featuring butternut squash, perhaps a nice change from soups with pureed squash that are more common. Any greens we get in the box this week, or even chopped broccoli or cauliflower, could be subbed for the kale, and a garnish of thinly sliced scallions and Parmesan cheese would be tasty.