Week #16; Monticello Social club
We have a new favorite place to enjoy amazing meals prepared with local foods. During the pandemic, a group of farmer friends started a prepared foods venture called the Community Kitchen Co-op. This year, they are offering sit-down meals in their beautiful shop in tiny Monticello, south of Verona. The Monticello Social Club hosts five-course, fixed-menu meals every two weeks. We've attended three times so far. These folks know how to cook! The spread is always amazing. Most of the photos are from the August 26 dinner with a few thrown in from earlier evenings.
This is not some weird paid promo. I don't do that. These are people I admire for their work in local communities. I love what they are doing it and want to spread the word. While it's called a 'social club', it is completely open to the public. Look for Steve and me if you attend a meal – we try to go at least one per month. The meals are family style and everyone is friendly. These generous meals are the equivalent of the best that Madison has to offer. Come hungry!
Beth
How to freeze sweet corn.
We hope you are enjoying the steady sweet corn as much as we are. Next week (Sept 7/8) will be the final corn delivery. If you're looking for new ideas, here are a few, all using kernels cut from the cob. I recommend working on a cutting board in your sink, to contain the splatter.
– To freeze corn, cook it as usual, let cool, and cut the kernels from the cob. Pack in freezer boxes or bags. Include the accumulated corn juice, which will help protect the kernels from freezer burn.
– Cooked kernels are good in salsa.
– Raw kernels can be added to soups, stews, tomato sauces. Add and stir during the last few minutes of cooking.
– By now, you probably realize that you can eat raw corn straight from the cob. That's a Tipi farm favorite!
Veggie List & Veggie Notes
Week #16, August 31/ Sept 1, 2023
– Weekly shares
– BiWeekly/ green
– Sampler/ D group
'Vision' sweet corn, 9 ears
Red or orange or yellow watermelon
Slicing tomatoes, ~3 lb
Red frying pepper, 1
Yellow bell pepper, 1 or 2
'Orano' orange snack peppers, a few
Zucchini, ~1.25 lb
Yellow 'Expression' onion
Basil
Korean Red garlic
By site: 1 cucumber or another pepper
Next week's box will probably contain sweet corn, tomatoes, peppers, zucchini and more.
Sweet corn – This is another beautiful batch of 'Vision'. No bugs.
Slicing tomatoes – These are riper than usual and so delicious, due to the hot weather. Eat soon. Spread on a platter on your kitchen counter so you can keep an eye on them. If you see flaws developing, refrigerate.
Peppers – Some of the yellow peppers have black seeds. This is undetectable from the outside, and largely does not affect the pepper itself. If you find this, you will want to trim away the core and rinse the pepper. This is frustrating for us since we cannot recognize it from the outside. And the peppers themselves are so great. We think it's a transient problem. Doesn't seem to affect anything other than the yellow bells.
RECIPES by PHOEBE
Creamy Corn Casserole with Basil
If you're anything like me, you'll go back for a second serving of this casserole as soon as you've finished your first! I love the combination of textures here. A creamy blend of ricotta and Parmesan lightly binds the crisp, juicy corn kernels together, and a crunchy layer of breadcrumbs tops it all off. Pair this casserole with a salad for a light vegetarian dinner, or serve it alongside your favorite protein for a heartier meal. Adapted from the Farro & Greens Gratin in Love & Lemons Simple Feel Good Food.
Serves 4 to 6
Prep time: 20 minutes
Cook time: 30 minutes
1 cup diced zucchini (about ½ medium)
2 large eggs
1 cup whole milk ricotta cheese
½ cup grated Parmesan cheese
2 garlic cloves, grated
1 teaspoon lemon zest
½ teaspoon sea salt, plus more for sprinkling
Freshly ground black pepper
1 tablespoon extra-virgin olive oil, plus more for drizzling
1 cup diced onion (about ½ medium)
Kernels from 3 ears fresh sweet corn (about 2¼ cups)
1 cup panko or toasted homemade breadcrumbs
⅓ cup finely chopped fresh basil, plus more whole leaves for garnish
Red pepper flakes
Place the zucchini in a colander and toss with a pinch of salt. Set aside to drain.
Preheat the oven to 375°F and oil a 9×9-inch or similar baking dish.
In a large bowl, beat the eggs. Add the ricotta, Parmesan, garlic, lemon zest, salt, and several grinds of pepper and mix well to combine. Set aside.
Heat the olive oil in a large skillet over medium heat. Add the onion and cook, stirring occasionally, until soft, about 5 minutes.
Shake any excess water off the zucchini, then add the zucchini to the pan. Cook for 1 minute. Add the corn and cook, stirring occasionally, until bright yellow and slightly softened, about 3 minutes. Remove from the heat.
Place the breadcrumbs in a small bowl and drizzle with 1 teaspoon olive oil. Toss to coat, adding more oil as needed, until all the breadcrumbs are lightly coated.
Add the corn mixture to the bowl with the ricotta and mix to combine. Fold in the basil. Transfer the mixture to the prepared baking dish and use a spatula to spread in an even layer. Sprinkle with the breadcrumbs and bake for 18 to 23 minutes, or until the breadcrumbs are golden brown and the casserole is set. Remove from the oven and let stand 5 minutes at room temperature.
Garnish with fresh basil leaves, sprinkle with red pepper flakes, and serve.
.
.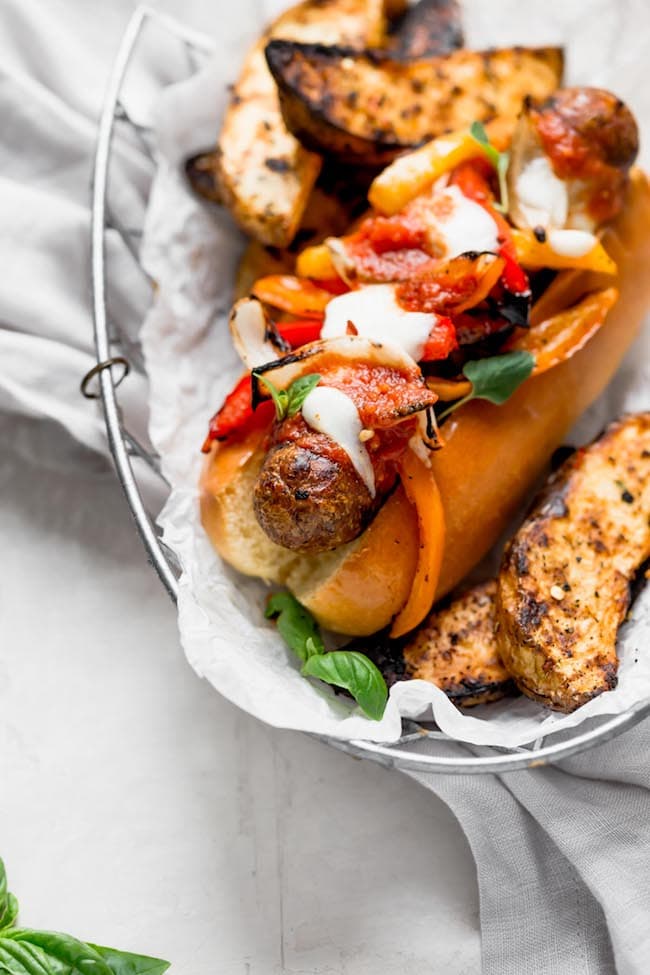 Photo by Two Peas and Their Pod
Grilled Italian Sausage and Peppers
From Two Peas and Their Pod
This recipe would be perfect for a Labor Day cookout! Grill up Italian sausages with onions and peppers, and stuff them into buns with marinara and melty mozzarella.
.
.


Photo by Smitten Kitchen
Grilled Pepper and Torn Mozzarella Panzanella
From Smitten Kitchen
Panzanella, a Tuscan bread salad, is traditionally made with tomatoes, but in this recipe, Deb swaps in grilled sweet peppers for a delicious twist. Top it off with the basil from this week's box!
.
.


Photo by What's Gaby Cooking
Basil Vinaigrette Pasta
From What's Gaby Cooking
It's not pesto pasta…it's basil vinaigrette pasta! Gaby adds zucchini to this summery pasta dish, but you could toss in any veggie you like—sweet corn, peppers, or even chopped fresh tomatoes.
Note: If you don't have a shallot, omit it from the dressing, or replace it with 1/4 cup diced onion. Use thinly sliced onion in the pasta.
Tomato Salad
From Love & Lemons
If you love tomatoes, you'll love this salad! It's amazingly simple, so it really lets the tomatoes shine. Serve it as an easy side dish with any summer meal.
Note: If you don't have parsley on hand, skip the gremolata, and top the salad with extra basil.
Tomato Bruschetta
From Spoon Fork Bacon
If you're hosting a gathering over Labor Day weekend, bruschetta would be a wonderful appetizer! Balsamic vinegar, garlic, and black pepper add depth of flavor to the classic tomato and basil topping.
.
.


Photo by Minimalist Baker
Grilled Corn & Zucchini Salad with Sun-Dried Tomato Vinaigrette
From Minimalist Baker
This bountiful summer salad features grilled zucchini, sweet corn, and a creamy sun-dried tomato and basil dressing. Serve it as a side dish at your next cookout, or toss in roasted chickpeas to make it a meal.