Week #21; Gleaning recap

The gleaning fields stretched across the entire farm.
The weather was perfect for our annual gleaning party! It was warm enough and sunny and pretty darn windy but that's typical fall weather. There was a hard freeze the night before, so the tomatoes and peppers were damaged but it was still worth looking through the field for good ones. Thank you for working with the reservation system we set up. There were just three of us staffing the u-pick so it was a huge help to spread out your arrivals. We had entry slots for all who wanted them. Let's share highlights and photos.
Our list of gleaning crops changes every year. Here is this year's list and our observations, followed by photos.
Pumpkins – This was one of our best pumpkin growing seasons so they are solid and should last well. FYI the row of small pumpkins was actually a pie pumpkin called Mystic Plus so you might try cooking that one. Or use it as an ornamental – they are very pretty.
Bell peppers (Limit = 3 per household) – The peppers were frozen the night before but it seems everyone found a few good ones. Those are easy to cook after they've been frozen.
Carrots (Limit = 6 per household) – Carrots are not a true gleaning crop as we could harvest all of them, but we include them so kids have the fun of digging up a few carrots.
Chilies; jalapenos and poblanos (Limit = 5 and 2 per household, respectively) – We peeled back row cover from our chile field to offer a few for gleaning. This field is precious and we'll keep it protected as long as we can. Which will not be much longer!
Kale & collards – We plant two kale/collard fields each season, harvesting the first one until midsummer then switching to the fresh second planting. By now, the first field has recovered, meaning both early and late plantings are productive right now. That's how we have lots of kale and collards to glean each year. You can barely tell where members gleaned!
Romano beans – This field was an adventure. It was very wet and muddy from overnight irrigation to protect the adjacent pepper field. It was worth the stop to pick a few handfuls of beans, or more if you were patient. You may have noticed a mysterious nearby field covered in white row cover. That field contained the green beans that we picked for you this week.
Sweet potatoes (Limit = dig 1 hill per household). We designate this the 2022 Most Mysterious Gleaning Crop. We set digging forks in the field and told people to choose one sweet potato hill, then dig until they found the tubers. The sweet potatoes were deep and not every hill was productive so people had to hunt for a while.
Tomatoes, plum & slicing – These were frost damaged but you could find good ones if you hunted near the ground. We cancelled gleaning cherry tomatoes – those are exposed on a trellis and frosted badly.
Winter squash; acorns, butternuts, etc – This field was a treasure hunt, with a good ones mixed in among the ones we discarded.

The pumpkin field was everyone's favorite field to visit!

Gleaning poblano or jalapeños from the corner of the field that we offered.
We covered the field with white row cover to protect the plants from frost. The cover does not want to stay in place on a windy day!

Gleaning carrots.

There were tomatoes to find … just not these ones.

An adorable family

Lost and found
Get in touch if any of these belong to you and we'll send them to your pickup site. We think the hat was left here at one of the strawberry u-picks.
Veggie List & Veggie Notes
Week #21, October 13/14, 2022
– Weekly shares
– EOW/ green
Brussels sprouts, ~1 lb
Green beans, ~ 3/4 lb
Beets, ~2 lb
Winter squash by site; Acorn squash OR 'Nutterbutter' butternut
Collard greens, 1 small bunch
Mixed peppers, mostly suntans
Red or yellow onion
Scallions, 1 bunch
Most sites get broccoli
One site gets cauliflower
Next week's box will probably contain winter squash, carrots, bok choy, suntan peppers, scallions and more.
Brussels sprouts – If you are a new CSA member, please approach Brussels sprouts with an open mind. Many of us grew up eating awful, overcooked Brussels sprouts. These Brussels sprouts are completely different.
Here is our method to cook Brussels sprouts: Wash the sprouts and trim the cut ends. Cut an X in the stem end of large sprouts. Cut a single slit in small or medium sprouts. This does two things. It helps the Brussels sprouts cook evenly, plus it allows them to soak up any marinade or dressing. Place sprouts in a pot with one inch of water in the bottom and steam until tender, 7 to 10 minutes. If the sprouts are uneven in size, then set aside the smallest ones and add to the pot after the larger ones have cooked for a few minutes. Don't overcook them! You can also oven-roast Brussels sprouts.
Here are a few dressing ideas for cooked sprouts:
– Sherry vinegar/olive oil/Dijon mustard/garlic/white wine/salt and pepper. This is our favorite, especially when you combine the Brussels sprouts with slivered peppers and thinly sliced onions. Delicious warm, cold, or at room temperature.
– Balsamic vinegar/olive oil/garlic/salt and pepper
– Lemon juice and zest/melted brown butter/poppy seeds/white wine/garlic/salt
Beets – Storage: Cover and refrigerate. Beet roots will store for months. Wash well to remove leaf fragments. For all the cooking methods below, wash and scrub the beets but do not peel. The skins slip off easily once the beets are cooked and cooled.
Cooking beet roots on the stovetop: Slice or quarter, cover with water in a pot, and simmer until tender. This will take from 25 to 45 minutes depending on how large the beet pieces are. Drain.
Roasting beets in oven: Wash beets, but do not peel. On a sheet of aluminum foil, put beets (halved or quartered if large), salt, pepper and a few sprinklings of water. Seal the foil packet, and roast at 400 oF until tender, about 45 minutes to 1 hour. Slip off skins once cool.
Microwave: Slice beets in half and place in a large microwave-proof bowl. Add ¾ inch water and cover with a plate. Microwave on high until tender, about 9-20 minutes, depending on your microwave's power. Drain and slip off skins.
Uses: Use cooked beets in cold salads, or dress simply with vinaigrette, onions, salt and pepper. Beets are also good tossed with sour cream, minced onion, fresh herbs and walnuts.
Peppers – We are heading toward the end of pepper season but will hold on as long as we can. This week's peppers came from fields protected with irrigation. Now it's time to strip the field of any useable peppers. Most of what you receive will be 'suntan' peppers; half green and half colored. Types are mixed, whether bells, fryers or snack peppers.

'Tis the season for "suntan" peppers.
RECIPES by PHOEBE
Broccoli, Bell Pepper & Bean Burritos
Creamy beans, crisp-tender veggies, and tangy cheddar cheese create a satisfying filling for these vegetarian burritos. My biggest tip for this recipe is to chop the broccoli finely so that it cooks through on the stove. No broccoli in your box this week? Cauliflower or an extra pepper would work well in its place.
Serves 4
Prep time: 15 minutes
Cook time: 20 minutes
2 tablespoons avocado oil
1 medium onion, diced
1 garlic clove, minced
3 cups pinto beans, drained and rinsed (2 14-ounce cans)
1 cup vegetable broth
1 teaspoon chili powder
1 teaspoon ground cumin
1 teaspoon dried oregano
3 tablespoons fresh lime juice
1 bell pepper, stemmed, seeded, and diced
1 medium head broccoli, stems and florets, diced
4 large flour tortillas, warmed
1 cup shredded cheddar cheese
Sea salt and freshly ground black pepper
Heat 1 tablespoon of the avocado oil in a small saucepan over medium heat. Add half the onion and ½ teaspoon sea salt and cook, stirring occasionally, until softened, about 5 minutes. Stir in the garlic and cook for 30 seconds, then add the beans, broth, chili powder, cumin, oregano, and several grinds of pepper and bring to a boil. Reduce the heat and simmer, stirring occasionally, until the beans are thick and creamy, about 15 minutes. Remove from the heat and stir in 2 tablespoons of the lime juice.
Heat the remaining 1 tablespoon avocado oil in a large skillet over medium heat. Add the remaining diced onion, the bell pepper, and ½ teaspoon sea salt and cook, stirring occasionally, until softened, about 5 minutes. Add the broccoli and cook, stirring occasionally, until the broccoli is crisp-tender and bright green and the onion and peppers are beginning to brown, about 10 minutes. Remove from the heat and stir in the remaining 1 tablespoon lime juice.
Assemble each burrito in a tortilla with a scoop of the beans, a scoop of the veggies, and some of the cheddar cheese. Tuck and roll the burrito closed and repeat with the remaining tortillas and burrito fillings.
Sesame Chicken & Green Bean Stir Fry
Green beans add color and crunch to this nutty, savory chicken stir fry. Serve it over rice for a quick and easy meal.
Serves 4
Prep time: 15 minutes
Cook time: 15 minutes
2½ tablespoons tamari or soy sauce
2 tablespoons rice vinegar
2 tablespoons water
1 tablespoon honey
1 tablespoon toasted sesame oil
1 teaspoon grated fresh ginger
1 garlic clove, grated
1½ teaspoons cornstarch
2 tablespoons all-purpose flour
½ teaspoon garlic powder
½ teaspoon ground ginger
½ teaspoon sea salt
1 pound boneless, skinless chicken thighs, cut into 1-inch pieces
1 tablespoon avocado oil
8 ounces green beans, trimmed and cut into 1-inch pieces
2 teaspoons sesame seeds
Cooked rice, for serving
In a medium bowl, whisk together the tamari, rice vinegar, water, honey, sesame oil, fresh ginger, and garlic until well combined. Add the cornstarch and whisk to combine.
In a large bowl, whisk together the flour, garlic powder, ground ginger, and salt. Add the chicken and toss until well coated.
Heat the avocado oil in a large nonstick skillet over medium-high heat. Add the green beans and toss to coat in the oil. Cook without stirring until the beans start to brown on one side, about 3 minutes. Stir, then remove from the pan and set aside.
Add the chicken to the pan and cook without stirring until golden brown on one side, 2 to 3 minutes. Flip and cook until browned on the second side, another 2 to 3 minutes. Add the green beans to the pan and cook, stirring, for 1 minute. Reduce the heat to medium-low and stir in the sauce. Cook, stirring, until the sauce is thick and glossy and the chicken is cooked through, about 2 more minutes.
Remove from the heat and stir in the sesame seeds. Season to taste and serve with rice.
.
.


Photo by Jeanine Donofrio and Jack Mathews
Shaved Brussels Sprouts Salad
From Love & Lemons
You only need 7 ingredients to make this refreshing fall salad! The recipe calls for chopped chives, but if you don't have them on hand, feel free to skip them, or substitute an equal amount of thinly sliced scallion tops.
.
.


Photo by Minimalist Baker
Simple Roasted Beet Relish
From Minimalist Baker
This zesty beet relish is seasoned with earthy cumin and lots of lime. Spoon it over any salad, grain bowl, burger, sandwich, or taco for a burst of bright flavor!
.
.


Photo by The Modern Proper
Kung Pao Tofu
From The Modern Proper
Grab a couple peppers and the scallions from this week's box, and you'll be well on your way to making this punchy vegan stir fry!
.
.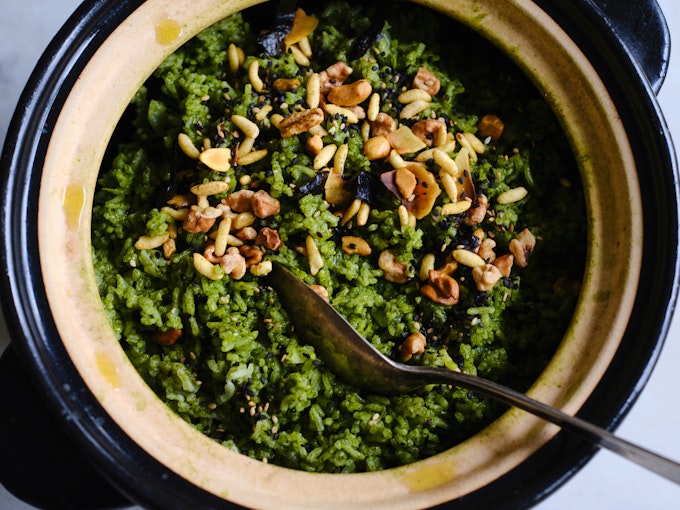 Photo by Heidi Swanson
Bryant Terry's Amazing Green Rice
From 101 Cookbooks
This recipe, from Bryant Terry's cookbook Vegetable Kingdom, calls for spinach and kale, but it would work just as nicely with collards. I recommend using 1 1/2 cups of collards instead of the combined 2 cups of spinach and kale so that the collards' flavor doesn't overwhelm the rice. Serve it as a comforting side dish, or check out Heidi's suggestions for turning it into a meal.
.
.


Photo by Laura Wright
Black Bean Dip with Roasted Squash, Garlic, Pumpkin Seeds & Chipotles
From The First Mess
Sweet roasted squash plays off smoky, spicy chipotles in this creamy vegan bean dip. Serve it with tortilla chips or crackers, or slather it onto sandwiches or toast.
.
.


Photo by Andrea Bemis
Collard Greens Summer Slaw with Soy-Sesame Dressing
From Dishing Up The Dirt
This simple sesame slaw would be a great fresh side dish for any fall meal. To use the produce from your box this week, substitute an extra beet for the kohlrabi and carrots, and skip the basil. The slaw will still be delicious!