Week #21: Darn it, Steve won the bet.

Top, sweet corn for your CSA boxes,
Middle, transplanting sweet corn seedlings to the field
Bottom, protecting the ears from birds.
I've written before to explain our decision to plant more but smaller sweet corn fields this year. Let's explore more details and share your responses to our sweet corn survey.
Our intention was to increase the number of sweet corn deliveries from five to seven, thereby increasing the odds that we'd deliver corn to all members, regardless of their box schedule. For example, one year we planted five fields but four deliveries fell on one EOW group and the other EOW group only got one delivery. It was just bad luck related to the weather but worth avoiding if we can.
First, we increased the number of plantings but made each field smaller. Then we settled on a favorite variety ('Vision') and seeded in flats every 7 to 10 days. This was a dry year, so we were able to transplant the seedlings on a regular schedule but that's unlikely to work every year. Wet weather can force transplanting delays, throwing off the schedule. Seven weeks is our maximum. Later plantings have too much likelihood of bug damage.
The downside of this new effort is that it creates more work for us; more seedings, more times to gather a transplant crew, more weedings, irrigations, harvests, etc. You get the idea. But we were lucky and it worked well this season.
Wow, you like sweet corn
I sent a short survey to ask how you felt about the new corn schedule. I predicted that you would like getting 8 ears of corn per week, but would be sick of sweet corn by the end of seven weeks. Steve guessed that you wouldn't (he eats corn every day in season). Darn it, he won the bet! But you won the corn!
Here are your answers. We are very happy with these results.
Comments and Questions
Here are a few of the many comments submitted with the survey. Basically, you either loved the extra corn deliveries or found ways to make them work, eg freezing extras for corn & potato chowder. It's tough to pick which comment is most endearing, but the first one is an honor.
You gave us some of the best sweet corn we've ever had. That's saying something because we're both in our 70s and we've eaten a lot of sweet corn in our time!
The "sweet corn from the farm" was the only sweet corn that our son would eat!
The number of ears of corn was generally too much for us to eat in one week, but we froze a lot of it, which is just fine with me. Actually I'm thrilled to make some corn chowder later with potatoes…yum! Thank you!
About the caterpillars – I so appreciate when you tell us to just cut the tips off. I follow those instructions and otherwise would find the bugs disturbing and terrible. But when I don't have to see them, I can pretend they're not there.
My son and I LOVE, LOVE, LOVE your farm! Our weeks are almost totally based around the CSA! We sit down several times a week to plan and discuss meals, we keep a running inventory, we're excited about picking it up from our site! Thanks!
To be honest I think you should plant and harvest whichever way is easiest for you. The corn keeps well in the fridge so having a few extra or a few fewer ears per box didn't make a difference for us.
Brought on by your 5 vs. 7 weeks of corn question: As someone who receives EOW, I wonder why you don't plan for 6 deliveries? So it doesn't seem like the other 'color' might get an extra week of something depending on timing?

Beth: In a perfect world, six plantings would make sense. We hedge our bets with seven. Don't worry, we'll have something special for the other 'color'.
Maybe we've veered into self-congratulation, but it's fun!
Thanks for taking the survey. I sent the link again in tonight's email, if anyone still wants to participate.
Beth
.
.

Half garlic bulb this week
Everyone gets a half bulb of garlic this week. These bulbs dried slowly or had bug issues, so we wanted to open and examine each one. Some of them are a little odd but all are useable.
Beth
Veggie List & Veggie Notes
Week #21, October 7/8, 2021
– Weekly shares
– EOW/ purple
– Sampler/ moon
'Beauregard' sweet potatoes, ~2 lb
Romano beans, 1.4 lb
Acorn winter squash, 1 small
Carrots, ~2 lb
Colored peppers, 2
Oranos snack peppers, 4 – 5 small
Yellow onion
Red onion
Jalapeno (HOT)
Garlic, one half bulb. Might be a little weird.
Some sites get broccoli (purple &/or green).
Some sites get broccoli & cauliflower.
Next week's box will probably contain bok choy, butternut squash, scallions, peppers and more.
'Beauregard' sweet potatoes – Store your sweet potatoes at room temperature. They suffer chilling injury below 50 F.
Here are a few things we've learned about sweet potatoes:
– For best flavor, cook your sweet potatoes so they brown and caramelize. We have a simple, favorite way to roast sweet potatoes. We used to prepare sweet potato fries in the oven. Now we just quarter the potatoes, rub with olive oil, dust with salt and place cut-side-down on a cookie sheet. Roast in a 450 F oven without turning until soft. The flavors will caramelize (like sweet potato fries) but preparation is simpler and the cooking time less exacting. Slender sweet potato fries go from undercooked to overcooked in the blink of an eye. Larger slices are less exacting, and therefore are easier. Small sweet potatoes can be cut just in half. Jumbos will need to be chopped into pieces. Otherwise, they take a long time to cook.
– This first batch of sweet potatoes will need slightly longer cooking than ones from the supermarket, perhaps because they contain higher moisture so soon after harvest.
– Sweet potatoes are good at any size. We have cooked everything from tiny to jumbo and consistently find that all sizes taste good.
Romano beans – Romano beans are more robust and meaty than green beans. They are excellent raw but really shine when gently cooked for a long time. Here's a pep talk from Tipi member Steve Rankin:
"You have finally sold me. I have never been a fan of Romano beans. This week I have been sautéing them with various peppers and garlic, as well as the oregano from earlier this season. They are especially tasty with poblanos. Lots of black pepper and some soy sauce, which make the pan sticky. I deglaze the pan with wine and braise them in the wine. I'm sold!"
Acorn winter squash – Everyone gets one 'Jester' or 'Carnival' squash. Store at room temperature for two weeks but keep an eye on your squash and cook promptly if it starts to deteriorate.
Jalapeno chile (HOT) – This small chile is dark green or dark green with a red tip. It's recognizable by its color and size. It is the only hot pepper this week. All other peppers in this week's box are sweet.
RECIPES from DEB
Visit our 2020 Recipe Log or our 2019 Recipe Log.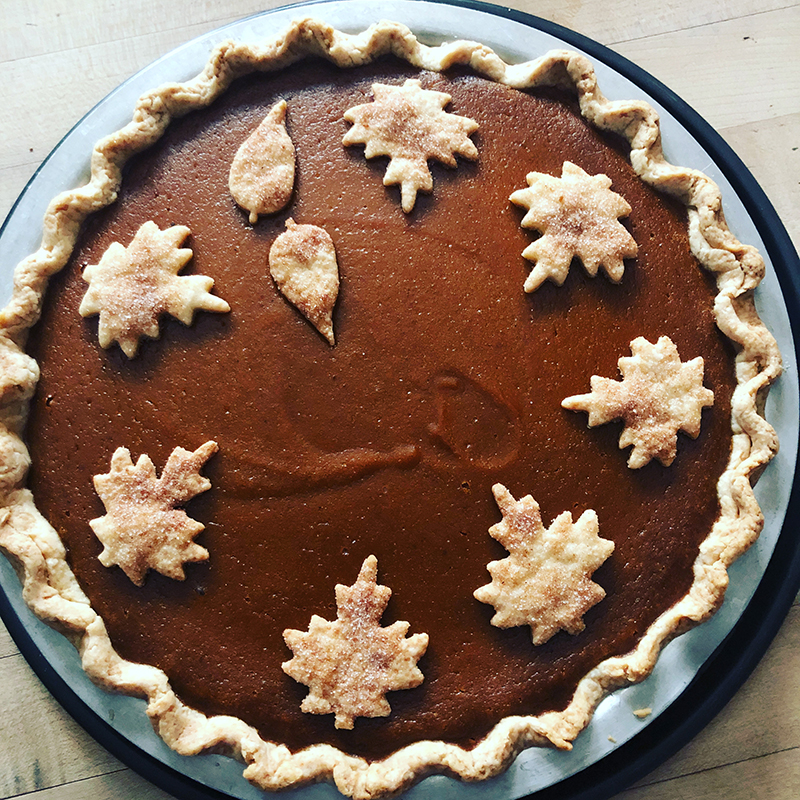 Caramel sweet potato pie
Based on a recipe from November 2018 Food & Wine, this pie could also be made with squash or pumpkin puree.
Takes about 45 minutes active time, plus 30 minutes to chill the crust and 45 minutes to bake.
Makes 8 big slices.
Crust:
1 1/2 cups flour
good pinch salt, unless you're using salted butter
1 tablespoon sugar
1/2 cup butter, either salted or un- (1 stick, 8 tablespoons)
1 tablespoon vegetable shortening or lard
1 tablespoon sugar
2-4 tablespoons cold water
Special equipment – pie weights or dried beans, parchment paper
Filling:
2 3/4 cups sweet potato puree (roasting the sweet potatoes will give you a drier puree, but steaming also works and is quicker!)
3 large eggs
3/4 cup granulated sugar
3 tablespoons water
2/3 cup heavy cream, warmed
2/3 cup packed dark brown sugar
3 tablespoons unsalted butter
1 teaspoon vanilla extract
a generous pinch of kosher salt
1 1/2 teaspoons ground cinnamon
1/2 teaspoon freshly grated nutmeg
OR use two teaspoons pumpkin pie spice blend, such as Penzey's
Make the crust: measure the flour, salt and sugar into the bowl of your stand mixer (my favorite method), your food processor, or a mixing bowl. Slice the butter and shortening over the top and combine with the flour mixture, using the paddle attachment of the mixer, by pulsing the processor, or using a pastry blender, 2 knives or your fingers, until you have a crumbly mixture with no butter lumps bigger than currants. With the mixer or processor running, or while stirring with fork, drizzle in the water by tablespoons, until the mixture just starts to come together in clumps. Stop before you have one big ball. Turn the crust out onto a floured surface and knead lightly to bring it together. Gather it into a ball, flatten into a disk, wrap (in plastic, wax paper, one of your reusable snack/sandwich bags), and chill for about 30 minutes, and up to 2 days.
After chilling, roll out the crust and fit it into a deep 9-inch pie plate and trim and crimp the edges. Set it in the freezer or fridge to chill while you make the filling. Cut the trimmings into decorative shapes for the top of your pie, set them on a baking sheet, and chill them, too.
After the crust has chilled, heat the oven to 400°. Line the pie shell with parchment paper, and fill with pie weights or beans. Bake for 16 to 18 minutes. Sprinkle the cutouts with cinnamon sugar, and bake them, too – they'll brown quickly, so watch carefully! After about 16 minutes, take the shell out, carefully remove paper and weights, and prick the bottom of crust all over with a fork. Return the crust to the oven and bake until bottom is lightly browned, another 4 to 6 minutes. Remove the crust from the oven and let it cool while you make the filling. Reduce the oven temperature to 350°.
Make the filling: Combine the pumpkin puree and the eggs – you'll get the smoothest filling if you use a food processor, but you can whisk the eggs and potato together in a big bowl, too.
Stir the granulated sugar and 3 tablespoons water together in saucepan much bigger than you think you will need – at least 2 quarts. Cook over medium heat until the sugar melts, about 3 minutes. Increase heat to medium-high and continue cooking, occasionally swirling the saucepan, until mixture is a rich caramel in color, 6 to 7 minutes. Remove from the heat and carefully pour in the warm cream – it will bubble furiously – this is why you need a big pan! Whisk in brown sugar and butter until smooth and incorporated.
When the warm caramel sauce into the pumpkin & egg mixture, and add the vanilla, salt, cinnamon and nutmeg. Pour the filling into the pie shell and smooth the top. Bake until the filling is just set, about 45 minutes. Decorate the top with your crust cutouts while the pie is still warm – they'll stick better that way.
.
.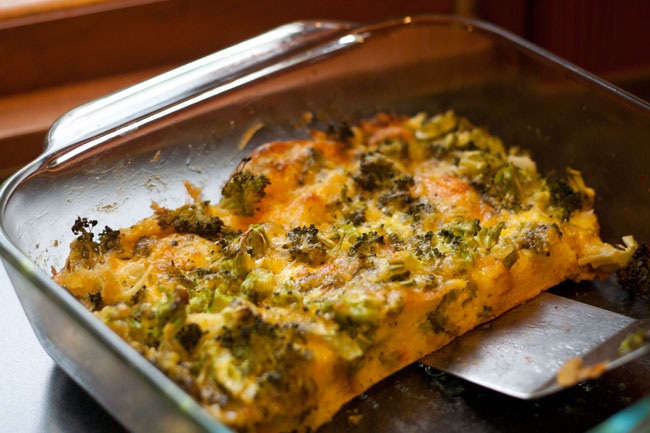 Broccoli Casserole
This is based on Jane & Michael Stern of Roadfood fame, and I got the recipe from the Splendid Table's How to Eat Supper cookbook. It's basically a strata, bread, egg, broccoli, and cheese.
Takes about 20 minutes active time, plus an hour to bake.
Serves four generously.
4-6 slices of bread, enough so that torn into bite-sized pieces it will cover the bottom of an 8-in. baking dish. The original recipe calls for soft white bread; I think soft whole wheat is good, too.
3 large eggs
1/4 cup milk
4 tablespoons butter, melted, plus a little extra for greasing the baking dish
1 cup grated cheddar cheese
1 teaspoon salt
1-2 tablespoons sugar (The original recipe calls for three!)
2 cups finely chopped broccoli – I like to do this in the food processor.
Heat the oven to 350°. Butter your baking dish – glass recommended, and cover the bottom of the dish with the torn bread. Beat the eggs, milk, and melted butter together, then add the cheese, salt and sugar. Stir in the broccoli and pour the mixture over the bread. Cover the dish with foil or a lid, and bake for about 45 minutes. Uncover and bake another 10 to 15 minutes to brown the top, and if you want an even crispier top crust, run the casserole under the broiler.
.
.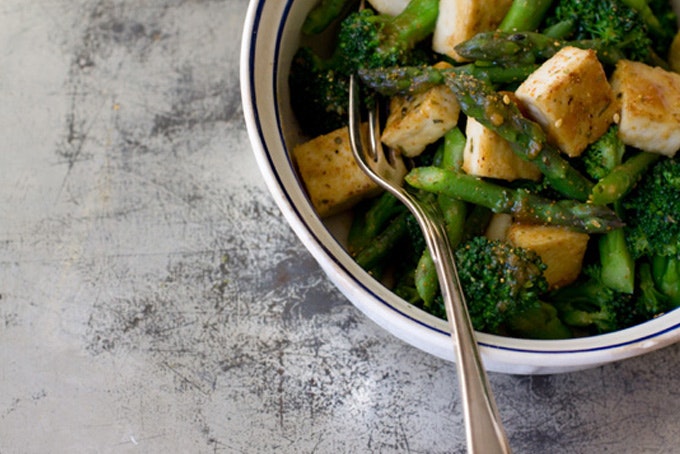 Miso Vegetables & Tofu Recipe
From 101 Cookbooks
Takes 30 minutes.
Serves 4-6, plus extra miso dressing.
This is a main dish salad with lots of veggies, from the 101 Cookbooks blog. The author, Heidi Swanson, uses asparagus in this version, and says the original recipe, from a book called Everyday Harumi, uses green beans, that we get in the box this week. When I tested this recipe I served it over ramen noodles, and the leftovers were delicious for lunch the next day.
.
.
Garlicky Broccoli Subs
From the Kitchn; by Megan Splawn
Take about 30 minutes.
Serves 4 to 6.
Why can't broccoli be the star of a sandwich? This recipe from the Kitchn says, "Sure!" Substitute for the peppadews with thin slices of the Oranos peppers from the box, and spice the sandwiches up with some jalapeño if you like.
.
.
Roasted Cauliflower Recipe (Four Ways!)
Kate of Cookie and Kate gives us four different ways to roast cauliflower: Basic, Italian, Mexican, and my personal favorite, with Indian curry spices.
.
.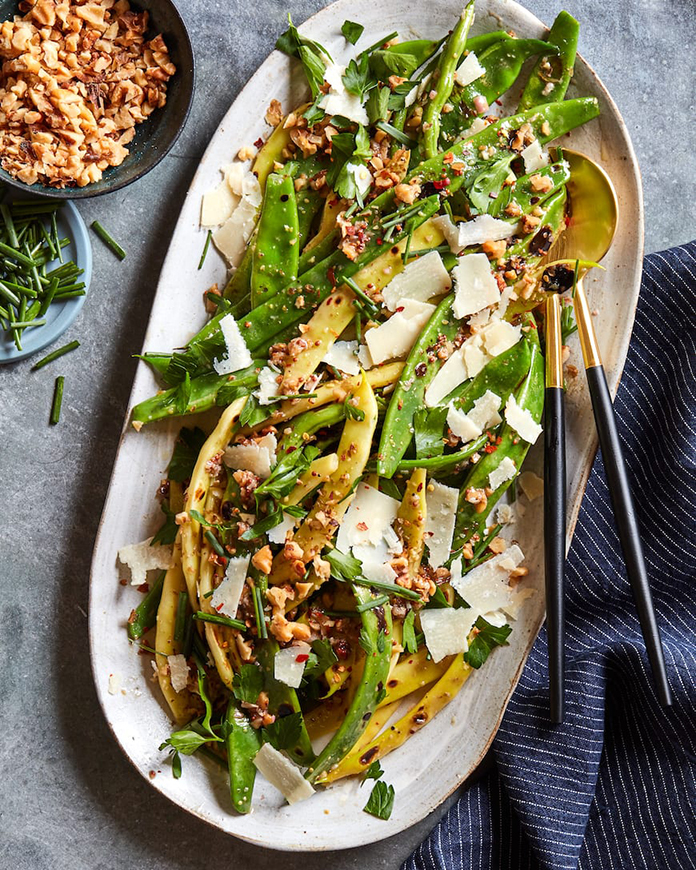 Adam's Green Bean Salad
From What's Gaby Cooking
Takes 20 minutes
Serves 6
This delicious salad can be made with any type of green bean including the Romano beans in this week's box, as shown in the picture.
.
.
Best Broccoli & Cauliflower Gratin
From Country Living; by Nancy Fuller.
Takes an hour and 10 minutes.
Serves 8-10.
The source of this recipe, County Living Magazine, suggests it as an upgrade for your Thanksgiving side dishes – but I see no reason to wait that long to make it!
.
.
Sweet Potatoes with Tahini Butter Recipe | Bon Appétit
From Bon Appetit; by Carla Lalli Music
Takes about 40 minutes
Serves 6
This recipe for steamed sweet potatoes doused with tahini, butter, and lime juice, by Carla Lalli Music has also appeared in the New York Times, and is the type of recipe that gets a ton of comments – people are passionate about it! Give it a try and see how you feel.