Monthly Archives:
June 2019

We picked many, many pails of berries this week.
Strawberries & peas – that's all we can think about right now. They take over our lives for a few weeks each year. We can barely spare a few thoughts for spinach, scallions, world events. The strawberries you receive this week are ripe and some were picked on a rainy day. This means you need to eat them soon. They are perishable. And delicious.

Steve volunteered at a community event last week, the local Strawberry Festival. Even there, he couldn't escape strawberries.
Farm Recipe; Strawberry Cannoli Cake
I tried a new cake to celebrate Steve and Maggie's half-birthdays. It's an annual tradition. Born on December 25 and December 31, their birthdays are neglected so we celebrate again in June. This creation combines vanilla cake, ripe strawberries and cannoli cream. I'll show you the cake recipe I used, but you could use any cake recipe you are comfortable with.
Cake
Choose and prepare your cake recipe. I followed this recipe for Easy Sponge Cake, but was intimidated about trying to cut a baked cake into layers. Instead, I baked the batter in an 11 x 17 rimmed pan lined with ungreased parchment paper. This is a half baking sheet, with a 1-inch rim. I baked it at 350 F for 20 minutes. Cooled fully, then cut in half.
Cannoli Cream
1.5 lb whole milk ricotta (I used a supermarket brand)
3/4 to 1 1/8 cup powdered sugar
3/4 tsp. vanilla
1/4 tsp. cinnamon
3 oz mini chocolate chips
Starting with 3/4 cup powdered sugar, mix all ingredients together. Taste and gradually add more sugar (up to 1 & 1/8 cup total) until the flavor 'pops.' You'll know when this happens. The ricotta mixture suddenly changes from bland to flavorful.
Strawberries
Slice strawberries and refrigerate. I used an extravagant amount of berries. If you are short on berries, slice and top the cake with a single layer in a pretty pattern.
Assembly
– Spread half the cannoli cream on one cake layer.
– Top with the second cake layer. I used the underlying parchment paper to flip the second layer onto the first. Peel off parchment. Carefully flip the layered cake onto your serving plate or pan. Peel off the rest of the parchment.
– Spread with the remaining cannoli cream.
– Refrigerate until just before serving.
– Top with sliced strawberries and serve.
????
Veggie List and Veggie Notes
Week #6, June 27/28, 2019
– Weekly shares
– EOW/ green
Strawberries, 2 quarts
Snap peas, 1 lb
Snow peas, ~0.9 lb
Zucchini &/or summer squash, 2.5 – 3 lb
Spinach, 1 medium bunch
Lettuce, iceberg or red leaf
Scallions, 1 bunch
Oregano, 1 small bunch
– Some sites get 1 medium broccoli
– Some sites get 1 modest bunch lacinato kale
Note: All boxes at each site are identical, i.e. they all have broccoli or they all have kale. Please do not open boxes looking for a different selection.
Next week's box will probably contain strawberries, Caraflex cabbage, snap & snow peas, zucchini & summer squash, Romaine lettuce, kohlrabi and more.
Strawberries – Refrigerate and eat soon. You will receive two quarts. Judge which quart looks the most perishable and eat that one first.
♦ Most berries are quite clean. If you want to clean your berries, rinse gently. Don't soak them, just rinse.
♦ Please recycle your strawberry containers. We no longer collect them for re-use. Please don't return them to your pick-up site.
Snap peas and snow peas. Both types have strings to remove. Snap off the stem end and pull the string down the concave side of the pod (the inward-curing side). Throw away the string and eat the pod. The thicker pea pods will usually have a string along both edges. Remove them when you snap off the stem.
– Snap peas (plump pea pods) – These peas should be eaten pod and all. They are delicious raw, or very lightly cooked or stir-fried. Preparation: They will need a quick rinse to remove faded gray blossoms. Storage: Refrigerate.
– Snow peas (larger, flatter pea pods) – These are excellent stir fried or in raw salads.
Greek oregano – To store your oregano, you can …
– Wrap in a cloth or paper towel, place in a plastic bag and refrigerate.
– Alternatively, you can wash it well then hang it up to dry in a place with good air movement.
RECIPES
Visit our 2019 Recipe Log or our 2018 Recipe Log or join our Facebook discussion group.
LOCAL THYME/ Comforting Classics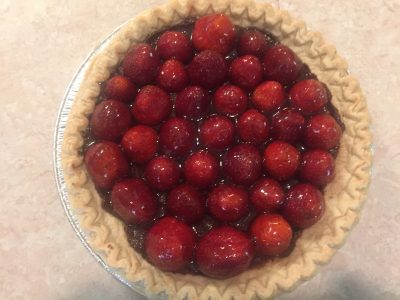 Strawberry Truffle Pie
Squash Enchiladas
Snap Pea Salad with Grilled Shrimp
Snow Pea Salad with Scallion Chili Garlic Sauce
LOCAL THYME/ Outside the Box Recipes
Lettuce, Pea and Strawberry Salad
Lemon Oregano Marinated Zucchini and Lamb with Red Quinoa
Grilled Salmon with Summer Squash, Oregano and Snap Pea Relish
Charred Snap and Snow Peas with Spicy Buttermilk Aioli
LOCAL THYME/ Quick & Easy Meal
Chicken Soup with Spinach, Peas and Oregano
????
RECIPES FROM LAUREN
GRILLED ZUCCHINI & SPINACH SALAD with WALNUTS
Takes 30 minutes
Serves 2 as a meal, 4 as a side
1-2 pounds zucchini, cut lengthwise into 1/8-inch slices (this is easiest with a mandolin if you have one)
1 bunch scallions, ends trimmed
3 tablespoons olive oil, divided
3/4 teaspoon Kosher salt, divided
1/4 teaspoon freshly ground black pepper, divided
1 tablespoon lemon juice
2 teaspoons maple syrup
1/2 teaspoon red pepper flakes
All spinach, roughly chopped
2 tablespoons diced fresh oregano
1 cup toasted walnuts
Preheat grill to medium high heat.
On a large sheet pan, combine zucchini slices with scallions on a large sheet tray and drizzle with 2 tablespoons olive oil, 1/4 teaspoon Kosher salt and a good amount of freshly ground black pepper. Use your hands to evenly coat.
Place veggies on grill and cook on each side 3-5 minutes until grill marks appear and veg are well softened. Return to sheet pan and allow to cool while you prepare the rest of your salad.
In a large bowl, combine remaining 1 tablespoon olive oil with lemon juice, maple syrup, red pepper flakes, remaining 1/2 teaspoon Kosher salt and a bunch more freshly ground black pepper. Whisk to combine until smooth. Add in spinach and using your hands, toss to coat with dressing.
Remove scallions from pan and roughly chop. Add to dressed spinach along with grilled zucchini, fresh oregano and walnuts. Toss gently until well-combined. Serve immediately.
.
????
.
STRAWBERRY, SNOW PEA & KALE SALAD
Takes 15 minutes
Serves 2 as a meal or 4 as a side
3/4 pound snow peas, ends trimmed
1/2 pound snap peas, ends trimmed, optional
1 teaspoon Kosher salt
1/4 cup olive oil
2 tablespoons balsamic vinegar
2 tablespoons honey or maple syrup
1/4 teaspoon freshly ground black pepper
1 bunch lacinato, cut into small, bite-size pieces
1 quart strawberries, sliced
2 ounces soft fresh goat cheese, crumbled
Bring a large pot of salted water to a boil on the stove. Once boiling, add peas and cook for three minutes. Drain and rinse well under cold water until cool to the touch. Let drain.
In a small bowl, whisk together olive oil, balsamic vinegar, honey or maple syrup, salt and pepper.
Before serving, divide kale, peas, strawberries and goat cheese into 2-4 large salad bowls. Dress right before serving.
.