Week #10; Sweet corn!

We are enjoying the cooler weather which arrived just in time for the first sweet corn harvest. When picking corn on hot days, it's like a sauna between the rows. This week's harvest was straightforward, a good training experience for our newer crew members. See my notes on this week's corn in the Veggie List & Notes section below. Many ears have bugs or bug damage at the tip so I advise cutting off the tips before you shuck the corn. That way, you never even see the bugs or damage. Check our Veggie List & Notes section each week, and I'll give you an update for that week's batch of corn.
I took an evening walk to our current cucumber field and sat among the rows as the sun set. It's a beautiful spot, open to the west and the setting sun. As I sat quietly, lightning beetles crawled to the top of the leaves, preparing for their evening show. It was a lovely moment.
Steve's surgery
Two weeks ago, Steve had hernia-repair surgery. The surgery went well but he ended up with a 'paralyzed intestine' (paralytic ileum) which has made recovery more complicated and prolonged than expected. He is improving now but it's been a rough two weeks. Everyone pitched in so he could rest and recover. Haha, that is not in his nature.
We are hiring
We have several openings for farmhands to replace crew members who are returning to school. We offer valuable work in a safe, friendly, outdoor environment, and send you home with lots of healthy produce! Please help us spread the word. Learn more and apply at our employment page .
Fresh garlic
Everyone gets a bulb of freshly dug 'Korean Red' garlic. We are in the midst of harvesting garlic to cure for later boxes but paused to harvest and clean enough for this week's delivery. Fresh garlic is special: crunchy and strongly flavored. I advise refrigerating this fresh bulb for easy peeling. You can leave it at room temperature, but the cloves become difficult to peel as the garlic dries and cures. In about one month, they loosen enough to peel but for now it's best to refrigerate and eat it soon.
Beth
Veggie List & Veggie Notes
Week #10, July 28/29, 2022
– Weekly shares
– EOW/ purple
– Sampler/ sun
Sweet corn, 8 ears?
Muskmelon, 1 large or 2 small
Carrots, 2 lb
Green beans, 0.9 lb
Zucchini &/or Zephyr squash, ~ 2 to 3 pieces
Cucumbers, ~3
Walla Walla onion
Fresh garlic, 1 bulb
By site: A box of cherry tomatoes OR a small bag of slicing tomatoes.
Next week's box will probably contain sweet corn, carrots, tomatoes, sweet onions, etc.
Sweet corn – Now it's summer! This is a very tasty batch of corn.
Advice about bugs. This is organic sweet corn. Many ears have bugs or bug damage at the tip. I suggest cutting off the tips before shucking the corn. Sweep the trimmed tips into the compost and you will never see the bugs.
Storage. Sweet corn is best when fresh, so we encourage you to eat it asap. Store in the refrigerator, in the husks if you have the room, or husked in a plastic bag.
Cooking. It is quicker to steam sweet corn than to boil it.
1.) Stand ears of corn upright in a tall pot. Put one inch of water in the pot.
2.) Bring the water to a boil. If the corn is cold when you begin cooking, steam for 5 – 6 minutes. If the corn starts at room temperature, steam for 4 – 5 minutes. The cooking time will vary somewhat depending on how many ears are in the pot. Pay attention to how the corn smells. The scent changes once the corn is ready. Another clue: water will bead on the corn until it is cooked. Don't overcook it.
Muskmelon – Some are ripe and ready to eat. Some need to ripen a day or two on your kitchen counter. Keep at room temperature but refrigerate if not eaten within 2 days.
Green beans – Storage: Store in the warmest part of your refrigerator.
These beans are a little past their prime maturity. You may find a few that are overripe and need to be tossed. Look for beans that are bulging or floppy or puffy with larger beans inside. Throw those away and keep the rest. We've looked them over carefully but now it's your turn. With last week's heat, we just could not keep up with the speed of bean growth.
Carrots – Refrigerate in the bag.
RECIPES by DEB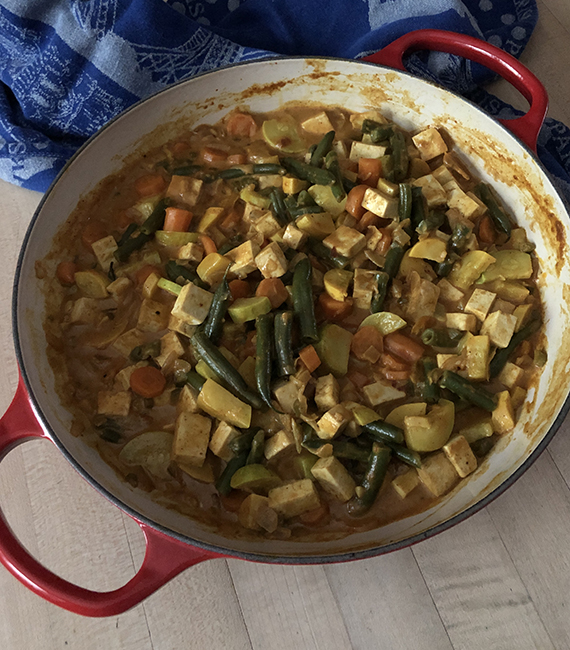 Photo by debslunch
Summertime Vegetable Curry
This recipe uses green beans, carrots, and yellow squash from this week's box, but feel free to adapt to what you have – you will need approximately 6 cups of chopped vegetables altogether, not counting the onions.
Takes about 45 minutes
Serves 6
4 tablespoons coconut oil or olive oil, divided
1 (14-oz.) package firm or extra-firm tofu, patted dry, cut into cubes
a few generous pinches of kosher salt, and freshly ground black pepper
2 cups of chopped onions
a 2-3 inch piece of fresh ginger, peeled and grated
2-3 cloves of garlic, smashed and chopped
2 teaspoons curry powder
1 teaspoon garam masala
1/2 teaspoon each: ground cumin, turmeric, and coriander
1/4 cup tomato paste
1/4-1/3 cups water
a heaping cup of peeled and sliced carrots
8-12 ounces green beans, rinsed, trimmed, and cut into 2 inch pieces – heaping 2 cups
1 (13.5-ounce) can of unsweetened coconut milk – full fat preferred, but lite works
2 large summer squash or zucchini, rinsed, quartered longwise, and cut into chunks – heaping 2 cups
More salt & pepper to taste
Optional garnishes: Lime wedges, cilantro leaves, and coarsely chopped, salted, roasted peanuts
Optional: serve with white or brown rice, chutney, and plain yogurt
If you're serving the curry with rice, start the rice first.
Heat 2 tablespoons of the coconut oil in a wide deep skillet or braiser with a lid. Add the tofu cubes, season with salt and pepper, and fry for about 10 minutes over medium heat, flipping the cubes a few times, trying not to break them up too much, until they've gt a little color. Remove to a paper towel lined plate to drain.
Wipe out the pan if necessary (I didn't) and add the remaining 2 tablespoons of the coconut oil. Over medium high heat, add the onions and another couple of pinches of salt, and stir to coat with oil. Cook the onions for 2-3 minutes, then add the ginger and garlic, curry powder, garam masal, ground cumin, turmeric, and coriander. Continue to cook until the spices are fragrant and the onions, ginger, and garlic are softened, 5-10 minutes. If things start sticking add two tablespoons of the water.
Add the tomato paste and the water, and stir until saucy. Add the carrots and the green beans, cover, reduce the heat, and simmer until softened, about 10 minutes. Again, add a little more water if things start to stick.
Add the coconut milk and mix well. Add the squash, stir and cover and cook for another 10 minutes, until the squash are cooked but not mushy. Taste for salt and serve with the optional garnishes and rice.

.
.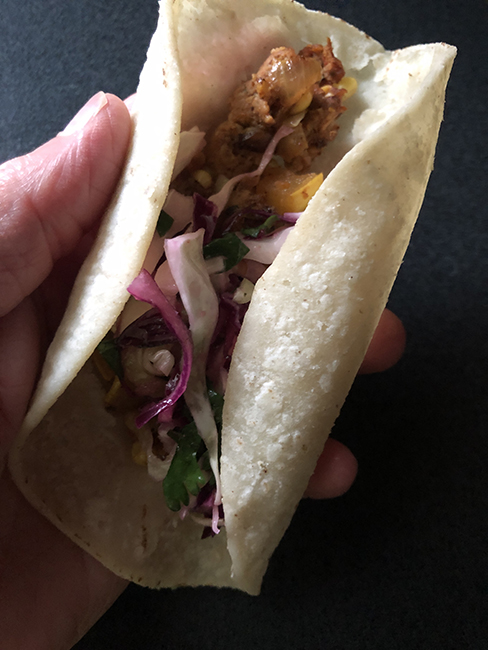 Photo by debslunch
Corn, summer squash, and chorizo tacos
Leftover taco filling can be combined with rice to make a tasty casserole, and could also be used in stuffed squash or zucchini boats.
Takes about 30 minutes
Serves 6-8
1-2 tablespoons vegetable oil
1 pound chorizo, bulk or removed from casings, or turkey chorizo
1/2 cup chopped onion
4 cloves garlic, smashed and chopped or put through a press
One large or two smaller yellow summer squash, cut into 1-inch chunks
2 cups fresh corn kernels, cut from 2-4 ears of corn
1/2 teaspoon ground cumin
1/2 teaspoon dried oregano
Optional: 1/2 cup chopped cilantro
salt to taste
Corn or flour tortillas, warned in the oven or microwave
Optional toppings:
Grated cheddar cheese, or pepper jack, or mozzarella
avocado, pitted and sliced
Salsa or pickled jalapeños – or both!
Quick pickled purple onions (here's one recipe)
Coleslaw or sliced cabbage
Sour cream
Heat 1 tablespoon of the oil on medium-low heat in a large skillet. Add the chorizo and cook until it's no longer pink and starting to brown, crumbling with a spoon or spatula, about 7-10 minutes. If you're using pork chorizo, remove the meat to drain and wipe out the skillet. Less-fatty turkey chorizo can stay in the skillet.
If you have an empty skillet add another tablespoon of oil, and then the onions, garlic, squash, and corn. If you're using turkey, simply add the veggies to the meat. Either way, cook until the veggies are softened.
Add the meat back into the pan (if necessary). Add the cumin, organo, and salt to taste. Cook until the meat is browned. Transfer the filling into a serving dish, and arrange the tortillas and topping around it on the table, so everyone can roll up their own tacos.

.
.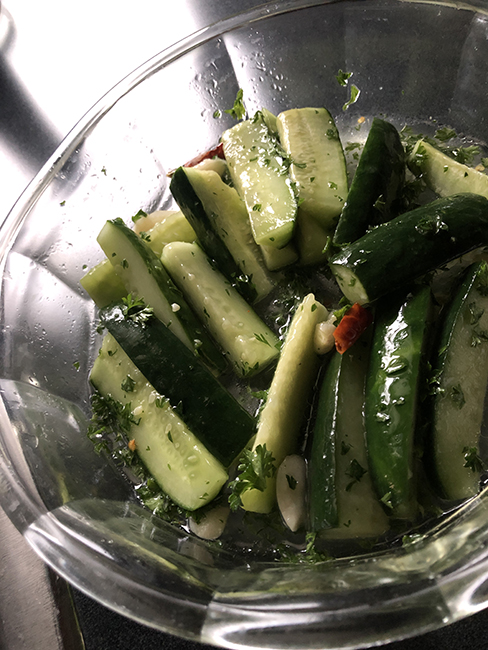 Photo by debslunch
Quick cucumber pickle spears – or salad
This recipe based on one from Olia Hercules' Mamushka only uses one to two cucumbers at a time – but is easily doubled. I was amazed at how quickly this procedure transforms cucumbers into pickles and then found myself adding them to all type of sandwiches – including peanut butter! – and packing them in my lunch for a side.
10 ounces slicing cucumbers – about 1 large or two small
1 teaspoon fine sea salt
2 teaspoons sugar
4 teaspoons cider or white wine vinegar – about 1 slightly overflowed tablespoon
1 dried red chile
2 cloves garlic, smashed and peeled
2 tablespoons vegetable oil
1 tablespoon chopped parsley or dill
Trim the cucumber and slice lengthwise into long wedges. Arrange the wedges in a shallow dish. If you'd like more of a salad, chop the cucumber into bite size chunks.
Sprinkle the cucumbers with the salt and sugar, and pour in the vinegar. Add the chile, toss, and cover and refrigerate for 30 minutes.
Toss the wedges with the oil and chopped herbs and serve.
Summer Squash Cornbread Casserole
From Lana's Cooking
This recipe produces a cornbread that is really moist – not quite a spoonbread, but close. When I tested it, I reduced the cooking time to about 45 minutes. I tried the cheddar and jalapeño variation, and it's delicious. If you don't want to use cornbread mix, sub 2/3 cup flour, 1/2 cup cornmeal, 3 tablespoons sugar, and 2 teaspoons baking powder.

.
.

Photo by Deb Perelman
Corn Salad with Chile and Lime
From Smitten Kitchen
Deb Perelman, a.k.a. Smitten, describes this salad as inhale-able. Try it out and see if that's an exaggeration! The recipe calls for Tajín seasoning – you can substitute chili powder.

.
.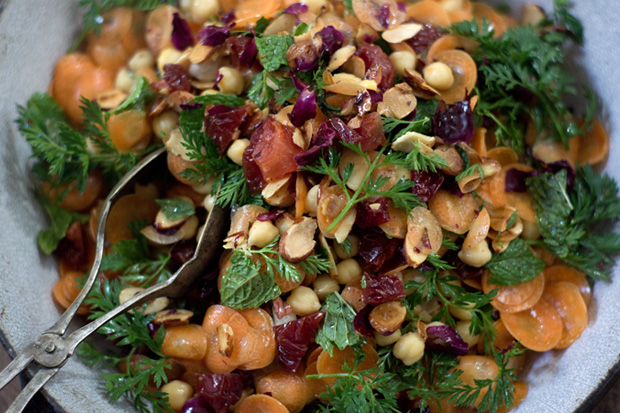 Photo by Heidi Swanson
Moroccan Carrot and Chickpea Salad Recipe
From 101 Cookbooks
If you, like me, don't have fresh mint, but still have lots of parsley from prior week's boxes, feel free to sub it for the mint.

.
.


Photo by Jessica Gavin
Cantaloupe (or muskmelon) Smoothie
From Simply Recipes
This creamy melon smoothie uses 1 cup of melon chunks to make one smoothie – so there'll still be plenty to eat plain!