Week #5; Irrigation = grit

Top: Overhead irrigation with a traveling gun.
Bottom: Drip irrigation of melon plants growing in plastic mulch. This shows the inlet of a long plastic tube that extends 600 feet down the field. We can pump about 3 gallons per minute through the tube.
We continue to irrigate. It's been five or six weeks since the last substantial rain. Recent rains totaled 1/4 inch for us, essentially nothing.
We use a mix of overhead and drip irrigation. The first is great for plantings on bare grounds of quick crops like lettuce. Longer-season crops planted into a thin layer of plastic mulch (to protect from weeds) can be irrigated via plastic drip tape tubing under the plastic. It's a good water-efficient system for crops like melons, tomatoes and peppers but not suitable for every situation. See second photo.
There will be grit in your lettuce and napa this week, a side effect of overhead irrigation. When the weather is this dry, we need to lay down a lot of water when irrigating each field, which splashes grit onto the produce. We do not like that side effect but it's what we need to do right now. The baby bok choy and everything else is clean.
Thoughts:
– Cut your lettuce one and a half inches above the base and you'll leave a lot of dirt behind.
– Expect to spend extra time cleaning this week's greens. Therefore, let's talk about how to do that efficiently.

Cut your lettuce heads at one and a half inches above the base and you'll leave a lot of dirt behind.
How to wash greens efficiently and to maximize storage life
Washing and drying your lettuce, spinach, and other greens prolongs their storage life. It also means they are ready to use on busy weeknights! Here's our approach. It works.
1. Fill your sink or a basin halfway with cold tap water. If you have two sinks, fill one sink partway with cold water.
2. Chop your lettuce, spinach, escarole or other green to the size you wish.
3. Dump it into the water and swish around gently but thoroughly.
4. Working in two batches (for average lettuce head) or more batches (big spinach bunches, Romaine), pull handfuls out of the water and drain in the basket of a salad spinner.
5. After all the greens have been rinsed one time, dump the water. Rinse the sink/basin and refill with cold tap water.
6. Repeat the process.
7. Spin your greens dry and store in a dry container. They store much longer when spun dry.
This works because …
– pre-chopping the greens frees soil trapped in the head.
– the large amount of water washes and dilutes away the grit.
– By pulling the greens out of the water, you take advantage of the draining action to pull the grit with it.
– Drying (spinning) the greens before storage reduces spoilage.
Veggie List & Veggie Notes
Week #5, June 15/16, 2023
– Weekly shares
– BiWeekly/ purple
– Sampler/ A group
Strawberries, 1 pint
Napa cabbage
Baby bok choy, 1 bundle
Zucchini or yellow squash, ~2 squash
Lettuce, green leaf
Lettuce, red Romaine
Kohlrabi, 2 with leaves
Salad radishes, 1 bunch
Scallions, 1 bunch
Oregano, 1 small bunch
Next week's box will probably contain strawberries, zucchini, lacinato kale, lettuce, endive or escarole, scallions and more.
Strawberries – Refrigerate and eat soon.
Napa cabbage (large, pale green cabbage with crinkled leaves) – Napa cabbage is an interesting vegetable, useful for both fresh, raw salads and for cooking. Its most famous use is fermented kimchi. I like to prepare a fresh, unfermented kimchi. Same seasonings, but it's ready to eat right away. You will be amazed at how much shredded napa cabbage shrinks when prepared this way. See here for an example, but cut the salt in half (or even further): Grilled Flank Steak with Kimchi-style Coleslaw.
Storage: Napa stores very well. When refrigerated, it will keep for several weeks. Peel off the outer layer and it will be ready to use. Here are a few preparation ideas from the 'Asparagus to Zucchini' cookbook.
– Chop raw napa into green salads.
– Substitute napa in traditional coleslaw.
– Chinese cabbage cooks quickly. Steam 3-5 minutes, or until leaves are wilted down but remain slightly crisp.
– Substitute napa cabbage for common cabbage in recipes, but reduce the cooking time by 2 minutes.
– Napa cabbage is the main ingredient in egg rolls. Try making an egg roll mixture to eat as a cooked side dish instead of preparing time-consuming egg rolls.
Baby bok choy – This was a fun experiment this spring. This is much more tender than full-size choy and cooks quicker.
Storage: Cover and refrigerate.
Lettuce – The lettuce are small so we are sending two in mixed colors, for pretty salads.
Storage: Cover and refrigerate.
Kohlrabi (pale green, round vegetable with thick skin and attached leaves) – Crunchy and sweet, kohlrabi is a great addition to salads.
Storage: Kohlrabi bulbs will store for a month in the refrigerator. Remove the leaves if you plan to store for more than a few days.
Uses: Kohlrabi are good peeled and eaten out of hand, or added to sandwiches, or added to salads. It makes a nice salad on it's own. You can grate it, slice it, or cut it into matchsticks. It's also good cooked.
Oregano (small bundle of fragrant leaves) – Useful in salad dressing or if paired with this week's zucchini. You can always wash well, pat dry and hang to dry out of direct sunlight.
RECIPES by DEB
Pork & Cabbage Rice Bowls with Peanut Sauce
This recipe includes all the ingredients for fried egg rolls, arranged as tasty layers in a rice bowl. The crispy wonton strips are easy to do, even if you typically avoid deep frying. They're also optional and you can top your bowls with chopped peanuts or extra scallions or toasted sesame seeds. Or used purchased crispy chow mein noodles! This recipe is designed to help you address the large Napa cabbage that's in your box this week. You'll also find a Napa slaw recipe a bit further down. Another great way to prepare Napa cabbage is to make it into kimchi, and you'll find a recipe adapted for US kitchens in one of the June 2021 newsletters. There are more kimchi recipes at the Korean food blog Maangchi. Try a search there on Napa to get recipes for not only kimchi but other cabbage dishes as well.
Serves: 4
Takes: about 30 minutes active time; the brown rice takes about 45 minutes
Optional Crispy wonton strips
2-3 tablespoons oil
6-7 wonton wrappers
Salt, to taste
Pork:
1 tablespoon vegetable oil
One pound of ground pork – or turkey or chicken or a 14-oz box of tofu, crumbled
3-4 cloves of garlic, minced or put through a press
one-inch piece of fresh ginger, minced or grated – or 1/2 teaspoon ground ginger
6-7 cups of thinly sliced Napa cabbage – probably about half the head
Drizzle of toasted sesame oil – 1 tablespoon or less
3 scallions, thinly sliced on the diagonal, white and green – set aside most of the sliced green part for topping
salt & ground black pepper to taste
Sauce:
1/4 cup chunky or creamy peanut butter
2 tablespoons rice vinegar
4 teaspoons (heaping tablespoon) maple syrup or honey or brown sugar
2-3 tablespoons soy sauce
2-3 teaspoons of Sriracha
For serving:
2-3 cups warm cooked rice, white or brown
scallion greens
Optional additional toppings:
additional scallions, thinly sliced
toasted sesame seeds – 1-2 tablespoons
chopped peanuts – about 1/4 cup
Cook the rice – do this first if using brown rice; if using white, do this after you make the wonton strips, while the pork is cooking. Start with about one cup brown or white rice to yield 2-3 cups.
Make the crispy wonton strips, if using: Heat 2 tablespoons oil in a deep soup pot or skillet – the deeper pot will protect your stove from splatters. Have a paper towel-lined plate ready next to the stove. Cut the wonton wrappers into narrow strips, and drop just enough to cover the bottom of the pan into the hot oil – I find I do about 1/3 at a time. Fry till puffed and brown, and remove with a slotted spoon to the paper towel. Continue frying batches until all the strips are crisped. Sprinkle with salt and set aside.
Cook the pork: Heat the 1 tablespoon oil in a large skillet with a lid, and add the pork. Stir and cook the pork and break it into crumbles with a wooden spoon. When there is almost no pink left, add the garlic and ginger. Season with salt and pepper. Cook until the garlic is fragrant, about 5 minutes, then add the cabbage, and cover the pan for a few minutes to wilt the cabbage. Remove the cover, drizzle in the sesame oil, and stir to evaporate excess moisture.
Make the sauce: whisk together the peanut butter, vinegar, maple syrup, soy sauce and Siracha. Pour over the pork, add the scallions, and cook a few more minutes until bubbly.
Assemble the bowls: divide the rice between 4 individual bowls (or mound the rice in a serving bowl) and layer the pork mixture on top. Add any toppings you are using and serve warm.
Deconstructed Wedge Salad | DebsLunch
From DebsLunch
Probably the best part of this recipe is it includes two simple salad dressing recipes, Red French, and Creamy Herb, kind of a homemade Ranch. The Creamy Herb dressing is usually made with fresh thyme and dill, but the fresh oregano in this week's box will also taste good.
.
.

Photo by Taste of Home
Creamed Kohlrabi | Taste of Home
From Taste of Home
This is one of two recipes for kohlrabi this week; also check out the kohlrabi fries from last week. This creamy preparation of kohlrabi is one of the most common ways to eat it in Germany, where it is called Rahmkohlrabi.
.
.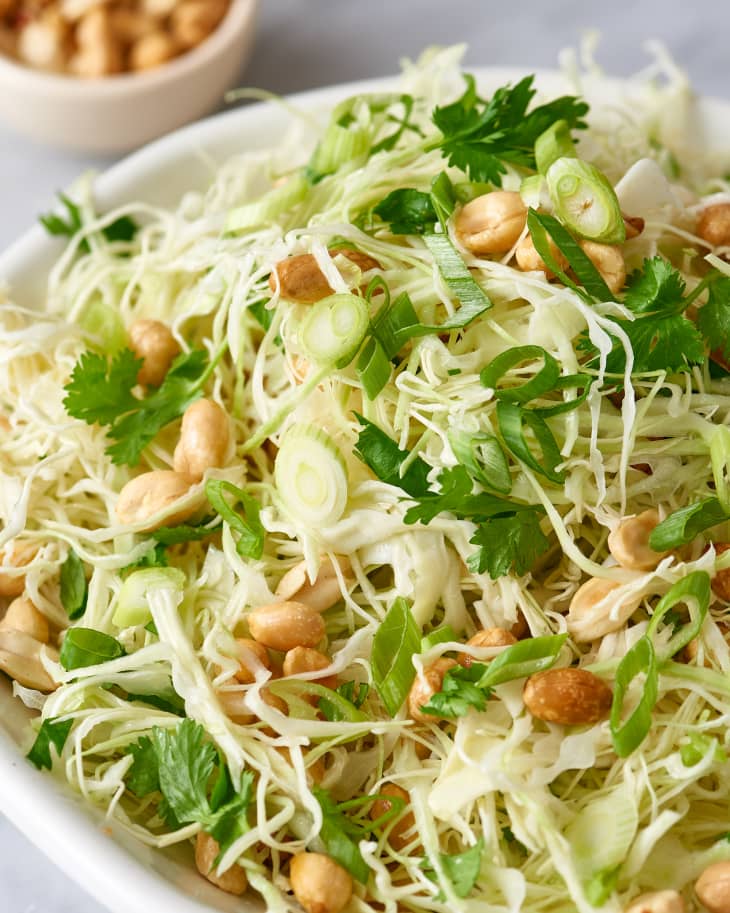 Photo by Joe Lingeman
Crunchy Peanut Slaw | Kitchn
From The Kitchn
This recipe calls for thinly-sliced green cabbage, but Napa will work perfectly and the non-mayonnaise-based dressing is great on Napa.
.
.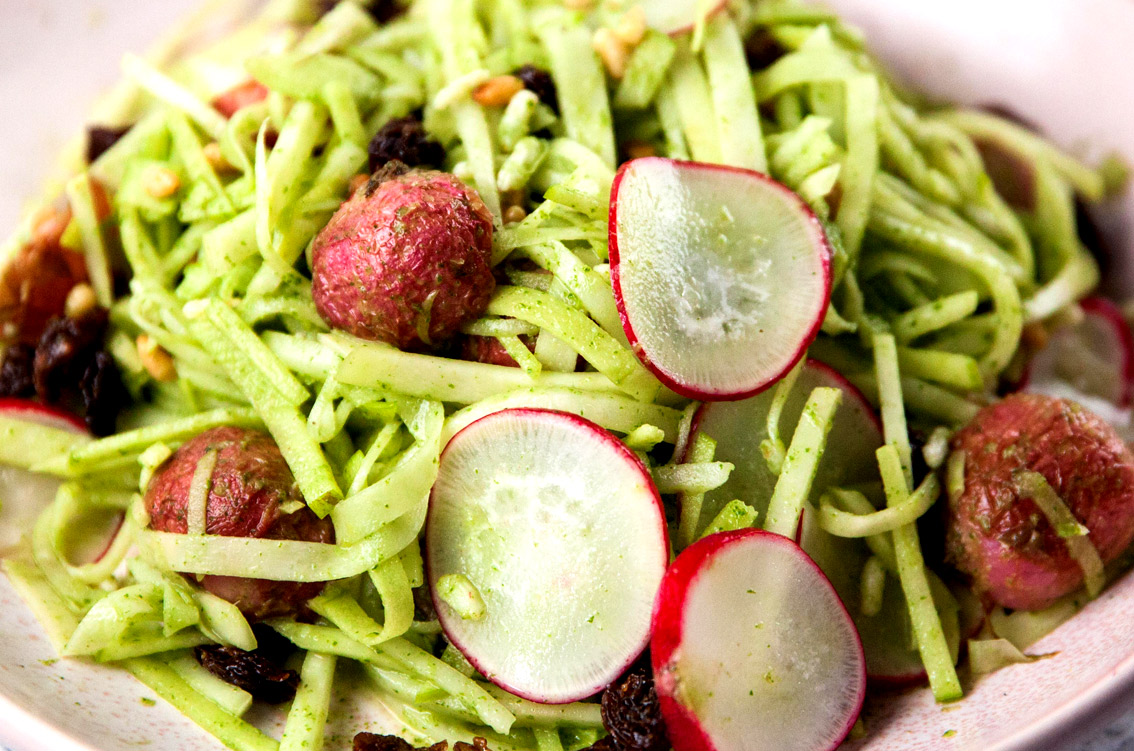 Roasted Radish & Kohlrabi Salad with Apple, Pine Nuts & Puffed Rice | VegKit
From VegKit
In this recipe, all the way from Australia, most of the radishes are roasted, leaving one to slice up for garnish, and the radish greens are blended into the dressing. You also have the option of added puffed rice cereal for a little extra crunch, but I recommend only doing that if the salad will be all consumed at one sitting!
.
.

Chicken and Bok Choy Stir Fry | Barefeet in the Kitchen
From Barefeet in the Kitchen
Barefeet in the Kitchen adapted this quick stir fry from Martha Stewart's Everyday Food, using skinless boneless chicken thighs instead of the chicken breasts in the original recipe. Whatever cut of chicken you use, this is a tasty way to prepare bok choy.
.
.

Kohlrabi Slaw | A Couple Cooks
From A Couple of Cooks
Here's another kohlrabi preparation from A Couple of Cooks. If you don't have an apple to cut into matchsticks to add to the slaw, a few of the radishes from this week's box would add a pop of color and a little heat to your dish. You could also sub fresh oregano for the parsley.