Monthly Archives:
July 2023
Our garlic crop is harvested and safely drying. It was a sweaty, grimy harvest but very, very satisfying. It does not matter how many showers I take; I will smell of garlic for days. We were glad to get rain last night and doubly glad that the garlic was safe before it started.
Once the bulbs are dry enough, we'll start packing them in the boxes.
Beth
Veggie List & Veggie Notes
Week #11
July 27/28, 2023 (Th/Fri sites)
– Weekly shares
– BiWeekly/ purple
– Sampler/ C group
Sweet corn, 7 ears
Muskmelon
Broccoli, ~2 lb
Cherry tomatoes, 1 pint
Slicing tomatoes, a few
Carrots, 2 lb
Globe eggplant, 1
Zucchini &/or yellow squash, ~2.5 lb
Cucumbers, 2 or 3
Walla Walla onion
Next week's box will probably contain melons, tomatoes, carrots and more.
Sweet corn – Now it's summer!
Advice about bugs. This is organic sweet corn. Many ears have caterpillars or bug damage at the tip. I suggest cutting off the tips before shucking the corn. Sweep the trimmed tips into the compost and you will never see the bugs. Going forward, not every harvest (nor every ear) will have the caterpillars. They come and go as the moths fly in from the south. I'll give you an update here in the newsletter each week.
Storage. Sweet corn is best when fresh, so we encourage you to eat it asap. Store in the refrigerator, in the husks if you have the room, or husked and placed in a container or plastic bag.
Cooking. It is quicker to steam sweet corn than to boil it.
1.) Stand ears of corn upright in a tall pot. Put one inch of water in the pot.
2.) Bring the water to a boil. If the corn is cold when you begin cooking, steam for 5 – 6 minutes. If the corn starts at room temperature, steam for 4 – 5 minutes. The cooking time will vary somewhat depending on how many ears are in the pot. Pay attention to how the corn smells. The scent changes once the corn is ready. Another clue: water will bead on the corn until it is cooked. Don't overcook it.
Muskmelon – Most are ripe and ready to eat. Some need to ripen a day or two on your kitchen counter. Refrigerate within 2 days.
Broccoli – Some of the broccoli is loose because of the warm weather but it all tastes great. Refrigerate.
Carrots – Refrigerate in the bag.
Tomatoes – Store your slicing tomatoes at room temperature. It's only a few so you'll eat them quickly. Cherry tomatoes can be refrigerated.
Eggplant – For best flavor, store eggplants at room temperature for 2 – 3 days. If holding for longer than three days, store in the warmest part of your refrigerator. Eggplants do not store well for long periods of time.
RECIPES by DEB

Photo by debslunch
Zucchini & Pinto Bean Enchiladas
This recipe for enchiladas and homemade enchilada sauce is very versatile! You can keep it strictly vegetarian or add meat, or do a vegan version using vegan cheese. Here I've used zucchini and pinto beans, but you could sub in corn or summer squash, and use purchased enchilada sauce if you don't have time to make the sauce. Both the sauce and the enchiladas freeze really well, and if you want to add meat, I suggest 1/2 pound of ground beef, pork, turkey, or bulk chorizo. Brown the meat with the onions and then add any other vegetables you wish to use.
Serves 6-8
Takes about an hour and 15 minutes including baking
For the sauce:
2 tablespoons vegetable oil
1/4 cup flour
2 cups vegetable or chicken broth, preferably home made OR one 14.5 oz. can of broth plus enough water to make 2 cups (about 2-3 tablespoons)
1 1/2 tablespoons chili powder (You can control the heat of the sauce by using mild or hot chili powder. I often use part chili powder and part ground Ancho chile. Penzey's is a good source.)
Optional, if you like heat: 1 chile from a can of chipotle chiles in Adobo sauce, finely chopped, plus a few spoons of the sauce
1-3 tablespoons of tomato paste
1 tablespoon brown sugar
salt and black pepper to taste
For the filling:
1 tablespoon vegetable or olive oil
3/4 to 1 pound of zucchini or summer squash or a mixture, cut into bite-size chunks
1 cup of pinto beans or corn
3/4 to 1 cup finely chopped onions
salt and black pepper to taste
For assembly:
8-10 flour tortillas
1/2 pound cheddar cheese, shredded
Make the sauce: measure the oil and flour into a sauce pan and whisk to combine. Heat the broth in the microwave – a spouted glass measuring cup works well for this – and pour it into the pan while whisking until smooth and thickened. Add the chili powder, Adobo chile and sauce, tomato paste, and brown sugar and whisk until smooth. Simmer the sauce for about 10 minutes. Season with salt and pepper.
Make the filling: Heat the oil over medium heat in a skillet. Add the onion and cook, stirring, until the onion is translucent. Add the zucchini and cook until it is just tender, about 5-10 minutes. Remove from the heat, season with salt and pepper, and stir in the beans (or corn if using).
Assemble the enchiladas: Heat the oven to 375°. Microwave the tortillas briefly (45 seconds to a minute, depending on your microwave) to make them flexible. Pour a thin layer of sauce into the bottom of a 13 x 9 baking dish. Fill each tortilla with 1/3 cup of filling, top with about 2 tablespoons of grated cheese (reserving about 1/4 cup of cheese for topping), tuck the sides in, and roll neatly. Place the enchiladas in the baking dish as they're rolled.
Pour the rest of the sauce over the enchiladas. Place the baking dish in the oven and cook for about 20 minutes until bubbling. Top with the reserved grated cheese and return to the oven for about 5 minutes to melt the cheese. Serve the enchiladas with sour cream, chips, and salsa of your choice.
Roasted Eggplant Spread Recipe | Ina Garten
From Ina Garten, Barefoot Contessa Family Style
This quick and easy spread from Ina Garten, the doyenne of upscale comfort food, can be served as an appetizer or as the centerpiece of a light summer meal if accompanied by some protein. It also makes a tasty omelette filling. If you don't have red bell peppers to roast along with the eggplant, you can use jarred roasted red peppers – just add them to the food processor with the other vegetables – no roasting required!
Since we have two pounds of broccoli this week, I'm including two cheesy main dishes that both feature broccoli.
Broccoli, Cheddar and Wild Rice Casserole | smitten kitchen
From smitten kitchen
With this recipe, Deb at smitten kitchen "saves" a traditional Midwestern hotdish, typically made with canned cream soup and frozen broccoli. Deb says as a child she envied friends who ate things like this regularly, since they were never served in her home, and when she decided to research and develop the recipe she was warned by other foodies it would be awful. Her recipe definitely meets the challenge!
.
.


Photo by Diana Chistruga
Easy One-Pan Broccoli Macaroni and Cheese
From The Spruce Eats
I chose this stove top mac & cheese since I think it has the best macaroni to broccoli ratio: 8 oz. noodles to 12 oz. broccoli. It calls for frozen broccoli, but you can use fresh by simply adding the chopped broccoli to the macaroni cooking water when the pasta has about 5 minutes to go rather than the one minute suggested for the frozen.
.
.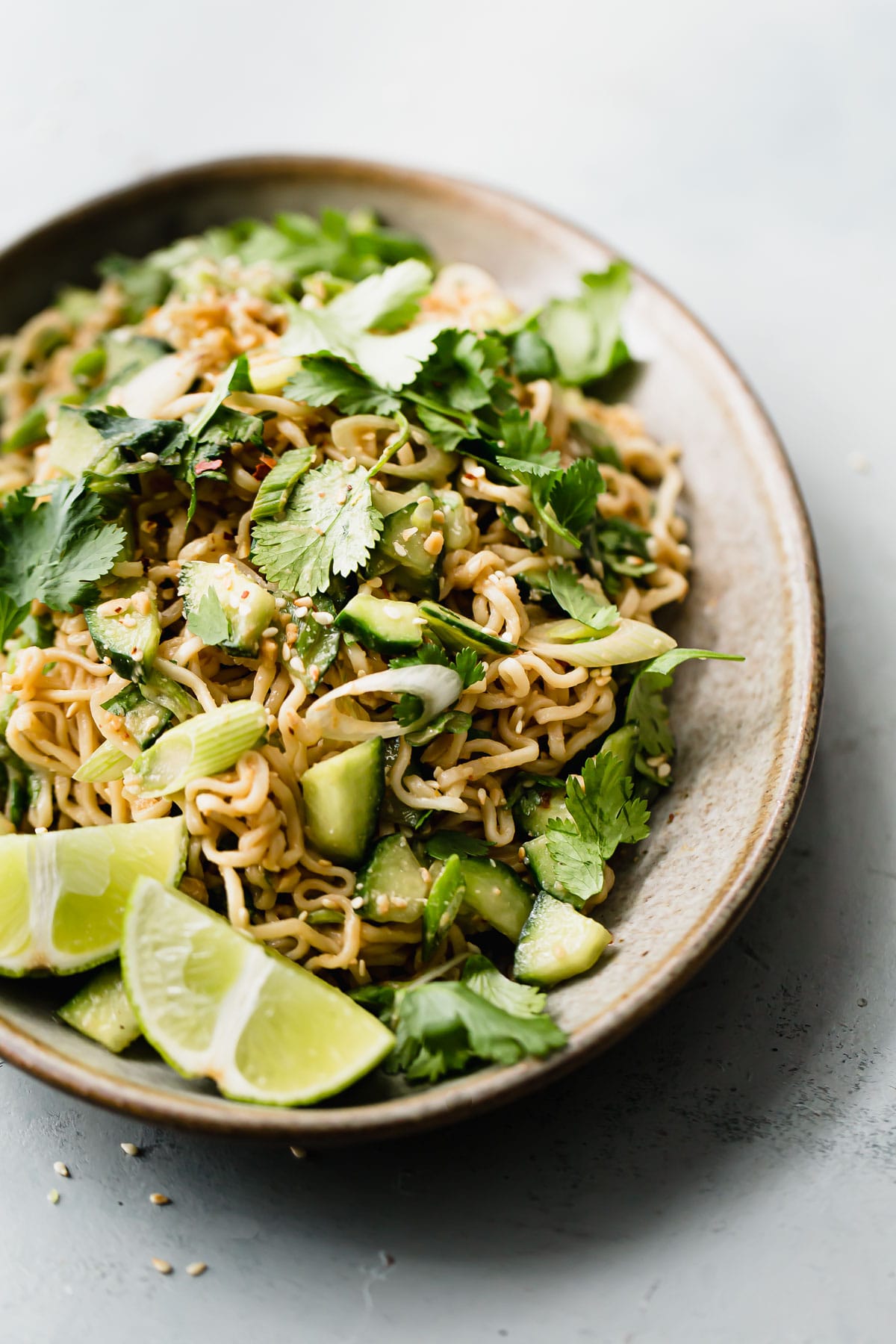 Photo by Laura Davidson
Spicy Peanut Noodles with Cucumber | A Beautiful Plate
From A Beautiful Plate
One inspiration for any one running out of cucumber ideas is to use the cucumbers in or as a topping for one of the spicy noodle salads that're so good in the summer, or a stir fry. This recipe is an example of cucumbers in; looking back on some past Tipi recipes, you could try lightly marinated cucumbers in place of the asparagus on top of this tofu dish from Week 3, or this stir fry from October of 2021. To marinate the cucumbers, slice and place them in a bowl. Drizzle with a few tablespoons of rice vinegar, a pinch or two of salt, and optionally a little sugar. Leave them to marinate while you prepare the rest of the dish and then top individual servings with the cucumbers. I also found, but did not test, this recipe for cucumber noodles, where the cucumber is "zoodle-ized" to be the noodle. It strikes me that it would be tasty the first day and then potentially get kind of watery. If anyone tries it, how about posting to the Facebook group and let everyone know how it turned out! The recipe calls for seedless cucumbers – one way to adapt for seeded cucumbers is to cut your cucumbers into thin planks with a Y-shaped peeler then julienne the slices with a knife leaving out the seedy middles. And of course, if you have more zucchini than cucumbers, you could make this salad with actual zoodles.
.
.

Roasted Zucchini, Thomas Keller's Viral "Life-Changing" Method | The Delicious Life
From The Delicious Life
This recipe is all over the Internet this summer, and there are lots of videos illustrating how to prepare it if you like that kind of thing. Chef Thomas Keller's method is to cut the zucchini in half, score it in a crosshatch pattern, and then salt and drain it, before pan frying it to brown the cut sides and finally roasting until tender. This free, non-video version of the recipe mentions the topping that's in Keller's original, a sauce vierge but doesn't provide the recipe. Sauce vierge is simply chopped fresh tomatoes tossed with a little olive oil, vinegar or lemon juice, and whatever herbs you have. If you don't eat all of our cherry tomatoes on the way home from box pickup, you could chop them up to top your zucchini!
.
.


Photo by Goydenko Liudmila / Getty Images
Flavored Butter Recipes | The Spruce Eats
From The Spruce Eats
Since this is the first time we're getting corn, everyone's most likely to eat it on the cob. Here's a top ten list of flavored butters you might want to try to jazz up your corn. Numbers 1-5 are savory butters that pair well with corn, but I think some of the sweet ones would work too, like #7, Cranberry Butter.