Week #22. Gleaning day.
The most common question at the gleaning party this weekend was:
Q: "What happened to the pumpkins?"
A: They were ripe and ready six weeks ago! The blossoms set fruit early and then hot weather sped development. They were ready very early, long before we could host a gleaning party. The winter squash ripened around the same time, but we moved the squash into our dry, safe greenhouse to cure. The pumpkins were left on the ground and many rotted. We simply didn't have a safe place to move them. Fortunately, we had one pumpkin for each visiting household but everyone had to hunt for the good ones.
The weather was spectacular and there were many other crops to glean, so no one seemed to mind.

Hunting for a few peppers.

One family's haul. Everyone pitched in!

There was plenty of room to spread out. We created the reservation system to manage parking and to moderate how many people arrived at once. Space in the fields isn't an issue.

We made everyone hike this year. Many gleaning crops were far from the buildings. It just turned out that way, but meant that members got to see the entire farm this year. It was a perfect day to wander.
Korean radish

You will receive white and/or purple radish.
This is a favorite vegetable among our farm crew. These crunchy Korean radishes are sweeter and milder than Japanese daikon radishes and come in a more manageable size. They contain lots of water, which makes them easy to pickle or ferment.
Here are some of my favorite uses. You'll receive about 1.5 lb radish this week (one or two radishes).

Clockwise from top; Vietnamese Pickled Carrots & Daikon Radish Recipe (Đồ Chua, photo credit Hungry Huy); the Maangchi.com website has so many recipes for Korean daikon including Radish Kimchi (photo credit Maangchi).
Vietnamese Pickled Carrots & Daikon Radish Recipe (Đồ Chua)
From Hungy Huy.
This is my go-to recipe for mixed daikon-carrot salad. The recipe calls for a light fermentation but it's good after an hour in the fridge. This pickled carrot-daikon salad is used to top bahn mi sandwiches and in other Vietnamese dishes. Huy offers a nice discussion of how this pickle evolved as his family emigrated to the US. He lists these other recipes that the pickles can be used with:
Vietnamese sandwiches (bánh mì), savory crepes (bánh xèo), grilled pork and noodles (bún thịt nướng), egg rolls (chả gìo), and the list goes on. Larger cuts are usually found next to cuts of meat, while finer shreds are put in nước chấm (dipping sauce).
Maangchi rules for radish ideas!
Head to Maangchi for dozens of radish recipes. She has the best website for Korean recipes. Her Radish Kimchi recipe is close to foolproof and easy to scale. If you make kimchi with the radish you receive this week, it should produce about one quart.
The Oriental Food Mart on Park Street in Madison is a Korean grocery that stocks Korean hot pepper flakes called for in many of her recipes. Ask the owner for help picking out your pepper flakes – he is super helpful. I keep a bag of medium heat in our freezer and use them in everything for flavor without excessive heat.
Veggie List & Veggie Notes
Week #22, October 14/15, 2021
– Weekly shares
– EOW/ green
Bok choy
Butternut squash
Romano beans, 1 lb
Carrots, 2 lb
Daikon radish, white OR purple, 1 – 2
Red frying peppers, 5 small
Yellow or red bell pepper, 1
Onion
Scallions, 1 bunch
Jalapeno (HOT)
'Korean Red' garlic
– Most sites get broccoli.
– One site gets cauliflower.
Next week's box will probably contain Koji dark greens, butternut squash, parsnips, leeks, scallions and more.
Butternut squash – Storage: Winter squash store best at room temperature with good air circulation. No cooler than 50 degrees. On your kitchen counter works well. Keep an eye on your squash and cook promptly if any flaws develop. This batch of butternuts should be good for at least one month.
Hint: To make squash easier to cut, microwave on high for 30 to 60 seconds, depending on size of the squash. This will soften the rind and flesh, making it much easier to cut.
Romano beans – These need washing. We got a lot of rain this week. These are pretty mature but might surprise you with their tenderness. They ripened under ideal conditions. I usually recommend braising for beans this mature but we think they are tender enough to use in any fashion.
Frying peppers (red or yellow) – Some are very ripe and have begun to wrinkle. This is not cause for alarm. We call these 'pepper raisins'. They will be sweet and flavorful.
RECIPES from PHOEBE
Visit our 2020 Recipe Log or our 2019 Recipe Log.
Curried Butternut Squash and Chickpea Quesadillas
Instead of filling these quesadillas with cheese, I stuff them with a yummy mix of roasted butternut squash, chickpeas, and curry spices. A bright scallion yogurt sauce takes them over the top.
Serves: 4-6
Prep time: 20 minutes
Cook time: 1 hour, including roasting the squash
Ingredients
For the scallion yogurt
1/2 cup whole milk Greek yogurt
3 tablespoons thinly sliced scallions
1 teaspoon fresh lemon juice
1/4 teaspoon sea salt
Freshly ground black pepper
For the quesadillas
1 cup roasted butternut squash*
1 1/2 cups cooked chickpeas, drained and rinsed (1 14-ounce can)
1 tablespoon extra-virgin olive oil
1 1/2 teaspoons curry powder
1 teaspoon fresh lemon juice
1/2 teaspoon sea salt
3 tablespoons thinly sliced scallions
2 tablespoons diced jalapeño
Freshly ground black pepper
6 medium flour tortillas
Make the yogurt sauce: In a small bowl, stir together the yogurt, scallions, lemon juice, salt, and pepper. Season to taste and set aside.
Prepare the quesadilla filling: In a medium bowl, mash together the squash, chickpeas, olive oil, curry powder, lemon juice, salt, and a few grinds of pepper using a potato masher or the back of a fork. Leave a few whole/larger chickpea pieces for texture. Fold in the scallions and jalapeño and season to taste.
Assemble the quesadillas: Lay each tortilla flat, and spread the right half with a scant 1/3 cup of the squash filling. Fold each tortilla closed over the filling. Heat a dry nonstick or cast-iron pan over medium heat, and cook each quesadilla for 1-2 minutes per side, or until lightly crisp and golden brown. Remove from the heat, slice, and serve with the scallion yogurt.
*To roast the squash: Preheat the oven to 375°F and line a large baking sheet with parchment paper. Slice a butternut squash in half vertically, scoop out the seeds, and rub the cut sides with olive oil and sea salt. Place cut-side-down on the baking sheet and roast until the squash is very tender, 35-45 minutes. Measure 1 cup of the soft flesh for this recipe (about 1/2 a medium-large squash). Blend the remaining squash into soup or a dip, or use it in baking recipes, like the scones in the newsletter from Week 19.
.
.

Sesame Bok Choy and Bell Pepper Slaw
This quick slaw is such a fresh, easy side dish. A tangy sesame dressing coats crisp veggies and crunchy toasted nuts.
Serves: 4-6
Prep time: 20 minutes
Cook time: 10 minutes
Ingredients
1/2 cup raw unsalted cashews
2 tablespoons sesame seeds
2 tablespoons extra-virgin olive oil
1 1/2 tablespoons tamari or soy sauce
1 tablespoon toasted sesame oil
1 tablespoon rice vinegar
2 teaspoons maple syrup
1 teaspoon grated fresh ginger
1 large bok choy, stems and leaves thinly sliced
1 colored bell pepper, thinly sliced into 1-inch strips
4 scallions, thinly sliced on the bias
Preheat the oven to 350°F and line a baking sheet with parchment paper. Spread the cashews and sesame seeds on the baking sheet in a single layer and transfer to the oven. Toast for 8-12 minutes, until the cashews are golden brown and the nuts and seeds are fragrant. Set aside to cool.
In a small bowl, whisk together the olive oil, tamari, sesame oil, rice vinegar, maple syrup, and ginger.
In a large bowl, toss together the bok choy, bell pepper, and scallions. Pour on the dressing and toss to coat. Add the toasted cashews and sesame seeds and toss again. Season to taste and serve.
Carrot Ginger Soup
From Love & Lemons
Made with under 10 ingredients, this lightly creamy carrot soup is ridiculously simple and delicious.
.
.

Healthy Carrot Muffins
From Cookie & Kate
These veggie-packed muffins would be a yummy breakfast or afternoon snack.
.
.

Crispy Peanut Tofu and Cauliflower Rice Stir-Fry
From Minimalist Baker
This stir-fry would be a great way to use your bok choy, green onions, bell pepper, and/or broccoli this week! If you have cauliflower in your box, you could also make the cauliflower rice. If not, the stir-fry would be just as good served over regular rice. A mix of regular rice and cauliflower rice would work well too.
.
.

Spicy Braised Green Beans
From Went Here 8 This
This method would be a great way to cook your romano beans this week. Because romano beans are thicker and tougher than regular green beans, you may need to increase the simmering time to 45 minutes or more. If the pan starts to dry out, just add a bit more coconut milk or water.
.
.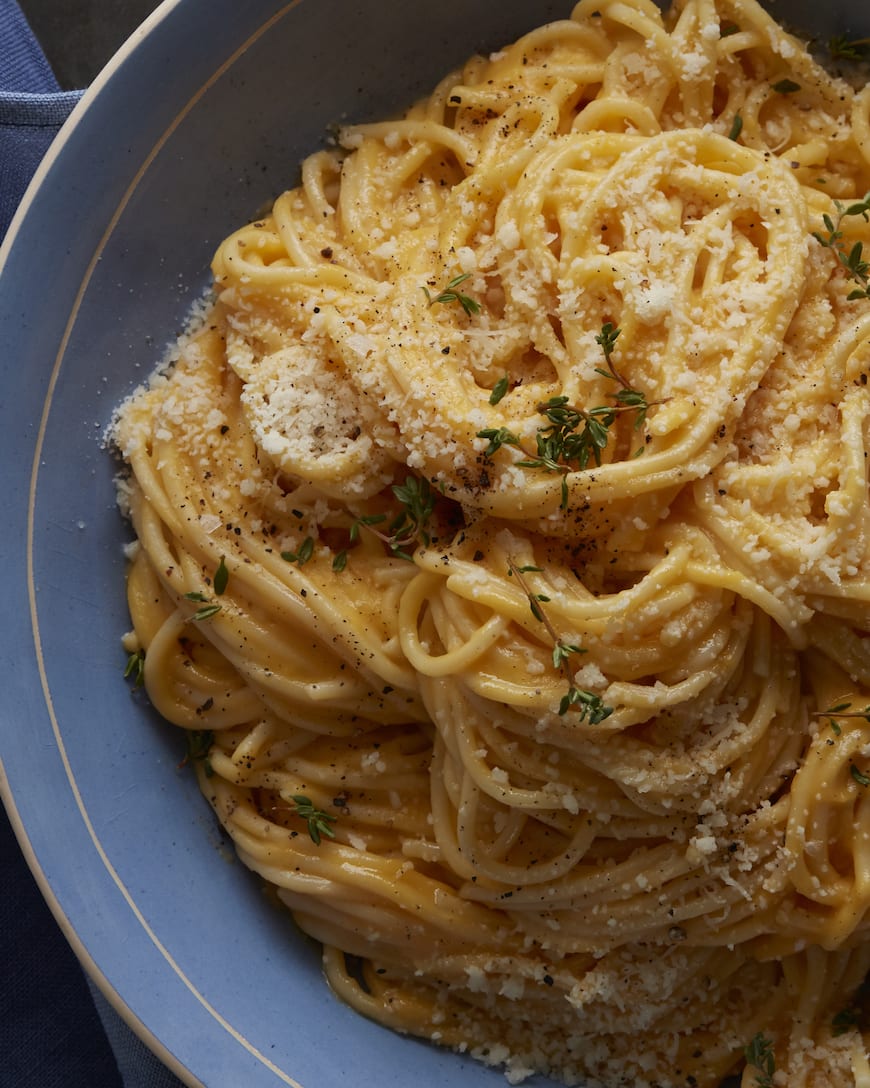 Creamy Butternut Squash Pasta
From What's Gaby Cooking
This creamy squash pasta is such an easy, comforting vegetarian dinner. If you don't have shallots on hand, you can substitute the onion from this week's box. Instead of halving it, chop it into large chunks to roast with the squash and garlic.