Week #4, Heat wave
See this berry? Last weekend, we irrigated it to protect it from frost. This week, we irrigated that same berry again, this time to cool it and protect it from sunny, 90 degree days. This is crazy! We have irrigated endlessly the last two weeks but for unexpected reasons. Obviously, we need to water the crops but we have to water even before we plant. Tonight, we irrigate fields to transplant watermelons and sweet potatoes into tomorrow. You cannot plant sweet potatoes into hot, dry soil and expect them to survive. I learned that from a sweet potato grower years ago. Today, Steve irrigated a field containing a recently tilled cover crop. Without water, the cover crops won't decompose and the soil won't be ready when we need that field.
Night-time is most reliable for overhead irrigation because the wind usually drops late in the day, allowing the irrigation water to fall where intended. During the day, we use drip irrigation, with miles of high-tech but inexpensive tubing. We drilled an irrigation well soon after buying our farm, and could not raise vegetables reliably without it. Beth

Of course, all the berries got the same treatment to protect from both cold and heat. We have one cup for everyone this week, as they are just beginning to ripen.
Two Graduations
The past month has been very, very busy for our family. Our daughter Sophie graduated from Macalester College in May, then our son Ari graduated from Evansville High School this past weekend. Both ceremonies were in person, unimaginable just a few months ago. Both kids have worked very hard at their studies and graduated with top honors. We are so happy and so relieved to be able to celebrate in person. It's a big change from four years ago when we pulled out all the stops for Sophie's graduation but we really don't care. In-person ceremonies are all we hoped for. I admit that I cried at both ceremonies.
Sophie is back in Saint Paul, starting a new job as a computer programmer. Ari joins the farm crew again this summer. He's got years of experience under his belt and is a valued crew member. Our longterm employees have watched him grow up, and know how to keep him in line. In fall, he heads to Macalester College to study math and other interests.

Ari (right) and neighbor Chance (left) on a hot day nine years ago. Farm kids! Believe it or not, Chance works at the farm too.
Veggie List & Veggie Notes
Week #4, June 10/11, 2021
– Weekly shares
– EOW/ green
Beth's box logic: We are sending bok choy with scallions and cilantro because they are so good together in stir-fries. Add some turnip slices too, just don't overcook them. Honestly, you could stir-fry everything in this box together … except the strawberries and lettuce. Beth
Strawberries, 1 paper cup
Bok choy
Spinach, 1 bunch
White salad turnips
Red bibb lettuce
Kohlrabi, 1
Cilantro, 1 bunch
Scallions, 1 bunch
Next week's box will probably contain strawberries, napa cabbage, peas, spinach, scallions and more.
Strawberries – It's just a few. Eat them right away!
Bok choy (large rosette with thick white stems and green leaves) – This Asian green is good for stir-frying or sautéing or in soup. You can think of the stems and leaves as two separate vegetables. The stems require longer cooking. The leaves will cook almost as quickly as spinach. Bok choy stores well, so feel free to pull off leaves as you need them, or use the whole head at once. Storage: Refrigerate in a plastic bag or other container.
White salad turnips (round white roots, with soft leaves) – They've grown since last week! This field is pretty dry, so plan to eat the greens soon. They risk turning yellow if they age or warm up. The roots will store longer.
Red bibb lettuce (red-tinged head) – Look at this beautiful lettuce! The leaves are buttery and tender. This is one crop that appreciates dry weather. We grow it each year but struggle to harvest delicate red bibb because it damages easily in wet weather. Not this year!
Cilantro – Used in both Mexican and some Asian cuisines. Good to season stir-fries, salad dressing, salsa, etc.
Storage: Cover and refrigerate.
Scallion Ideas
We expect to send scallions for the next few weeks. They are the best seasonal allium (onion family plant) this time of year so we plant an extended season for you. Let's share a few of our favorite ways to prepare them.
– Kimchi, Pork + Scallion Pancakes – Beth's comment: This is our household's favorite, but we add bay scallops instead of pork and skip the relish. These are hefty and filling.
– Scallion biscuits (slice and add to your usual biscuit recipe)
– Any bok choy stir-fry needs scallions!
– We have a favorite scallion dressing for adaptable pasta salads. We use it with spinach and asparagus in spring, then switch to grilled vegetables and sweet Walla Walla onions once those are available.
– Egg drop soup with spring greens, topped with sliced scallions
– Grilled scallion and turnip salad
– Sliced scallions are good on sandwiches and salads
– Grilled beef bulgogi wrapped in lettuce leaves. Easily adapted to tofu.
– Salmon patties with minced scallions mixed into the batter.
RECIPES
Visit our 2020 Recipe Log or our 2019 Recipe Log or join our Facebook discussion group.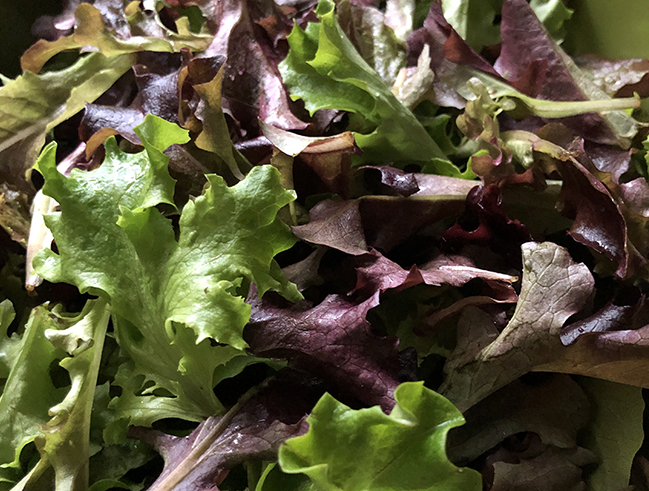 June Cobb Salad
Serves at least 4 as a meal, more as a side
Takes about 25 minutes
Based on Lauren's Spring Cobb Salad, adapted for this week's box. Lauren's version includes a buttermilk scallion salad dressing, to give you a variety of dressings to use with all of our lettuce!
6-8 slices bacon OR sub *fried tofu
4 eggs
About 8-12 cups of lettuce washed, dried, and torn or cut into bite size pieces
4-5 scallions, cleaned and thinly sliced on the diagonal
4-6 bok choy stems, sliced – leaves saved for another dish (like stir fry chicken!)
1 cup cooked garbanzo beans, drained and rinsed if canned
1 cup salad turnip, cut into cubes or sticks
4 ounces cheddar cheese cut into small cubes
Raspberry balsamic vinaigrette
1 teaspoon Dijon mustard
1 small clove garlic, smashed and chopped or put through a press
2 tablespoons your favorite raspberry jam, seedless preferred
3 tablespoons balsamic vinegar
1/2 cup olive oil, plus more
salt and freshly ground pepper to taste
optional: 1-2 teaspoons sugar
Dice the bacon, and cook it in a skillet on the stove until crispy. Drain on paper towels.
Make the hard boiled eggs: place cold eggs in a pot and cover with cold water. Bring to a boil, and boil for 13 minutes. Drain the hot water, and flood the pot with cold water in the sink, until the eggs are cooled. Peel.
Make the dressing: Mix the Dijon mustard, jam, garlic, and vinegar in a small bowl or spouted measuring pitcher. Whisk in the olive oil until emulsified. Season with salt, pepper, and sugar if desired. Taste, and add more olive oil if it makes you cough.
Assemble the salad: place the greens, scallions, and bok choy stems in a large salad bowl, and drizzle in some dressing. You might want to salt and pepper at this point a bit, too. For a traditional Cobb, arrange the bacon, eggs, beans, turnip, and cheese in piles on top of the greens, or just pile it all in! Drizzle with more dressing and serve.
*Fried tofu topping
1/2 lb firm Tofu
2 tablespoon oil
1 tablespoon soy sauce
1 tablespoon brown sugar
Squeeze some of the water out of the tofu, but you don't have to go too crazy about it. Cut the tofu into 3/4 inch cubes. Heat the oil in a non-stick skillet big enough to hold the tofu in a single layer. Fry the tofu until golden on one side (about 10 minutes) and then turn and do the other side. Mix the sugar and soy sauce, and pour over the tofu. Boil down until glazed.
.
.
Ramen salad on shredded lettuce
6 servings
30 minutes
6-8 cups of cleaned and shredded lettuce
one kohlrabi, peeled and cut into matchsticks
one salad turnip, cleaned and cut into matchsticks
2 3-oz. packages ramen noodles – you can use the grocery store kind or the slightly fancier co-op organic version, and since you won't use the seasoning packets, the flavor doesn't really matter
2 tablespoons vegetable oil
2 tablespoons toasted sesame oil
1 cup blanched slivered almonds
1 tablespoon sesame seeds
1 bunch scallions, cleaned and chopped
Dressing:
2 tablespoons vegetable oil
2 tablespoons toasted sesame oil
1/3 cup cider or rice vinegar
3 tablespoons sugar
2 tablespoons soy sauce
Place the lettuce in a big bowl or platter that you'll serve from. Place the matchstick-ed veggies in another bowl, big enough to mix in.
Smash the ramen noodles – bashing them with a rolling pin while still in the package is the best method. Pour the oils into a frying pan, and heat. Add the almonds, the smashed noodles, and the sesame seeds, and stir and over medium high heat until the sesame seeds start popping and everything smells toasty. Add the scallions and remove from the heat.
Whisk together all the dressing ingredients and pour over the matchstick-ed veggies. Add the toasted noddle and nut mixture, and mix well. Pour over the shredded lettuce and serve.
.
.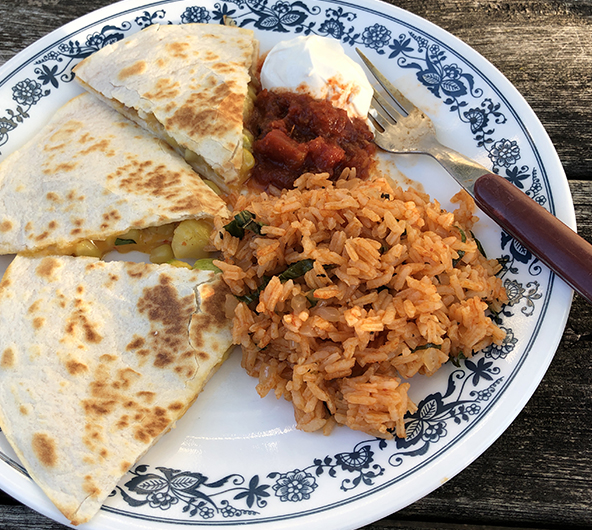 Cheese Quesadillas with Cilantro Pesto
Serves 4
About 30 minutes
Pesto:
1 bunch cilantro, rinsed, leaves and tender stems only
1/2 cup pumpkin seeds, toasted (or sub sunflower seeds, or other nuts)
1 medium clove garlic
1/4-1/3 cup olive oil
salt and freshly ground pepper
8 flour tortillas
1/2 pound cheddar cheese sliced
Place the cilantro, pumpkin seeds, and garlic in a food processor and pulse until finely chopped. With the motor running, pour in the oil, starting with the 1/4 cup, adding more oil until you have a spreadable paste.
Spread 4 of the tortillas with the pesto, and arrange the cheese on top. Sandwich with another tortilla.
Heat a cast iron (or other) skillet and griddle the quesadillas until they are toasty and the cheese is melted.
Cut into quarters and serve with rice and salsa and sour cream. Good additions include cubed and roasted salad turnips, or shredded chicken.
.
.
Quick Pickled Kohlrabi
From Serious Eats
www.seriouseats.com/shredded-kohlrabi-quick-pickle-recipe
You can use a mix of kohlrabi and salad turnips to make this quick pickle, which is delicious in sandwiches, think Bahn Mi. If you like sauerkraut on your brats and sausages, this one's for you!
Scallion Aioli
From The Spice Train
https://thespicetrain.com/scallion-aioli/
Use this mayonnaise-based scallion dressing on a salad of spinach and lettuce, or spread on sandwiches.
Stir-Fried Chicken and Bok Choy
By Melissa Clark
cooking.nytimes.com/recipes/1015084-stir-fried-chicken-and-bok-choy
This recipe from Melissa Clark calls for leeks, but scallions will work just as well! Easily doubled since we have more bok choy in the box.
Simply Delicious Roasted Turnips
From the Spruce Eats
www.thespruceeats.com/roasted-turnips-2217054
Here's a simple way to prepare salad turnips. You can sautée the greens and serve alongside, or sub in some spinach.
.