Week #13; An eventful week

Raul trains new employee Scott to harvest eggplant.
Wow, our summer crops are abundant right now. We began green bean harvest with the expectation of 3/4 lb for each CSA box but ended up with 1.4 lb per box. That's double! The tomatoes are growing strongly and we're happy to have ripe red peppers so early. Getting everything harvested and washed has kept us busy.

Last Thursday started with a bang. Literally. We heard an enormous crash just before the work day began. A pickup truck had run off the road and broken a utility pole, cutting off power along our country road. The driver and passenger were shaken but apparently OK. It took all day for the utility crews to dismantle and replace the damaged pole and wires. We're pretty stranded without power or water. We emptied the coolers, packed the produce into your CSA boxes, loaded them onto our trucks, and sent them off to you. It's what we had planned to do anyway!

We hosted two groups on Saturday. A small farm equipment company set up a field day just as our contract labor crew packed up (in background).
Each year, we hire a contract labor crew for two or three days to weed our carrot fields. Thirty-five to forty workers arrive and finish the job in six to eight hours. We've worked with the same group for several years and realize that we would not be able to grow our winter storage crops without them. We could manage smaller plantings ourselves but not fields large enough to supply carrots to our local customers through the winter.

Steve explains how he has set up one of our cultivation tractors.
In the afternoon, we hosted a field day for Tilmor, a small equipment company that Steve admires. They've put together a nice suite of weed-control tools designed for small farms. They demonstrated some of their equipment, then everyone looked over our cultivation equipment. The rigs are pretty similar, but Steve had to cobble ours together over the years, cutting and welding the bars himself. Then we all walked around the farm until thunderstorms drove us out of the fields.
We are glad for the rain we received over the past few days. It's been an unusually dry summer for our farm, so we're grateful for the rain and the reprieve from irrigation.
Beth
Veggie List & Veggie Notes
Week #13
– Weekly shares
– EOW/ purple
– Sampler/ moon
Sweet corn, ~8 ears
Slicing tomatoes, ~4 lb
Red peppers, bell or frying, 2 or 3 depending on size
Green beans, 1.4 lb!
Eggplant, 1 large or 2 small
Cucumbers, ~3
Zucchini &/or yellow squash, a few
Red onion, 1 or 2
White or yellow onion, 1 or 2
Next week's box will probably contain sweet corn, green beans, tomatoes, peppers, melons and more.
Sweet corn – This is a nice batch of corn, with very few bugs at the tips.
Red peppers – All the peppers this week are sweet, not hot. Everyone gets red bell peppers (blocky) &/or red frying peppers (long, slender). Both types can be eaten raw or cooked. Frying peppers have lower moisture and (as the name implies) are well suited to frying in hot oil.
Green beans – We guessed that we would have 3/4 lb for you this week, but our field yielded almost double! If you have extras, blanch the beans lightly, then freeze for winter.
Cucumbers – Enjoy this batch of cukes. We're not sure if we'll have this abundance again this year. We've sent a lot of cucumbers this season but that's what happens during abundance! This particular field has been amazing but is on the verge of exhausting itself. Our next cucumber planting will be ready soon but it's a lot smaller.
White or Spanish onion (white or yellow, respectively) – Everyone gets one of these types. Both are relatively mild onions, good for salads or cooking.
Red onion – We're sending a second type of onion this week, so you have enough to use with the other produce. These red onions will fry nicely, unlike the sweeter white or Spanish onions.
RECIPES from DEB
Visit our 2020 Recipe Log or our 2019 Recipe Log.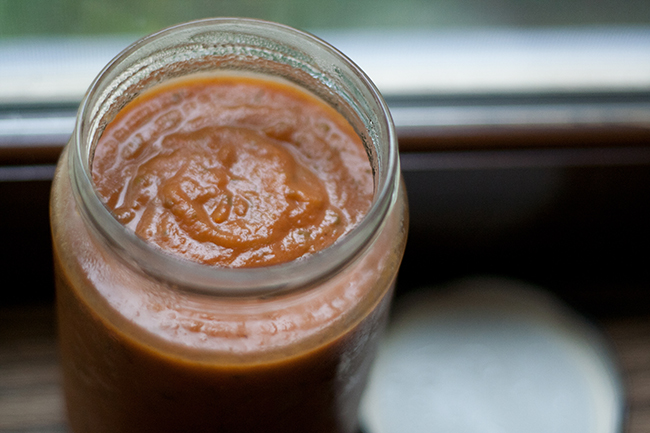 Roasted vegetable sauce
Here's versatile sauce recipe that takes advantage of late summer bounty. It freezes well, and since it's relatively fat-free, can be enriched later on with additions such as sausage or cream!
Takes just a few minutes of chopping, 1 hour to roast
Makes 3 cups to 1 quart of sauce.
You will need about 6-8 cups of assorted vegetables; here are suggestions:
5-6 tomatoes, depending on type & size, chopped (peeling and seeding optional)
1-2 onions peeled and quartered
2-4 cloves of garlic, peeled
1-2 red bell peppers
1 carrot, scrubbed and cut into chunks
1 summer squash, cut into chunks
2 tablespoons of olive oil
salt & freshly ground black pepper
a handful of your choice fresh herbs, rinsed and large stems removed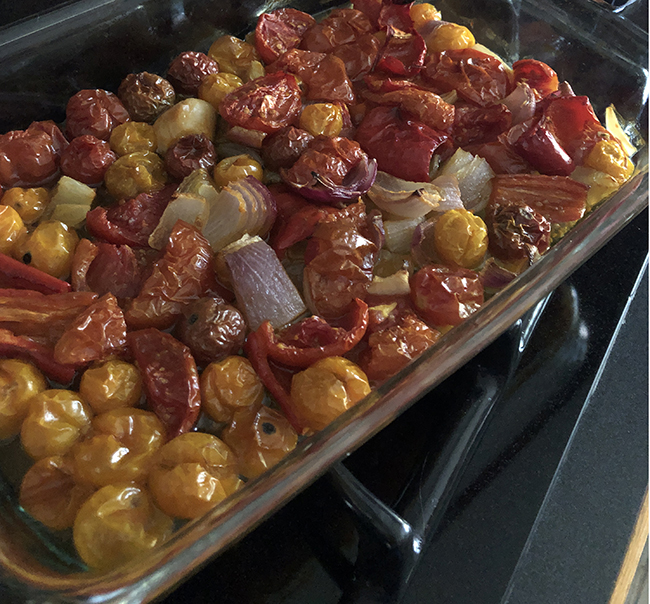 Heat the oven to 375°. Combine your vegetables in a baking pan – a glass 13 x 9 x 2 works well for this. Add the olive oil and salt and pepper and toss well. Roast for one hour until everything is nice and soft and starting to caramelize. Remove from the oven and cool. Scrape everything into a food processor, and pulse to puree. Add the herbs and pulse to chop them. Taste and adjust seasoning. You could also do this by transferring the roasted vegetables a deep bowl and pureeing with an immersion blender. Chop the herbs and add them.
.
.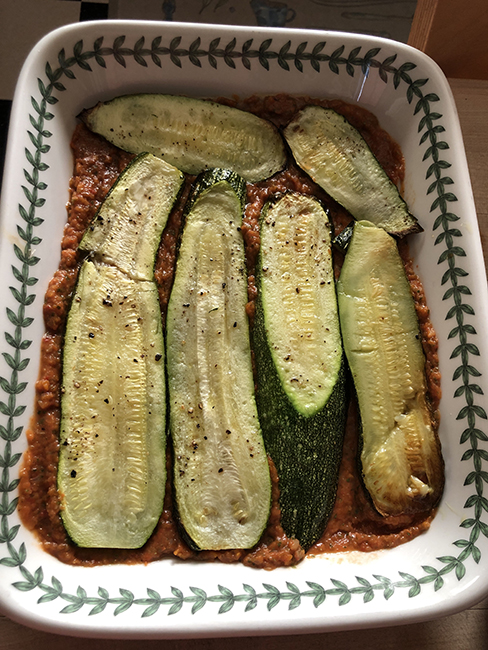 Zucchini, or Eggplant, or Summer squash, Parmesan
One way to use your roasted vegetable sauce is in this zucchini, or eggplant, or summer squash, Parmesan!
2 pounds zucchini, eggplant, or summer squash – or some of all three!
2-3 tablespoons of olive oil
1 cup of ricotta cheese
1 egg
a few grates of nutmeg
grated zest of half a lemon
4-6 ounces grated mozzarella (OK to sub other cheese)
salt & freshly ground black pepper
3 cups roasted vegetable sauce
1/2 cup grated Parmesan or Asiago cheese
If using zucchini or summer squash, cut it into long planks. If using eggplant, cut into rounds, place them in a colander and sprinkle with coarse salt. Let stand for about 30 minutes, then pat dry and proceed. Heat the oven to 425°. Pour about 2 tablespoons of the oil into a rimmed baking sheet. Lay your vegetable slices on the sheet, flipping them to get them nicely coated with oil, and adding more oil as necessary. Sprinkle with salt and pepper, place in the oven, and roast until tender. Remove from the oven and cool. Turn the oven down to 375°.
Meanwhile, mix the ricotta, egg, nutmeg, lemon, and grated mozzarella – you'll want about 2 cups of filling. Season with salt and pepper.
Spread a generous cup of sauce in a 2-qt. shallow baking dish, and arrange a layer of vegetables on top. Blob the filling in and spread it out – OK if it's not perfect! Add another layer of vegetables, and top with a thick layer of the remaining sauce.
Bake the dish for 20-30 minutes, until firm and bubbling around the edges. Top with the grated Parmesan and bake anther 10 minutes. Let rest for 10 minutes before cutting. Serve with garlic toast!
Prepared this way the dish is gluten free, but for more traditional breaded vegetables in your Parmesan, use the method from the Love and Lemons zucchini chips from the week 6 newsletter!
.
.
Creamy Cucumber Salad
3 medium cucumbers, peeled if desired, seeded and sliced
one small red or white onion, thinly sliced (about 1/3 cup onion slices)
1 teaspoon coarse salt
1 tablespoon white vinegar
1/4 cup sour cream
1/4 cup mayonaise
1 TBLS sugar
ground black or white pepper to taste
Place the cucumbers and onions in a colander and sprinkle with salt. Let stand 15 – 30 minutes. Pat dry, and transfer to a bowl. Mix the vinegar, sour cream, and sugar, and pour over the cucumbers and onions. Add the pepper, mix well, and chill.
.
.
Scattered Sushi Rice Salad
From Molly Katzen.
www.molliekatzen.com/recipes/recipe.php?recipe=sushi_salad
I have always been more of a fan of the sushi rice then the fish, so this Mollie Katzan recipe suits me perfectly! A fun way to serve it is to place small scoops on slices of cucumber or zucchini, and sprinkle with sesame seeds for a cool summer appetizer.
.
.
Sweet Corn Risotto with Corn Cob Both & Cherry Tomatoes
From our July 22, 2020 newsletter at www.tipiproduce.com/2020wk10/. Scroll down to get to the recipe.
While we are still in the midst of corn and tomato season, it's a great time to bring back this recipe from Lauren, from last summer. I have to say, agreeing with Lauren, definitely one of the best things I ate last summer!
.
.
Succotash Salad
From Kitchn
www.thekitchn.com/recipe-succotash-salad-recipes-from-the-kitchn-192297
Green beans work perfectly in this recipe, and chopped tomatoes can fill in for cherry. Succotash is also good served warm and you can add bacon to make it a meal!
.
.
Roasted Eggplant Curry with Chickpeas
From Nora Cooks
www.noracooks.com/chickpea-and-eggplant-curry/
A simple vegan curry with eggplant, red peppers, and garbanzo beans.
.
.
Cucumber Raita
From Epicurious
www.epicurious.com/recipes/food/views/cucumber-raita-104741
You can serve the eggplant curry with cucumber raita. If we get mint in the boxes it's great in this, but it's just as good without!