Week #7; That was a soaker.
That was a soaking storm last night! Those of you in Madison probably did not get much rain. That storm front slid over our farm for hours yesterday. For reference, we are located south of Madison, within Wisconsin and above the "o" in Rockford in the photo. It made for a muddy and steamy day.
Our farm was getting very dry, so the 4 inches that fell Monday through yesterday was welcome, even though it complicated today's harvests. The fields were able to soak up most of it. By the end of the today, it was still muddy but easier to get around.
U-pick wrap-up
We are glad that many of you came to the farm for strawberry u-picks this year. We had open reservation slots for both events. I interpret that to mean that everyone who wanted a reservation got one. Well, the berries were more abundant than we realized, so folks were pretty happy with how much they picked. We were lucky with the weather. It was beautiful both days. Thanks for coming out!
Veggie List & Veggie Notes
Week #7, July 7/8, 2022
– Weekly shares
– EOW/ green
'Caraflex' or 'Farao' cabbage (1 or 2), ~2.5 lb total
Cucumbers, ~5
Collards OR lacinato kale (by site)
Snap peas, ~1/2 lb
Snow peas, ~1/4 lb
(Both types peas are in same bag.)
Broccoli, 1 medium head
Zucchini &/or Zephyr squash, ~3 lb
Fennel OR a sunflower (by site)
Basil, 1 husky branch
Garlic scapes, a handful
Next week's box will probably contain broccoli, Swiss chard, Walla Walla onion, and more.
'Caraflex' or 'Farao' cabbage – These are nice salad-types that we grow in summer. Don't you love the pointy shape? They have thinner, more tender leaves than typical green cabbage. Great in salads and slaws but can also be cooked. Here's the Caraflex description from the seed catalogue: "Inner leaves are tender, crunchy, and have an excellent, sweet and mild cabbage flavor. Perfect for summer salads, slaws, or cooked dishes."
Cucumbers – Our cucumber field is doing great so we're sending enough to be creative. Make a big batch of cucumber salad or raita or smoothies, etc.
Storage: Store at room temperature for a few days or refrigerate in the warmest part of your fridge. Cucumbers get chilling injury if stored too cold.
Snap & snow peas – As usual, both types are in one bag. We really like this new snap pea variety, PLS140. Long pods, sturdy plants and good flavor despite the heat. Hot weather is always a challenge for peas. Enjoy this batch.
Basil (branched, leafy stalk) – Everyone gets a husky sprig, the first cutting of the season.
Storage: Basil deteriorates if stored in the refrigerator. It is best stored at room temperature with the cut ends in water, for example in a jar or vase. Treat it like a flower. Give the stem a fresh trim and change the water every day or two.
Garlic scapes (curly green things) – Garlic scapes grow at the top of garlic plants. They look like flower buds but are actually clusters of tiny bulblets. We snap off the young scapes to direct the plants' energy into forming garlic bulbs underground. Use scapes as a substitute for garlic cloves. They can be minced, mixed with olive oil, and added to stir fries or simple pasta dishes. The scapes can be sautéed, but will not brown like garlic cloves. Expect them to retain their crunch even when cooked, and to be milder than garlic cloves, closer in pungency to the green garlic we've sent.
Sunflower (for 1 or 2 sites this week) – We continue experimenting with sunflowers as they are one of the few flowers that we can send in the CSA boxes. This cheerful variety 'Vincent's Choice' does not produce pollen, making it an excellent choice to pack with vegetables. The sunflowers are for beauty and joy, not to eat!
Storage: Trim the stem and place in water. If you re-trim the stem and change the water a few times, the flower should last about one week. Do not put in the same water as your basil.
RECIPES by DEB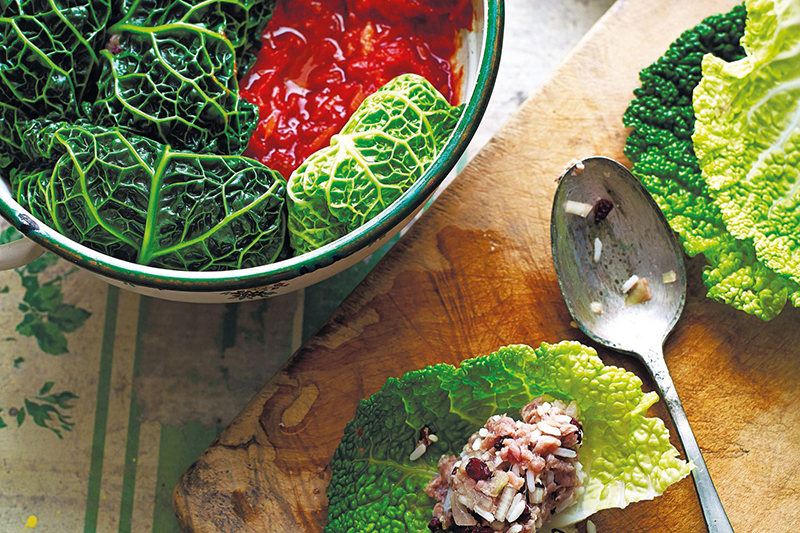 Photo by Kris Kirkham
Olia Hercules' Stuffed Cabbage Rolls
This dish is based on a recipe from Ukrainian chef Olia Hercules' lovely cookbook, Mamushka, that has lots of interesting vegetable preparations. The book is currently out of print, but available at libraries, and as an ebook, and there are a lot of recipes on Olia's website.
Serves: 6 generously (makes about 12 rolls)
Takes: about 40 minutes to assemble, and 45 minutes to bake.
Tomato Sauce
2 tbsp vegetable oil
1/2 cup finely chopped onion
1 carrot, grated
1 tablespoon sugar
1 tablespoon tomato paste
1 bay leaf
1 14-ounce can whole or chopped tomatoes
14 fluid ounces (400 ml) water
juice of one half lemon
salt and freshly ground pepper
Rolls
12 large leaves of cabbage, separated from one or two heads
2/3 cups white rice, parboiled for 5 minutes, and drained and rinsed
1 pound of ground meat, your choice, or a mixture – beef and pork are traditional, turkey or chicken are also good!
1/2 cup grated onion
1/2 teaspoon ground or freshly gated nutmeg
salt and freshly ground black pepper
for serving: fresh dill and sour cream
Make the sauce: Heat the oil in a Dutch oven or skillet with a lid that can go in the oven. Cook the onion and the grated carrot over medium heat for 5-10 minutes until soft but not browned. Add the sugar and the tomato paste and cook for another minute. Add the bay leaf, tomatoes – break them up with your hands if you use whole – and water and bring to a boil. Reduce the heat and simmer for about 10 minutes until slightly thickened. Add the lemon juice, season with salt and pepper, and set aside.
Make the rolls: Preheat the oven to 350°. Bring a large pot of water to a boil, and blanch the cabbage leaves for about 2 minutes, until pliable. Drain and rinse with cold water and drain again.
Combine the meat, parboiled rice, grated onion, and nutmeg and salt and pepper. Place 2-3 generous tablespoons of filling on each cabbage leaf and roll.
Nestle the rolls in the sauce, folded side down, snugly so they do not unravel. Cover the Dutch oven and bring to a boil on the stove, then transfer to the preheated oven and bake for about 45 minutes, until cooked through.
Serve with chopped dill, sourdough bread, and a dollop of sour cream on the side.
.
.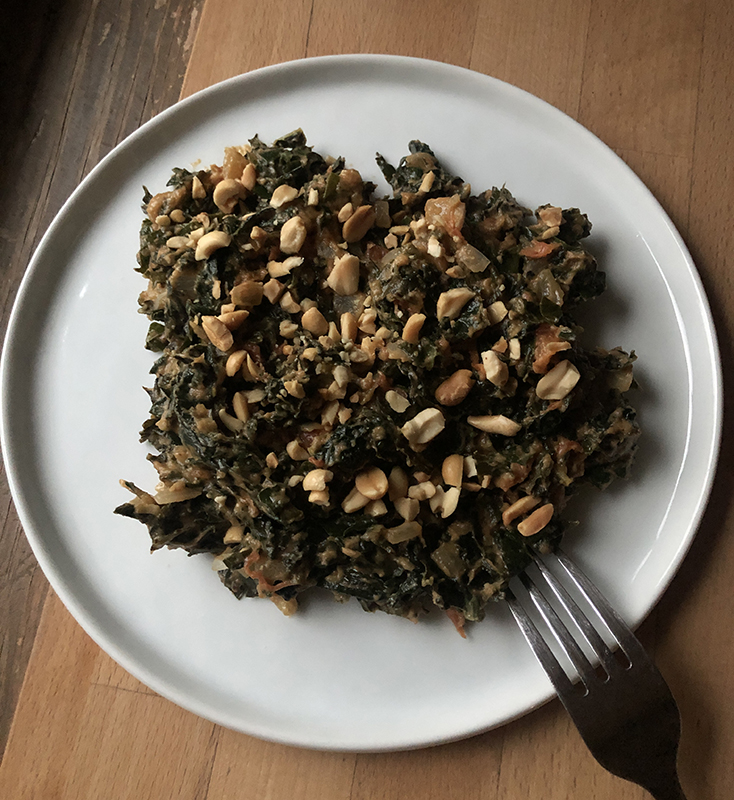 Greens with peanut sauce
This dish has African roots and is an example of how foodways migrated involuntarily with enslaved Africans and became American Southern cooking. You'll find this dish served as a side in BBQ joints throughout the South, especially in Georgia and Louisiana.
Serves: 2-3, easily doubled or tripled
Takes: about 30 minutes
1/2 pound kale or collard greens (spinach also works but you will need more spinach since it will cook down more then the tougher greens)
2 tablespoons vegetable oil, olive oil, or butter
1/2 cup chopped onion
2 cloves of garlic, minced or put through a press
1 medium tomato, peeled and chopped, or about 1/2 cup canned diced tomatoes
1 teaspoon cumin
1/2 teaspoon coriander
salt and freshly ground black pepper
1/3 cup peanut butter, preferably natural but whatever you've got will work
2-3 tablespoons of chopped salted peanuts
Rinse the greens and cut or pull off the large stems. Bring a large pot of water to a boil, add the greens, and cook for 3-5 minutes, until starting to get tender. Drain, reserving about 1 cup of the cooking water.
Heat the oil in a pot – you can use the same one that you cooked the greens in, no need to wash – and add the onion. Cook for 2-3 minutes until softened, and add the garlic, tomatoes, cumin, coriander and salt and pepper. Stir well and cook for another 5 minutes or so.
Take handfuls of the greens and squeeze out as much liquid as you can, and transfer them to a cutting board. Chop into bite-sized pieces, and add to the cooking pot. Add about 1/4 cup of the reserved greens-cooking liquid, cover the pot and cook for about 10 minutes, until the greens are really getting soft.
Add the peanut butter and another 1/4 cup of the reserved greens-cooking liquid, mix well, cover and cook over a low heat for 15 minutes. Check periodically to see if it's sticking and add a little more of the greens-cooking liquid as necessary. Garnish with the chopped peanuts and serve. Any leftovers are delicious tucked into a pita bread for a sandwich the next day.
Curried Cabbage
From Budget Bytes
In addition to cabbage we have cucumbers in this week's box, so serve this curried cabbage with cucumber raita. Combine 1 cup plain yogurt; 1/2 cup peeled, seeded, and diced cucumber; juice of 1/2 lemon or lime, 1 clove garlic, minced; and if available, 2 tablespoons minced fresh herbs, like mint or basil.
.
.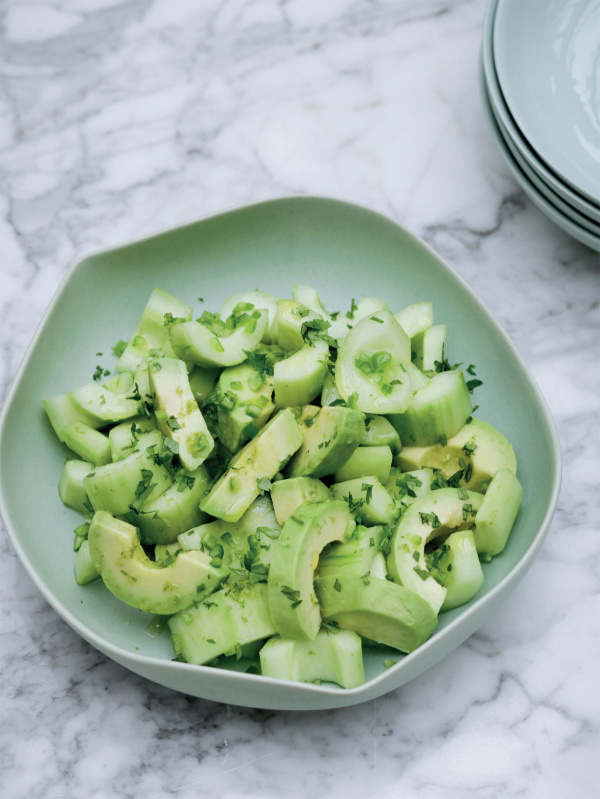 Cucumber, Chilli And Avocado Salad, by Nigella Lawson
Photo by Keiko Oikawa
From nigella.com
This mostly cooling salad, perfect for hot weather, has a bit of zip from the chiles – that you can adjust to your taste.
.
.

Cabbage and Crunchy Noodle Salad
From Cook it Real Good
This salad from down under combines a few common pantry ingredients: olive and sesame oil, soy sauce, and sugar – with fresh cabbage from the box to make a quick side dish. You can substitute regular onion for the green onions and toss in a few of the snow or snap peas from the box, thinly sliced, for color.
.
.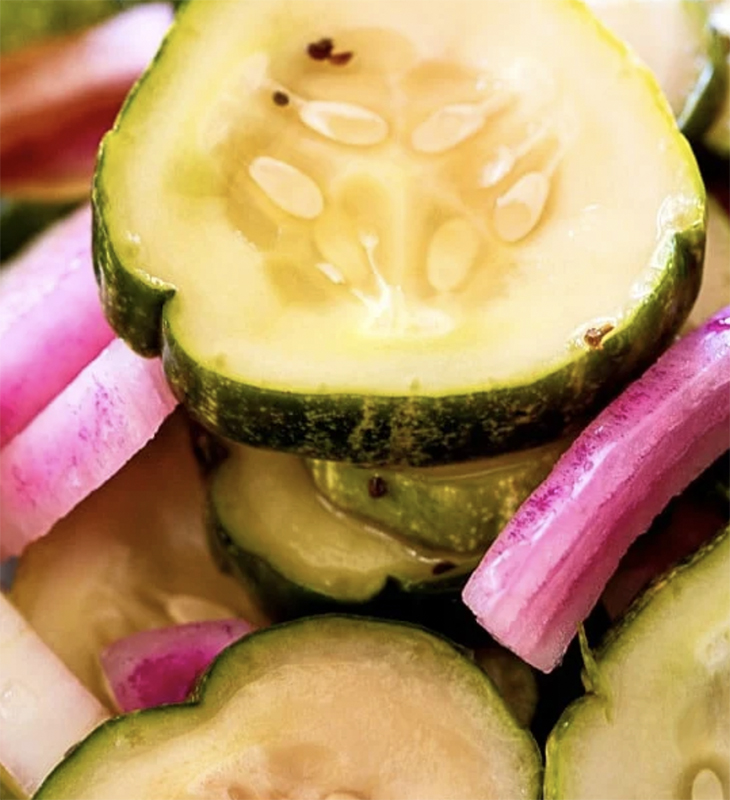 Pickled Cucumbers and Onions
Photo by Christin
From Spicy Southern Kitchen
Here are some quick pickles with a bit of spice. To change it up try slicing the cucumbers into wedges or sticks instead of rounds as shown.
.
.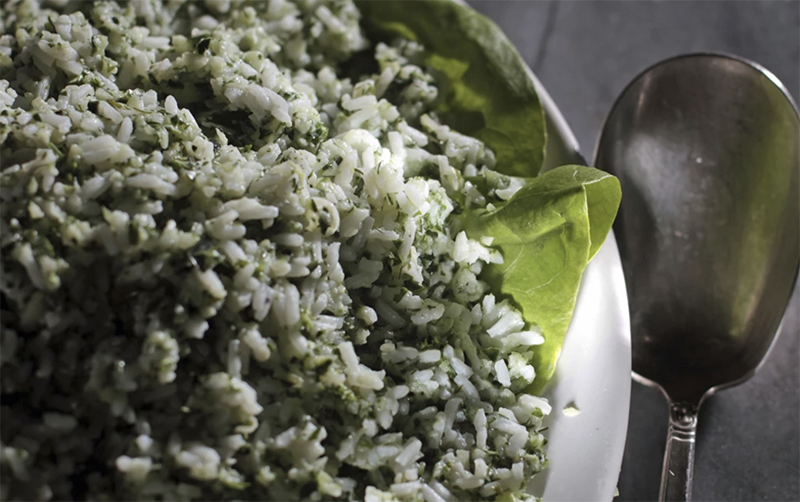 Photo by Bob Chamberlin
Cool rice and cucumber salad
From the Los Angeles Times
LA Times food writer Russ Parsons says rice salads don't get no respect – deli cases are full of pasta-based salads, but almost none with rice. To improve the status of the rice salad, Parson provides this recipe that includes a healthy amount of chopped cucumber and fresh herbs.